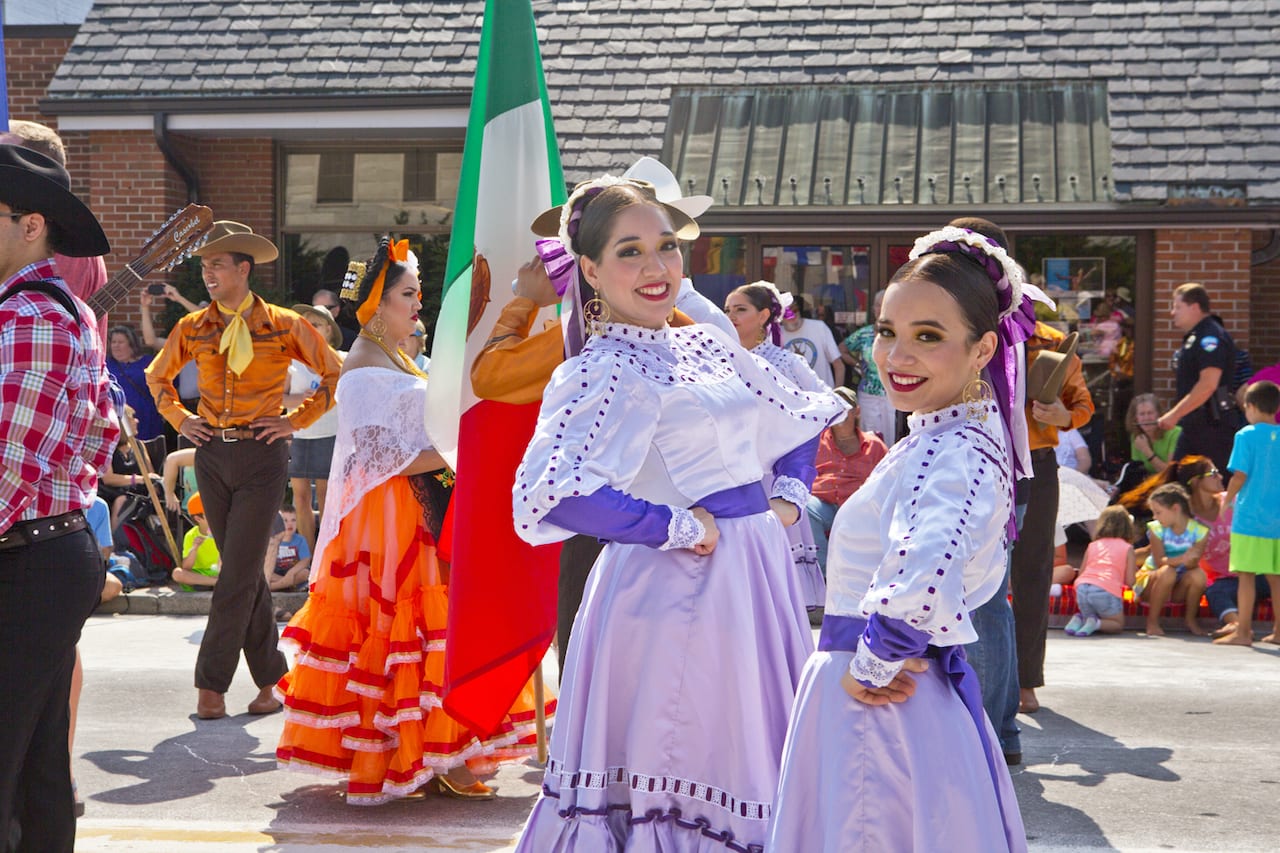 Western North Carolina is home to a number of great festivals throughout the year, they are as fun and unique as the towns that hold them. You can enjoy some of the best food, music, and artists from across the country right here in the North Carolina Mountains. In fact, many of the festivals celebrate the cultures that make up Western North Carolina. Whatever season you decide to visit Asheville and the mountain towns of Western North Carolina, there is a festival for you to enjoy. Here are our favorite annual festivals for each season. 
Best Spring Festivals
Spring is a truly spectacular season in Western North Carolina. The fauna is blooming with distinctive designs and vibrant colors, while the mountains are blanketed in green and wildlife actively enjoying the warm weather. Everyone is ready to shake off their winter blues with a hike in the mountains and festivals in the towns to kick off the season. Here are a few of our favorite spring festivals in Western North Carolina.
April 25, 2020
Held every year in historic downtown Sylva, North Carolina, this heritage arts festival celebrates the arrival of spring through Appalachian inspired art, music, and food and drinks. When the mountains turn a lush green, bring your family out and enjoy the fresh mountain air with the festivals annual 5k run, or celebrate your talent at the youth talent contest. Live music will make you feel right at home as you peruse over 170 vendors' food, art, and crafts. Also, take time to sample some of the craft beer that could only come from Western North Carolina.
April 3-5, 2020
Connect Beyond is held at a variety of venues throughout Asheville, North Carolina. The festival works to connect people through moving, thought-provoking performances in music, film, and storytelling with the underlying theme of equality and social justice. Enjoy discussion panels, musical performances, and gripping films that will empower you to be an instrument of change in your community. Events will be held at Asheville Arts Museum, The Orange Peel, Fine Arts Theatre, and Diana Wortham Theatre. 
April 25, 2020
This festival in Spruce Pine, NC, celebrates the historic art of a Blacksmith, a profession with a long history in the Appalachians. Enter the forge tents and watch nationally renowned demonstrators bring the hammer to metal and craft truly amazing pieces of art. View the exhibits and check out the many tools used in this age-old tradition. When you are finished, get a chance to experience the hands-on tent and work with instructors to get a feel for the craft!
Best Summer Festivals
There are tons of events and festivals during the summer in Western North Carolina. The weather is nice and warm, the sun is shining, and no one wants to stay inside. Take a hike or bike ride, visit a waterfall, go for a swim, or enjoy a music festival or two. Also, don't miss out on the many Fourth of July Fireworks displays in almost every mountain town in Western North Carolina. Here are a few festivals you will love this summer!
July 18-26, 2020
Folkmoot is an annual international celebration held in Waynesville, NC featuring artists and performers honoring a variety of cultures. Enjoy food, music, and dancing from cultures around the world. Visit a variety of towns in Haywood County that will hold performances throughout the festival including Canton, Maggie Valley, and more. Parade of Nations will celebrate the cultures represented in the festival and convey a sense of pride in unity. This festival is a great way to travel the globe and foster education, open-mindedness, and of course, wanderlust in your whole family. 
July 9-12, 2020
Every year, thousands of Scots attend the Gathering of the Clans at Grandfather Mountain for the Grandfather Mountain Highland Games. The sound of bagpipes fills the air as clansmen dressed in their respective tartan plaids prepare to compete in a show of warrior strength and agility. Competitions include wrestling, Scottish dance, Clachneart toss, tossing of the Caber and Sheaf, various instrument challenges and track and field events. Sample some excellent Scottish Whiskey and watch the border collies herd flocks of sheep. Enjoy traditional Celtic games, food, and music. Make sure to bring a chair or blanket to sit on while the games go on. 
Best Fall Festivals
Every year the leaves transform into an array of painted autumn colors, sweaters are a must, and apples are ready to harvest, Fall in Western North Carolina is an experience you will not soon forget. Take a scenic drive on the Blue Ridge Park Way or go apple picking at one of the many farms. There are so many fall festivals and parades to choose from. Here are some of the best festivals to attend this fall!
September 4-7, 2020
Every Labor Day weekend, Hendersonville, North Carolina plays host to one of the largest apple festivals in the Carolinas. North Carolina is the 7th largest apple producing state in the nation, and farms from across the state bring their harvest and delicious treats and drinks for festival-goers to enjoy. Come for the Parade and stay for the apple recipes, the pie contests, the kiddie carnival, or any other number of apple-themed food games and performances.
October 6-10, 2020
For over a century, this festival in Cherokee, North Carolina has celebrated the rich heritage and culture of the Cherokee tribe. Enjoy local, Cherokee cuisine including Frybread, chili, and many more dishes. Ride fair rides including Ferris wheels and play a few fair games. See performances celebrating traditional Cherokee music and dances including the renowned Cherokee warriors of AniKituhwa war dance. This is an excellent combination of education and fun as you view native crafts and meet attending tribe members that preserve their heritage through the Cherokee arts and language.
November 7, 2020
Held at Bridge Park in Sylva, North Carolina, this festival highlights work from 40 master potters throughout the country. The juried show features competitions including the Clay Olympics, where potters compete to craft the highest cylinder in five minutes. They also have a throwing contest where participants are blindfolded and must make the best piece from two pounds of clay in two minutes. Watch potters craft pieces using a myriad of mediums including several types of clay and reed, even wood. Decorate your home with some new pottery, or just enjoy the spirit of competition at the WNC Pottery Festival. 
Best Winter Festivals
Festivals are a great way to celebrate this holiday season. There are so many winter activities in Western North Carolina. Each town and city is uniquely decorated. Boutique shops and stores all take part in making their residence feel like home to everyone and lights twinkle throughout the mountains. You can drive or walk through and see the light displays, ride the polar express in Bryson City or even visit Christmas Town, USA itself. There are plenty of places to shop and winter festivals that you will not want to miss. 
November 20-22, 2020
Kick-off the holiday season with a three-day shopping event at WNC Agricultural Center in Fletcher, North Carolina. Enjoy NC wines and treats while you work to find the perfect gift for all of your friends and family. From handmade to crafted pieces, the center is filled with artisans to choose from. Fletcher is also a short 17 miles to Asheville, so you can get all your shopping done at once. 
November 21, 2020
For over 70 years, Asheville has welcomed the holiday season with an incredible parade through downtown Asheville. Performers are dressed up and the whole family will enjoy seeing Mr. and Mrs. Claus, all the elves and a ton of other holiday celebs as they walk, ride, dance, and sing through downtown. Hear from the Grand Marshall as they start the lighting of the Tree in Pack Square. 
November 27-28, 2020
Held every year at Western North Carolina University in Cullowhee, NC this festival has become a mountain tradition. Over 100 artists are featured in this one of a kind festival of Christmas cheer. Enjoy traditional Appalachian Christmas candies and cider, fresh-made wreaths and Christmas carols from mountain musicians and instruments.  
These are only a few of the hundreds of festivals held every year in Western North Carolina. Find a way to learn and celebrate one of the many communities and heritages of Western North Carolina this year. Attend a festival, enjoy a meal, visit an art gallery or museum, or just bask in the beauty of one of our National Parks in North Carolina.