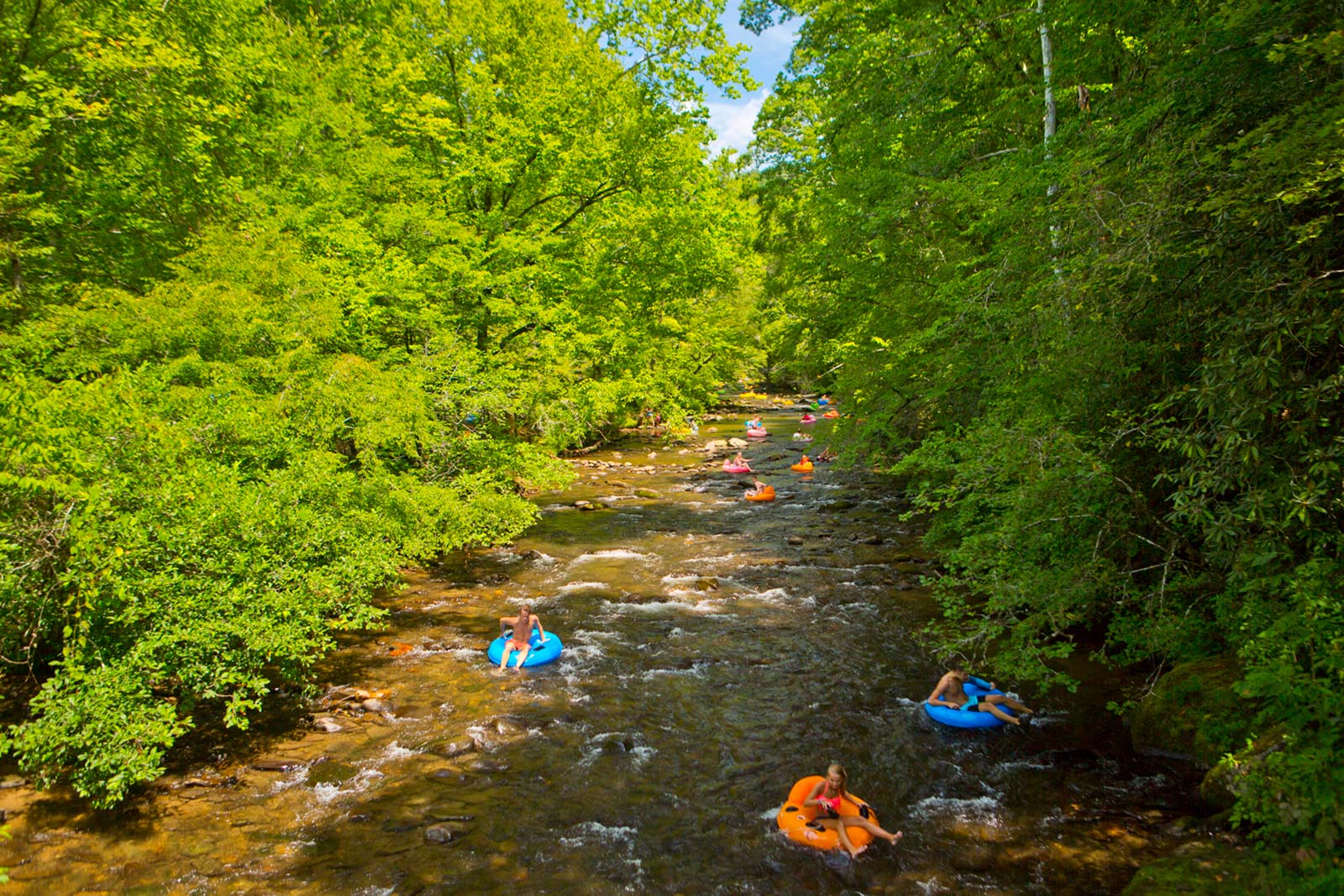 People have a misconception about summer in the mountains. They think that because you live in the mountains that the temperatures never get too hot. Yes, summer temperatures are milder in the mountains during the summer, but Western North Carolina is still in the south! In July and August, it is hot here! One of the best summertime "perks" of living in Western North Carolina are the mountains swimming holes. One of the finest ways to cool down from the summer heat is to take a dip in a natural mountain made "pool"!
Due to all the waterfalls in the mountains of Western North Carolina, there are natural pools of water at the base of the falls. Some are deep, dangerous, and not recommended to swim in, and others, like the ones featured here, are perfect places to beat the heat. There are 4 in particular, once you discover them, you will want to spend the lazy days of summer there!
For any of the mountain swimming holes you plan to visit, be advised that there are rocks around the pools. The rocks are wet and slippery, so be sure to wear shoes with good treads on them. A change of dry clothes and towels are good to pack, as well.
Deep Creek Tubing 

You will find this swimming hole in Great Smoky Mountains National Park, near Bryson City, NC. What makes this spot stand out, and where it gets its name, is that there are moving currents that allow you to tube down the river! Do not worry, though, we are not talking rapids, just gently flowing currents. You may bring your own inner tube or rent one from one of several providers from $3 to $5. The parts of the creek to tube on are located near the camp and picnic grounds. You will also find bathrooms and a changing area there. Please note, the parking lot is where the Deep Creek trail head starts, and parking is limited. Also, once you rent your tube, it is a one mile hike to the tubing area. The hike is not difficult, and there are signs to mark when it is safe to tube on the river.  Go to BlueRidgeMountianLife.com for specific driving directions and to find out more information.
Looking Glass Falls

This is one of the most beautiful and popular waterfalls in Western NC, and there is easy access to it from the roadside parking area. It is located on U.S. 276, Forest Heritage Scenic Byway, near Brevard, in the Pisgah National Forest. The 60 foot waterfall is the backdrop to this fun swimming hole. There are shallow spots that are perfect for wading in the water, if you prefer not to swim or have little ones with you. There are wooden steps that lead down to the falls, and there is no admission fee to have access to the mountain swimming hole.
Skinny Dip Falls

Do not let the name of this swimming hole fool you; wear a bathing suit! No one is actually skinning dipping here! This spot is located in the Pisgah National Forest, off of the Blue Ridge Parkway at mile marker 417 (between Waynesville, NC and Asheville, NC). The trailhead for the falls is at Looking Glass Rock Overlook. It is a ½ mile hike to the falls, down the Mountains to Sea Trail. Once you get to the falls, there is a short staircase down to the swimming hole. A multi-tiered waterfall flows over the rocks. The water below the falls has shallow spots for wading and a deep, 6 foot pool for swimming. There is even a rock for jumping into the deepest part of the pool. This spot is very popular, and parking is limited. Go early in the day to avoid the crowd. There is no admission fee; however, there is also no lifeguard or bathrooms.
Sliding Rock

This is a natural 60 foot waterslide that ends in an 8 foot deep pool. There are gently sloping, smooth rocks that the water flows over, giving Sliding Rock its name. Located at 7851 Pisgah Highway, in the Pisgah National Forest, this popular spot is a fun way to beat the heat. There are rails, a viewing deck, and parking lot. It can get crowded on hot days, and is most used between 12pm to 4pm. To prevent overcrowding on the rock, parking is limited and the lot will be closed when full. From Memorial Day to Labor Day, there is a life guard and restrooms are open. There is a fee of $3 per person to slide (children under 6 years old are free). For safety sake, you must know how to swim in order to slide on the rock, and children 7 years old and under must slide with an adult!  Also, if there is heavy rainfall accumulation or other weather conditions, the rock will be closed. Call (828)885-7625 to check on weather closure updates before traveling to the rock.  Go to Pisgah Hospitality Partners website for more information.
Bonus Information: Lakes near Avalon Mountain Community
If a mountain swimming hole just does not suit your fancy, never fear! There are two gorgeous lakes, which are very close to Avalon Mountain Community: Lake Junaluska and Lake Lure. You can swim, water ski, go boating, and so much more there. Please, see our previous posts about all there is to do at Lake Junaluska and things to do at Lake Lure.
The mountain swimming holes in Western North Carolina are lots of fun and something you cannot find in other parts of the state. Give one, or all, of these spots a try! The naturally cool waters of the mountains are one of the greatest things about summer in the Western North Carolina!