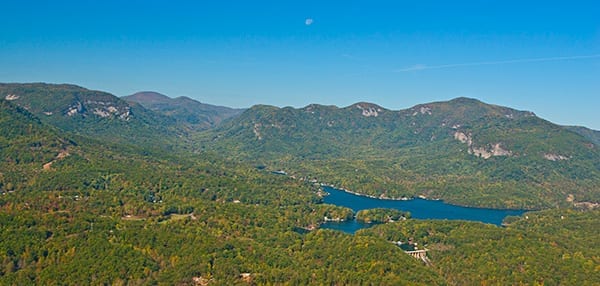 Get Lured to the Lake
Living in Avalon puts you very close to a celebrated North Carolina spot: Lake Lure. It is located in the Hickory Nut Gorge, surrounded by the Blue Ridge Mountains, and is 55.4 miles from Avalon.  There are lots of fun things to do, and it is a great place to spend a day. We've come up with 9 things everyone must do while visiting Lake Lure.
Jump In
Lake Lure is a 720 acre lake with 21 miles of shoreline. There is a white, sandy beach open to the public with a waterslide into the lake and a waterpark! You can swim in the lake or just relax on the shore. The beach has restrooms, changing rooms, a snack bar, and picnic tables. (Please note that there is fee to access the beach: $8 for adults, $7 for seniors, and $6 for kids ages 4-16. No pets allowed.)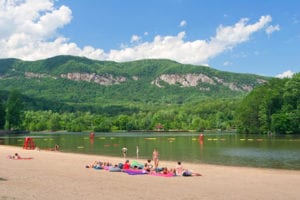 Park Please
If you'd prefer to just enjoy the beauty of the lake and the gorgeous scenery rather than to swim or sun bathe, Morse Park is a 23 acre community lakeside park. Enjoy the mountains surrounding the area, picnic, or take a leisurely stroll through the park. 
Bridge of Flowers
One of the coolest things to see when you visit Lake Lure is the Flowering Bridge. A former highway bridge, no longer in use for traffic, has been transformed into the most beautiful garden with flowers, greenery, and butterflies! In 2015, it was named North Carolina's largest sensory garden for the blind and visually impaired.
Hit the Greens
For the golf lovers, there is the Lake Lure Golf Club. This is a nine hole public course. There is also a driving range and club house. (Please note there is a fee  – $12 adults/$10 for seniors.)
Set Sail
A great way to see the beauty and scenery around Lake Lure is to take a boat tour. There are many different guided tour options, including covered boats and dining choices, with Lake Lure Tours.
Up, Up, and Away
For those that love adventure and are not afraid of heights you can also enjoy the beauty of the area from a zip line. You can try a zip line tour through the Blue Ridge Foothills that surround the lake. It lets you see the sites in a whole new and exciting way!  Canopy Ridge Farm offers zip line adventures in the area. Feel as if you're flying as you soar through the trees and explore.
All Aboard!
For the kids or the kids at heart, visit the Right Track Toy Train Museum. This interactive train museum in Lake Lure is great fun for anyone who loves trains!  Furthermore all of the proceeds from the museum go to cancer charities, so have fun while helping a good cause.
Time for Dinner
Lake Lure has many locally owned restaurants. There are fine dining choices, pubs, grilles, BBQ, and more. Larkin's On The Lake being a noteworthy choice, so be sure to make a reservation. Enjoy a good meal in a beautiful spot and plan your next adventure! 
Have the Time of Your Life
If you are a fan of the classic film Dirty Dancing, you know its theme song, "I Had the Time of My Life". That popular movie was filmed in and around Lake Lure, and you will recognize the sites! For the true lovers of the film, there is a Dirty Dancing Festival  on August 18-19, 2017 to celebrate the 30th anniversary of the movie. There will be a lake side viewing of the film, music, and activities.
Lake Lure is fun for the entire family. It is only a short trip from Avalon and well worth the visit.  As the weather gets warmer, it is really a wonderful place to spend some time and create special memories.