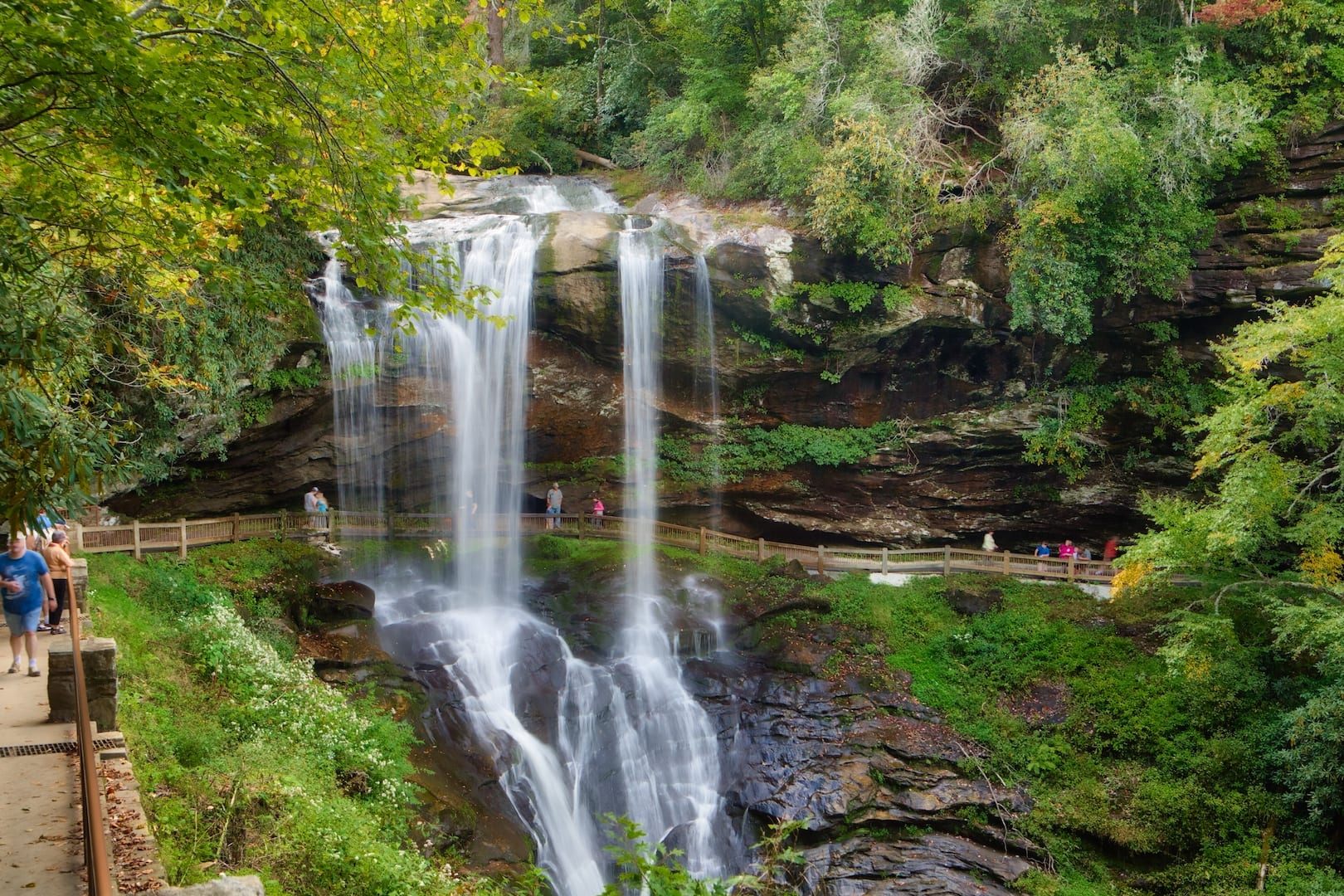 Now is the time that the mountains are waking from their long winter hibernation. Spring is here! New life and growth are happening all over Western North Carolina, and a fun way to see this is to go on a hike. In the spring, the best hikes are the waterfall hikes. A perk of living in Avalon Mountain Community is that so many fantastic waterfall hikes are very close! In fact, Avalon has spectacular views of The Land of Waterfalls, where there are more waterfalls to explore than any other region in America.
Many of the best waterfalls in Western North Carolina are within miles of each other! In fact, you can visit more than one waterfall in a day, if you like. Highlighted below are a few must see waterfalls that are close to Avalon. For driving directions to each, be sure to check out AshevilleTrails.com.
Catawba Falls is in Pisgah National Forest, just south of the Old Fort Grade on 1-40. Parking and restrooms are available. The hike follows the Catawba River and is family and dog friendly.

100 foot waterfall
moderate 2.5 mile hike
Crabtree Falls is off of the Blue Ridge Parkway. The hiking trail starts at milepost 339.5, and there is parking. The trail goes through a field filled with wildflowers and is dog friendly.

70 foot waterfall
moderate 2.7 mile hike
one of the most photographed waterfalls in WNC
Dry Falls is located off of US 64, between Highlands and Franklin, NC. There is a viewing platform at the start of the hiking trail, which is wheelchair accessible. This hike is the shortest at .25 of a mile. It is an easy, kid friendly hike, and has a paved trail that goes to the base of the falls and behind them. There is even a cave behind the falls!

65 foot waterfall
easy .25 mile hike
Graveyard Fields Falls is off of the Blue Ridge Parkway, at milepost 418, where there is parking. There are two sections to the falls: upper and lower. It is a dog friendly hike that goes through a meadow of wildflowers, blueberries, and blackberries.

upper and lower section of the waterfall
3.3 mile moderate hike
Linville Falls is just off the Blue Ridge Parkway. Parking is available and the trail starts at milepost 316.4. The trail has three different waterfall overlooks, and the waterfall falls into Linville Gorge, which is gorgeous.

90 foot waterfall
moderate 2 mile hike
trail has 3 different waterfall overlooks
Moore Cove Falls is in the Pisgah National Forest. The hike is family friendly and goes through a forest and valley with streams. There is also a small cave behind the falls.

50 foot free falling waterfall
moderate 1 mile hike
Rainbow Falls is one of the most popular waterfalls in Western North Carolina. It gets its name from the rainbows you can see on a sunny day when the mist of the falls hits the rocks below. The trail starts from the Gorges State Park at Grassy Ridge parking area.

150 foot waterfall
moderate 3 mile hike
can see the falls from the top, bottom, front, and side
Skinny Dip Falls is a set of cascading waterfalls located off of the Blue Ridge Parkway, at milepost 417. The waterfalls fall into deep, clear pools that are for swimming, in warm weather. The trail goes through a forest of ferns and has steps that lead down to a foot bridge that crosses over Yellowstone Prong.

set of cascading waterfalls
moderate 1 mile hike with a few rough spots
Triple Falls is a bonus hike. It is a little further from Avalon, in DuPont State Park. There are three waterfalls which spill in a series right below High Falls. This was a location in the popular movies The Hunger Games and The Last of the Mohicans. The trail is kid and dog friendly.

3 waterfalls spilling in a series
1 mile, easy hike
Upper Bearwallow Falls flows in sections, over rocks. It is just inside the north side of Gorges State Park. The trail goes through a forest of wild rhododendrons and ends at a wooden viewing platform.

waterfall is in sections, flowing over rocks
easy hike, less than 1 mile
downhill hike to waterfall
Upper Whitewater Falls is part of the larger Whitewater Falls, which is the highest waterfall east of the Rocky Mountains. The falls flow in two different states; the upper falls are in NC, and the lower falls are just over the SC state line. Upper Whitewater Falls is located on the Whitewater River, in Jocassee Gorge.

411 foot waterfall
easy, 1 mile hike with wooden stairs to get close to the falls
family and dog friendly
trail goes through a forest filled with wildflowers and salamanders
** The next two waterfalls, listed below, are roadside viewing only. There are no hiking trails, but the waterfalls are picturesque and well worth seeing.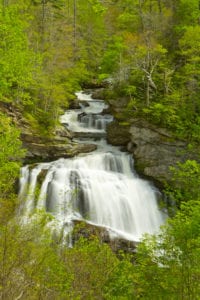 Cullasaja Falls is located between Franklin and Highlands, NC off of US 64, which is known as the Mountain Waters Scenic Highway and Waterfall Byway. This waterfall is one of the best to photograph. An unofficial trail is visible, which goes to the base of the falls, but it is very steep and should not be attempted. Also, please note, there is a very small roadside pull off area to see the falls, but be warned, this cliff side road is extremely narrow and curvy. Take care when parking to see the waterfall.

250 foot waterfall with multi stream cascades
one of the best photographed waterfalls
roadside viewing only
The safest parking area for viewing the falls is to follow the directions listed here:
Take I-40 West take 23/74 W towards Waynesville (Exit 27). Take 23/74W to Franklin. At Franklin take Highway 64 East toward Highlands. Cullasaja Falls is on the right, on Highway 64, about 8 miles from Franklin.
Looking Glass Falls is located in the Pisgah National Forest, on US 276 North. This waterfall is great for those with limited mobility or in a wheelchair because there are really nice roadside views of the falls. There are stairs that lead to middle and lower viewing platforms.

60 foot waterfall
roadside views of the falls
stairs to climb down to the falls with middle and lower viewing platforms
Of course, there are many more beautiful hiking trails without waterfalls all around Avalon for you to explore, as well.
Now, the only thing you need to do is decide which hike you would like to try first. You could easily tackle them all this spring. Pack a lunch and plenty of water and make a day of it! Hiking in Western North Carolina is a great way to experience the beauty of spring.