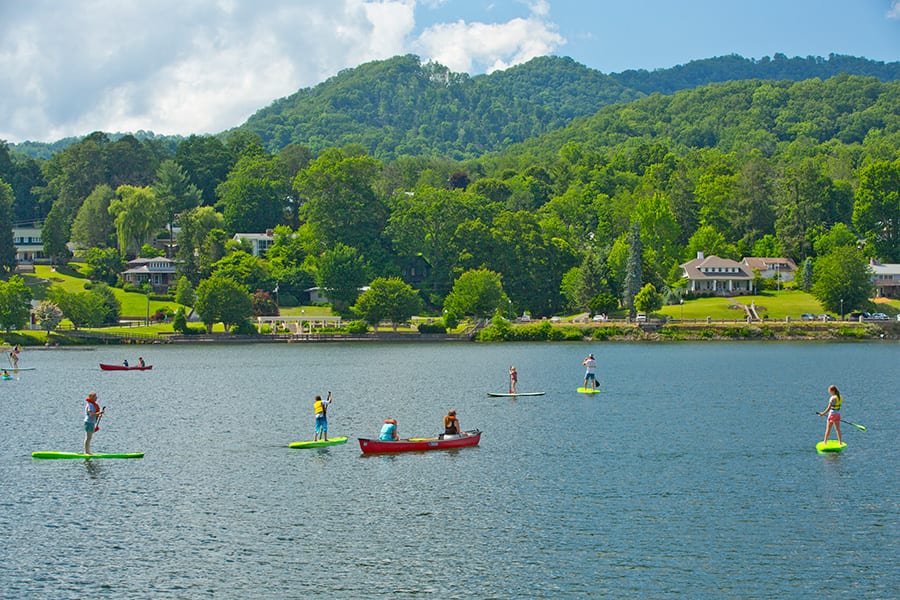 If you're looking for a way to beat the summer heat, spend a day at Lake Junaluska. It's right outside the gates of Avalon Mountain Community and is a family friendly place you will enjoy. Lake Junaluska is a 200 acre lake with a conference and retreat center located in a beautiful mountain setting. It is open to the public year round and has lots of gorgeous views and things to do to.
Take a Walk
Along the lake, there is a well maintained 3.8 mile paved walking trail called the Rose Walk. It is lit, so evening strolls are perfect for enjoying the cool mountain air. A rose garden lines the path, too. When the roses are in bloom, it is a lovely place to enjoy. You can literally stop and smell the roses as you enjoy the views and the fresh mountain air.
Take Part in Outdoor Activities
There is a pool and outdoor aquatic center at Lake Junaluska for guests to enjoy. You can get some exercise and have fun all at the same time. It is open from Memorial Day to Labor Day with the following activities:
outdoor pool
canoe and paddleboard rentals
tennis
basketball
horseshoes
shuffleboard
putt putt ini golf course
Hit the Links
If you are a golfer or want to learn how to play, there is an 18 hole golf course at Lake Junaluska. Spend some time on the greens and play a game. You will have a scenic view of the Blue Ridge Mountains and lake as well as a great course. There is also a pro shop, café, and a club house with a meeting room available.
Quiet Spots at Lake Junaluska
There are lots of beautiful, quiet spots for you to sit, think, and relax at Lake Junaluska, as well. Each spot is picturesque and allows you to enjoy the setting and the peacefulness of it. Below are a few to choose from:
Biblical Garden: This unique garden has plants that are mentioned in the Bible! There are herbs, figs, and vines, just to name a few, and a lovely cascading waterfall.
Corneille Bryan Native Garden: This garden contains 500 species of native plants and has many birds to watch!
Inspiration Point: This pretty spot has spectacular mountain and lake views, as well as landscaped gardens. It's has great views of the world famous, Maggie Valley.
Junaluska Cross: This is one of the well-known spots of the conference center. A beautiful 25 foot cross on a stone base, which is lit at night, was built there in 1922. There is an amphitheater below it. It is a great place for worship, weddings, and summer events.
Take a Boat
The Cherokee IV is a guided tour around the lake and grounds. Every night, May 26 through September 4, at 8pm the tour is available for $5 per person. It's a relaxing boat ride that allows you to enjoy the beauty of Lake Junaluska on the water!
Take advantage of this wonderful lake that is practically in Avalon's backyard! As a home owner at Avalon you can enjoy Mountain Lake Living anytime. You can slip down to the lake and canoe, kayak, boat or fish. It's a great place take the kids and grandkids to enjoy when they visit. You won't regret a day on Lake Junaluska! It may even become one of your favorite places to visit in Western North Carolina.
Mountain Lake Living is just one of the many benefits of living in the mountains at Avalon. LEARN MORE.