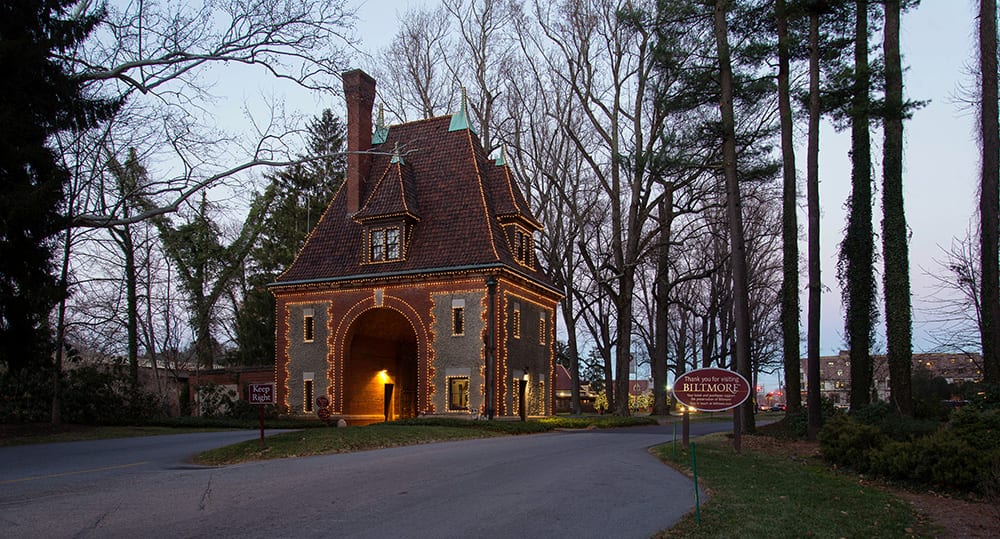 After the sun goes down is the best time to experience the charm of Christmas in Western North Carolina. This is when all the holiday lights come on, and they are magical! Avalon is very close to five of the best Christmas Light displays in Western North Carolina. You won't want to miss these during the holiday season!
1. Winter Lights at the North Carolina Arboretum:
From now until December 31, 2017, this one of a kind outdoor lights exhibit is open nightly from 6 to 10pm. Throughout the gardens there are displays with 500,000 LED lights! Christmas music is played and there is hot cider and cocoa to enjoy as you stroll through this enchanting show of lights! On the grounds, the Savory Thyme café is open, and there is a special dinner buffet every Friday and Saturday (reservations required for the buffet dinner). All tickets for the lights exhibit must be purchased in advance! There are no tickets sold at the gate! Tickets are $18 for adults, $12 for kids ages 5 to 11, and kids under 4 get in free. Buy your tickets now.
2. Lake Julian Festival of Lights:
Now through December 23, 2017 in south Asheville, near Biltmore Park, is a popular drive through Christmas lights show! There are 50 animated and stationary light displays to celebrate the season! The cost is $10 per car or $20 per large van or bus, and 20% of all proceeds are donated to the Buncombe County Special Olympics. You will see fantastic lights and be helping a worthy cause. It is a win, win! Kids of all ages will enjoy the exquisite illuminations! (Specific GPS directions for this event are 406 Overlook Rd. Ext. Arden, NC.)
3. Forest City Christmas Lights:
This free event runs from now until January 2, 2018. Main Street is decked out in one million lights for the holiday season! Lights are on displays, on trees, hanging overhead, and on just about everything! You may drive or walk down Main Street and enjoy the beautiful glow of lights. On weekends there are hayrides for $2 per person and ice skating for $7 per person. Visit Santa's House on special days – Fridays Dec. 8, 15, & 22 and Saturdays Dec. 9, 16, & 23. On Sundays Dec. 10 & 17, Santa Paws is open from 2 to 6pm for your pets to have their pictures made with Santa, too!
4. Hendersonville's "Come Home for the Holidays":
From now until January 1, 2018 this Christmas event is welcoming all! Main Street is draped in lights, the beautiful historic buildings are decorated, stores compete in decorating contests, and there is even a giant Christmas tree in front of the historic courthouse. It is truly magical! There are horse drawn carriage rides through the downtown lights for $5 per person, from 6 to 9pm, on Dec. 16, 23, 30, and 31. On Fridays and Saturdays, stores stay open late and there are carolers! Also, a synthetic "iceless" skating rink is open at the Visitor's Center from Dec. 19 through Jan. 1, from 7 to 11pm.
5. Biltmore Candlelight Christmas Evenings:
Christmas is one of the best times to visit Biltmore Estate! Through January 6, 2018 the holiday celebration is in full swing! The entire chateau and grounds are magnificently decorated for the season, including a floor to ceiling giant Christmas tree in the dining room! There are thousands of lights and a special candlelight tour. Live performances of Christmas music will be performed as well. Step back in time to a Christmas exhibit like no other! Antler Village and the Winery are also dressed for the season! Skip the lines and purchase your tickets in advance.
The mountains of western North Carolina are alive with the Christmas spirit! The nights are full of color and a great time to see the scenery in a whole new light, holiday lights, that is! Get out and enjoy all the season has to offer! You will be glad you did!