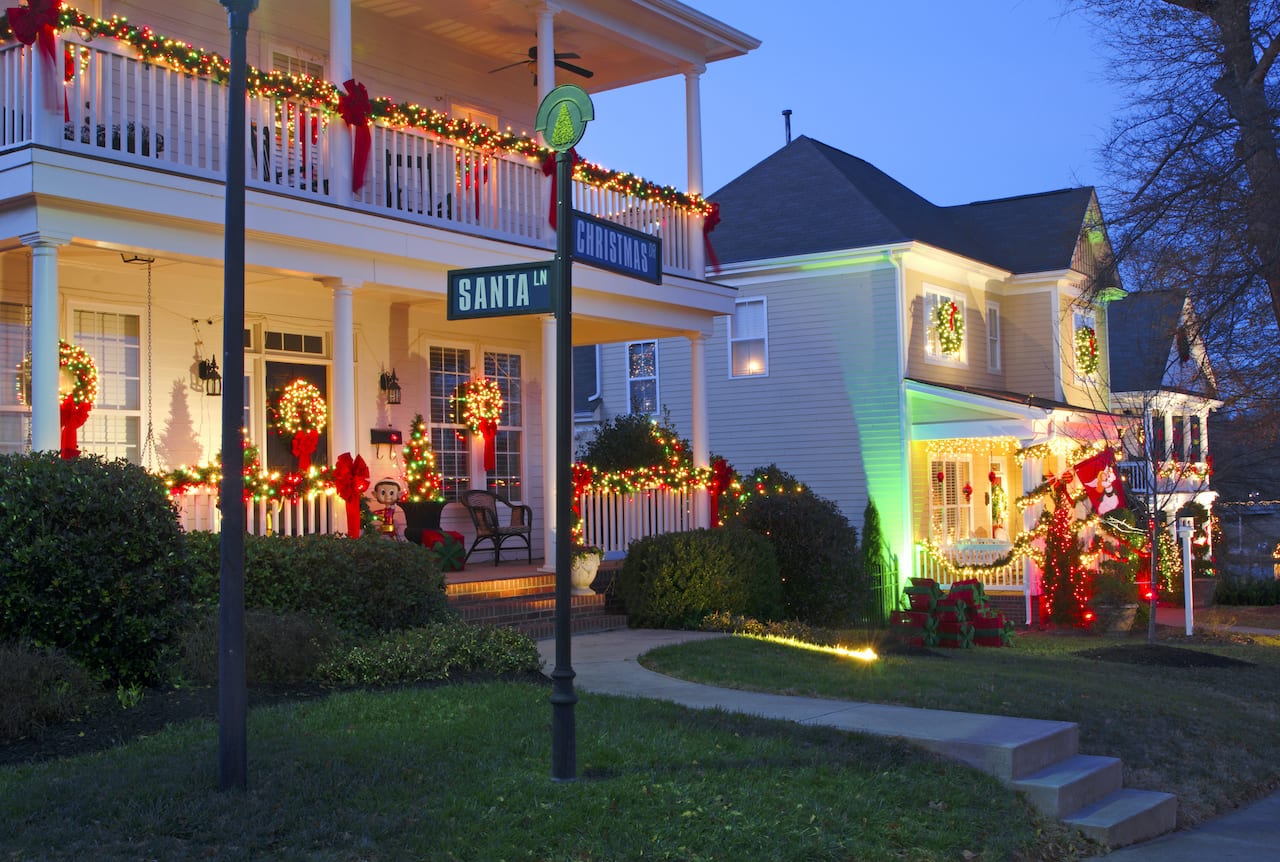 For over 60 years, McAdenville, a small town near Charlotte, North Carolina has transformed into a winter wonderland for all who need help igniting the Christmas spirit. With a population of 660 residents, the community comes together to put on a spectacular display that has drawn national media coverage, dubbing them Christmas Town, USA.
McAdenville History 
The Christmas Town tradition began like most traditions do, as a small simple idea. The McAdenville Men's Club chose to decorate a few trees around town with Christmas lights and a manger scene. The sight of the lights and illuminating effect the lake had on the town caused a great deal of positive feedback and Christmas cheer that lead to an annual tradition that continues to grow. The display brings the town together and attracts visitors from all over.
Landmarks to See in Christmas Town
Take time to see a few of the landmarks that have drawn visitors from across the country. Here are a few of the many displays you should look for during your stroll. 
Christmas Trees.

Nearly 300 Christmas trees are set up throughout the town limits. Ranging from 6 to 90 feet, the evergreen trees are strategically decorated with 500 to 1000 multicolored lights. 

Nativity Scene.

The Nativity scene comes to life right outside of McAdenville Baptist Church, with actual life-size figures and carolers set to traditional Christmas tunes.

Center-of-town Lake.

Take a drive around the lake that sits at the heart of the town, magnifying the brilliant display around its edges. 

Historical McAden Mills Bell Tower.

Set high above Christmas Town, a historic bell tower built in 1883 welcomes visitors for the Christmas season. Christmas music plays from the bell tower for strolling pedestrians and drivers alike. 

Resident Homes.

The display is a labor of love for the whole town, with residents decorating their own homes to greet and share the Christmas spirit with everyone who visits their community. 

Wreaths.

Atop lamp posts, on doors and windows throughout the town, unique wreaths garnish the Christmas community.

Santa and His Reindeer.

A nine-foot display of Santa and his reindeer can be seen annually for all–even those with coal in their stockings. 
Things to Know Before You Visit McAdenville, NC
Before setting off on your trip to Christmas Town USA here a few helpful things to know as you visit McAdenville, NC. 
How Much.

Visiting Christmas Town in McAdenville is completely free. Choose to stroll through the community on foot or drive through with your whole family. The four parking locations around town are also free of charge. 

Where.

Located not far outside of Charlotte and under 2 hours from Asheville, Christmas Town is a nice overnight trip for the holidays with the family.

Pets.

The whole family is welcome to attend, including pets! However, all animals must remain on a leash. 

How long.

The route is about 1.3 miles long, and can take up to 30-45 minute enjoy in a vehicle.

When. December 2 – December 26: Monday – Friday 5:30 – 9:30 pm, Saturday & Sunday 5:30 – 11:00 pm
For more information, you can visit the official site.
Can't make it to McAdenville this year? Here are our picks for the 5 Best Christmas Light Displays In Western North Carolina or check out these other ideas for winter fun in Western North Carolina.