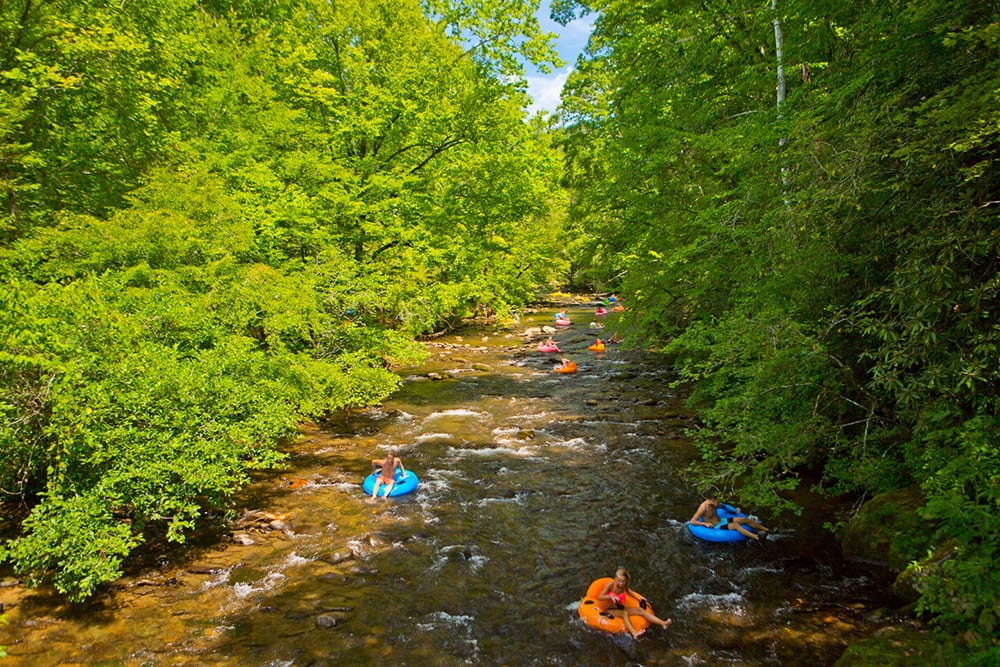 There are so many truly wonderful small towns in Western North Carolina that are so worth a visit. Living in Avalon Mountain Community puts you in the heart of them. You can easily take a day trip to a number of these special places. One quaint and enchanting town you will not soon forget is Bryson City.
Bryson City is one hour west of Asheville, NC. It was named as one of the twenty best small towns to visit by Smithsonian. Bryson City boarders the Great Smoky Mountain National Park, and has so many things to see and do.
Bryson City Activities At A Glance…
Raft , kayak, and zip line on the Nantahala River
Great Smoky Mountains Railroad
Cherokee Indian Reservation
Fontana Lake
Museums: Fly Fishing of the Southern Appalachians, Swain Co. Heritage, & Smoky Mountain Train Museum
Delightful downtown restaurants and shops
Access to the Great Smoky Mountain National Park, in particular the Deep Creek area
Best Things To-Do In Bryson City
Great Smoky Mountain Railroad: One of the things Bryson City is known for is the Great Smoky Mountain Railroad. The train tours and seasonal event rides are phenomenal! In 2016, it was named as one of the USA's top ten American train rides. You can choose from several scenic railway day trips, which go through gorges, across rivers, and through tunnels. Each train ride offers gorgeous mountain views and is an entertaining way to see Western North Carolina. Throughout the year there are also fun event train rides, like The Polar Express, Peanuts The Great Pumpkin Patch Express, Fall Foliage Train Tour, and more. (See GSMR.com for all event information and to buy tickets.)
Museums:  There are three great museums to visit when you're in Bryson City. All three have lots of cool displays and loads of information for all ages. They're also fun!
Fly Fishing Museum of the Southern Appalachians: This museum is found at 210 West Main Street. It has exhibits and videos on the history of fly fishing in Western NC.  There is a kids' corner with a scavenger hunt, too. The museum is open Monday – Friday from 9am to 5pm. Admission is free! (For more information, visit the museum website.)
Smoky Mountain Trains Museum: Located at 100 Greenlee Street, this museum has model train exhibits and collections. It is open Nov. 1 – 15, 2018 from 9:30am to 4:30 pm and Nov. 16 – Dec. 31, 2018 from 9:30am to 8:15pm (closed on Thanksgiving & Christmas days). Admission is free with the purchase of a train ticket from the Great Smoky Mountain Railroad. There is a children's activity center and a gift and toy shop.
Swain County Heritage Museum: The museum is located at 255 Main Street. Its exhibits show the history of WNC mountain culture and traditions, such as a restored 1887 church organ, quilts, a one-room school house, the creation of the Great Smoky Mountain National Park and Fontana Dam, and much more.  It is open from 9am to 6pm and admission is free. (Go to the Swain Heritage Museum website for more information.)
Deep Creek:  This area is within the Great Smoky Mountain National Park, and it is just outside of Bryson City. It is great for hiking, with easy to moderate trails. There are also three waterfalls: Indian Creek Falls, Juney Whank Falls, and Tom Branch Falls. You can fish, and there is a whitewater section of the creek for tubing, too. Picnic and camping areas are also available.  (Visit the Deep Creek website to find out more.)
Bryson City is a charming small town in Western North Carolina. It has so much to offer visitors and is a great place to explore. Spend some time there and discover all its hidden treasures.