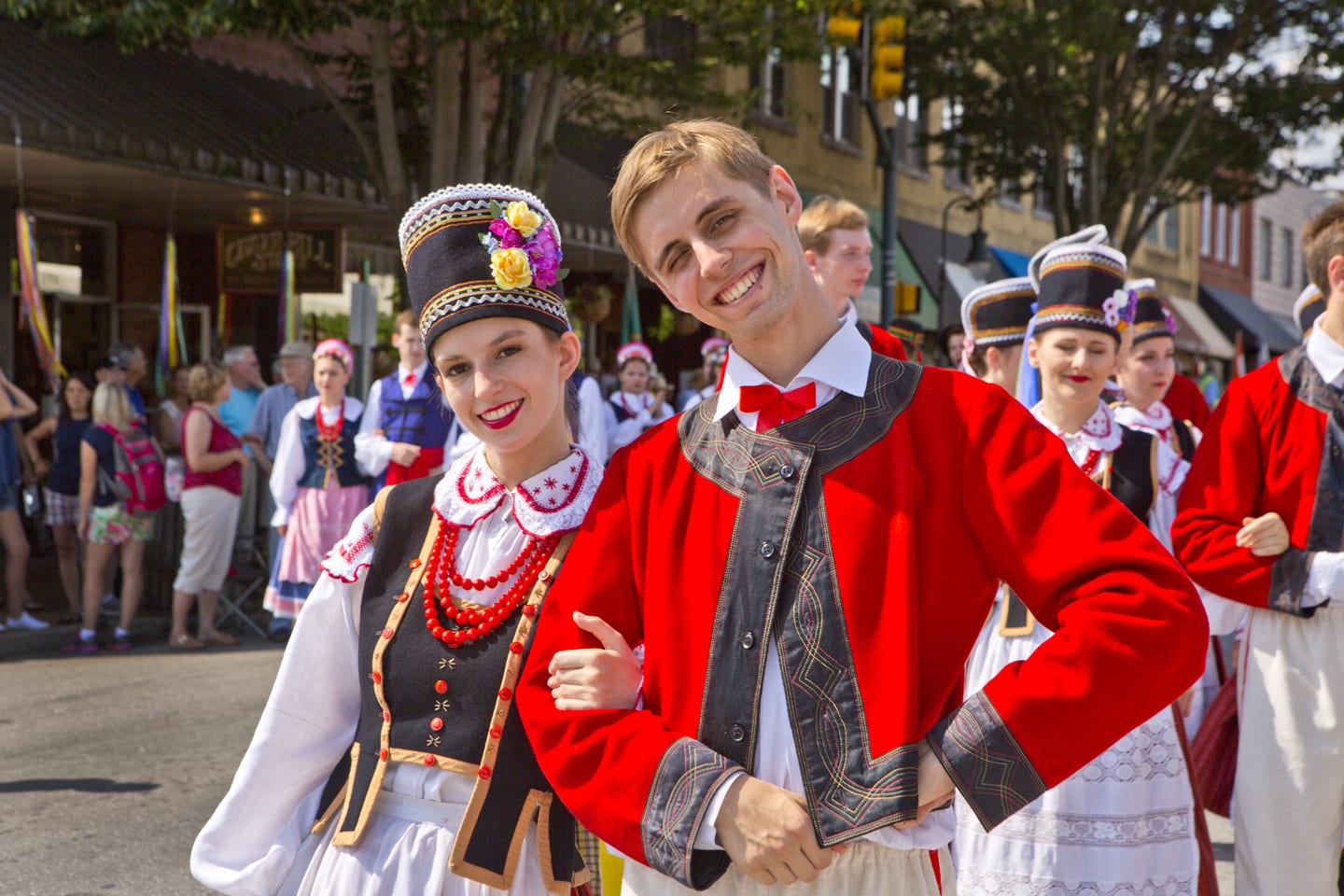 Did you know that Waynesville, North Carolina is host to one of the biggest and most popular summer festivals in the state? Folkmoot USA is an international festival that brings food, music, dance, and performances from many different countries to the mountains of Western North Carolina each July. It is an amazing celebration and so fun!
The word "folkmoot" means "meeting of the people" in Old English, and this ten-day festival shares so many beautiful cultural traditions from around the globe. Its purpose is to bring together people of the world to show others our different cultures, but also to display that no matter where we come from, we all have things that make us the same. This year's Folkmoot USA is July 18-28, 2019, and it marks the 36th year of the festival.
Waynesville, NC is the host town, but please note that performances and activities will be located all over Haywood County, including the towns of Canton, Maggie Valley, Lake Junaluska, and more. Some events also require a ticket or an entrance fee, while other events are free to the public.
There are so many wonderful performances and activities for all ages throughout the 10-day festival. It is an extremely long list of events to write about here. The ones mentioned below are a sample of what you can expect at Folkmoot USA this year, and a link to the full event schedule with times, dates, locations, and entrance fees are listed below!
What you Can Expect at Folkmoot USA this Year
The Grand Opening Extravaganza is on July 19, 2019 at 7:00pm, at Lake Junaluska's Stuart Auditorium (located at 20 Chapel Drive, Lake Junaluska). More than 200 dancers and musicians from all over the world will share their folk dance traditions. There will be a welcoming regional choir, a presentation of flags, and dance presentations. All international groups will perform, as well as dancers and musicians representing Cherokee and Appalachian cultures. This performance requires tickets, which can be purchased here.
The Parade of Nations is on July 20, 2019, at 10:00am, on N. Main Street, in Waynesville, NC. This free event will have over 200 dancers and musicians showcasing their countries' customs and traditions. It is a great way to see all the countries represented during the festival.
Many Cultures Day is after the Parade of Nations ends, from 11:00am to 4:00pm, on July 20, 2019, at the Folkmoot's Friendship Center (located at 112 Virginia Avenue, Waynesville). This event will have vendors, activities for children and adults, ethnic food trucks, performers and more. You will need a ticket for Many Cultures Day. Tickets are $5 per person and can be purchased now.
Cherokee World Games is on July 22, 2019 from 2:00pm to 7:00pm, at the Cherokee Indians Fair Grounds (located at 545 Tsali Blvd., Cherokee). The Cherokee World Games are a multi-sport event, which includes cultural demonstrations and ball, precision, artistic, trend and strength sports. Eight international countries are involved, along with their Cherokee hosts. Food trucks and Cherokee vendors will be on site. You will need tickets to get in.
Diana Wortham Performance is on July 24, 2019 at 7:00pm, at the Diana Wortham Theater (18 Biltmore Ave., Asheville). This is an all Folkmoot group show with over 200 performers! There will be music, dancing, and costumes from around the world. Tickets are required to see the show. They are $31 each and can be purchased now at the DWTheatre website.
International Festival Day is on July 27, 2019 from 10:00 am to 5:00 pm, on N. Main St. in Waynesville. It is a free event! Food vendors, artisans, and the international groups will all be at this event. You can see music and dance performances, take folk dance lessons and see craftwork from the international countries participating in the festival.
The Candlelight Closing Ceremony is on July 28, 2019, from 7:00 pm to 10:00 pm, at Stuart Auditorium, Lake Junaluska (20 Chapel Drive, Lake Junaluska). This ceremony is a lovely way to end the international festival. There is a presentation of flags, performances, a candlelight procession of participating groups, and more. You need tickets for the candlelight ceremony.
For the complete event calendar for you can visit the Folkmoot USA website.
You can travel the world without leaving Western North Carolina when you attend the Folkmoot USA Festival. It is a truly special event that you do not want to miss. There are events that are fun for all ages and it is family-friendly. So, mark your calendar and attend Folkmoot USA!