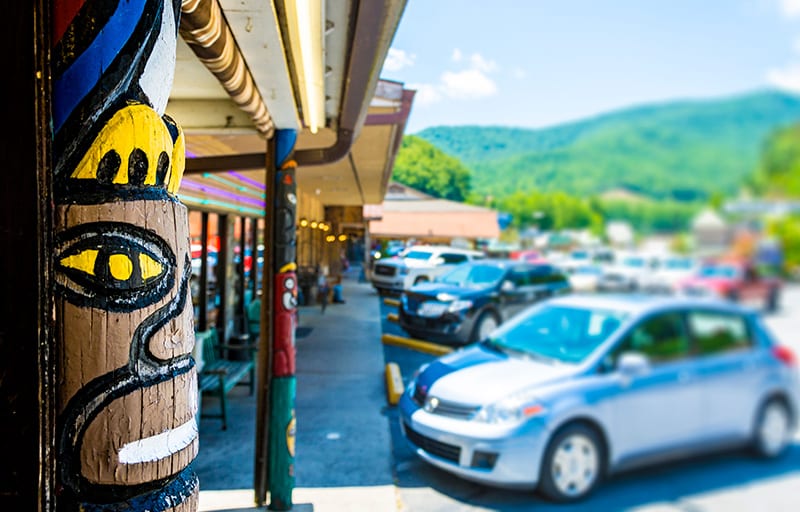 Cherokee, North Carolina is a town full of history and fun things to see and do. It is only 33.2 miles from Avalon Mountain Community and well worth a visit. The entire family will enjoy the adventure!
A Little History
The Cherokee Indians have a rich history in Western North Carolina. They have inhabited the area for centuries. In 1837, the federal government signed the Treaty of New Echota with a small portion of the Cherokee. This treaty forced the Cherokee people to leave their land and relocate west of the Mississippi River. Some of the native people resisted removal by withdrawing to the mountains, and some claimed North Carolina citizenship with the right to maintain the land they owned. In 1868, the federal government acknowledged those that remained in this area and their descendants as the Eastern Band of Cherokee Indians.
See the Past
One of the best ways to hear the story of the Cherokee Indians is to visit one of the oldest theater experiences in the state. Unto These Hills is an outdoor performance that traces the history of the Cherokee people from 1780 to the 21st century. History comes alive as you watch the thrilling tale! There are authentic costumes, stories that have been handed down generation to generation, and native music and dance. For more information, show times, and tickets, go to VisitCherokeeNC.com.
Examine the Culture
The Museum of the Cherokee Indians is another great way to discover their saga. This one of a kind museum has interactive and full sensory exhibits to teach the history of the Cherokee people. Not only will you learn of the Cherokees' past, you will also discover their beautiful culture. The museum is open every day, year-round, except for major holidays. The hours the museum is open change with the seasons, though, so be sure to check the website before you go.
A Walk in Time
Oconaluftee Indian Village is where you literally step back in time to see an authentic Cherokee Indian village. History awakens as you see this replica of a 1760 village, with traditional dwellings, work areas, and sacred ritual sites. Watch villagers hull canoes, make pottery, fashion beadwork, and more. Tours are led by a Cherokee culture expert, and you can interact with the villagers as you go. Oconaluftee is open from April 30, 2018 through November 11, 2018, Monday through Saturday from 10am to 4pm, with tours every 15 minutes.
Enjoy the Outdoors
Cherokee, NC is more than just the history of the Cherokee people. It has lots of outdoor fun for everyone! Whether it is hitting the links, exploring nature, or fun on the water, there is a little bit of everything here.
Sequoyah National Golf Club: This beautiful golf course was designed by Robert Trent Jones II, and its layout is quite challenging. There are 6,057 yards of greens and fairways. As you play, take time to notice the splendor of the mountains that surround the golf course.
Oconaluftee Islands Park: The staffs of this water park describe it as "the central hub for water lovers". There are a number of activities to have some fun in the sun, such as swimming, tubing, trout fishing, piers to feed the ducks, and more. There are even nature trails along the Oconaluftee River to explore.
Haven for Birdwatching: This vicinity has over 200 species of birds and 6 state recognized bird trails! It is noted as one of the best places for birdwatching in the Southeast. Two very well-liked spots in Cherokee for birdwatching are the Nunadyeli Trail and the Kituwah Mound. Grab your binoculars and see which birds you can spot!
Outdoor Adventure: There are so many more outdoor adventures in Cherokee, NC. I could write page after page, but for time's sake, listed below are just a few of the fun things to do.
• Hiking trails
• Mountain biking trails
• Horseback riding
• Fishing
• Elk viewing
Play Indoors
If you are looking for a different kind of excitement, other than outdoor adventures, be sure to visit Harrah's Cherokee Casino and Resort. This 4 star luxury hotel and casino is encircled by the Great Smoky Mountains. It is an escape from reality while you stay. The casino is very popular and includes more than 150,000 feet of gaming space. You can play more than 100 traditional games, such as Craps, Blackjack, Roulette, and more. Harrah's consistently books world-class international entertainers to perform in these old mountains. In the past stars like Dwight Yokam, The Moody Blues, Pat Benatar and Greg Allman performed up close and personal. Coming soon is Alice Copper and Phillip Phillips. There are also some fantastic places to dine in while you visit Harrah's, such as Chefs Stage Buffet, Brio Tuscan Grille, Selu Garden Café, and so many more!
As you can see, Cherokee, North Carolina has a lot to offer visitors. It is a special place, like no other in North Carolina. Living in Avalon Mountain Community makes it so easy to get there, and once you spend a day in Cherokee, you will visit again and again!