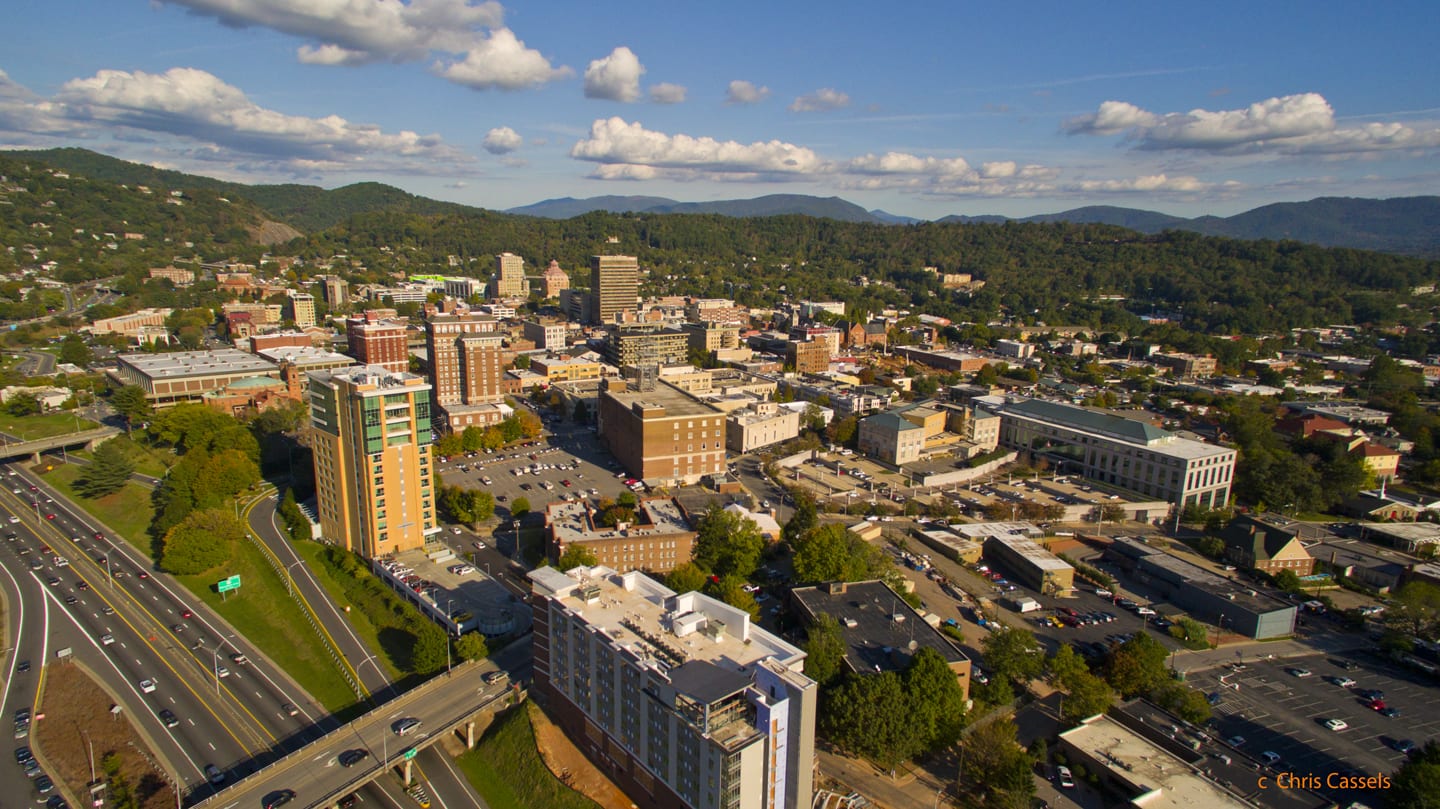 Asheville is nestled in the Blue Ridge Mountains of Western North Carolina. It is a charming, diverse, and growing city that has so much to offer residents. Asheville is a big city with a small town feel. This is a great place to live, but before you pack your bags and go, there are some things you need to know about Asheville, North Carolina!
Culture is everywhere in Asheville!
There is art, music, theater, museums, fine cuisine, shopping, and so much history! At the same time, though, you are surrounded by nature and there is clean mountain air in the midst of the city. It does not feel like you are in a cramped, loud urban area.
Asheville is elevated!
It is surrounded by the Blue Ridge Mountains. The higher elevations of the mountains give Asheville slightly milder spring and summer temperatures, cooler autumns, and snowy winters!
Asheville is an outdoor wonderland!
Pisgah National Forest, Nantahala National Forest, the Blue Ridge Parkway, and Great Smoky Mountain National Park are all within driving distance of Asheville. You can be in any of these locations within miles of the city. This means that there is gorgeous scenery, as well as outdoor activity year round! In the spring, hiking, fly fishing, and mountain biking are popular. Summertime means white water rafting, canoeing, and swimming in the mountain waters. In the fall, there are lots of good orchards to pick your own apples, and the fall foliage is unbelievably beautiful! Winter means snow, so all the winter sports you can think of are all around, such as skiing, sledding, tubing, and ice skating, just to name a few.
Asheville is a family (and pet) friendly city.
There are family friendly activities, like museums with educational exhibits, playgrounds, kid-friendly performing arts shows, gardens, and parks. You will see families out and about enjoying Asheville. There are also walking trails and outdoor eating establishments all around the city, which allow dogs.
Other fantastic big cities are close to Asheville!
It is located in a great region that allows for day or weekend trips to other well-known southern towns.
Greenville, SC (62.8 miles from Asheville)
Pigeon Forge, TN (87.9 miles from Asheville)
Gatlinburg, TN (81.5 miles from Asheville)
Charlotte, NC (124.6 miles from Asheville)
Atlanta, GA (198 miles from Asheville)
Asheville is growing!
Because the city is popular, many people are moving here. It can be hard to find housing in the heart of the city, and if you do, it may be pricy. Looking for a home in the suburbs of Asheville, or in one of the many surrounding smaller towns, may be a better option. There are many advantages to living in the mountains of WNC. You are still only a short drive from the heart of Asheville and you will be able to get to all your favorite places easily. Avalon Mountain Community is an up and coming residential neighborhood in the outskirts of Asheville, with lots of amenities for its residents.
Asheville is an excellent place to live. The location, natural beauty, culture, and diversity make it a great family-friendly place to be. It gives residents the sophisticated big city style with a laid-back southern twist! Once you visit Asheville, you will love it.