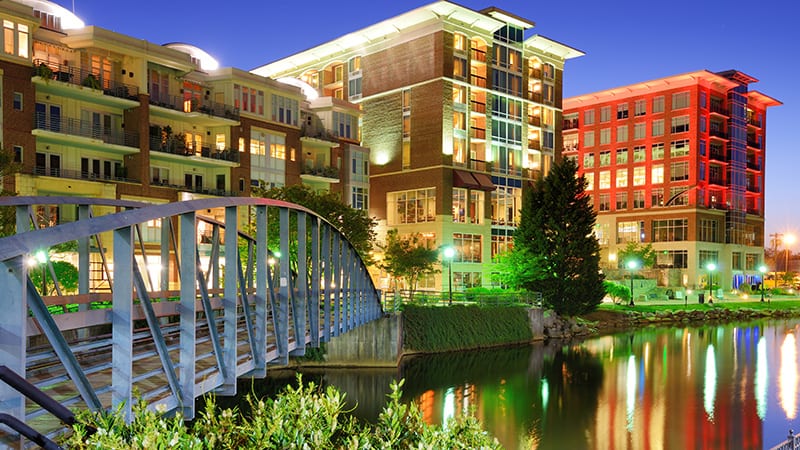 Living in Avalon Mountain Community makes it very easy to take a day trip to Greenville, South Carolina. Greenville is only 90 minutes from Avalon and has lots of fun things for the entire family to enjoy. It is a city you will want to visit again and again!
Greenville, SC is one of The New York Times' Places to Go in 2017, one of
The Wall Street Journal's Best Buzzy International Destinations, and
National Geographic Traveler's one of the 20 best places to visit in 2016. It is a growing city with lots of southern charm and hospitality.
Downtown Greenville is the heart of the city. There is a little something for everyone here. From shopping, to dining, to entertainment, there is always something to savor. This family friendly place has it all!
Your Day Trip to Greenville Starts Here
Enjoy Some Fresh Air…
Take a stroll down Main Street. The tree lined street is one of the most beautiful main streets in the country. If you have children with you, be sure to look for the Mice on Main, which is a scavenger hunt for the tiny bronze mice statues scattered all along the street between The Hyatt Regency and Westin Poinsett Hotel. (You can print out a hint sheet with clues as to where the Mice on Main are.)
As you walk down Main Street, you will come to the historic West End. Here, you will find Falls Park. It is a beautiful, serene spot in the middle of town. The Reedy River flows through the park, and there are waterfalls and gardens to enjoy. The Liberty Bridge crosses over Reedy River Falls. This 345 foot long suspension bridge is one of a kind and is the perfect spot to take in the view.
Hit the Trail…
The Swamp Rabbit Trail is a 22 mile greenway, used for bicycling, running, and walking that travels along the Reedy River and connects Greenville, SC to Travelers Rest, SC. One way to access the trail is from Falls Park. If you enjoy being out in nature and getting some exercise at the same time, then the Swamp Rabbit Trail is a great way to spend some time.
Spend Some Time with the Animals…
The Greenville Zoo is located at Cleveland Park. It is a 14 acre zoo with wildlife from all over the world. It is a terrific place to bring the kids, or anyone who loves animals. There is so much to see and learn at the zoo. It is fun for all ages!
So Many Museums…
Visit the area of downtown called Heritage Green to soak up some culture. All in one section of downtown, you will find the Greenville County Museum of Art, the Upcountry History Museum, and the Children's Museum of the Upstate. You can see fabulous art work, learn the history of Greenville, and even entertain the kids all within walking distance.
Play Ball…
If you are a baseball fan, then head to Flour Field. Located in downtown Greenville, Flour Field is the home of The Greenville Drive. This minor league, Class A team is an affiliate of the Boston Red Sox in the South Atlantic League. In fact, the stadium is modeled after Fenway Park and is a fun place to take in a game.
Hit the Ice…
If you prefer an indoor sport, then catch a hockey game at the Bon Secours Wellness Arena, which is home to the Greenville Swamp Rabbits. This minor league hockey team is an affiliate of the NY Rangers (NHL) and the Hartford Wolf Pack (AHL). There is always excitement when watching a game!
Live Entertainment…
Downtown Greenville also has many places to enjoy theater, music, and live entertainment.
The Peace Center: Adjacent to Falls Park, this performing arts center hosts Broadway musicals, plays, musicians, and more.
Bon Secours Wellness Arena: This indoor arena hosts sporting events, concerts, and various other live entertainment events.
The Greenville Little Theater: This is one of the oldest theaters in Greenville and has a history of wonderful plays, musicals, and entertainment for all.
Café and Then Some: Located on College Street, this comedy dinner theater is one of a kind!
Downtown Greenville Restaurants
Oh, the Places to Eat… 
There is a little bit of everything to eat in downtown Greenville.
There are so many wonderful restaurants, that it is hard to only list a few. Below is just a sample of the local cuisine:
Chicora Alley– Southern Caribbean cuisine
Sushi Go – The name really says it all.
Mellow Mushroom – fantastic pizzeria
Carolina Ale House – American pub fare with a cool rooftop seating area
Trio – a brick oven café with Italian favorites
Mary's at Falls Cottage – in Falls Park – traditional brunch and lunch sandwiches and salads
Tupelo Honey – Southern favorites with a twist
Passerello Bistro – also in Falls Park – French Bistro
Soby's – describes itself as "reimagined Southern fare"
Larkin's on the River – steak and seafood with pretty views
The Chocolate Moose Bakery – gourmet cupcakes, cake pops, and so many amazing sweet treats
Shop Til You Drop…
There are lots of unique, charming shops all along Main Street to explore. Again, only listing some of the great places is hard to do, but the following list will get you started:
O. P. Taylor's – This really cute toy shop was listed as a "top 10 toy store in the world" by USA Today. Greenville, SC is one of only 3 places in the southeast to find it.
Mast General Store – This shop has it all! You can find clothing, outdoor gear, gifts for the home, food, and more here.
Oil & Vinegar – This culinary shop carries imported olive oils and vinegars, as well as specialty foods.
Pink Azalea – This shop carries distinctive apparel, accessories, and gifts for the home.
Pedal Chic – This is the place to shop for the bicycle enthusiast!
As you can see, there is so much to do and see in Greenville, SC. It is well worth the drive to spend the day in this incredible city. You will love it!