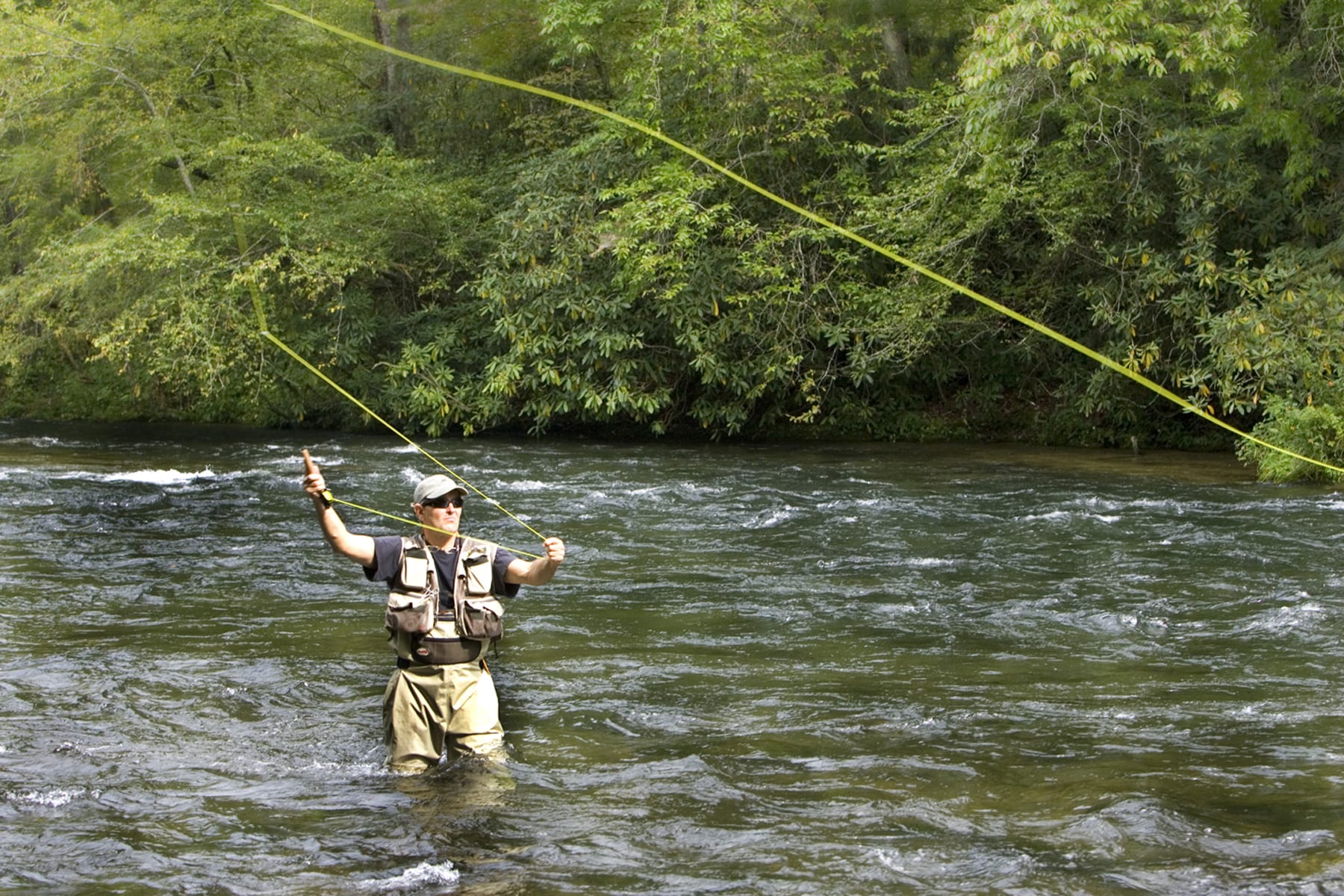 Grab Your Rod and Reel; You're Going Fishing!
Anyone who fishes will tell you that you get more than just fish when fishing. You're out in the fresh air, being part of nature. You can relax and unwind as you enjoy a day on the water. If you fish with a friend or loved one, you have time to just be together, talk, and bond.
Did you know that North Carolina is known for its fishing? Fly fishing, boat fishing, and pier fishing are all found in NC and only a short distance from Avalon. Whether you are a beginner or a pro at fishing, NC has lots to offer!
Let It Fly! Western NC Fly Fishing Hot Spots!
Jackson County is home of the Western NC Fly Fishing Trail, which highlights 15 key spots for fly fishing. The NC Wildlife Resources Commission stocks the waters of Jackson County with trout each year. The county also has North Carolina's longest stretch of mountain trout waters and is called the state's trout capital.
The Tuckaseigee River is the main body of water in Jackson County. The Charlotte Observer calls it "Western North Carolina's best trout stream for fly anglers." The river has 20 miles of river to fish. You can pick up a fly fishing trail map at the Jackson County Welcome Center in Sylvia, NC or online at FlyFishingTrail.com.
The Davidson River is 40 minutes from Waynesville, NC in the Pisgah National Forest also known as The Land of Waterfalls. It has earned national recognition as a top spot for fly fishing in NC. Rainbow trout, brown trout, and brook trout are found here. (Please note that the upstream of Avery Creek, which flows into Davidson River, is a catch and release only section.) Check out our friends at Davidson Fly Fishing for all your flies and gear.
The French Broad River is the largest watercourse in western NC, spanning 70 miles. Its waters are home to smallmouth bass, largemouth bass, catfish, trout, and more. This river is great for floating and has many guide services to assist you on your hunt for the BIG one. Located in Biltmore Park is Western North Carolina's own Orvis store where you'll find whatever fishing apparel or gear you need.
The Great Smokey Mountains National Park is 30 minutes from Waynesville, NC and just 20 minutes from Avalon. The park has about 2,900 miles of streams in it that run through NC and TN. Here you'll be fishing right along the grazing meadows of the majestic Eastern Elk enhancing your fishing experience. Stop by the visitor's center to get information on the best spots to fish and maps. You will find Smallmouth bass, rainbow trout, brown trout, and more in these waters. Surrounded by the mountains you will have beautiful views while fishing these streams. For guide services visit Hunter Banks on main street Waynesville, Fly Fishing the Smokies or BrookingsOnline.com.
The Nantahala River is about an hour from Waynesville, NC. This is one of the state's ten best trout streams, according to North Carolina Game and Fish. The Nantahala River has a great supply of native trout. (Please note that this river has lots of rafting and canoeing; however, the fish are used to traffic on the river and anglers say it does not scare them off.) For supplies, gear and guide services check out Tuck Fly Shop and Natahala On The Fly.
Jump in the Lake!
If fly fishing is not your thing, spend the day fishing on the lake. There are plenty of lakes in Western NC that you can fish on by boat, pier, or on the shore.
Lake Junaluska is about 5 miles from downtown Waynesville, NC. There is a fishing pier and boat launch. You can expect to catch Trout, white bass, striped bass, crappie, at the lake.
Lake Fontana is in Bryson City, which is about an hour from Asheville. The lake has deep, clear, cold water and you can find largemouth bass in it. The National Park Service owns the land surrounding the lake and offers gorgeous views.
Lake Glenville Jackson County is a little over an hour from Asheville, NC. This lake is the highest elevation of any lake east of the Mississippi. Its clear waters house trout, walleye, yellow perch, large brim, and more.
Lake Julian is in Asheville, NC. It is home to bass, bream, catfish, and crappie. There are canoes available there but no fishing boats allowed.
Lake Powhatan is in the Pisgah National Forest, 7 miles from Asheville, NC. Boating is not permitted here; however, there is a fishing pier and big sections of shore to fish from. There are also hiking and biking trails around the lake.
Need a License!
You will need a North Carolina fishing license for many popular fishing spots in the state. You can get a comprehensive license online for $20 if you're a NC resident. The license is good for 12 months. Visit North Carolina Wildlife to get your license easily. Come experience some of the best river and lake trout fishing on the east coast all surrounded by the beautiful Blue Ridge Mountains and Great Smoky Mountains and all just minutes from Avalon.
What are you waiting for? Come on! Grab your rod and reel and go fishing!