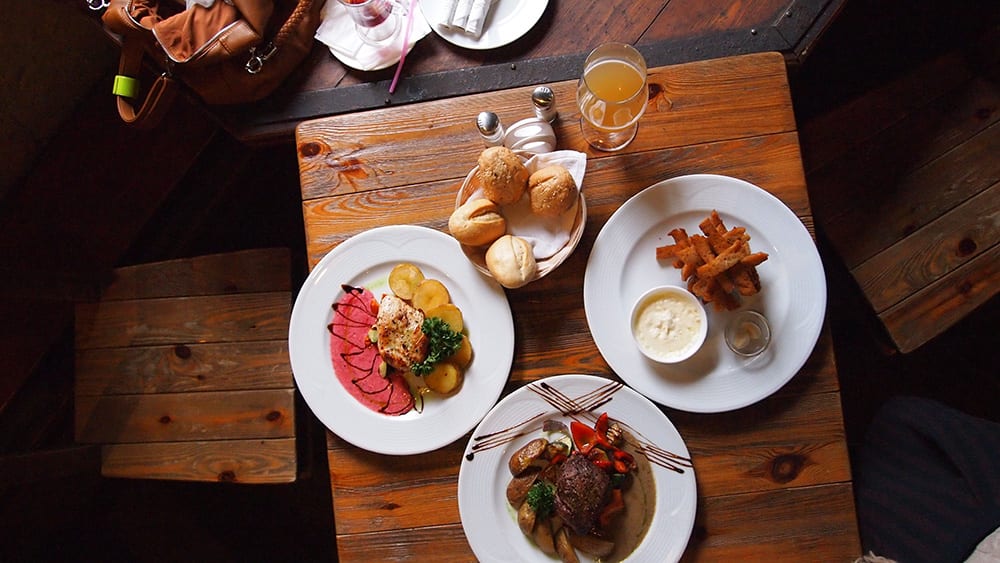 Asheville is a foodie's paradise!
Asheville, North Carolina is the place to go if you are looking for unique and delicious twists on traditional Southern cuisine and to find delicacies from all over the world. In one city, you can travel the globe, food wise! Asheville is indeed a foodie's paradise!
There are hundreds of restaurants in the area. If you have the time, explore the city and discover some tasty treats. For those that want a little guidance into Asheville's food scene, start your taste of the city with one of the ten eateries that follow.
1. Bim Beri Bon
You can literally travel the globe with food in this restaurant! The menu is different, yet delicious. They serve breakfast, brunch, lunch, and dinner, and there is a bakery. The menu also offers lots of wheat free, refined sugar free, and vegan options, as well.  Some delicious items you should try follow:
Persian meat balls
Yam and cauliflower samosas
Japanese tonkatsu
(You can go to the Bim Beri Bon website to see the entire menu, including brunch options.)
2. Biscuit Head
You might think that from the name of this place the biscuit is the star of the show here. But do not let that fool you! They have a full menu of Southern favorites with unique, modern flavor twists!  Come for a breakfast or lunch that you will not soon forget!  There are also gluten free and vegan menus. Just a few of the mouth-watering menu choices they are known for follow below:
Biscuits with sweet potato coconut gravy
Jalapeno pimento cheese
Coconut stewed callaloo collards
Bacon of the day, and more!
(There are 3 locations throughout Asheville, visit the Biscuit Head website to see the entire menu and find your closest location.)
3. Early Girl Eatery
This place specializes in Southern comfort foods made with local ingredients. All the classic favorite foods are here, as well as some fun, new flavor options! The restaurant serves breakfast, lunch, and dinner. Menus for those with special dietary needs or food allergies are available, and the chefs will also cook and make substitutions when asked. The menu has lots of variety, and some highlights are below!
Fried green tomatoes napoleon
Spinach potato cakes with tomato gravy
Tempeh Reuben sandwich
Seasonal pickles
Local cheese platter
(You can check out the Early Girl Eatery site to see the entire menu.)
4. Gan Shan West
This Asian restaurant uses fresh, local ingredients and has a menu that changes with the seasons. There are traditional favorites on the menu, but there are also new flavor combinations to try. You can dine in or carry out, and there are specials that change each week. Take a look at some must try menu choices below:
Steam buns
Roasted vegetable salad
Cabbage wrap
Beef Ramen
(Go to Gan Shan West's website to see the entire menu.)
5. Hole Donuts
This is the place to go for a breakfast treat. The yeasted donuts are made to order using all organic ingredients. All donuts are fried in rice bran oil. Enjoy coffee, tea, or organic milk with your treat. There is even a cute little gift shop. Choose from the options below:
Vanilla glaze
Cocoa rub
Toasted almond sesame cinnamon
Weekly seasonal flavor
(For more information, go to the Hole Donuts website.)           
6. Old Europe Pastries
When you are craving something sweet, look no further than this bakery! The bakery has been open in Asheville for over 20 years, and the bakers here specialize in authentic European sweets. The assortment of desserts varies each day. All of your favorite classic desserts are here, like tiramisu, German chocolate cake, and macaroons. And, there are some to die for new tastes to try, such as the Godiva cheesecake, espresso roulade, and the black diamond!
(For more information and menu choices, go to www.oldeuropepastries.com)
7. Owl Bakery
OWL stands for Old World Levain, and this bakery is dedicated to breads and desserts made from whole, local, organic ingredients. The breads are naturally leavened, and there are European pastries. Coffees and teas are available, as well. Come for breakfast, lunch, or a snack. Some favorites to try are listed below:
Cardamon buns
Shortbreads
Seasonal tartelettes
(Visit the Owl Bakery website to see all their offerings and to check out all the unique, seasonal flavors!)
8. Tupelo Honey
This place is a popular farm to table restaurant that serves Southern foods with contemporary flavor twists. The chefs use all fresh ingredients, and the menu changes with the seasons. Brunch, lunch, and dinner are served here, and they take reservations, too! Take a look at some tasty options they're famous for below:
Fried okra appetizer
Fried chicken BLT taco
Sweet tea roasted chicken
Pimento and fried pickle burger
(To view the entire menu, go to www.tupelohoneycafe.com.)
9. West Asheville Lounge and Kitchen (WALK) 
At this restaurant, you will find classic and modern American food. The menu is big, so there is something for everyone. It is open for brunch, lunch, happy hour, and dinner. You must try some of their mouth-watering dishes that follow:
Burrito salad
Super mac –n- cheese
avocado tempeh melt
(Visit www.walkavl.com for more information and the full menu.)     
10. Zia Taqueria
When you are craving Mexican food, look no further than this unique restaurant. You can eat brunch, lunch, or dinner here, and they even have a dog-friendly patio! The menu has all the traditional Mexican favorites, like tacos, enchiladas, and nachos.  There are also some neat flavor combinations to create a new twist on a classic, such as portabella mushrooms, beef barbacoa, and chicken Yucatan. You can also have Mexican sandwiches and soups!
(For the complete menu, go to ZiaTaco.com)
Is your mouth watering at this point? If so, what are you waiting for? Go and taste all the fabulous foods that Asheville has to offer, also be sure to checkout some of the great wineries and breweries. Remember, this list is just a small sample of all the delicious treats that are only minutes away from Avalon. Enjoy!