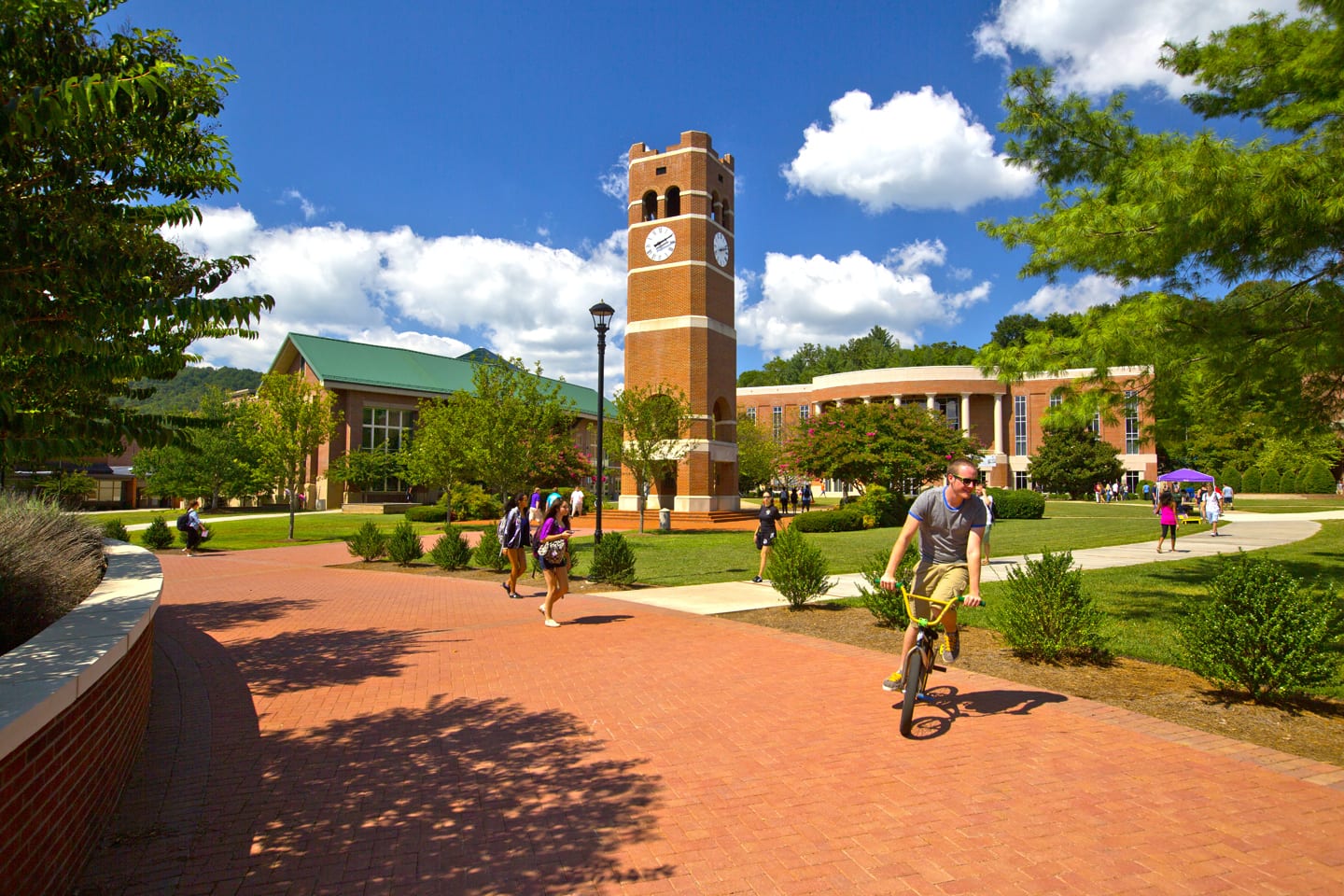 You may be deciding to attend a college in North Carolina because you are a Blue Devils fan come March Madness or an NC State fan during football season. But these North Carolina colleges have so much more to offer than top-notch sports programs. From highly trained professors and specialized major offerings to an active campus life and outreach opportunities, there are several colleges in North Carolina that will prepare you not only for your career but your life as a well-rounded individual. Here are a few of the best universities that call North Carolina home.
Average Tuition:

$58,198

Enrollment Application Deadline:

January 3

 
Duke University is a college with an incredible academic reputation in Durham, North Carolina. With over 15,000 students, the school is large but maintains the small school benefits of added instruction due to an impressive 6:1 faculty ratio. Duke Campus is breathtaking with gardens and Gothic architecture that makes you feel like you are walking the grounds of a castle. One of the ways Duke is unique is the division of campus. East Campus houses all freshmen together, a tradition that encourages comradery with your class. Duke offers 48 majors, with some being broken down into additional specialties. Popular majors include Computer Science, Economics, Public Policy, and Biological Sciences. Visit the surrounding cities of Raleigh and Greensboro or visit a basketball game and get a feel for the student section.
Average Tuition:

$32,072

Enrollment Application Deadline:

March 1
Western Carolina University is a beacon of higher education in Cullowhee, North Carolina. Established in 1889, WCU offers 115 undergraduate majors for students seeking to excel in their chosen field. With a little over 11,600 students, this is the perfect medium-sized college, offering the resources of a large student body with the intimate student to professor ratio of 17:1. Some of their most popular majors include Psychology, Criminal Justice, and Nursing. But the major they are renowned for is their Outdoor Recreation program. A mere 24 miles from the Great Smoky Mountains National Park and 14 miles from the Nantahala National Forest, the university is the perfect place to teach students the various skills and knowledge necessary to enjoy and maintain some of our country's most precious preserves. 
There is plenty to do for students and families alike, not only because of an active campus but because of its proximity to some of the best mountain towns in North Carolina. With a short distance to Asheville, Waynesville, Hendersonville, Highlands, Sylva, and Cherokee, you are sure to have plenty to explore in your downtime. 
Average Tuition:

$53,322

Enrollment Application Deadline:

January 1
Find a future in Winston Salem, North Carolina. Incorporated into the southern Metropolis that is Winston Salem, Wake Forest offers an elite education in an intimate setting. With just over 5,000 students, this university offers a 10:1 faculty to student ratio that is hard to compete with. With 40 undergraduate majors, this school is the perfect place to train professionals in their chosen field. The school is known for its programs in Social Services and Biomedical specialties that offer both undergraduate and graduate degrees. Students that go into the medical field will not have to look far for work as Winston Salem is home to renowned Brenner's Children's Hospital. They also offer an active study abroad program allowing students to immerse themselves and learn from other cultures.
Average Tuition:

$32,968

Enrollment Application Deadline:

Rolling (No deadline) 
Mars Hill University is a historic university steeped in tradition in Mars Hill, North Carolina. The university boasts an 11:1 faculty ratio that encourages in-class discussion and questions. They offer an impressive 32 majors, including social work, nursing, occupational therapy, and several music programs. With a student body of 1,200, this school is a good fit for students looking for a smaller setting. The campus does a beautiful job of honoring the past while celebrating the present. However, the real beauty of the campus is it's proximity to major North Carolina cities. A short 16 miles from Asheville, there is plenty to do near Mars Hill University. Students can enjoy the unique sights, sounds of music, and smells of food that this artsy city is known for.
Appalachian State University is an impressive college in Boone, North Carolina. App State, as it is often called, is a large 18,000 student university with a diverse student body filled with exciting opportunities for personal and professional growth. With over 150 majors to choose from, it is difficult to find a field of study not offered here. They are known for their business, outdoor service, and fitness majors, including kinesiology and exercise science. The school also has over 400 clubs and organizations to become involved in. While the faculty ratio is a higher 16:1 ratio, their active Student Success Department helps students stay on track with tutors, time management help, counseling, and many other resources to foster a successful college life. The surrounding town of Boone is a beautiful mountain town filled with must-see shops and restaurants. And for outdoor enthusiasts, this college is hard to turn down considering the weekend activities available so close to your dorm.
Average Tuition:

$14,290

Enrollment Deadline:

January 15 
The University of North Carolina Asheville is an amazing college in Asheville, North Carolina. With a student body of 3,600 students, UNC Asheville is a smaller to medium-sized school with a 13:1 faculty ratio. The school fosters a nationally recognized undergraduate research program that allows students to produce original research in their chosen field with faculty guidance and support. Popular majors include Psychology, Business, Public Health, Media Studies, and the arts majors. The artsy city of Asheville offers an additional touch of inspiration and passion for the university's art program. Students can enjoy a diverse college experience filled with an activity city filled with amazing food and music, or enjoy a breath of fresh air and outdoor activities in the surrounding North Carolina mountains.
North Carolina is filled with some of the best colleges in the country, offering a combination of scenic locations, active campus life, numerous major offerings, and challenging coursework to prepare you for your future.  If you are looking for a place to be closer to your college-age children or grandchildren, consider retiring to Western North Carolina.