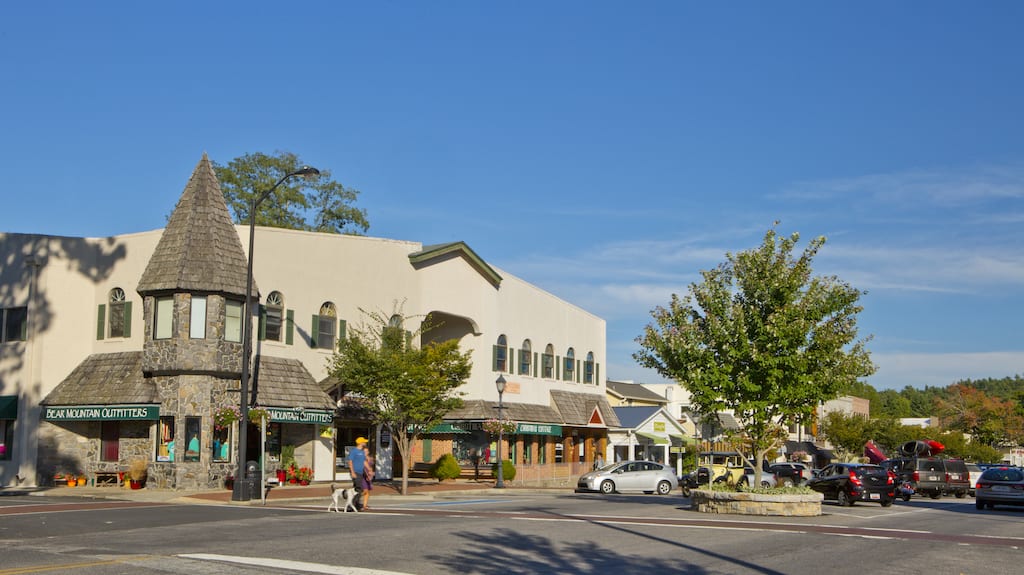 Nestled in the Nantahala National Forest, Highlands, NC is the perfect town for a day trip or weekend getaway. With an elevation of just over 4100 feet, Highlands, NC is defined by breathtaking views and clean mountain air. Whether you're looking to unwind, spend some time in nature, or have some retail therapy, we've rounded up the best things to do when visiting Highlands, NC.
Must-See Spots in the Highlands  
Because of the Highlands location in the Nantahala National Forest, it serves as a great base camp to enjoy some of the park's most stunning waterfalls. Enjoy fishing, swimming, and hiking in one of America's protected national parks. 
Glen Falls.

 Glen falls is the perfect beginner waterfall hike. Walk down and view the waterfall from multiple levels and even walk under the falls to feel and hear the power of one of nature's greatest beauties. 

Cullasaja River Gorge.

Drive over to the Cullasaja river gorge and feel the rush of the river as it pounds, jumps, and flows through the gorge. Make sure to take a trip in the fall months so you can enjoy the colorful palate of the surrounding forest. 

Sunset Rock and Ravenel Park.

Take a sunset trip to this rock face mountain top and soar over the Nantahala forest. Marvel at the rolling green forest and setting sun as it kisses the treetops. When it is dark, see Highlands light the forest in an inviting sparkle that will warm your heart.  

Bridal Veil Falls.

Enjoy this quick natural roadside attraction. Watch water flow down this mountainside rock face and off the edge. Enjoy a natural shower spray with the children or enjoy the calming effects of natural zen. 
Shopping in Highlands
Highlands is known for more than its waterfalls, trails, and scenic views. The unique shops and boutiques are the perfect place to acquaint yourself with Western North Carolina design and décor or mountain apparel. 
Highlands Fine Art and Estate Jewelry.

Peruse estate and modern jewelry, gems and stones of all kinds, and gorgeous art glass. Whether you are searching for the perfect anniversary gift with your spouse, or just browsing for a few pieces to add to your jewelry box, this is the perfect shop for you. 

Reclamations.

This antique shop offers one of a kind pieces sure to pique your interest. Find and antique rocking chair or spindle that will bring your mountain home a rustic motif or peruse trinkets you never knew existed. 

Cabin Couture.

Find the perfect décor for your cabin. WIth quaint rugs and throws, and unique lighting and fixtures, your day trip to Highlands could mean a newly furnished mountain home. 

Highlands Mountain Paws.

Don't forget to shop for the most important member of your crew, your dog! Help them pick out their favorite bones, toys, and treats to enjoy…however long they last.

Highland Hiker.

Going for a hike to see some of Highland's most pristine waterfalls, but don't have the right apparel? Highlands Mountain Paws is the perfect spot to gear up for any hike in Nantahala. From boots to hiking bags, this outfit will have you ready for any level hike. 

The Spice and Tea Exchange of Highlands.

Enjoy a pot of tea? Find over 30 unique teas and spices to take home and enjoy on your porch or by the fireplace during your mountain retreat. 

The Bascom.

If you enjoy art exhibits, the Bascom is the perfect place to view some of North Carolina's greatest talent. Pottery, paintings, wood carvings and numerous other mediums that have inspired artists throughout the Carolinas, fill the Bascom. Take the time to enjoy their many events that celebrate great art. 
Relaxing in Highlands 
No trip to Highlands would be complete without a list of places to receive a little pampering. After a day of hiking or a week of work, a couple's spa treatment is the perfect way to unwind, right here in the highlands.  
Old Edwards Inn and Spa.

Enjoy this full service, high-end spa sure to rejuvenate your mind and body The inn offers skin care, massage, acupuncture, body treatments and hair, nail, and waxing services, that are sure to melt away every bit of stress.  

Everything Zen: A Therapeutic Oasis.

This spa instills a sense of peace the second you walk in the door. With unique lighting and sounds to help you mentally relax, before the physical relaxation even begins. They also offer bamboo infusements or salt scrubs to further enhance your massage.

Gifted Hands. Have aches and pains that won't go away? Gifted hands have a staff of massage therapists with gifted hands. They will work to smooth out problem areas as well as offer manicure and pedicure services, waxing services, and skincare. Find rest at Gifted Hands in Highlands.
Whether you want to browse boutiques, decorate your home, or be rejuvenated by a stunning waterfall, Highlands, NC is the perfect getaway. Just an hour from Avalon, residents can enjoy frequent trips to the Nantahala National Forest and dozens of other towns and cities close by. Now is the time to start planning your trip to Western North Carolina!