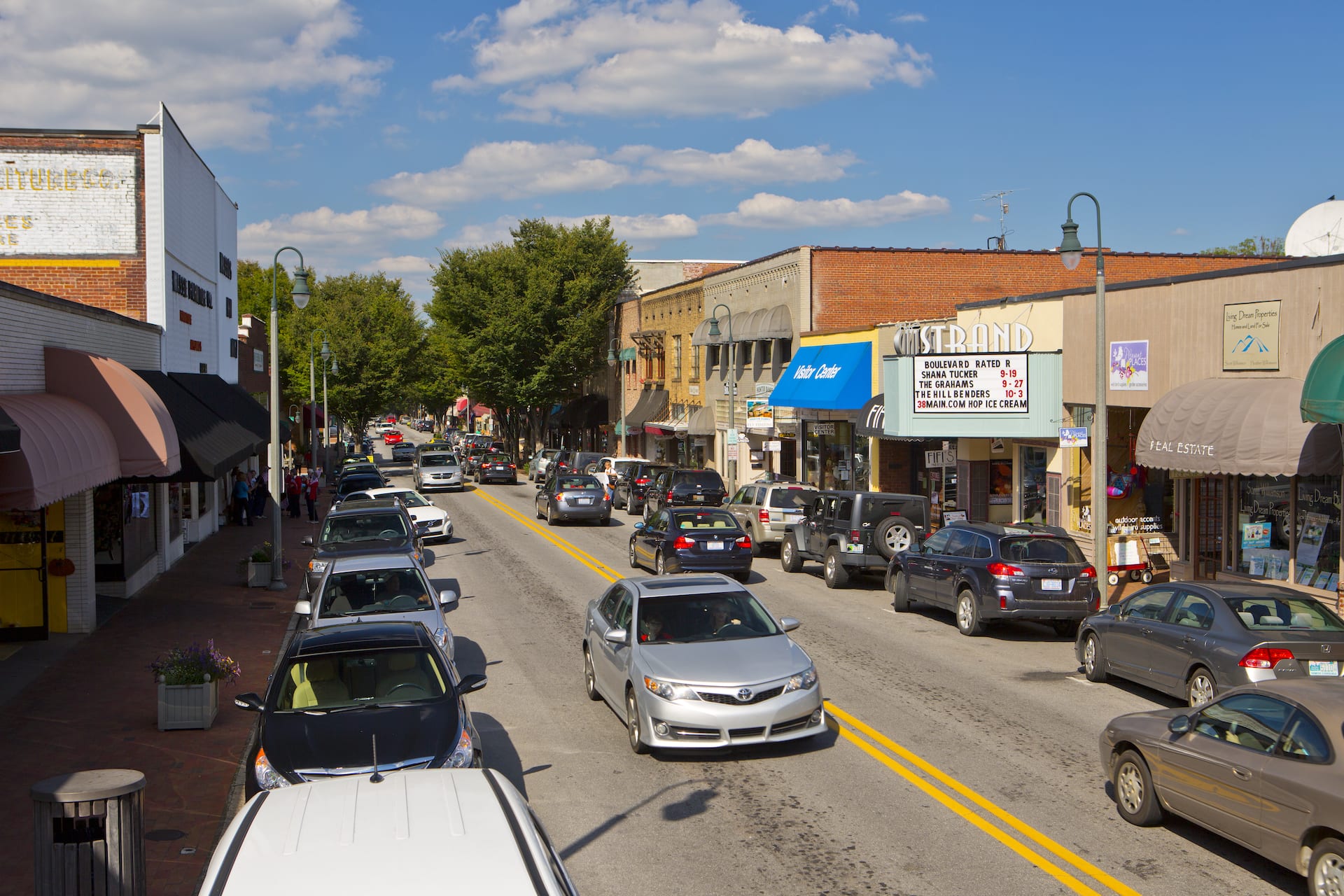 When asked about cities in western North Carolina, Asheville is usually the first thing that comes to mind. Asheville is the biggest city in the area and is a very popular destination; however, there are several small towns in Western North Carolina that are unique and very special places to visit!
There are so many wonderful small towns to explore. In fact, if all were included here, the list would be very long! The five towns in this article are a great introduction to a wonderful journey through Western North Carolina. Let's go!
Bryson City
Just one hour west of Asheville, NC, Bryson City was named as one of the twenty best small towns to visit by Smithsonian. Bordering the Great Smoky Mountain National Park, Bryson City has so many things to see and do. You can spend an adventurous day rafting or zip lining on the Nantahala River or take a ride on the Great Smoky Mountains Railroad. There is also Fontana Lake and access to the Deep Creek area of the Great Smoky Mountain National Park. The downtown area is also delightful, with lots of quaint restaurants and shops.
Cherokee
This is home to the Cherokee Indians and is an amazing town filled with history and entertainment. You can discover the past through The Museum of the Cherokee Indians, watching the acclaimed theater performance of Unto These Hills, and walking through Oconaluftee Indian Village. There is also modern day entertainment, such as the Sequoyah National Golf Club, Harrah's Cherokee Casino and Resort, and Oconaluftee Islands Water Park.
Hendersonville
Henderson County is NC's apple orchard! The most apple orchards in the state are found right in this county. There are several apple farms to visit where you can pick your own farm fresh apples and other fall produce. There is also a shark nursery, geodes museum, vintage airplanes, and many other interesting, fun things to do. Be sure to check out our previous post for a list of the best things to do in Hendersonville, NC.
Tryon
The town's motto is "friendliest town in the south." Tryon is known for horses in Western North Carolina. It hosts the Tryon Block House Steeplechase, which is the longest running in NC. Tryon is also home to the Tryon Equestrian Center. Over the years, Tryon has been a favorite location for various artists and writers, and the downtown reflects the art vibe with galleries and book stores. There are also antique stores, unique shops, and restaurants in the downtown area. Check out this article by Romantic Asheville for a full list of things to do.
Waynesville
Waynesville is the largest and oldest town in Haywood County. In fact it is the largest city west of Asheville, NC. Waynesville has lots to offer! Downtown Waynesville, along Main Street and the adjacent streets, is so lovely. Some say it's a Norman Rockwell mountain town where southern hospitality is still championed. There are brick sidewalks, lined with trees and art. You can also enjoy galleries, antique shops, unique specialty shops, wine shops, restaurants, and more.
Western North Carolina is a special place with many fun, friendly small towns to spend some time discovering. Southern charm and hospitality abound, and you may find some treasured places along the way. So, what are you waiting for? Get out and explore!