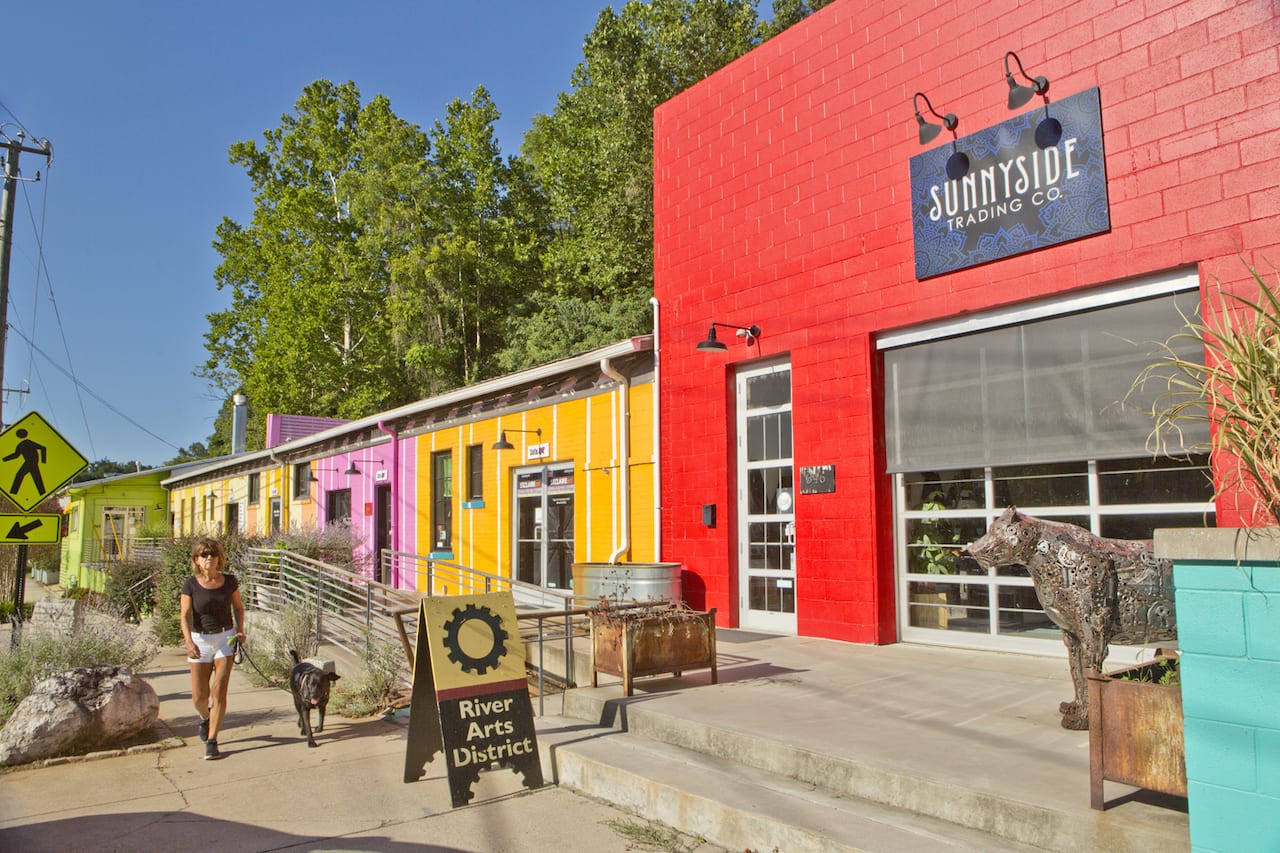 Whether you are a creative or not, the River Arts District in Asheville, North Carolina has artwork for everyone to appreciate. Step into the River Arts District (RAD) and be inspired by the work of over 200 artists that call the district home. The RAD features 23 industrial buildings nestled around train tracks along the French broad river. The district provides a trendy space for numerous galleries, studios, shops, restaurants and breweries that call the space home. 
Browse the Artwork 
Browse the art of hundreds of local and some largely recognized artists as you stroll through the district. Stop in The Village Potters, 310 Art Gallery, and other individual artists studios and galleries throughout the district. Enjoy the galleries and studios of multiple artists with works as unique as the city itself. 
Jonas Gerard Fine Art.

Jonas Gerard

is known for his large canvas, lively paintings with periodic live showings of him creating a piece. See him turn nothing into something beautiful. 

Mark Bettis Studio & Gallery.

Mark Bettis

works on a wood display with oils and cold wax, creating textured pieces that will amaze the viewer. Even going so far as to add sand or pebbles to pieces to give them a more realistic context, this artist does not create "soft" pieces.

Wedge Studios.

Wedge studios

boast a number of works from over 30 artists that you must see. They display work by artists like

Tessa Lang

, who creates bold, electrifying, "wow factor" pieces that draw the viewer into the piece or

Barbara Lepak Perez

who crafts a variety of sculptures in incredible detail with a variety of mediums. 
Enjoy pottery, glasswork, jewelry, paintings, and woodwork to name a few mediums. Take your time and enjoy the work, watch the artists at work, or decorate your home with pieces displayed throughout the district. 
Enjoy the Food
After your stroll, enjoy a different type of art from restaurants like White Duck Taco and All Souls Pizza or enjoy a fresh brewed spirits from the Wedge Brewing, New Belgium or Diada Ciders.  Asheville has an incredible food scene that pairs perfectly with the town's love for art and culture.
Unique Shopping
The River Arts District is the perfect place to go shopping for art in any medium. One such medium is apparel. Sugar Briches, boasting "upcycle and handcrafted whimsical finery", features unique clothing options for any fashion risk-takers and trendsetters. 
Come for the Events
On the 2nd Saturday of each month, the River Arts District holds an event featuring classes, live music, parties and foods with a variety of artists. Also, once a year they host the Fall Studio Stroll, a huge festival highlighting Asheville's art scene and food vendors in the district. 
Take a Class (or two) 
Are you an artist? Take one of the many hands-on art classes featured in the district. 310 Art holds classes for experts and novices alike. Classes include common topics such as oil, acrylic, and watercolors to more unique subjects such as bookbinding and mixed media works. The Village Potters hold pottery classes in the district with professional instructors to help you bring a mold to life. 
Discover the artist that call North Carolina home in the River Arts District. Spend the day exploring the unique landscape that combines the history of Asheville with the world of modern art. 
Located only 40 minutes from the Avalon mountain community, the River Arts District is a must for anyone who enjoys watching an artist's work. Find artwork that fits you or commission a piece for your mountain home.