Discover Asheville, NC
Asheville – Paris of the South – Epicenter of The Blue Ridge.
Asheville is by far the most unique southern town in America. It's a city regularly visited by presidents and world-leaders. And it's a favorite movie location for Hollywood filmmakers! Others will tell you it's where "bow-tie meets tie-dye". Now that's FULL ASHEVILLE!
The 2015 Frommer's Travel Guide rated Asheville the #1 Destination in America, and for good reason…It's America's first Foodtopia, celebrating world-renowned chefs who create a wide array of innovative and classic dishes that satisfy the most discriminating palates. It's also Beer City USA! Seems I'd heard these hills were good for brewing, maybe it's the clean water fed by Blue Ridge mountain springs.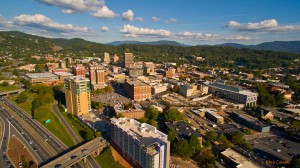 Asheville is an architectural wonderland. Unique buildings stand as testament to a bygone "Golden Era". Asheville boasts some of the best preserved art-deco architecture in America epitomized by Grove Arcade, America's first indoor shopping mall. Still open today, Grove Arcade hosts local shops and restaurants, along with outdoor stalls where local artisans can sell their wares. The same family has given us The Grove Park Inn, amust-see for everyone who comes to Asheville. Enjoy a sunset dinner with a view sitting at  F. Scott Fitzgerald's favorite table on the Sunset Porch, or maybe shoot a round of golf on the legendary course, a favorite of presidents and prime ministers.
Asheville is different! Everywhere you turn you find something cool and out of the ordinary. Like, riding on La-Zoom Comedy Tour Bus for a creative historic city tour. Or, explore the grounds of the Biltmore Estate and Winery on a segway hoverboard. Take the behind the scenes tour of America's largest private home, full of priceless art and antiquities. Speaking of art, Asheville boasts a large community of artist and unique galleries peppered throughout the city. The River Arts District is famous for its studios and ateliers  showcasing world-class painters, glass blowers, photographers, sculptors, quiltmakers, metal artist and other artists and craftsmen. Come feel the unique creative buzz that is Asheville.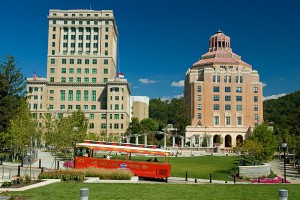 Other cool things to do include catching a sunset at the Sky Bar in the historic Flat Iron Building, fly through the trees at Navitat Canopy Tours, or float the French Broad River with the guides from Nantahala Outdoor Center, Zen Tubing or the French Broad River Rafting and Ziplines. Asheville is Adventure!   
Shop till you drop! Asheville is an eclectic city offering a wide variety of shops, stores, outlets, and boutiques full of exciting merchandise. Ashevillians love to "shop local", so artists and artisans from around the globe have found success selling their arts and crafts here.
As the world's first Foodtopia, you'll find just about any cuisine you seek as Asheville boasts some of the finest restaurants in the country. Chefs from around the world have come to Asheville to create and build their legacy. One of the best places to dine is Modesto in the historic Grove Arcade, featuring the world-renowned chef Hector Diaz. Other great restaurants include The Admiral, Rhubarb, Jerusalem Gardens, Curate, Nightbell, Sunny Point, Zia Taqueria, Wasabi, Bull and Beggar, Marketplace,  Thai Orchid, The Corner Kitchen, Early Girl, The Lobster Trap, 12 Bones Smokehouse and most everyone's favorite Tupelo Honey – just to name a few!
Music lovers love Asheville! No matter what your taste, Asheville has it covered. From bluegrass to rock-n-roll you'll find a music hall like The Orange Peel or Grey Eagle, or an intimate pub setting like Jack of 'The Woods or Tressa's that'll fit the bill. World-class Grammy Award® winning musical artists frequent Asheville stages. Many of them record here. Catch the summertime Shindig on the Green downtown as the whole city comes together to celebrate local music. And there's always music in the streets, as Buskers perform throughout downtown, providing Asheville with its own soundtrack. With literally hundreds of music venues throughout the city, you'll never run out chances to catch great live music.
If you love beer you're going to love Asheville – Beer City, USA! You'll never tap out of local breweries to explore. Thanks to the pioneering efforts of Highlands Brewery, Asheville's original craft-brewer, the city now has more breweries than you can shake a stick at. The two newest additions are new outposts of two national craft breweries, Sierra Nevada and New Belgium. All the breweries in the area offer friendly tours and have stylish tasting rooms or pub restaurants. A must-visit when in Asheville.
All thespians welcome! Asheville love's the arts and theater with local and nationally-known actors gracing many of its stages. Visit Diana Wortham Theatre for international performances and musical shows. Make sure to see one of the many comedy ad-lib performing troops that call Asheville home – you'll laugh your Ashe-ville off! Book a night with Asheville Community Theatre, Asheville's longest running theatre group or see a show at Magnetic Theatre or NC Stage.
Asheville is one hot ticket for all your shopping, dining and entertainment and it's just 25 minutes from Avalon.
Explore Asheville: Water Sports
Explore Asheville: Movie Stars
Explore Asheville: In the Movies