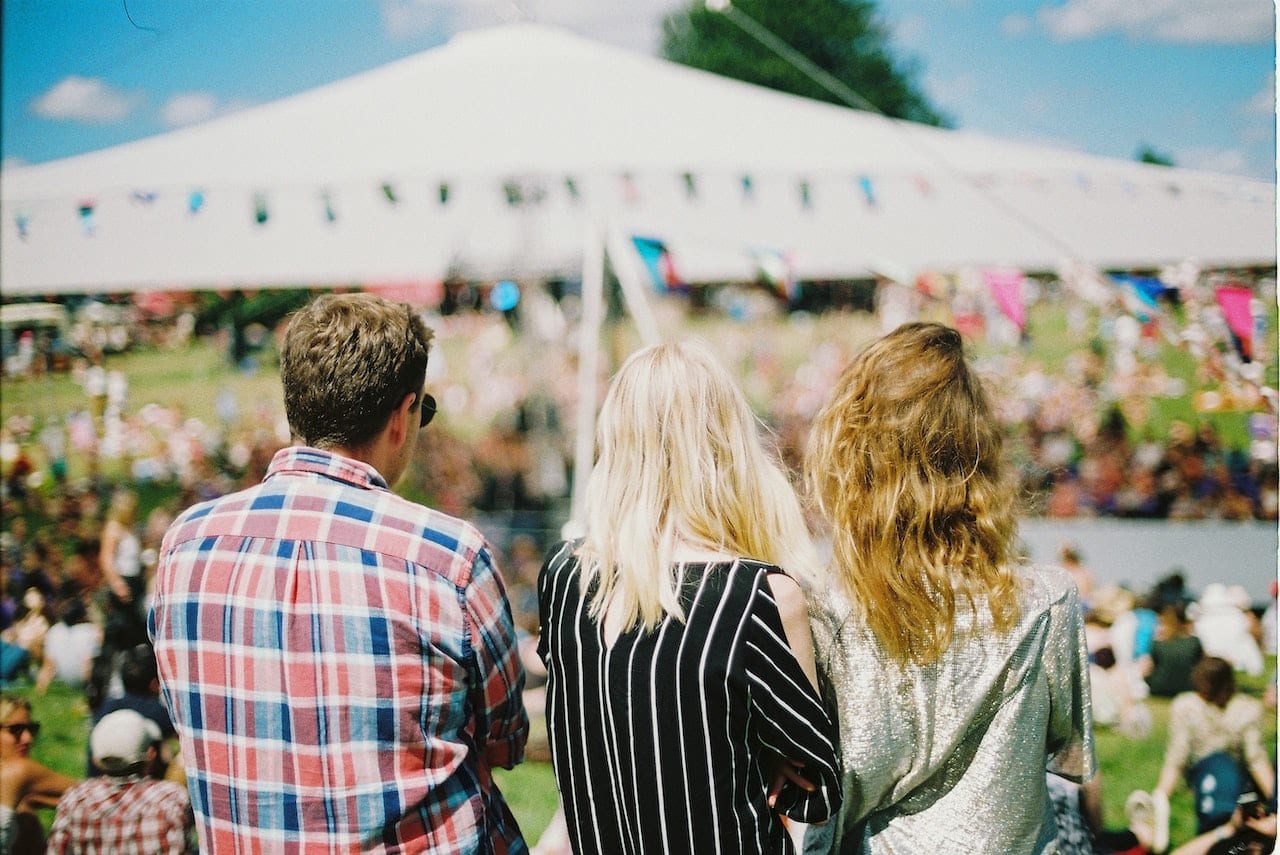 Western North Carolina hosts a number of amazing music festivals every year. Local and well-known artists come to play against the backdrop of the Blue Ridge Mountains and connect us all through the power of music. Be moved by a performance, feel the energy of a crowd, and become a part of something bigger than yourself and connect in a way that only live music can. Whether you come for the music, food, or fun with friends, you will not be disappointed. Here are 6 of our favorite annual music festivals in Asheville and Western North Carolina.
Every year, LEAF, a non-profit seeking to unite cultures through the arts, holds an event that brings hundreds of artists and vendors to Western North Carolina. Located in Pack Square Park in Downtown Asheville, the festival features 3 stages, an expansive artist lineup including over 200 performers, and 70 craft and food vendors to keep you busy the entire event. This festival has become wildly popular for its features of local artisans and international performers. There are numerous family-friendly booths featuring games, crafts, and events to enjoy all while your favorite music fills the air.
Folkmoot is a festival that brings music and culture from all over the world, right to the heart of Western North Carolina. Hosted in Waynesville, musicians and dancers perform in the various surrounding mountain towns truly making it an event for everyone. From opening ceremonies to parades, the candlelight closing ceremony, and every event in between, you will learn about dozens of cultures through multiple forms of expression that connect to us all including food, art, dance, and of course, music.
This 3-day music and camping festival in Green Mountain, North Carolina is a must for anyone who loves live music. The campsites and festival's family vibes serve as a great induction into live music for younger concert-goers. Soulshine hosts a massive lineup of local and well-known musicians. Bring games, food, and even your own instruments to enjoy each night with your fellow Soulshiners. Just 48 miles from Asheville, this is the perfect music festival for anyone in Western North Carolina. Come jam out at SoulShine Farm!
Shindig on the Green is a wildly popular mountain tradition that has been organized for nearly 55 years by the Folk Heritage Committee. Every Saturday from late June to early September local and visiting musicians gather in Pack Square Park in Downtown Asheville at 7 pm and play Bluegrass, Folk, and other music that has deep roots in Southern Appalachia. Hear from Ballad singers and Storytellers, and watch the quick dances and sounds from Cloggers as they clap their wooden shoes to the beat. Enjoy great eats and treats from local vendors and listen to music that welcomes you home.
Every summer the Biltmore Concert Series brings amazing artists right to Asheville, North Carolina. Performing on a stage on the grounds of the Biltmore Estate, with the storied home as a backdrop, you are sure to enjoy a mix of excitement and wonder. Attendance feels like you have been invited to a concert put on by a modern Jay Gatsby! Past Lineups include Kool & The Gang, The Beach Boys, The B-52s, Amy Grant, and more. If you get a rush from live music, the spirit of the crowd, or have been enchanted by the Biltmore, this Summer Concert Series is a must.
This popular festival at Western Carolina University in Cullowhee, North Carolina is a staple celebrating Western North Carolina's rich Appalachian heritage. Enjoy live music from dozens of local musicians playing bluegrass, roots, folk, and more mountain music on two stages throughout the festival. The festival includes a 5k race and endless vendors, as well as demonstrations of the Cherokee games, crafts, and food presented by and honoring the Cherokee culture and its deep roots in the Western North Carolina mountains. 
These are only a few of the numerous music events held every year throughout Western North Carolina. Each mountain town has its own traditions and local performers, not to mention all the festivals held year-round! Whether it is the sound of music, the smell of mouth-watering eats,  the mountain backdrop, or just the friendly, inclusive communities that put them together, attending events in Western North Carolina tend to feel like coming home. Come home and let us help you find the house of your dreams at Avalon, the picturesque mountain community at the center of Western North Carolina.