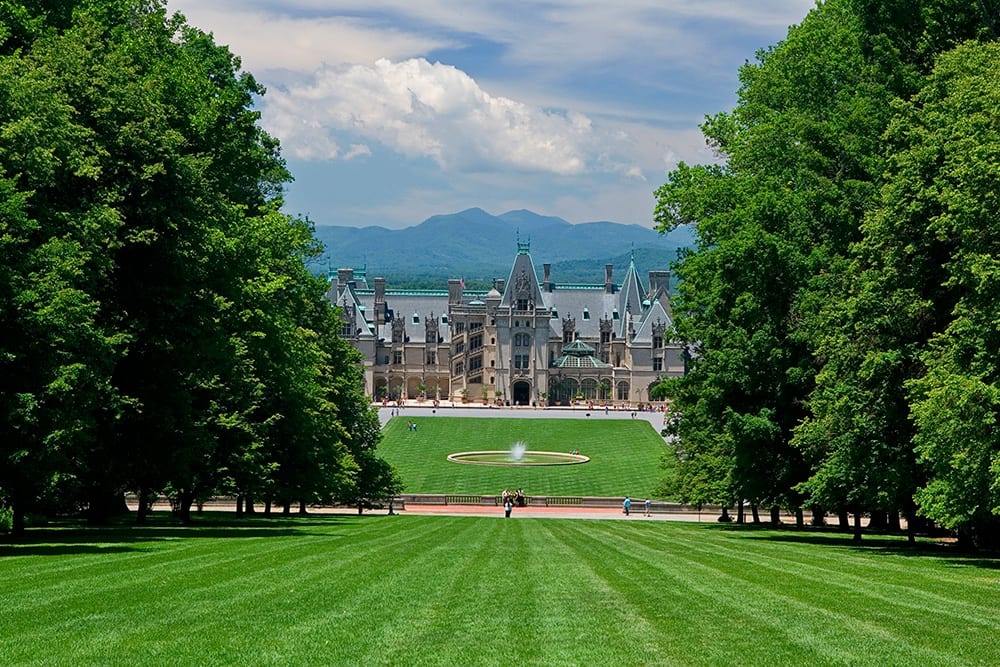 Western North Carolina has a rich history. In fact, some of the state's, and even the nation's, most historic sites can be found in Western North Carolina.  Living in Avalon Mountain Community puts many of these famed spots right in your backyard, practically. If you are a history buff, or just want to learn some of the area's history, then you simply must visit the historic places that follow.
Basilica of St. Lawrence
This gorgeous church is located at 97 Haywood Street, in Asheville.  It was designed in the Spanish Renaissance style by Rafael Gustavino and Richard Sharpe Smith, who also were the architects of Biltmore House. The Basilica was completed in 1909 and has the largest free standing elliptical dome in the U.S. All the structures of the building (floors, ceilings, walls, & pillars) are made entirely from tile and other masonry.  The Basilica of St. Lawrence is an architectural masterpiece and truly a site to see! It is open for tours from 7:30am to 5pm on weekdays. There are free tours led by a guide or self -guided tours.
Biltmore Estate
This is America's largest home and one of the most famous sites in Asheville. Biltmore was the home of George Vanderbilt and was completed in 1895. It is modeled after a European chateau and is an Architectural marvel! Located at one Lodge Street, in Asheville, it is a must see! The estate includes the house, acres of beautiful gardens and hiking trails, Antler Hill Village, and Biltmore Winery. All of these estate features are open to the public for the price of admission. Each season of the year holds something special at Biltmore Estate. For more information and tickets, please visit the Biltmore website.
Carl Sandburg Home
This beloved American author's home is a national historic site. It is located at 1800 Little River Rd., in Flat Rock, NC.  The home is named Connemara and is open to the public all year. The 264 acre home site is beautiful, with pastures, ponds, small mountains, hiking trails, and even a goat farm! Tours of the house and goat farm are available, and there is a bookstore. You can learn more about the Carl Sandburg Home here.
Cherokee, NC
The entire town of Cherokee, NC is fully of the history of the Cherokee Indians, who have lived in the area for hundreds of years! One of the best ways to soak in the Cherokee Indians' story in this area is to see Unto These Hills, which is one of the state's oldest theater experiences. The Museum of the Cherokee Indians is another great place that tells their story. Oconaluftee Indian Village allows you to literally step back in time to see an authentic Cherokee Indian village. It is a replica of a 1790 village, complete with dwellings, work areas, and sacred ritual sites. Check out our full guide to Cherokee, NC, or learn more at VisitCherokeeNC.com.
Grove Park Inn
The Omni Grave Park Inn, in Asheville, is a gorgeous luxury hotel that also has a captivating history. The inn opened in 1913, and it has had many famous guests, such as Henry Ford, Eleanor Roosevelt, F. Scott Fitzgerald, and Woodrow Wilson. During World War II, the federal government took over the inn and used it to house U.S. Navy soldiers on leave and to detain foreign diplomats that opposed the Allied forces. Guided tours are available to inn guests. Its construction, history, and famed visitors are all a part of the tour information. You can visit the Grove Park Inn website for further details or to make a reservation.
Smith-McDowell House
Built in 1840, this is Asheville's oldest surviving house and the oldest brick structure in Buncombe County. It is on the National Register of Historic Places. The house was owned by James McConnell Smith, who was a well-known businessman of his time. He ran many enterprises, including a mercantile with his son-in-law, William Wallace McDowell. The house has a fascinating history and has had many owners, who each added a special facet to the estate. Today, the home is the headquarters of the Western North Carolina Historical Association and is a museum. It is located at 238 Victoria Road, in Asheville.
Thomas Wolfe Memorial
The famous American novelist, Thomas Wolfe, spent his childhood in Asheville and included many references to the city in his works. The Thomas Wolfe Memorial Site is the Queen Anne style boarding house named Old Kentucky Home that his mother owned and operated. It is located at 52 North Market Street, in Asheville. There are a museum, house tours, heirloom gardens, and outdoor exhibits which tell about Wolfe's life and works, as well as some history of Asheville itself.
Vance Birthplace
This is the home site of Zebulon Vance, who was a Civil War officer, North Carolina Governor, and U.S. Senator. Located at 911 Reems Creek Road, in Weaverville, North Carolina, the property has a two-story log cabin, an original 1790s slave cabin, and five out buildings. The exhibit is a pioneer farmstead and shows what life was like in North Carolina from 1795 to 1840. The pioneer days are shown through the eyes of both the Vance family and their slaves. It is free to visit the property and take a tour. Tours can be self-guided or with a guide, and the exhibit is open from 9am to 5pm, Tuesdays through Saturdays.
As you can see, Western North Carolina is full of history. Visiting these historic sites is well worth your time, and you will learn a lot. The region has such an amazing story to tell!