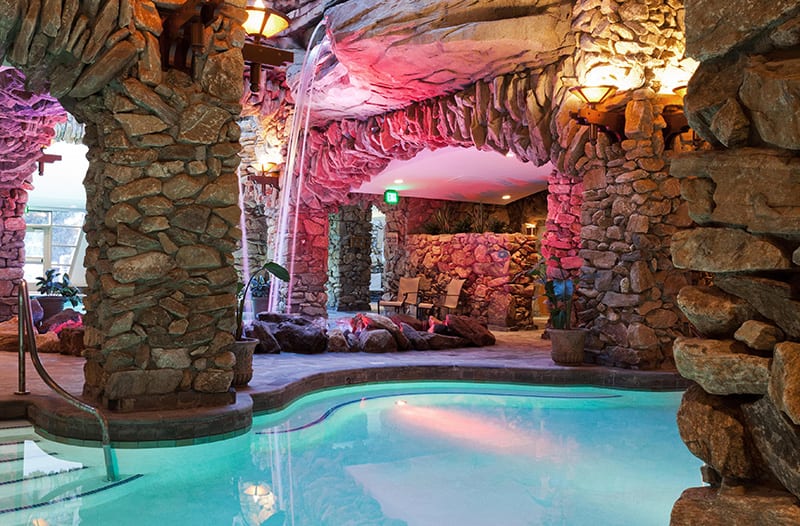 The Omni Grove Park Inn, in Asheville, NC is one of the most unique and beautiful luxury hotels in the area. Its guests will have access to lavish rooms and amenities on site. The inn has a long history in North Carolina and is a place you will want to visit.
History of the Omni Grove Park Inn
Edwin W. Grove purchased land to build a huge mountain lodge in Western North Carolina. He wanted this grand place to be built from the stones of Sunset Mountain, where the lodge would sit. Mr. Grove hired his son-in-law, Fred L. Sealy, as the architect, and the Grove Park Inn took shape.
According to the National Park Service, the inn was built in five sections of terraced steps inside the mountain. Grove Park Inn opened in 1913. There have been many famous quests over the years, such as Henry Ford, F. Scott Fitzgerald, Woodrow Wilson, and Eleanor Roosevelt, to name a few. During World War II, the federal government took over the inn. It was used by U.S. Navy sailors for rest and relaxation and also to detain diplomats from nations that opposed the Allies.
Renovations and updates took place in 1955, and the inn was opened to the public once more. In 2001, major expansions and renovations were made and the luxury spa was added.
Things to Do at the Omni Grove Park Inn
There is so much to do at the Grove Park Inn that you may not want to venture off of its grounds! Look at the list that follows for a quick glimpse at all the Grove Park Inn has to offer.
For Those that Love Fitness…
There is a 50,000 square foot sports complex! The complex includes the following:
Indoor fitness center with all the exercise equipment you could ever want
Indoor family pool that is open year round
Outdoor pool that is open from Memorial Day to Labor Day
Indoor and outdoor tennis courts
Racquetball court
Table tennis and pool tables
Fitness trainers
Yoga classes
Kids' programs
Hiking on Sunset Trail (appropriate for all ages)
For the Golfer…
There is an 18 hole golf course, which includes the following:
Designed by Donald Ross
Par 70 course
6,400 yard award winning course
PGA certified golf pros for lessons
Surrounded by the majestic Blue Ridge Mountains
The course has been played by some very well-known golfers, such as Bobby Jones, Ben Hogan and Jack Nicklaus.
Golf pro shop
For Those that Love to Shop…
There are a number of on-site shops at the Grove Park Inn. The variety is large, as well. You can find seasonal items, local products from Asheville artists, outdoor gear, gourmet food items, clothing, gift baskets, and much more!
For the History Buffs…
Guided tours of the Grove Park Inn are also available to guests. You can learn of the Inn's past, its construction and early years, E.W. Grove, notable guests over the years, and more!
For the Foodies…
The Omni Grove Park Inn is a foodie's dream come true! There are mouthwatering dishes just waiting to be tasted in one of the many gourmet local sourced restaurants. There are too many places to list here, so I will give you a sampling below:
Blue Ridge – a casual, indoor dining option with Southern foods
Sunset Terrace – upscale, classic dining of steak and seafood with beautiful views of the mountains
Vue 1913 – casual, laid back dining experience with American and French food and a French wine cellar
The Great Hall Bar – cocktails and light fare with live entertainment and a 36 foot fireplace
Please note, for most restaurants at the inn, reservations are required.
For the Ultimate Luxury Experience…
The Omni Grove Park Inn has an incredible spa! Spa services include massages (Swedish, deep tissue, stone, and aromatherapy); wraps; facials; and hand and foot treatments. You can relax in the fireside lounges with snacks, beverages, and a gorgeous view of the Blue Ridge Mountains. You absolutely should plan ahead to go to this world class spa when you visit the inn.
As you can see, the historic Omni Grove Park Inn is a place you simply must visit. You can stay overnight or for a relaxing weekend retreat or for even longer, if you choose. There are many different rooms and package deals to choose from. Also, for those that live in the area, there are resort memberships available.