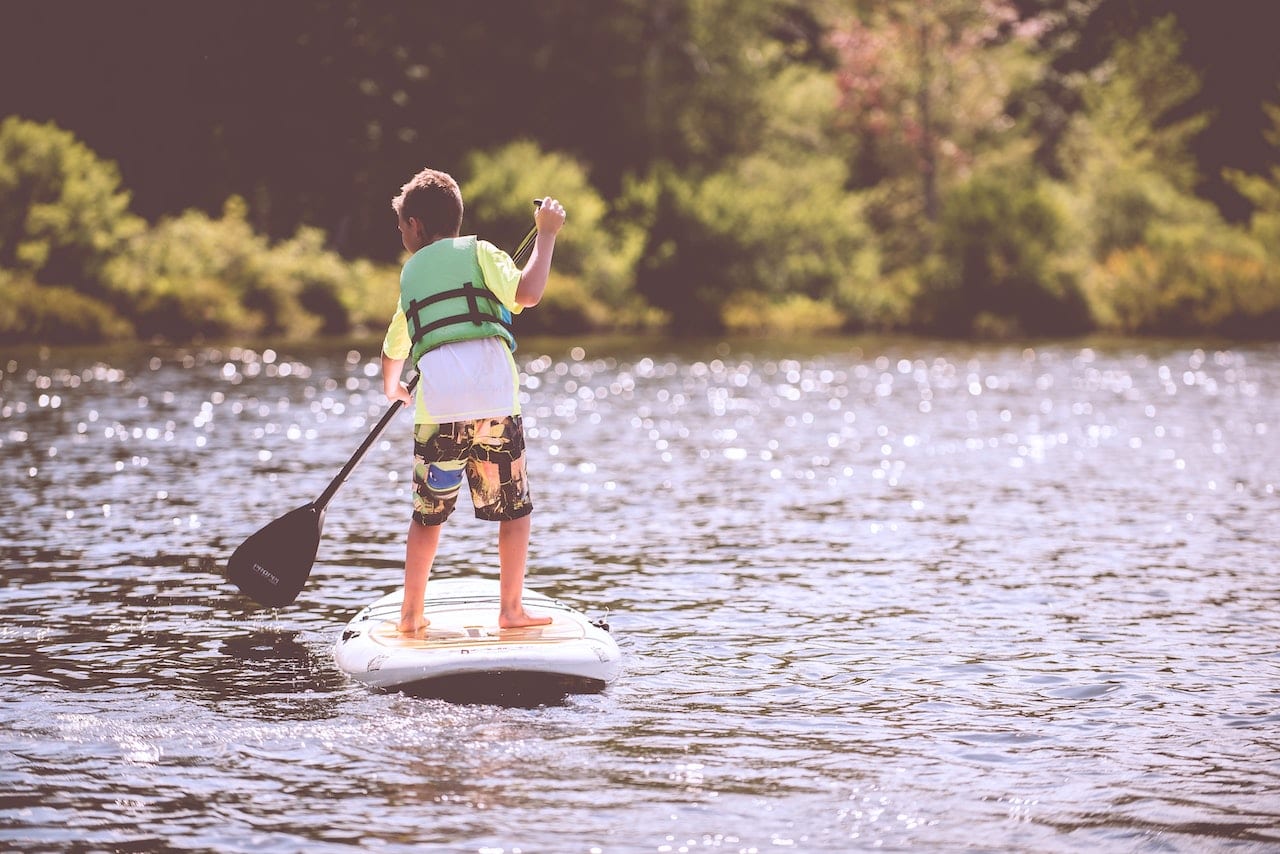 Asheville is surrounded by some of the best places to Stand Up Paddle Board (SUP) in Western North Carolina. Sparkling lakes and rushing rivers make the area a beacon for any outdoor enthusiasts. Whether you can read the rapids like a pro or have never stepped onto a paddleboard, Asheville is the place for you! Here are 5 of the best places to go stand up paddle boarding near Asheville, NC.
1. French Broad River
The largest river in Western North Carolina, and the third oldest river in the world, the French Broad is a staple of Asheville. Starting in the mountains of North Carolina, the river stretches 70 miles traversing into Tennessee. The French Broad holds so many opportunities to enjoy a number of water activities including stand up paddleboarding.
Rivers Arts Section.

This 4-mile section of the river is backed up alongside the

River Arts District

. A shorter ride, paddlers can stop off and browse the artwork of over 150 artists in this beautifully unique community. Enjoy lunch and a craft beer at the Wedge or shop for apparel in the nearby boutiques. But remember you have to hop back on that paddleboard! 

Biltmore Section.

This section of the river is right in the backyard of the

Biltmore Estate

. Because the Estate is private land, the rule of not stopping on the shore is strictly enforced. But the 7-mile float is a great way to gaze at the estate grounds from the river and imagine the lives the Vanderbilt family must have led on the property.   

Section 9.

Not for beginners, this section of the river holds Class 3 rapids sure to get your blood pumping. Get some experience in whitewater rapids from companies around Asheville listed below. They will help you learn to adjust your balance, navigate the board, and read the water like an expert. 
2. Tuckasegee River
Nearby Bryson City and Cherokee, North Carolina, the Tuckasegee River is not only known as a popular fishing destination, but a hub for just about any water activities you can think of including kayaks, paddleboards, and tubes. Float by Bryson City right downstream on this deep river. Visit Bryson City Outdoors for a guided tour on the Tuckasegee including Sunrise and sunset tours as well as instruction from qualified paddlers!
3. Beaver Lake 
Beaver Lake is a popular spot in the middle of North Asheville. This smaller, private lake is a  popular spot for outdoor activities like jogging or fishing. It is also a popular spot for paddleboarders as well, but you will need an annual permit ($50 per board). The lake is famous because it is home to a number of beavers you are sure to see while you paddle! Make sure to keep your distance.
4. Fontana Lake
Featuring over 231 miles of shoreline, this massive lake is a jewel of the Great Smoky Mountains. 88 miles from Asheville, this lake is a great day trip for stand up paddlers in Western North Carolina. Paddleboarding here is an experience. The shoreline winds along the Great Smoky Mountains and in the morning, fog rolls down the mountain along the surface of the water. The shoreline is protected as part of the National Parks service, and mostly unmaintained. There are areas to camp so that you can make a weekend out of the trip, immersing yourself in the Appalachian scenery.
5. Lake Lure 
The most popular lake in North Carolina, Lake Lure is a mere 28 miles from Asheville, NC. With over 270 acres, this lake is a calm, tame place to enjoy the day on a paddleboard. Right next to Chimney Rock State Park, visitors can enjoy a nice hike at the beginning of the day and close out with a stand-up paddleboard trip, enjoying the sunset on the water.
Best Paddleboarding Tours in Asheville NC
This outdoor center is an amazing place to take a day trip near Asheville. They offer several ways to flow down the French Broad River including kayaks, canoes, tubes, and of course, stand up paddleboards. Their best trip involves a self-guided tour seven miles down the French Broad River. They will shuttle you to the push-off point and help you get settled before they help you push off the bank and paddle down. The trip takes about 2.5 hours but is gentle and free of the rapids you might encounter at other rivers. When you reach the outdoor center downriver you are sure to close out the day enjoying their grounds including games of cornhole, basketball, ping pong, volleyball, badminton, and ladder ball. You can also enjoy a nice lunch at their picnic tables, listen to music, or enjoy snacks and the craft beer Asheville is known for, right from their taproom!
French Broad Outfitters is also settled on the French Broad River in Asheville, NC. They offer several tours and trips along sections of the French Broad. They also offer kayaks, canoes, and tubes! They employ ACA Level 1 Certified SUP Instructors to teach you the ins and outs of paddle boarding, and the skills needed for boarding on rapids or still waters, for experienced or novice SUPs alike. Their Paddleboarding tours include the Biltmore tour and River Arts District tour. The Biltmore tour floats downriver enjoying a picturesque view of the impeccably maintained Biltmore Estate Grounds. The River Arts District (RAD) Tour features the section of the French Broad that runs alongside this artist community. Home to over 150 artists, this mini-town is a must-see stop in Asheville. And a great place to grab a bite to eat during the tour.
Wai Mauna offers amazing options for paddleboarding, including the delivery of paddleboard rentals or purchases to your home. Their self-guided tours include a 4-mile float through the River Arts District, a 7 mile trip through the Biltmore Estate, or an 11 mile "SUPer paddle" through both sections. They also offer instruction for beginners free with every paddleboard rental. Want to have fun with friends or take the family? They also offer a party barge, a massive paddle board raft that can hold six people! If you are an adrenaline junkie they also offer whitewater rapid SUP tours with a qualified guide!
These are only a few of the places you can paddleboard near Asheville. With National parks and forests throughout Western North Carolina, paddle boarding is one in a long list of outdoor fun that attracts thousands to North Carolina each year! If you are looking for a central location to some of the best spots in Western North Carolina, come discover Avalon, a picturesque mountain community to build or buy your dream home.