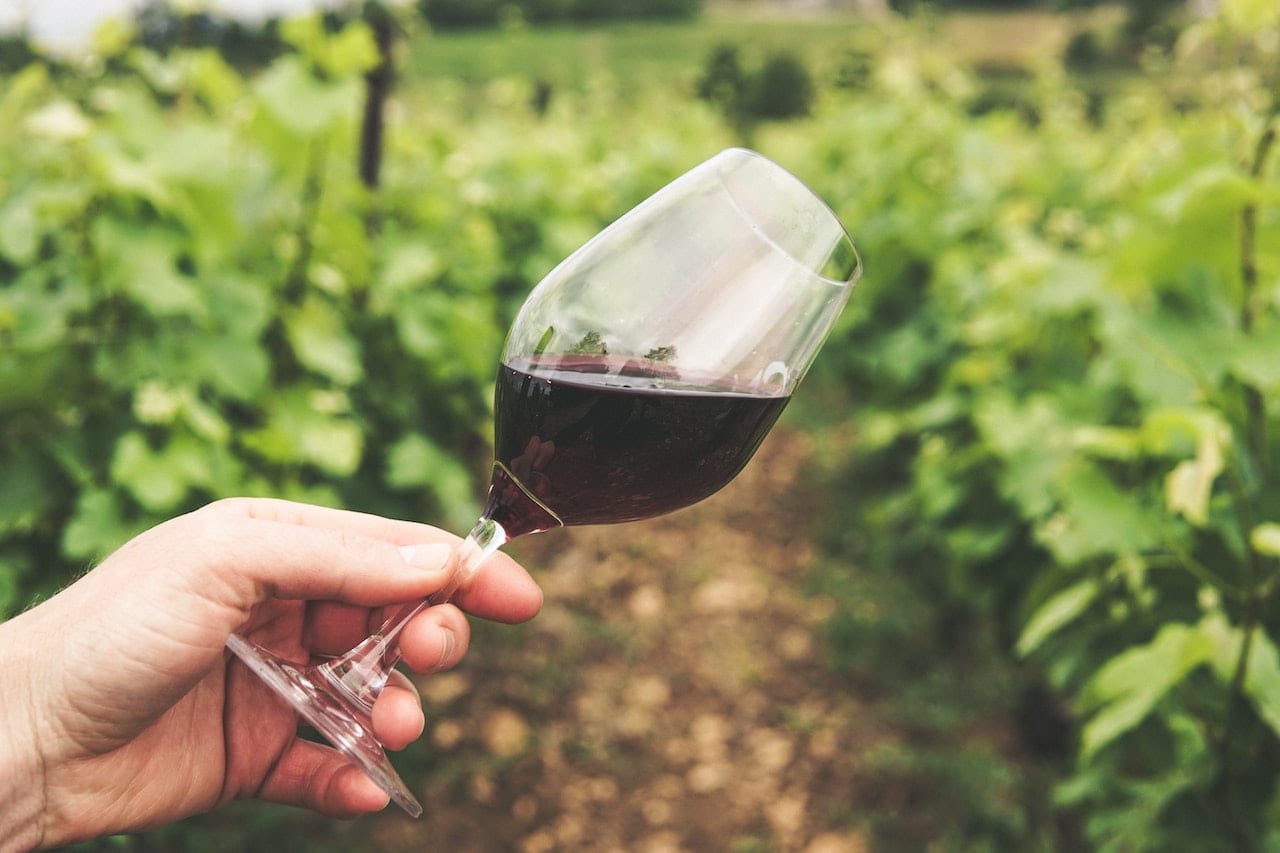 Come pour a glass of wine in Western North Carolina. Home to over 200 wineries and 400 vineyards, North Carolina is the perfect getaway for any wine connoisseur. The high elevations and cool mountain air can provide a challenge for viticulture but through passion and industry-changing innovation, the North Carolina Mountain region now holds 4 of only 200 recognized American Viticulture Areas (AVA) in the country. The cultivation techniques unique to each vineyard, along with soil composition, result in an intricate flavor profile for each vintage produced in the North Carolina mountains. However, you do not have to be a sommelier to enjoy the growing wine scene in North Carolina. Even a wine novice will enjoy learning about the history and growth process for each vineyard and tasting different notes in every bottle. Here are our five favorite wineries in Western North Carolina.
Biltmore Winery is one of the most popular wineries in Western North Carolina. Located on the grounds of the Biltmore Estate in Asheville, North Carolina, the Biltmore Wine Company honors the legacy of the Vanderbilt Family. The Biltmore Winery and Vineyard has cultivated and bottled numerous award-winning wines over the years and continues to have a reputation for excellence. Begin with a complimentary wine tasting in the on-site tasting room. Try a few vintages at the wine bar and enjoy painstakingly-paired charcuterie and locally sourced truffles sure to satisfy. Tour the Estate's on-site vineyards and hear from knowledgable staff about the self-sustaining process that goes into every vintage bottled at the Biltmore. Spend a weekend at the Inn on the Biltmore Estate, enjoy a spa day, and enjoy a few glasses of wine as you dine the way the Vanderbilt's would have.
Banner Elk Winery & Villa is a popular, award-winning winery in the high country of the Blue Ridge Mountains. Banner Elk features a number of award-winning wines and they hold tastings every day from 12 pm to 6 pm. One of the unique aspects of Banner Elk is their relationships with the Western North Carolina farming community. Not only do they cultivate quality wines, but they work with local farmers to help educate them on how to grow in the high elevations, unique soil composition, and cool mountains of North Carolina. Should you enjoy the wine and scenery, they also host events and offer a family-friendly, and most importantly dog-friendly, atmosphere. Enjoy a lover's retreat or celebrate an anniversary by staying in the Banner Elk Villas with your significant other, enjoying the cool, fresh air and spectacular mountain landscapes.
This delightful vineyard continues to prepare excellent vintages on the 70-acre family-owned farm in Tryon Foothills, North Carolina. The success of the wines is a nod to the winemaker's father-daughter team in Frank and Sofia Lily. They work tirelessly to make sure the grapes grown in their vineyards, as well as the other fruits grown on their farm, reach the highest quality come to be expected from Western North Carolina vineyards. Their tasting room is in a unique cottage looking out over Tryon. Guests can come to stay in one of the luxury villas at the vineyards and learn about the lily's cultivation process, taste each bottle prepared with care, and explore the attractions that bring visitors to Tryon every year including, Tryon Equestrian Center and various book stores, antique shops, and boutiques. Make sure to try the vineyard's own premium, Petit Manseng.
Another family-owned vineyard, Burnshirt has cultivated and bottled numerous award-winning vintages. The Winery, Tasting Room, and Vineyards are located in Hendersonville, North Carolina, with an additional Tasting Room and Bistro in Chimney Rock, North Carolina. Their name comes from an old mountain tradition from the days when farmers would burn land to prepare a field on Burntshirt Mountain, they would throw their shirt in the fire for good luck and bountiful yield. Owners Lemuel and Sandra Oates began as growers, cultivating superior grapes before eventually deciding to begin crafting wines with their own harvest. Take a tour and learn about the history of burnt shirt vineyards, and the quality cultivation techniques on their 30 acres of vineyard and then taste the results in the Tasting Room!
Located in Banner Elk, North Carolina just below the majestic Grandfather Mountain sits Grandfather Vineyards and Winery. This winery sits on a unique, high elevation terroir which can make for a challenging cultivation process. But the hybrids grown at Grandfather Vineyards actually thrive and bring bold fruity flavors to each vintage. Enjoy a flight of reds or whites, or a glass or two of their award-winning wines as you sit out by the Watauga River and enjoy the breathtaking views of the Blue Ridge Mountains. Ask their knowledgable staff questions and let them help find the perfect flavor profile for your taste!
Western North Carolina is filled with endless opportunities to enjoy wine cultivated right here in the mountains. The combination of high-quality wines, breathtaking mountain scenery, and southern hospitality make Western North Carolina the perfect place for a wine country getaway.  If wine isn't your thing, explore any number of craft breweries or cideries in and around Asheville, North Carolina. Gather your friends for a memorable girl's trip to the North Carolina wine country. Plan a romantic getaway! Grab a bottle of wine and curl up with your significant other under the clear mountain sky. Many wineries and vineyards also serve as a great venue for events or weddings. Come home to Avalon, a luxury mountain community in the mountains of Western North Carolina.