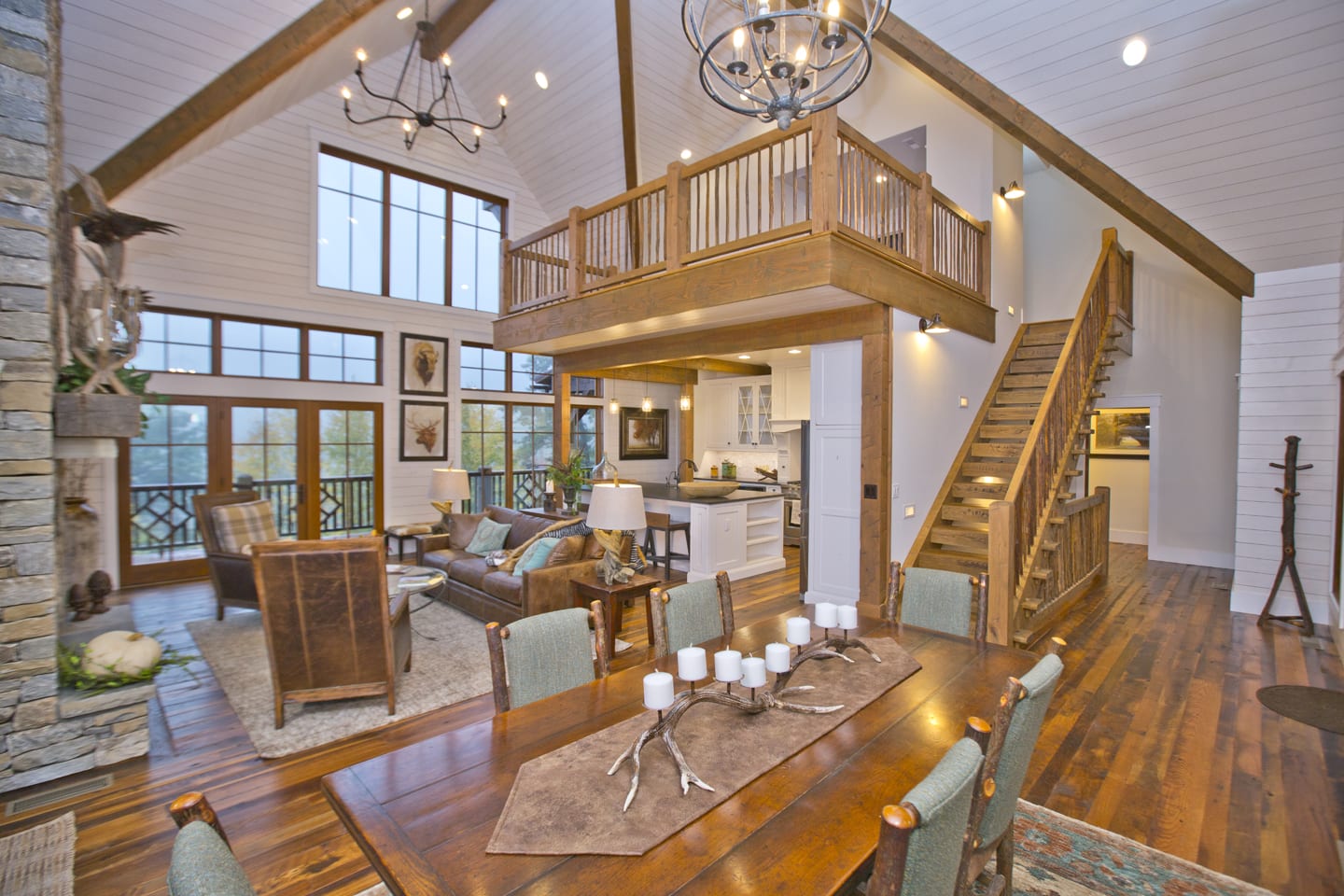 Mountain homes in general can be a challenge to light. The beauty of the surrounding landscape practically demands large windows, resulting in a great deal of natural light in the home throughout the day. Gorgeous vaulted ceilings provide a sense of luxury and open the home to sun, while exposed beams have a warming effect on the room as a whole. If you have never designed lighting for a mountain home with vaulted ceilings and wooden beams before, it is easy to feel out of your depth. Here are a few ways to bring your home to life with lighting fixtures for your vaulted ceilings and exposed beams.
Things To Consider When Lighting A Vaulted Ceiling With Beams 
Form and Function.

Interior design in a mountain home

is a constant battle of form and function. For lighting, you want it to be aesthetically pleasing, but also do the important job of lighting your home so you can work, play, and live in the space. 

Focal Points.

Consider what elements of your house you want to draw the eye? Is it part of the room or an architectural feature, like wooden beams. You can use certain types of lighting to draw attention to that area.

Areas That Need The Most Lighting.

What areas do you live in the most? For example, even with an open floor plan, your kitchen or dining room table will need more light than the rest of the room.

Your Personal Style.

What design styles do you find appealing? This can narrow down materials and lighting fixtures, as well as lighting function features.

Floor Plan.

It is important to think about how lights will look cohesively throughout your home.

Your home builder

will be able to help you find the perfect light fixtures for the room. Each room may require a different form of lighting, but try to keep the design style the same, especially with an open floor plan. 

Times of Day.

The sheer size of the room can be a challenge to light at different times of the day and night.

Understand how much sunlight your lot will receive

at different times of the day so you can accommodate accordingly. 

Dual Lighting.

You do not have to choose only one type of light fixture. In fact, it is recommended that you choose more than one type of light feature for rooms with vaulted ceilings due to the size and sections based on height. You need light for the bottom half where you will be, but you also need to light the ceiling to prevent a dark ominous structure.

 
7 Best Lighting Fixtures For Vaulted Ceilings with Beams
1. Chandeliers
Chandeliers add incredible aesthetic value to homes with vaulted ceilings. They serve as a focal point for the eyes, without taking away from the wooden beams. Chandeliers can provide a warming effect to space so that the room still seems large, because of the vaulted ceiling, but you don't feel like you are sitting in a cathedral. Plus the sheer amount of varying design styles give you options that work for you! The various outlets for light on the chandelier can provide enough light to balance the design with function. It is important to consider the size and height of the chandelier. If the chandelier is too low and large, it can be overwhelming and odd-looking, while too small and high make the room look even bigger.
2. Uplighting
Uplighting is a fantastic way to actually highlight the architectural features of your home. These lights provide more ambient lighting than functional lighting. Placement is key with uplights. One option is to install them midway up the wall in a room with vaulted ceilings for ambient lighting Whether it is wooden rafters of a wooden beam in a room with a sloped ceiling, installing them higher on the wall, just before the ceiling on the same linear path as the beam, allows the light to shine directly along the surface of the beam structure. The effects can be tremendous for your design element. These lights also work really well in hallways in uplighting sconces, subtly creating a path through the house.
4. Recessed Lighting
Recessed lighting is very popular in modern homes. It is clean and does not take up space in the room while providing a great deal of functional light. People are often concerned about using these in the sloped vaulted ceiling because they naturally point all the light to the middle of the room and fail to adequately touch the entire room. But an easy fix is to change the housing fixture to a shovel cut can, Which comes out of the ceiling allowing the light to angle down into the room more completely.
5. Pendant Lights 
Like a chandelier, pendant lighting can be a great way to bring the ceiling light down to a more manageable level. It can be a great alternative to a chandelier in the dining area especially with an open floor plan that already has a chandelier in the living room. Consider the area where more light is required. One of the most popular ways to incorporate these lights is above a kitchen island.
6. Track Lighting 
Track lighting works by installing tracks on the ceiling and directional lamp lights to serve as task lighting. They work well on the ceiling angled towards a mantle that is common in mountain homes. They can also work in kitchens or hallways with vaulted ceilings by lighting heavily-trafficked areas. When placed correctly they do not have to take away from the wooden beams.
7. Cable Lighting
Cable lighting can be a great way to highlight the perimeter of a particular space without all the hardware involved with track lighting. Highlight your kitchen island or dining room, or just a seating area. Suspended by cables that are connected and run together along a linear path, these lights can work to enhance the beauty of the wood while bringing the light to you. Cable lights are also beneficial because they can be moved on the cable. Meaning you can highlight a variety of areas if you decide to rearrange the room.
Remember to choose lighting fixtures that work for you throughout the day and night. Whether you are enjoying a romantic dinner in the dining room, baking desserts in the kitchen, or curled up with your Australian Shepherd on the couch reading a book, make sure the lighting work for what you need. It can seem a bit daunting to choose lighting fixtures for a vaulted ceiling, but the payoff is a grand rustic home, with beautiful exposed beams you will welcome family and friends into for years to come.
If you are looking for the place to design the home of your dreams, look no further than Avalon, a luxury mountain community in the heart of Western North Carolina. Just 30 miles from Downtown Asheville and surrounded by The Blue Ridge Mountains and The Great Smoky Mountains, this community is central to all that Western North Carolina has to offer. Come find your home in this one-of-a-kind mountain community.