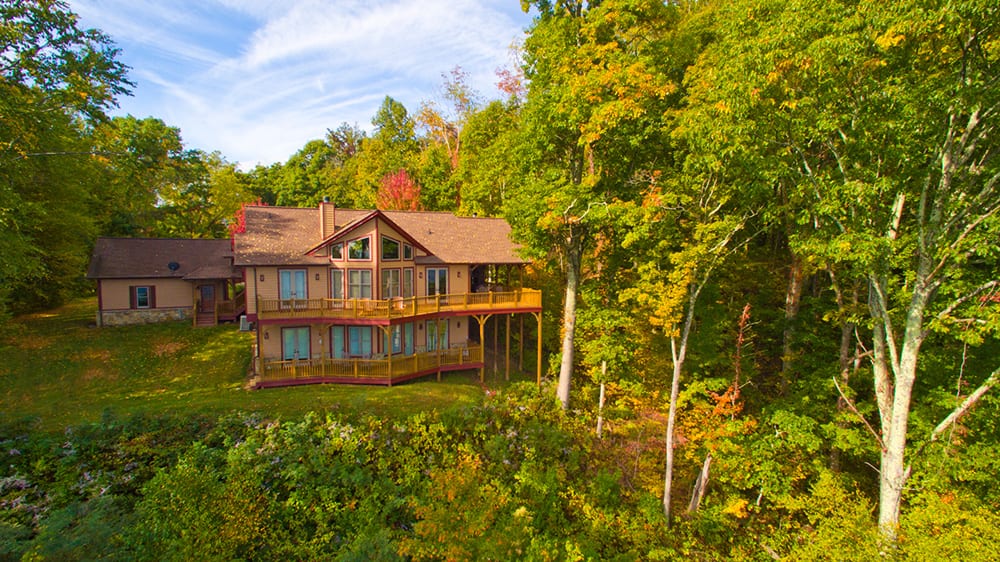 Once you have decided to build your dream house in the mountains, you have to find the perfect homesite to build on. This is exciting and a little bit daunting at the same time! It sounds simple enough; find a piece of land you love and build a house on it. Well, there's more to it than that. There are some important things to keep in mind as you choose your lot.
What Kind of Mountain Home Do You Dream of?
It may seem strange to choose the type of house you envision before you actually buy a lot, but it is important to do that first! Are you dreaming of a cozy mountain cabin, a mid-size family home, or a big mountain retreat? The size of the house matters when choosing a lot! You have to answer the question, will the house I am dreaming of actually fit on the lot? Think of any outdoor features you want, such as a pool, a garden, a workshop, or a tool shed, too. Make sure the lot is the right size to accommodate those things, as well as your picture-perfect house.
Do Not Get Lost in the Scenery!
One of the biggest mistakes you can make when buying a lot for a house in the mountains is to only look for a great view. Of course, you want the breath taking mountain scenery surrounding your dream home, but there are a lot of other factors you have to consider for a lot to build on. Building in the mountains is very different from building in other parts of the country. As you look at lots, look for things that could make construction hard and increase the cost of building. Take into account the following aspects:
What is the topography of the lot? Are there lots of rocks or trees? Is there a stream, creek, or some other water source on the property? Will this interfere with construction?
Will the entire lot need to be cleared or leveled in order to build the house?
Are there steep slopes on the lot? If so, this can make building harder and more expensive.
Let's Get Practical!
When looking at mountain lots, you need to think of the everyday needs of where you will live. Some things you may not consider at this stage of the building process follow:
Is there more than one way in and out of the lot? How many access roads are there? Remember, this is the mountains, and it snows a lot during the winter. Will you be snowed in on this lot? Does your HOA have snow removal services in place?
Are utilities public? Will you have access to city water and sewage systems, or will you need to have a well or septic system dug on your property? Is there garbage pickup in this location, or will you be responsible for hauling trash to a disposal facility?
Will you be able to get cable, cell, or Internet service? Remember, only few mountain communities have hi-speed internet in Western North Carolina.
Are there fire hydrants in the community? What is the Fire Insurance rating?
Get a copy of the recorded plat. Find the corners and really study the lot. What does the lot back up to and what is it adjacent to?
Are there other residential or business construction sites close to the lot?
Work with a local realtor who is experienced and knows about living and building in the area! Do not stress yourself out by trying to find this ideal location on your own! Let the experts in the area help you.
Are there retail and grocery store's close by for everyday provisions and convenience?
Are there healthcare facilities close by? You do not want to be to far away if you have health issues. 
Do Some Drive Byes!
 Many times, buyers go look at a lot once or twice before buying. Think though, sun exposure changes throughout the day. At night, there are light sources and sounds to consider, such as street lights, neighbors, and major roads nearby. It is smart to drive by the lot several times, at different times of the day and night, to get a true picture.   How much natural light and sun exposure does the lot get during the day? Will your house be flooded with sunlight all day, or will the house be in the shade with little natural light most of the day? These things can affect heat and air conditioning costs inside and vegetation in the yard. Will there be lights or noises from neighbors, street lights, or passing cars all during the night? It is better to check these things out before you buy the lot than to realize that the location is not ideal after you've already built on it.  
Have You Considered Help from Local Developers?
If you are still feeling overwhelmed with choosing the right homesite, why not visit a mountain community, or neighborhood development, especially one that is new or just starting up? Newer mountain communities will have lots for sale, and the developers can answer your questions. They will also have model home designs and connections to local architects, home designers and builders, who make a living constructing mountain homes. Why carry all the weight of doing it on your own when there are people to help make the load a little lighter? Avalon Mountain Community, in Western North Carolina, is a great newer development. It offers lots of amenities for residents, too.
Choosing the right lot to build your mountain home on is a grand decision. It does not have to be a scary one, though. Follow one step at a time and consider all possibilities before making a purchase. Never rush to buy something! Says David Huffman, Avalon sales director, take your time and make sure the lot you love is really right for the home you have been envisioning.
References:
MacCrea, Richard C. Building a Mountain Home? Ten Steps to Building a Home in the Mountains.