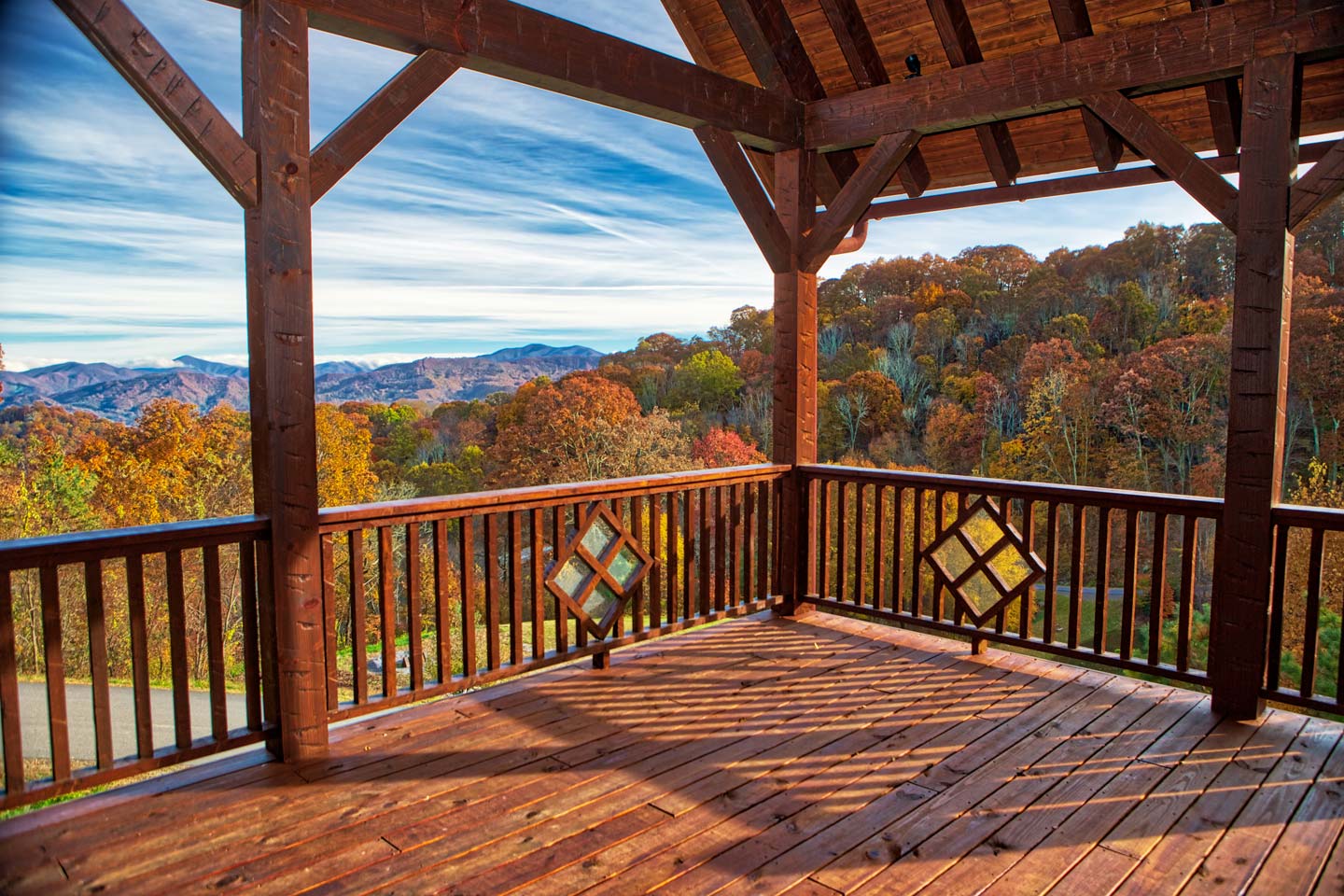 Outdoor living space is one of the most important parts of designing your mountain home. The crown jewel of any mountain home is its view of the rolling mountain landscape or the lush surrounding forest, so an outdoor space to appreciate it is a must. Outdoor living areas are a dream for anyone that loves to host parties or even just a few friends and family. It showcases your mountain home while conveying a sense of calm and relaxation that nature naturally provides. Here are a few features to inspire you as you design a welcoming, comfy, and fun outdoor living area for your mountain home!
Types of Outdoor Living Areas for Your Mountain Home 
The type of outdoor living space you design depends partly on your lot. If your lot has a major slope or cliff face right along the backside, a backyard with a pergola may be out of the question, so you may go for a porch or deck. Remember to be creative with your space. You don't have to choose just one type of living space. You can have half of your outdoor living area serve as a screened-in porch and the other half an open deck, ready for any type of weather. 
You can also use multiple levels of your home with a porch balcony on the main floor and deck on the bottom or vice versa. Here are a few of the spaces you can mix and match for your outdoor living area.
Porches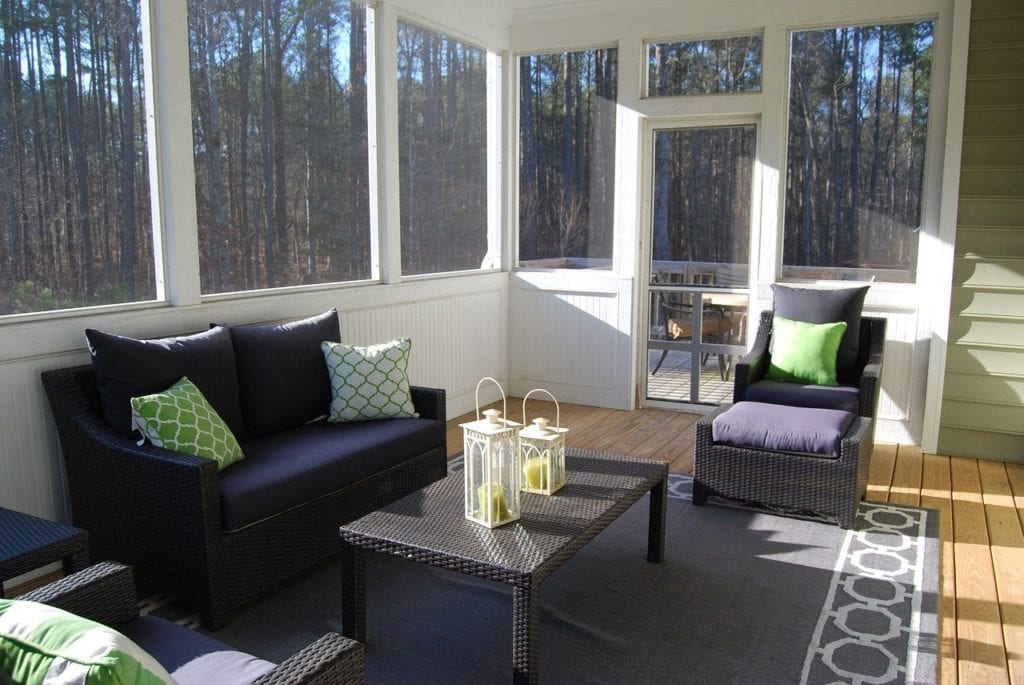 A porch is essentially a deck with an awning cover. You can utilize a long multi-level porch with steps to create and maximize space. One of the benefits of a porch is you can have it screened in completely or partially to keep the bugs out and enjoy some shade on those hotter summer days. You can install an outdoor ceiling fan on a porch to cool down after grilling out.
Decks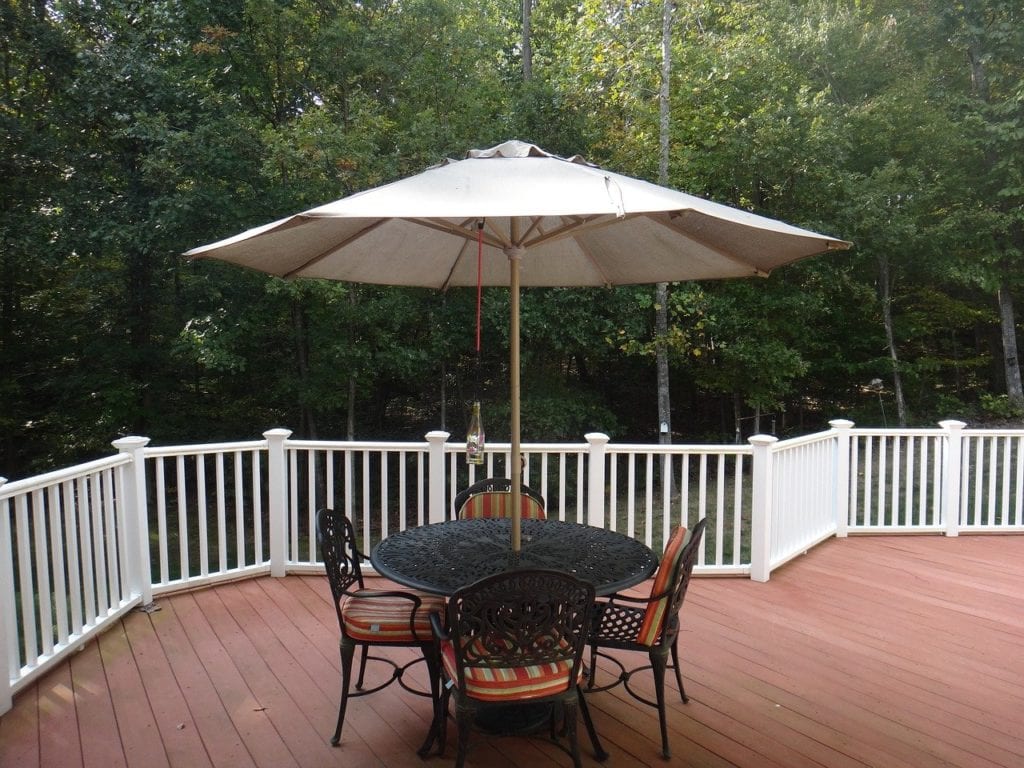 A deck is an open area that allows you to get some sun while you enjoy the view! You can incorporate umbrellas or trellises for shade structures in various areas. Decks are great for higher elevated homes, even on the second floor with railing allowing you to look down at the forest below, eye level with some of the unique birds in Western North Carolina! A floating deck or a deck without rails that has steps down into the yard is a great way to highlight a beautiful garden.
Patios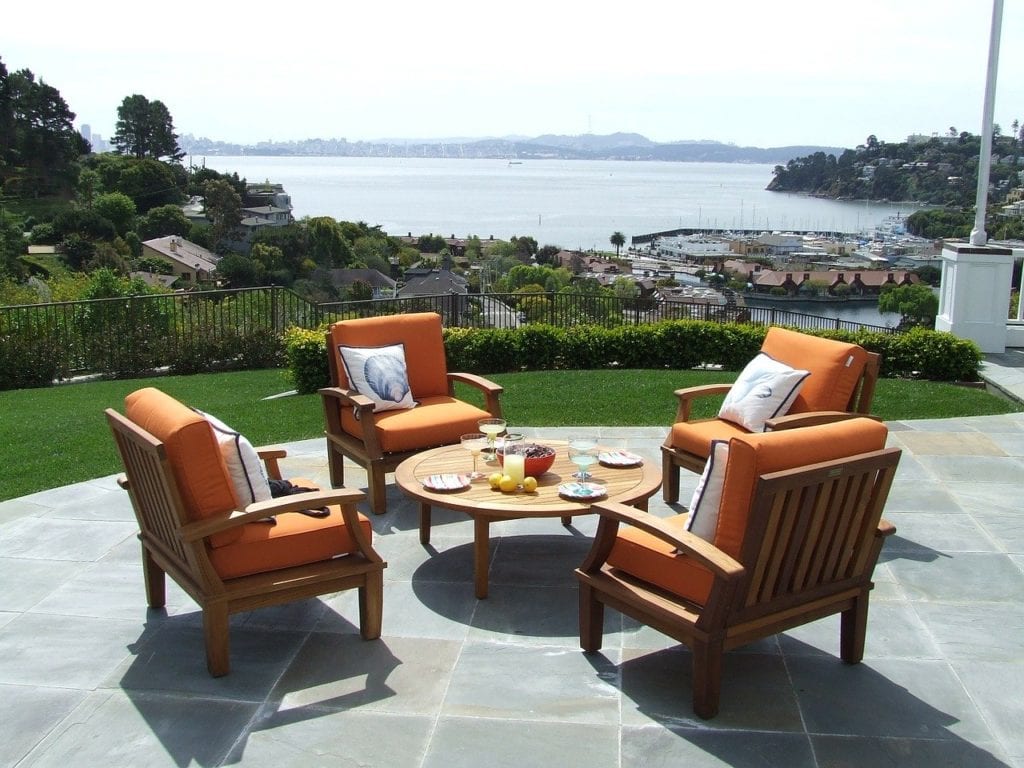 If you have the yard space, patios are a great way to open up the back yard. They stretch out past the house opening up in a way decks and porches with railings can't because of the enclosed feeling. Patios that utilize various types of stone can actually serve to play into a traditional mountain cabin motif. The stone patio and wood of your home reflect back the materials and beauty of the surrounding landscape
Outdoor Room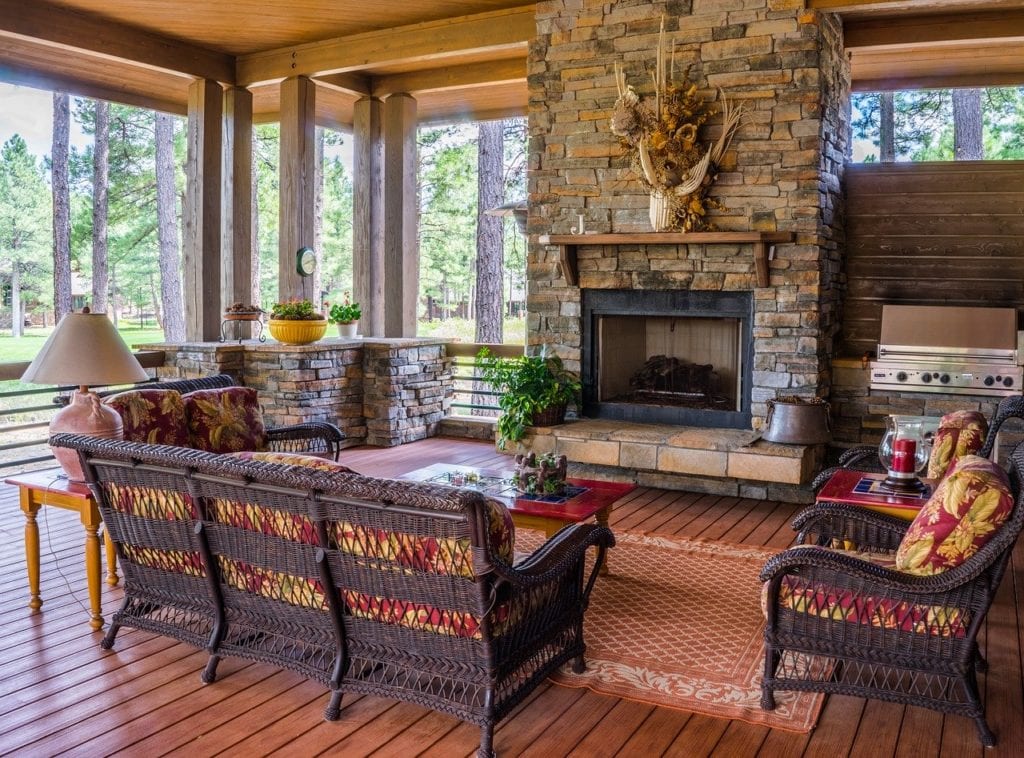 An outside room is essentially the mountain version of a Cabana. It can house a bar, kitchen, tv, dining area, etc. Its essentially your living room and kitchen, outside. They provide shade on hot days and cover on rainy ones. Fresh air and breeze without the sunburn! 
Pergola
A pergola is similar to a trellis and can be used for climbing plants as well, but its main purpose is to serve as a shade structure. The beauty of a pergola is that it provides shade without completely diminishing sunlight on the seating area. 
Gazebo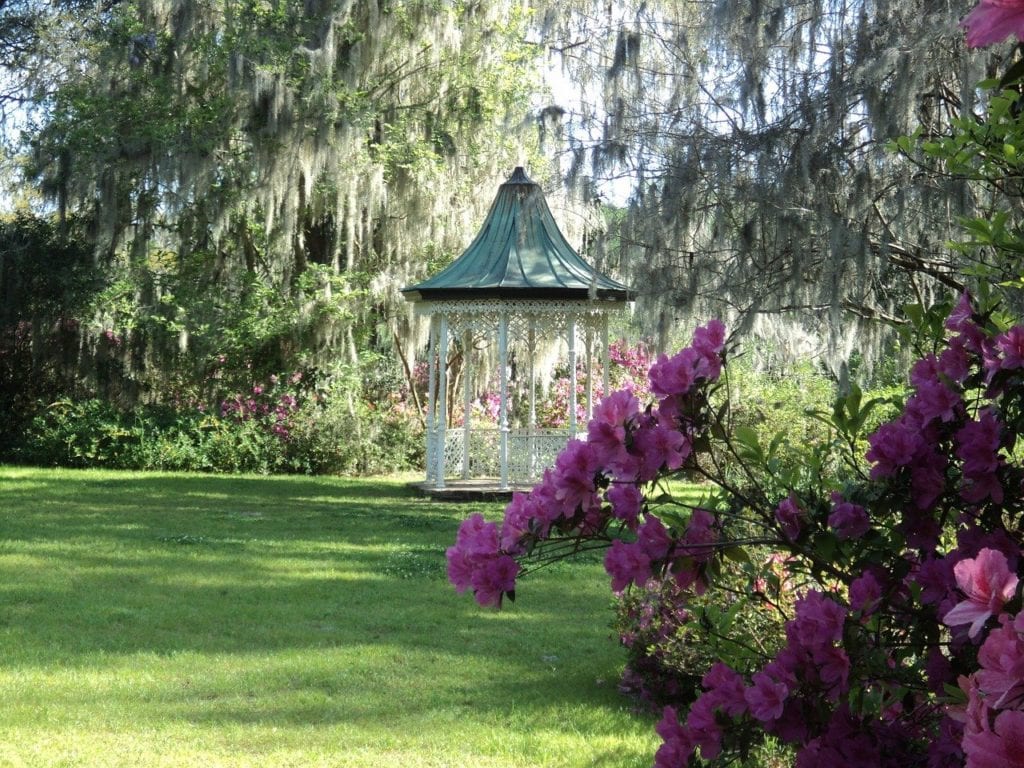 A gazebo is an open-air spot great for outdoor picnics. It is a great addition to yards with intricate landscaping and colorful gardens. 
Outdoor Cooking Areas for Your Mountain Home 
Whether you are hosting friends or enjoying family time, outdoor cooking areas allow you to host and cook all while outdoors. As with any of your living areas, the important thing is to design it to fit your needs. Whether you want a full kitchen or just a stone covered grill and countertops to prepare a meal you can have it. Here are a few features to consider for your outdoor cooking areas. 
Kitchen  
Take your cookouts to another level with an outdoor kitchen. If you enjoy grilling, an outdoor kitchen allows you to prepare the whole meal outdoors and still stay part of the conversation with your guests. It also helps to have storage space to keep your grilling utensils and supplies available and not run back and forth to your inside kitchen. 
Bar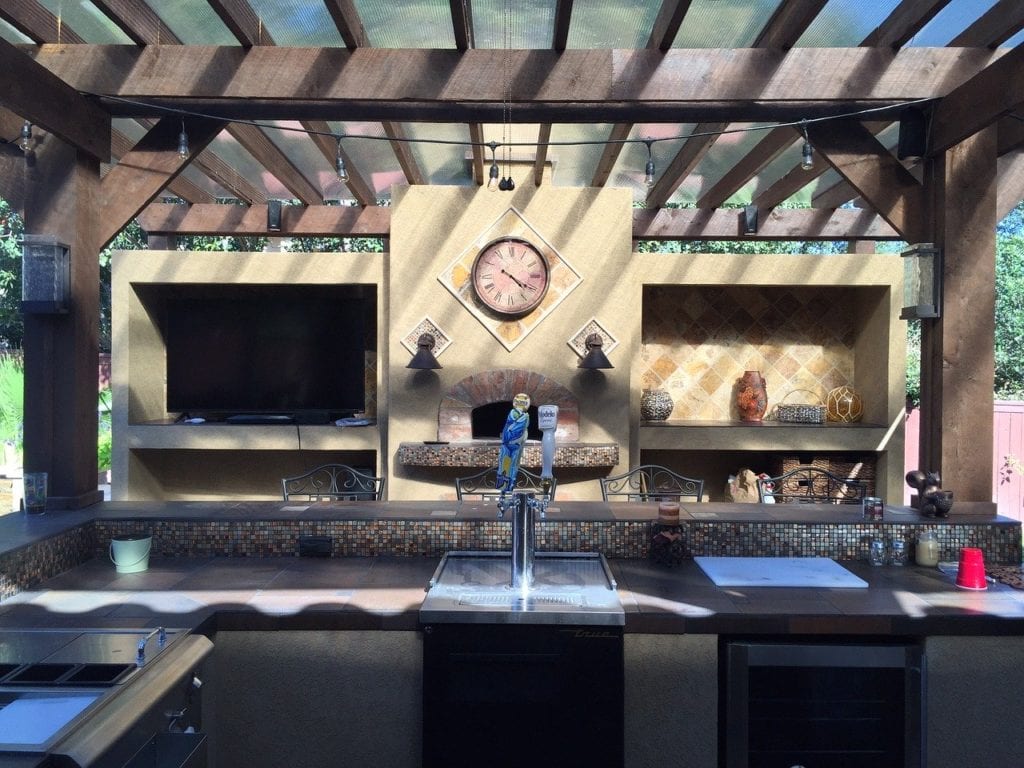 A backyard bar is an exciting addition to any home and a must for anyone who loves to throw parties. You can make the bar as simple or lavish as you like. Some homeowners add the bar onto their outdoor kitchen, with a tap or two for drafts. But if you don't want to go that far, something as simple as a wet bar with an enclosed wine rack or a fridge to chill a few Asheville crafted beers works just as well. Start a scotch club or enjoy a few glasses of wine with your closest friends!
Kamado Grills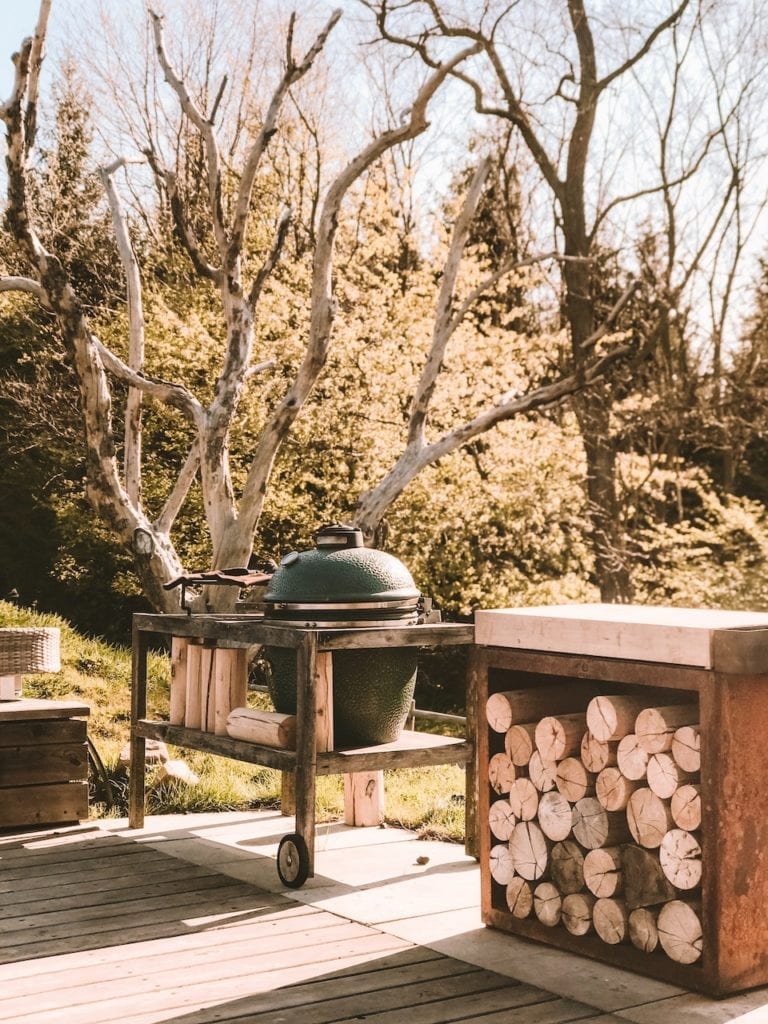 These ceramic grills are a popular way to both grill and smoke food right from your backyard. Set up a log rack with several types of wood with tasty smoke like hickory, applewood, or mesquite. This is sure to be a great addition for anyone who loves to cookout. 
Pizza Oven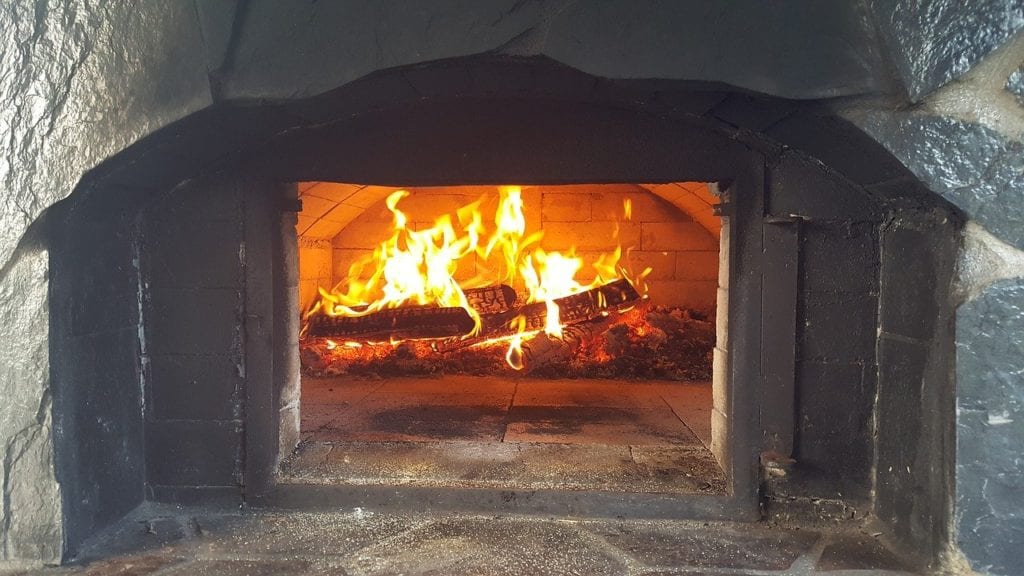 One feature for outdoor living spaces that is growing in popularity is the backyard pizza oven. Designed with brick or stone, the enclosed spaces hold lit logs and encapsulate heat to bake pizza. Invite friends and family over, and mix and match toppings while you sit out and enjoy the fresh mountain air!
Fire Features for Your Outdoor Living Areas
Fire features provide warmth and often have a relaxing effect on you and your guests. It is a great way to end an evening or simply host around. Roast marshmallows with your kids or grandkids, snuggle up with your partner or laugh about old times with friends. Bring one of the best parts of camping to your backyard.
Fireplaces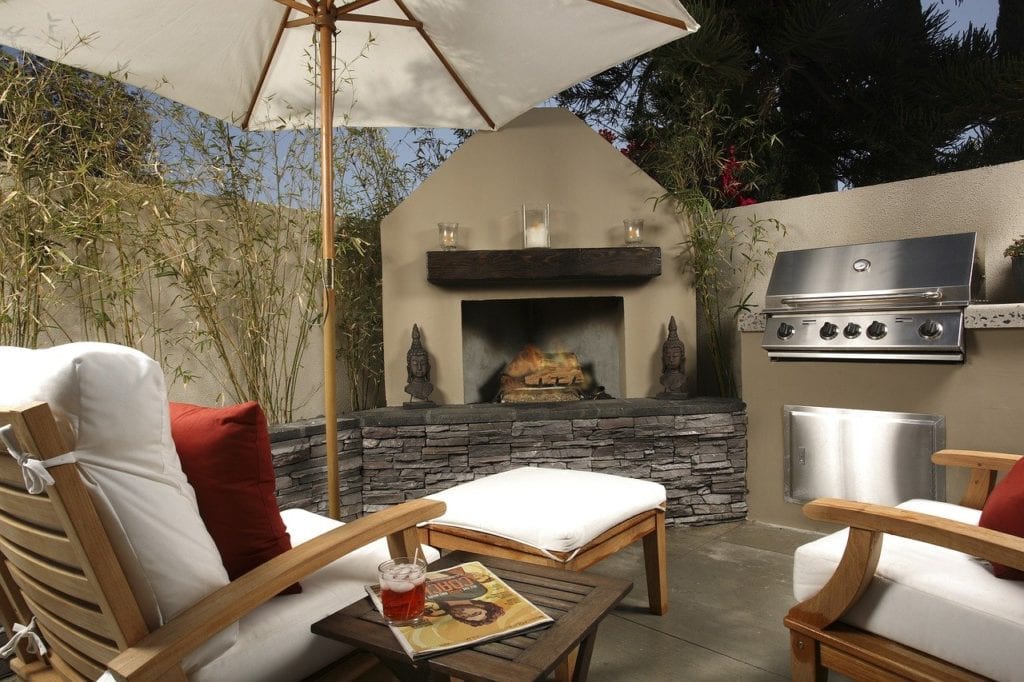 An outdoor fireplace is a great alternative to a firepit if you do not have the yard space for it. They provide warmth and an interesting aesthetic and are often simpler to maintain. You can also go with a more modern look (below) depending on your design taste.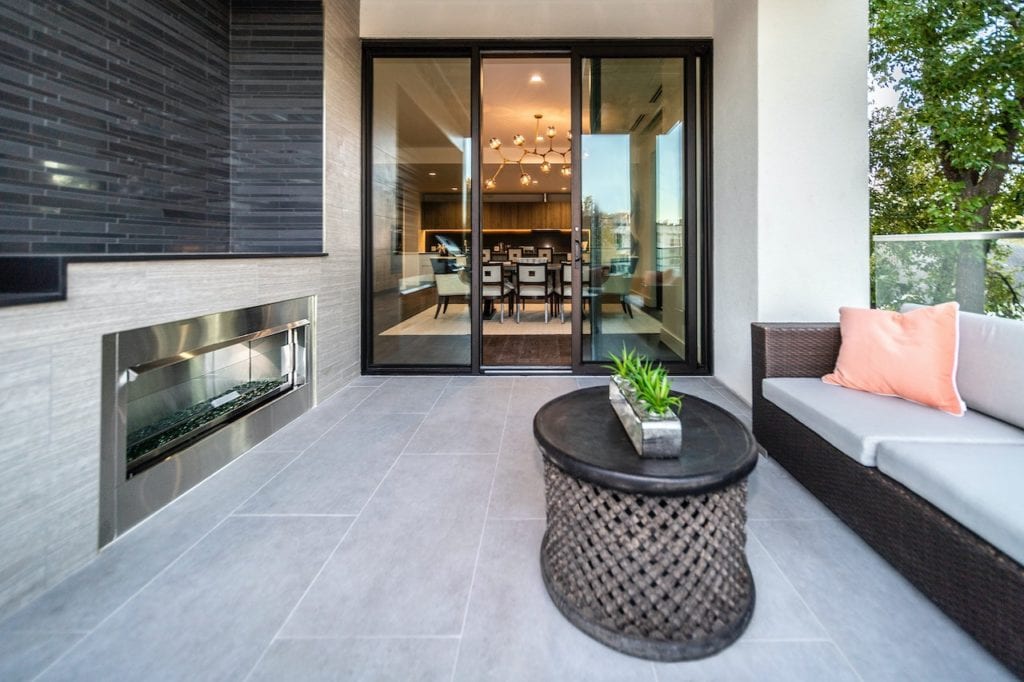 Firepit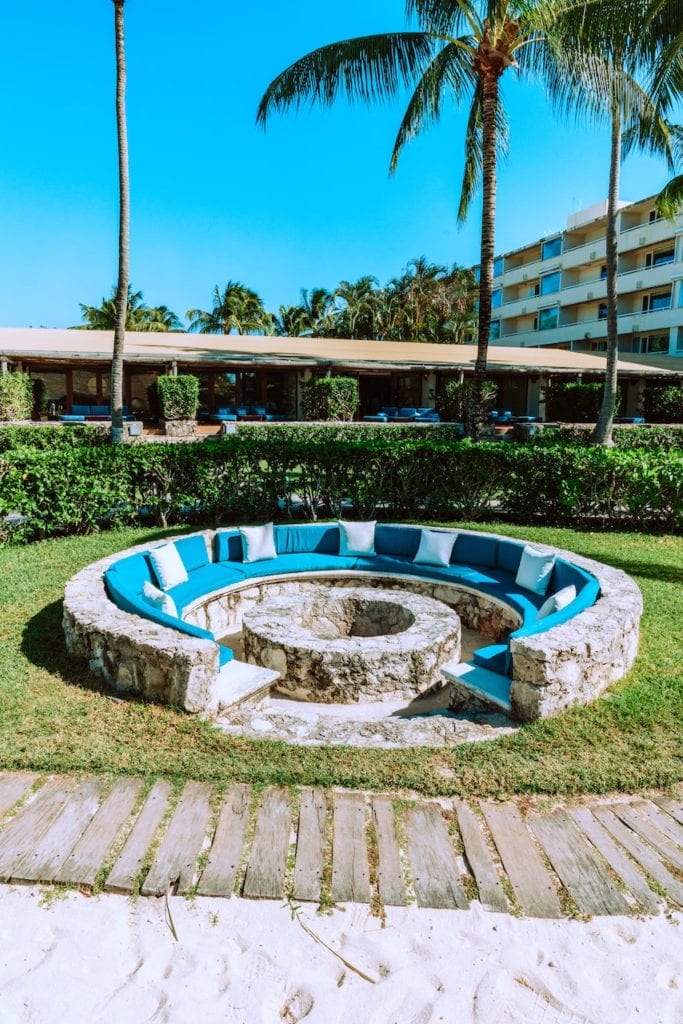 A classic outdoor living space for a mountain home, a fire pit is an excellent place to host friends and family. Sing, play music, make s'mores, or just cozy up under a blanket with your significant other. Firepits with dug in seating are a fantastic way to encapsulate the heat and stay while conveying a sense of togetherness with a group. 
Conveying Comfort in Your Outdoor Living Area
As with any area of your home, designing is a delicate combination of the concept of form and function, choosing furniture that fits the area and its intended purpose, and comfort. You want to have the ability to host friends and family in multiple areas for conversation, dining, etc. But you also have to convey a greater sense of comfort and a mood that matches the calm beauty of the surrounding mountain home. Here are a few features that go a long way to add comfort and function perfectly for hosting and your own personal use.  
Dining Area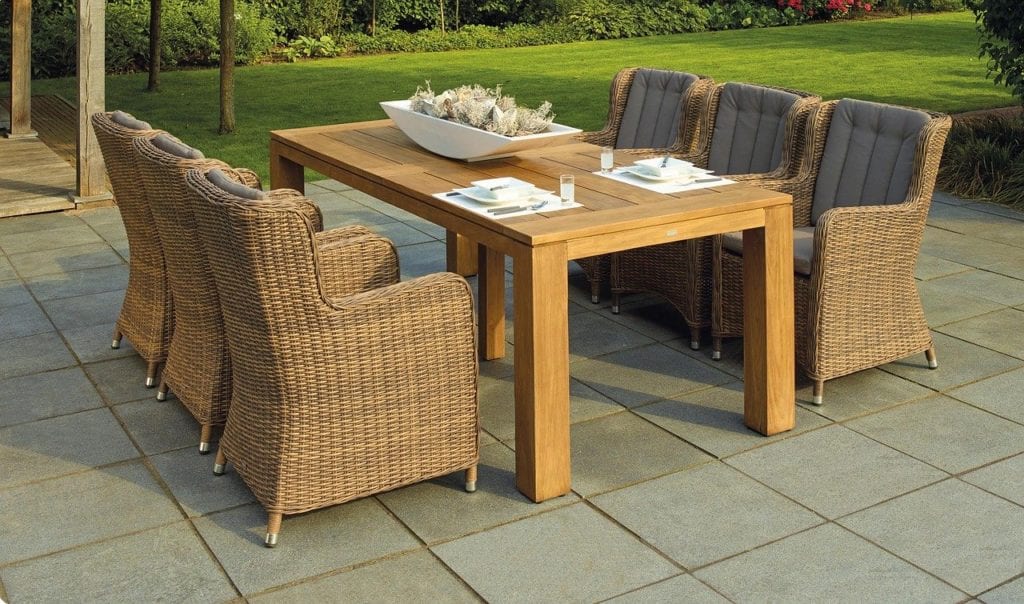 Host dinners with family and friends, play games, or just enjoy a treat in a dining area in any of your outdoor spaces. With so many shapes, sizes, colors, and materials to choose from, you are only limited by the space itself. 
Lights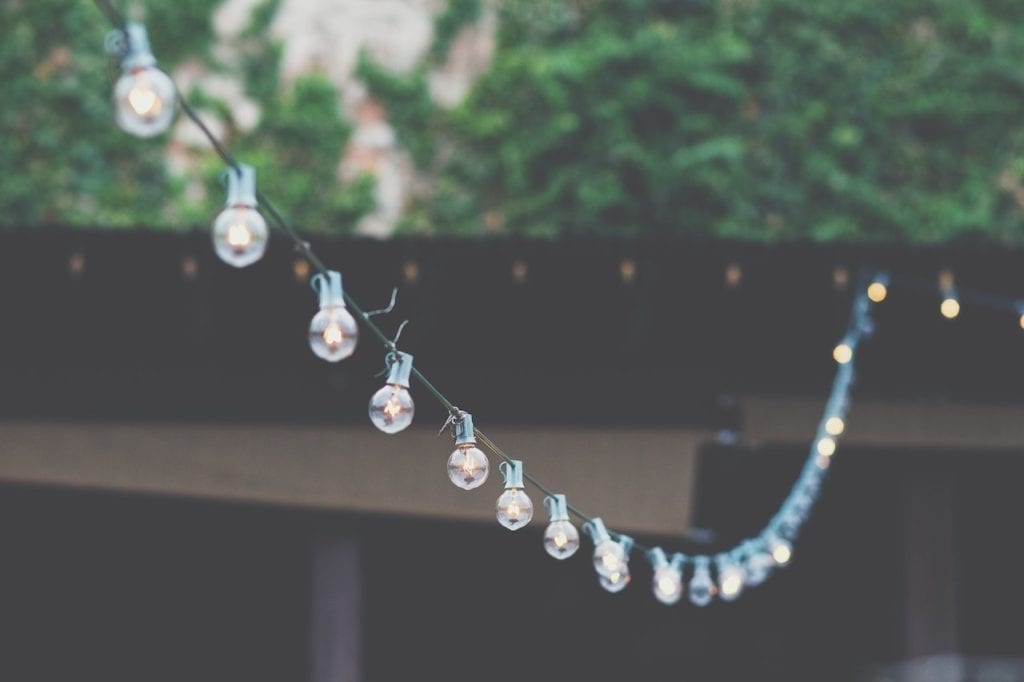 Outdoor lighting can serve several functions. Lighting for your outdoor living area allows you to host guests long after the sun has set behind the Western North Carolina mountains. Solar string lights are well worth the investment, charging during the day by sunlight for an evening outdoors. Using lights along a walkway to a firepit or pergola is not only practical but a beautiful design function. 
Outdoor Furniture
Choose outdoor furniture with a purpose for the space in mind, but don't be afraid to mix and match. If your backyard, deck, patio, pergola or porch allow you to, offer multiple entertainment areas. An outdoor dining table for meals, couches and chairs around a coffee table for relaxation and conversation, barstools by the wet bar, the possibilities are endless. Make sure to choose furniture with maintenance in mind. Preparing your mountain home for winter or bad weather can require more from certain furniture pieces than others. Lastly, don't be afraid to choose unique, modern furniture pieces like a hanging chair or Papasan. 
Rocking Chair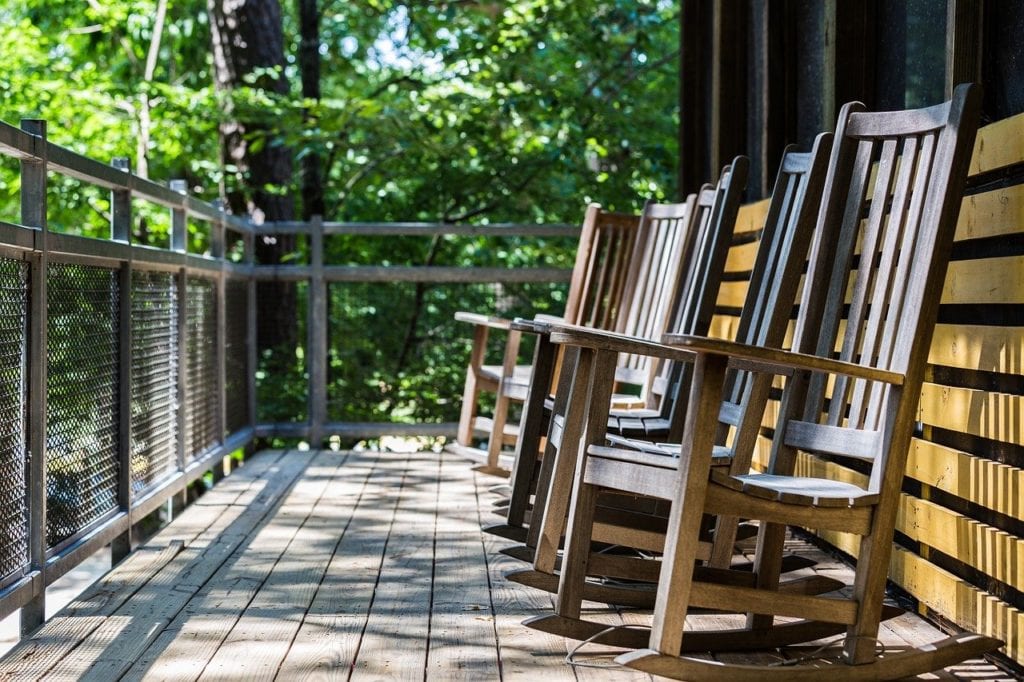 Sit down and rock on a rocking chair in your outdoor living area. A welcome addition to any porch, deck, or patio, a rocking chair is a great way to relax in the evening at the end of a long day. 
Porch Swings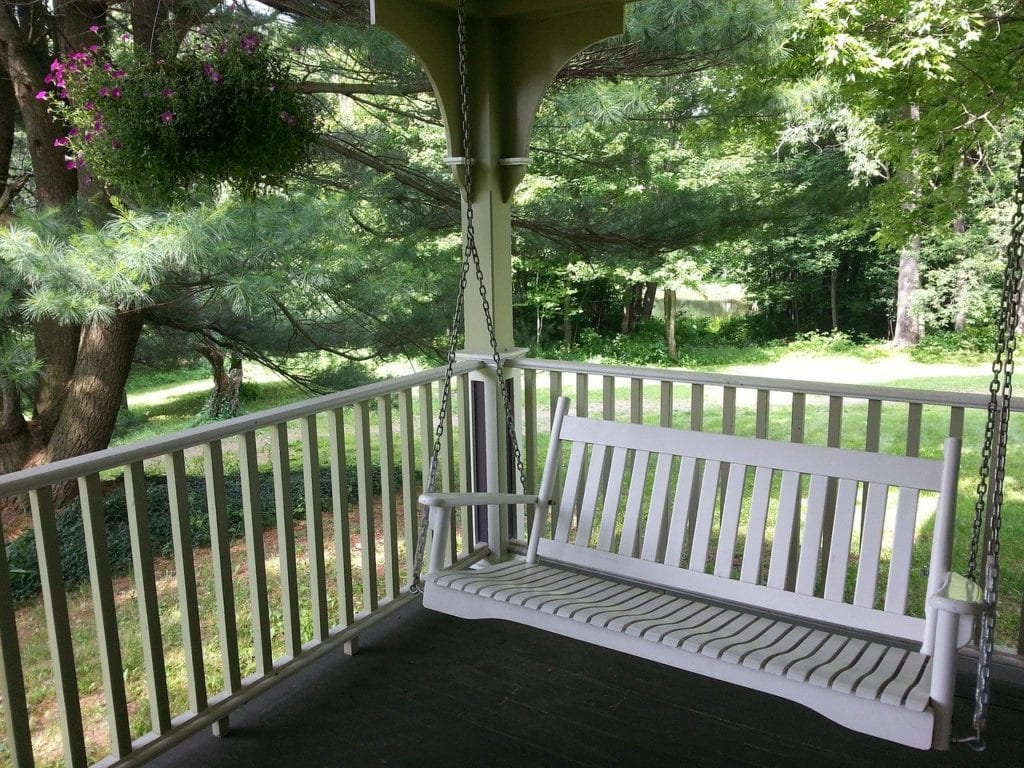 Porch swings are a traditional addition to any porch. Reminiscent of a time before air conditioning, where families sat outside after dinner, enjoying conversation and rest, to this day a porch swing encourages a sense of family, friendship, and relaxation.
Hammocks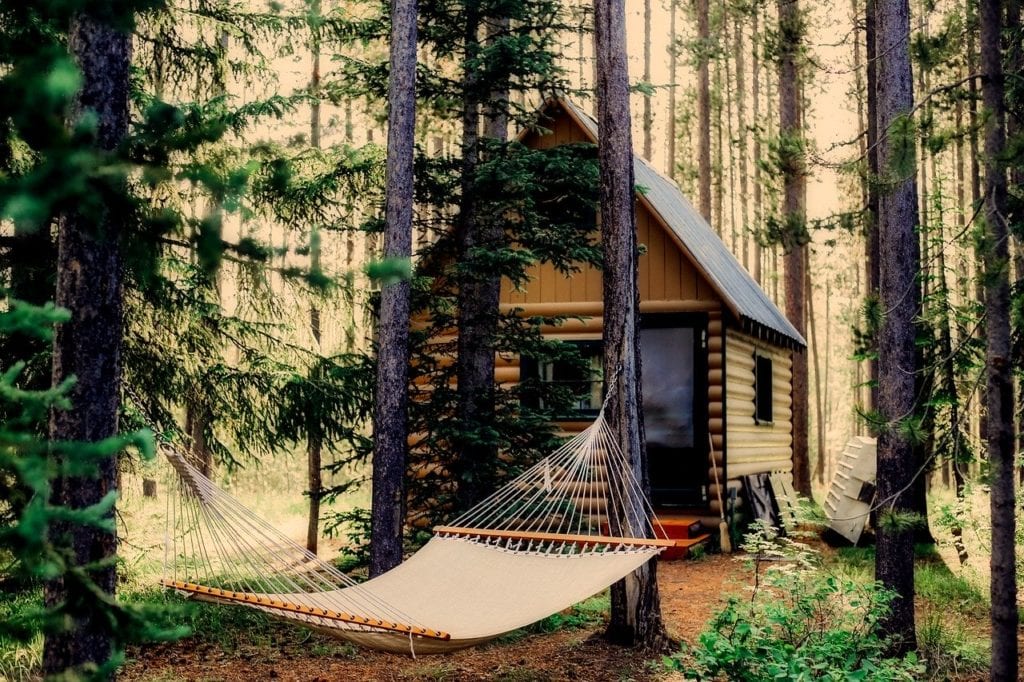 A hammock is a great way to enjoy any outdoor space. Read a book, listen to music, or just take a nap while you are lulled with the sounds of nature. Attach it as a permanent fixture for your deck or a movable hammock in the trees surrounding your home. 
Blankets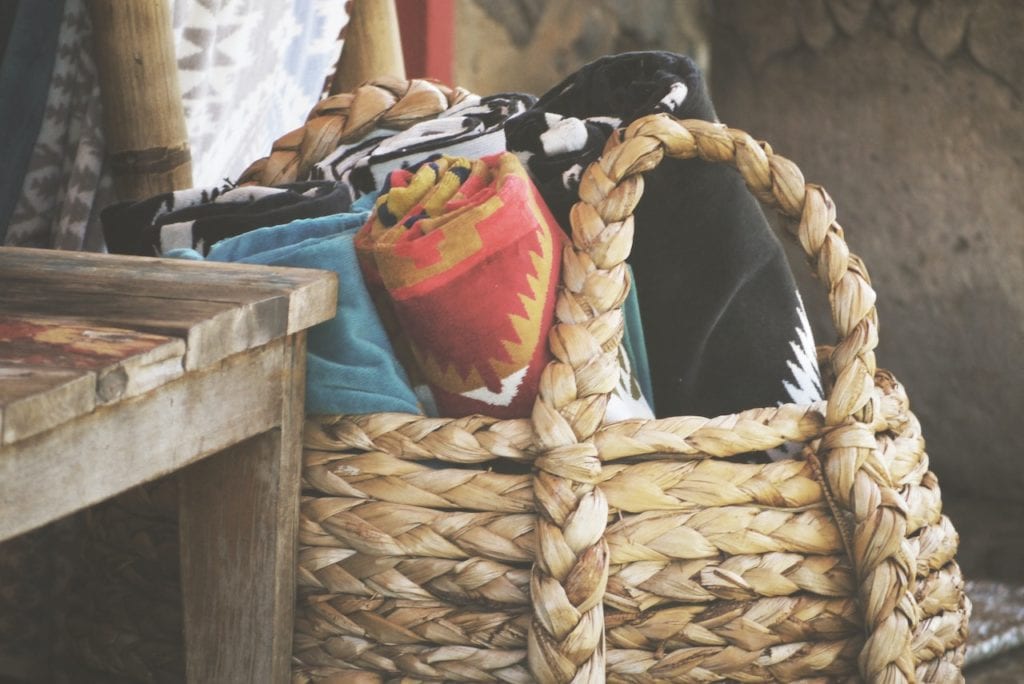 No outdoor living space is complete without a basket of cozy blankets for you and your family to use on cool mountain nights! Cozy up by the fire or on the couch outside and fill your senses with the sights of the stars and sounds of nature all around. More than any other feature, a blanket says welcome home. 
When you are designing your outdoor living spaces, remember that while hosting is an important consideration, you also need to have areas that increase your personal comfort. Design areas that will allow you to snuggle up and read a book in the evening or enjoy a glass of wine with your spouse on those cool mountain nights under the stars. No matter what features you choose to design your mountain home, the most important thing is finding a place where you and your family feel at home. Come discover the Avalon Community and find a home in the breathtaking mountains of Western North Carolina.