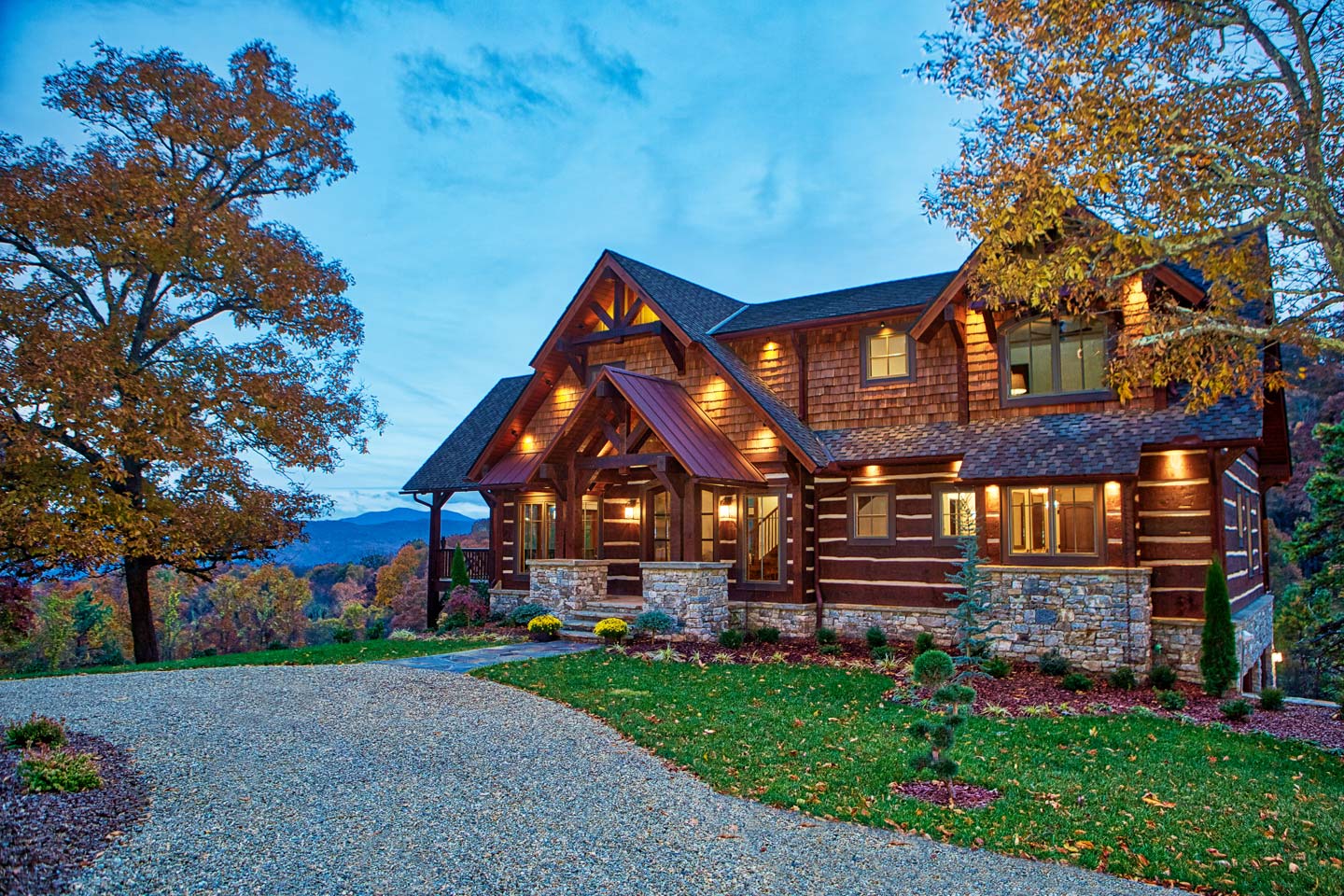 What comes to mind when you think of a house in the mountains? The first image most people think of is a rustic log cabin. Now, there is nothing wrong with a simple, rustic log cabin, if that is your idea of a mountain retreat; however, mountain houses can also be modern, contemporary, and very trendy, too. If fact, a mountain home can be anything you dream of, but you want to keep a few things in mind as you start to design and decorate it.
Work from the Outside, In…
Start with the exterior design as you plan your perfect mountain home.  A key factor to consider is that you want the house to blend in with the naturally beautiful setting of the mountains. The house should reflect the beauty of nature not distract or take attention away from it.
Mountain Home Architecture
There is no set style for a mountain house exterior. There are elements that are common or popular with the exterior design, and you want the design to fit the setting, but really, you can have the exterior constructed to look any way you want. A house can be a single story or two to three stories. Basements are customary for a house built on a slanted lot, but you can also request a basement for any lot you build on. Don't think that you have to limit the exterior look just because it is a house built in the mountains.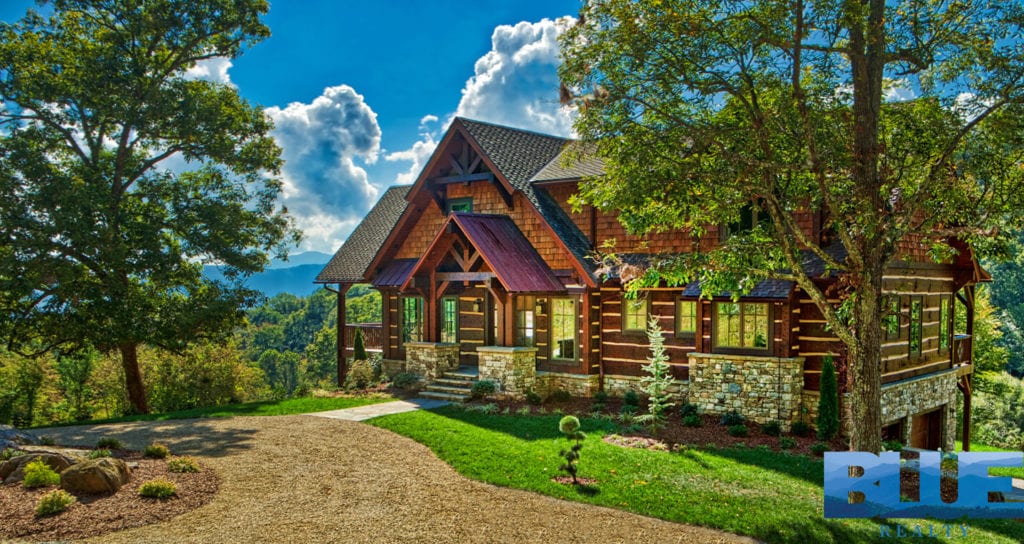 Exterior Siding
Popular exterior materials include wood, stone, or a combination of the two. If you do not want the entire exterior to be all wood or all stone, break up the two by having a few focal points use one of the elements. For example, the exterior exposed chimney, front steps, and porch columns could be stone, and the rest of the exterior could be wood. For a primarily stone exterior, exposed wooden beams on porch roofs, columns, and front entrances are also on trend. Decks could be built entirely of wood to break up the stone look, too.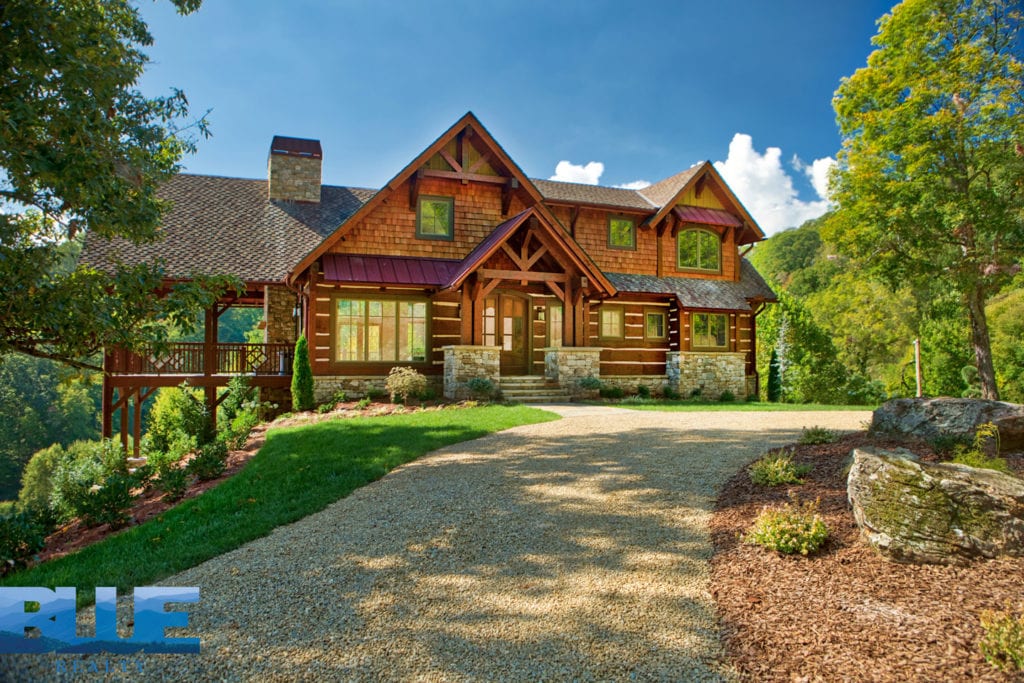 Roofing
Roof types vary with a mountain home. Gable, clipped gable, flat, or hip are the most common choices.  Add your own taste to the type of roof material, though by choosing from standard shingles, tile, metal, or a mixture. Keep the entire house in mind and don't choose a roof that will stand out too much or take away from the rest of the house.
Windows
Most mountain homes will have fantastic natural scenery. You will want your house to incorporate that. Include big picture or floor to ceiling windows throughout the house, so that views can be seen from all areas inside the house. The natural light inside makes the house seem more open and spacious, as well.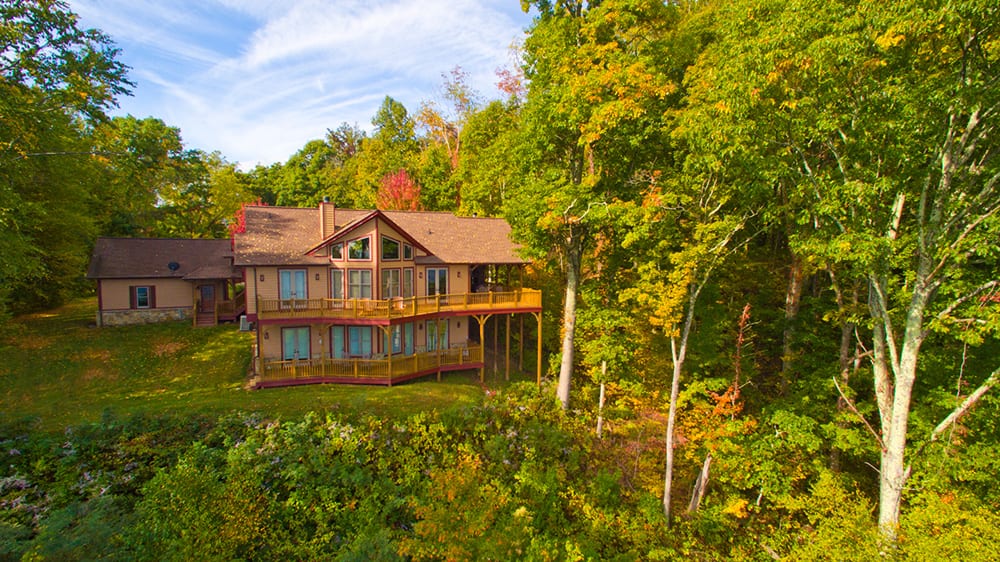 Outdoor Living
Another trend in exterior design for a mountain home is to have outdoor living and entertaining areas. Outdoor cooking spaces, fireplaces, decks that run the length of the house, and big front porches are all ways to enjoy outdoor living in the mountains. Think of these areas as outdoor rooms. They're places to breath the clean mountain air and relax.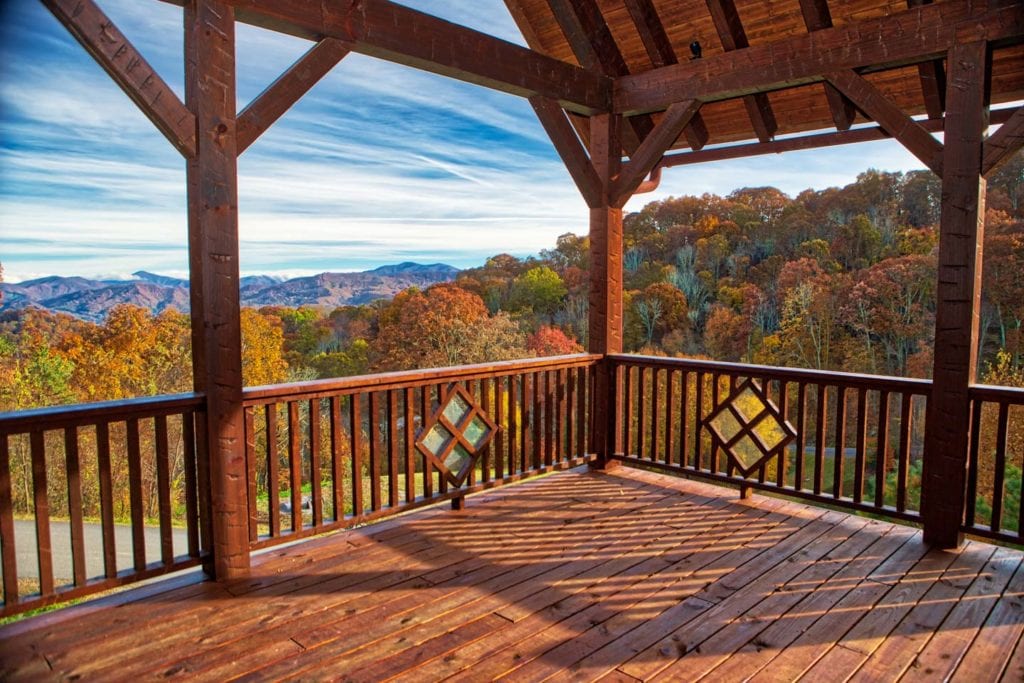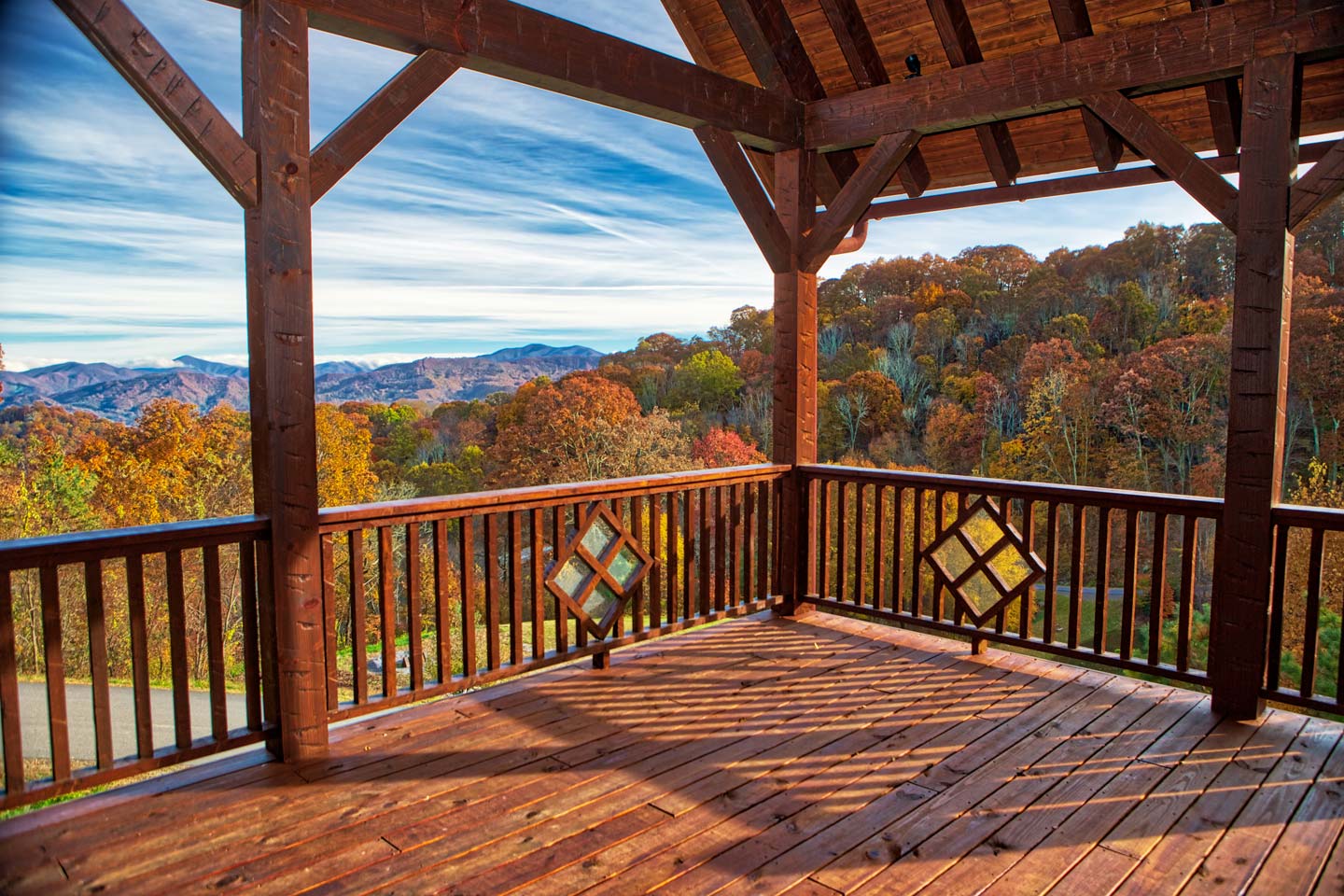 Now it's Time to Move Inside…
After you decide on the exterior design, it is time to focus on what the inside of your mountain house will look like.  Your house should be warm and inviting, a place you, and others, will feel comfortable in. Think of your mountain home as a relaxing retreat and style it as so.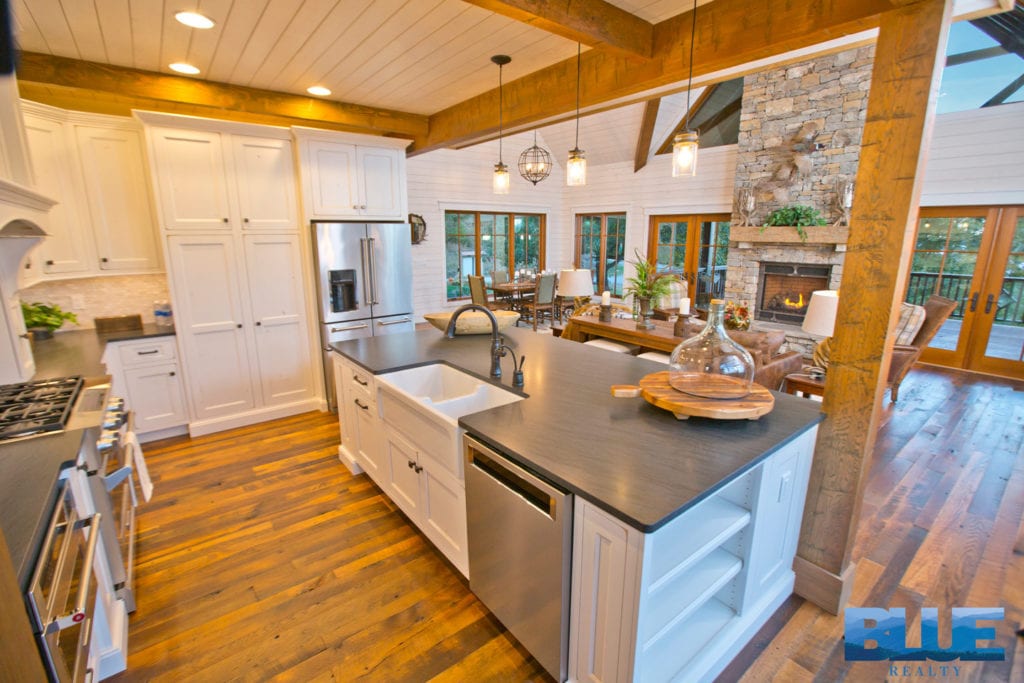 The Floorplan
As far as floorplans go, a mountain home is like any other home. You want functional, livable spaces.  Think of areas that you want to be communal and ones that you want to be private and have floor plans that correspond. Mountain home designs run the gauntlet from big, one open room floor plans to many separate rooms and living spaces. It is really up to you which floor plan you choose. Do not feel like designs are limited just because it is a mountain home.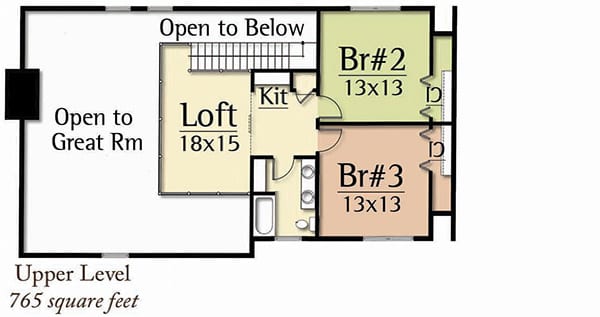 Living Areas
Vaulted ceilings and open concept floor plans are trendy ways to add spaciousness to a mountain home. Shared areas, like the den, great room, and kitchen need not be cut off by walls. The flow of the house needs to allow moving from one room to the other seamlessly. Bedrooms and bathrooms are private spaces and need separation from other areas of the house.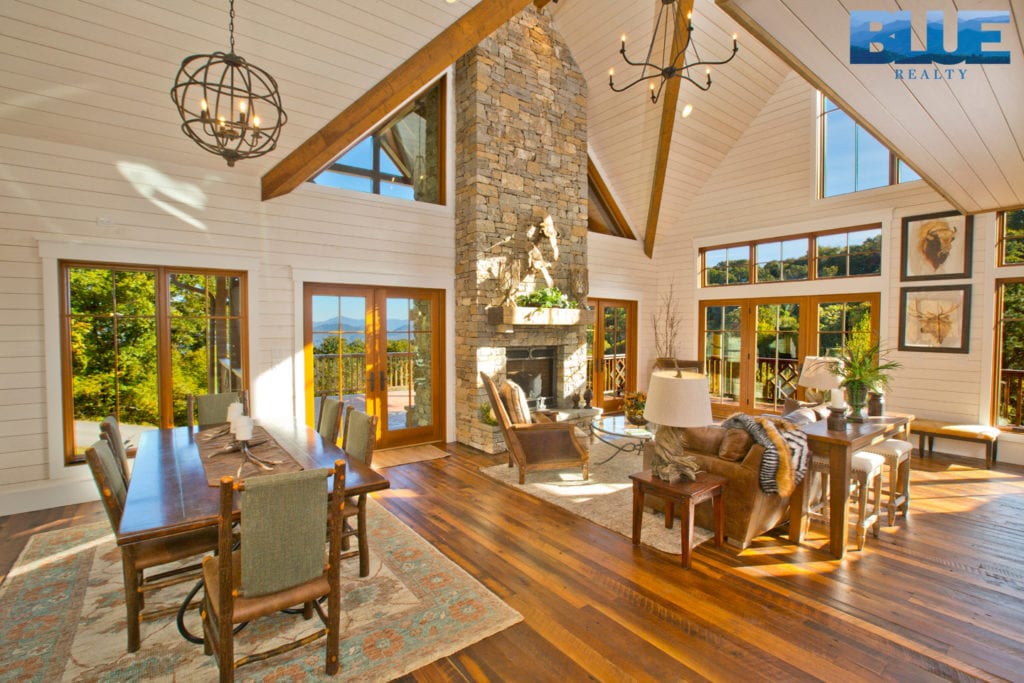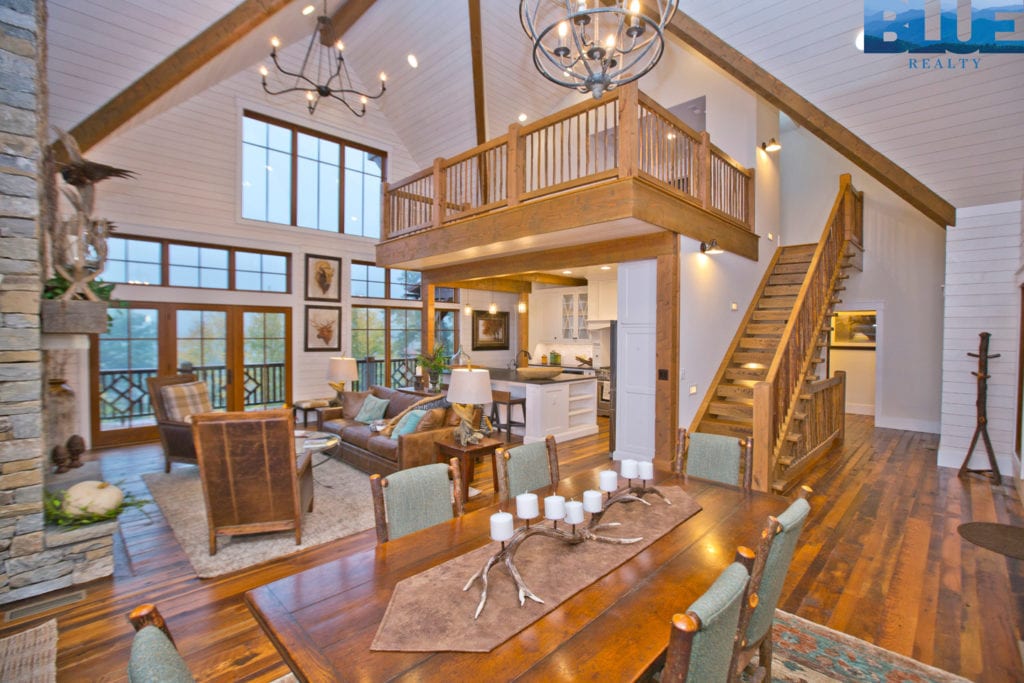 Mountain Home Must Haves
Two things you want to consider in your floor plans for a mountain home are a mudroom and storage space. A mudroom is great to have in a mountain house. When there is snow, a rainy day, or after a day playing outdoors, you will need a mudroom to enter the house. It is a good place to shake snow, water, or mud off your coats and shoes without tracking it all over the house.  A mudroom is also a great place to store umbrellas, coats, and snow or hiking boots and accessories.
Keep in mind that you may need extra storage space living in the mountains for outdoor gear, such as all-terrain vehicles, skis, and sleds; fire wood; extra blankets; and any other supplies or equipment you bring for your stay. As the floor plans are created, be sure to include both indoor and outdoor storage areas.
As mentioned previously in exterior design, lots of big windows will let in natural light and make the space feel airy. Also, lots of windows can be considered nature's art, allowing the views to be the focal point of the room. You want the incredible mountain scenery to be seen in your home, so take advantage of what windows alone can add to the interior design of your home.
Rustic Elements
Use wood in basic room designs to tie in natural elements. Exposed wooden ceiling beams, a wooden beam fireplace mantle, and wooden stair rails work well. Hardwood floors are a must do for a mountain home.  Use distressed woods for a more rustic feel and dark, polished wood for a more lavish impression.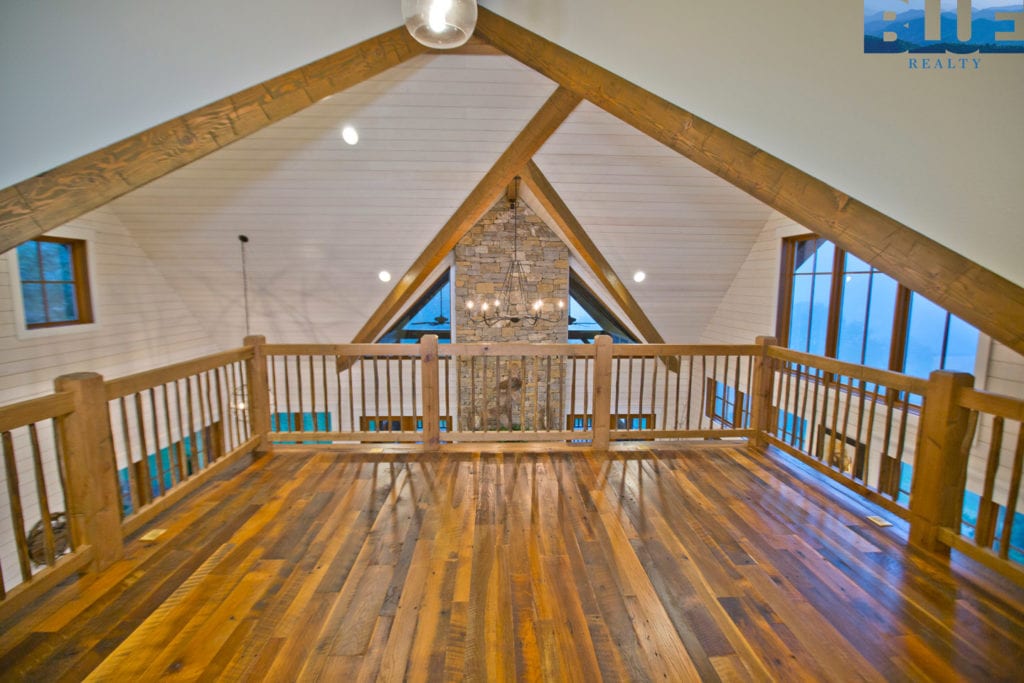 Fireplace
To make the house feel cozy and welcoming, make the fireplace the central piece in a great room or den. Make it big! You're in the mountains, so no tiny fireplaces allowed! Stone or rock fireplace wall with a large mantle is another easy way to add charm to a room.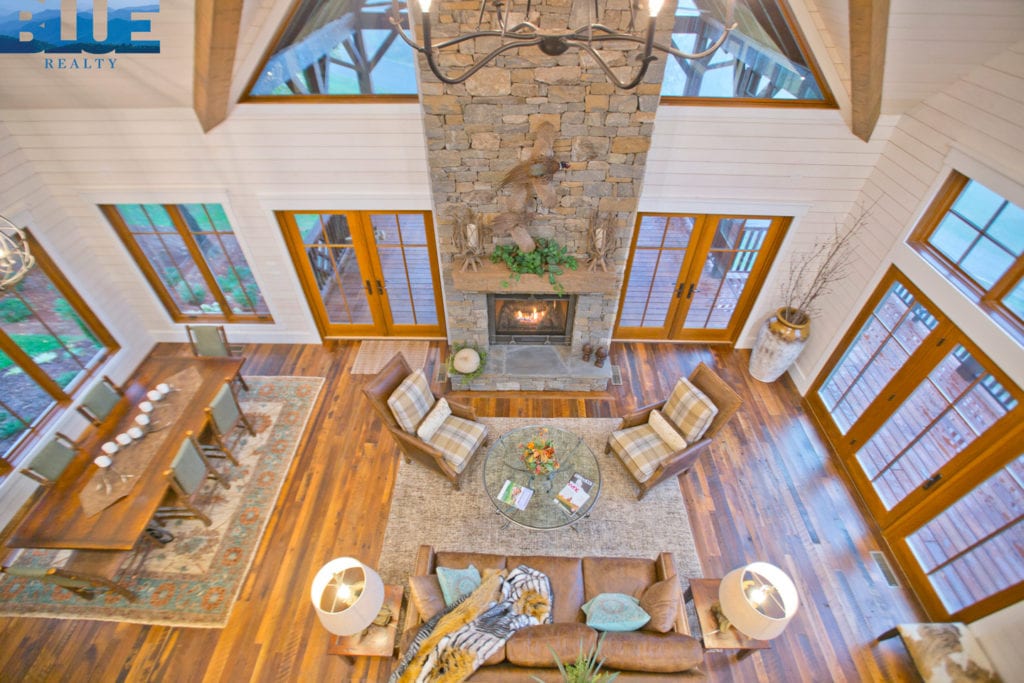 Color Palette
Keep color palettes for walls and furnishings neutral or earth toned. Rich colored accent pieces like rugs, throws, and pillows add character and reflect personal style. Artwork can be bold, if that is what you like, or simple, such as nature scenes or animals you'd find in the mountains. Those accent pieces and artwork should reflect you – your tastes and likes. As far as furnishings go, think of furniture that is comfortable and appealing. Choose pieces that you really would want to sit on and stretch out, not fancy, rigid, or stiff pieces.  Leather chairs and sofas are popular for mountain homes because they are natural yet rustic chic and comfortable.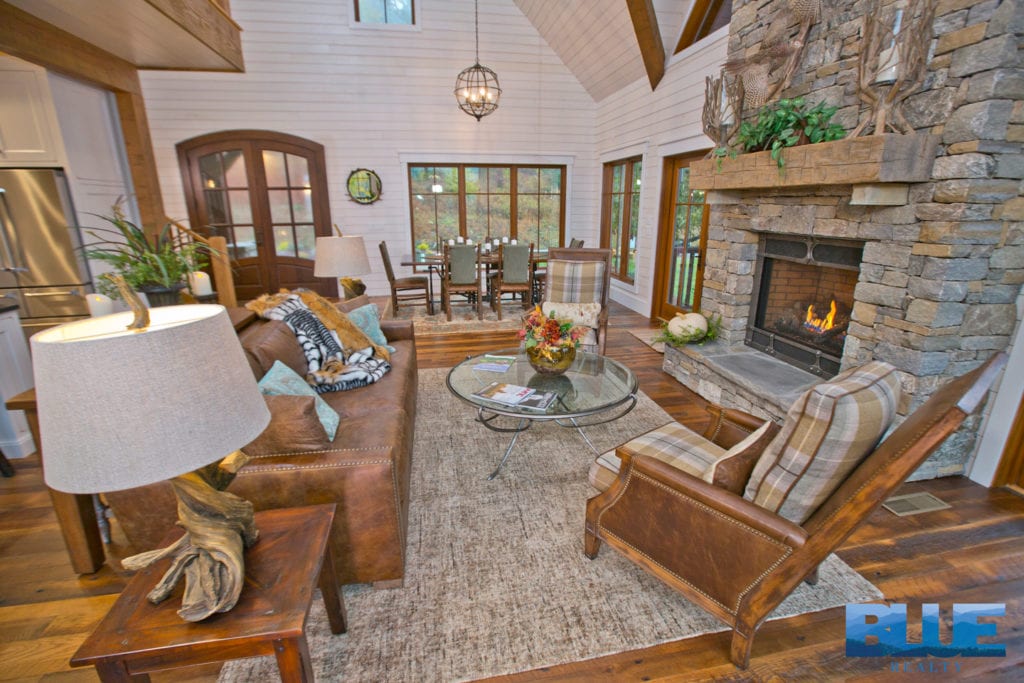 Designing and styling a house for the mountains is exciting. Don't be intimidated by the setting. This mountain home is your home and will be where you live. Make it fit your lifestyle and include all the things you envision for this adventure. As far as exterior and interior design go for a mountain house, the sky's the limit. The house can be as small, rustic, and simple or as grand, contemporary, and fancy as you like. Let your architect know everything you want to include in this house. Be mindful of the lot you choose and the natural surroundings, then make it your dream home.
If you need help choosing a mountain lot to build on or have a lot and are not quite sure where to start with building your mountain home, check out the below posts: