If you have ever visited the mountains of Western North Carolina, you can see their appeal. Simply put, the mountains are beautiful! The majestic, peaceful setting is an ideal escape from the city. Each season is distinct here, with snowy winters, springs full of life, mild summers, and colors like you have never seen in the fall. Building a house here allows you to customize every part of it to your tastes and needs. It really is the best way to get all that you want in a home. There are some things to consider, however, before you start building your mountain dream home. Building in the mountains is different than building anywhere else. It is exciting, yet daunting at the same time. Never fear, though, it is a rewarding experience and when you follow these six steps to building a mountain home, the process will not seem so overwhelming.
Step 1: Set a Budget
Keep in mind that building a home in the mountains will include buying a lot to build on, which makes the cost more than buying a house that is already built. You need to set a budget that includes both the lot and house construction. You do not want to spend more than your budget will allow on land to build on and then not have enough for the house you want. Figure out how much you want to spend before you look at lots and fall in love with something that is way too expensive for your budget. After you allot funds for the lot and house, if needed, go ahead and visit a bank to talk about loans for lot purchase and house construction. Finding out how much money you are approved for will also help you finalize your budget.
Do keep in mind that with any house construction, there will be unseen costs along the way. You can get estimates on construction costs, but once the actual work gets started, there will be expenses that no one could have predicted from planning alone. Do not max out your budget before construction begins; leave a little leeway for the unexpected. Hopefully, you won't have to use the unexpected costs fund, but if you do, it is already in the budget!
There are many great budget and loan calculation tools online, like this Navy Federal Loan Calculator.
How does a loan for buying land and building a home on it work?
If this is your first experience buying land and building on it, then the financing process can seem intimidating. Never fear! The loan process does not have to scare you. There are basically three loan options for you to choose from.
Land / lot Loan: 

This option works best if you want to go ahead and buy land but are not planning to build on it right away. Maybe you see a lot that you really like and you do not want to lose it, but you do not plan to relocate now. You are planning for the future with this purchase. Your loan is simply for the land, nothing more. 

Construction Loan: 

This loan allows you to buy the land and build on it now. The lender allocates the construction cost, and after construction is done, the loan is converted to a mortgage loan to pay off the loan and interest debt. You pay a smaller down payment, but you do not get a fixed mortgage rate.

Construction to Permanent Loan: This loan is the most common type of loan for buying land and building a house on it. You work with one lender and have one closing date. This loan includes the cost of the land and constructing the house. Once the house is complete, the loan becomes a permanent mortgage loan. You only pay the loan interest rate during the building process and can get a fixed mortgage rate.

  
Step 2: Find the Perfect Lot to Build On
Many people who decide to build a home in the mountains often only consider one factor when choosing a lot: the view. This is a common mistake, however. Yes, you want a spectacular view and gorgeous scenery in your mountain home, but do not let that be the only factor you look for in a lot.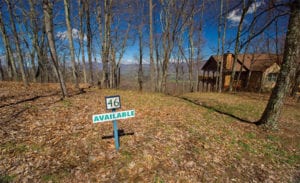 Before buying, consider the following:
Look at a topography map of the lot! What are the natural surroundings of the lot? Is there a stream, creek, lots of rocks, lots of trees, or steep slopes on the lot? (These can make building tricky and more expensive.)

Get a copy of the recorded plat. Find the corners and really study the lot.

Can you build the home you envision without flattening the lot or having to excavate the entire lot? Have a site analysis by an architect done. This will let you know if building the house you want is possible for the lot.

Think of the weather. It snows a lot during the winter in the mountains of Western North Carolina. Will you be stuck in your mountain home when it snows?

Look at access roads. Is there more than one way in and out of your lot or mountain neighborhood?

Are public utilities, like water and sewer, accessible to your lot or will you have to have a well or septic system dug?

Are cable and internet services available?

Work with a local realtor who is experienced and knows about living and building in the area.
Step 3: House Plans
Once you find the perfect lot, you then have to find building plans for your dream house. Keep in mind that just as finding a mountain lot is different from other places, so are house plans for the mountains. You cannot purchase common house plans for a mountain home. The house plans must fit your lot and mountain conditions. Think about the following when designing your house:
Ask if the community has architectural design guidelines.

Slope of the lot will factor into how the foundation of your house is built. Your house will basically have to be anchored to the mountain to be stable. Natural erosion will occur, and snow and rainfall amounts factor into that. You want your home to be anchored well so that if there is a year with lots of precipitation, your house does not slide down the mountain or your basement does not flood.

Mountain designers and builders know how to build homes on sloping property. (Many times due to land topography, a house's construction requires a large crawl space or foundation. Having a designer develop a plan for finishing this lower level space is more cost efficient than paying to frame a second floor for additional space.)

Incorporate the natural beauty of the mountains. How can you design the house to maintain the beauty of the lot without demolishing all the trees, natural scenery, and light?

Think of every little thing, down to the smallest details, of what you want in your house. It will cost more down the line if you don't plan well in the initial design and want to add things later. Really map out what you want the house to look like, inside and out.

Also think about including outdoor spaces for relaxing and entertaining, like a porch, a deck, a fire pit, a hammock in the backyard, a treehouse for the kids or grandkids, etc.

Once you have the house plans you are satisfied with, take them to your builder! Make sure that these plans are doable and won't cost more than you planned for in your budget. This is very important!
To look at specific house plans for mountain homes, be sure to review Avalon's Cottage Collection, Bucktail or get inspiration from sources like Architectural Designs.
Something to Consider: A Mountain Community or Neighborhood
If the process of looking for a lot and building a house on it on your own seems overwhelming to you, you might want to look into a mountain community, especially one that is newer or just starting up. Mountain communities will have several lots within them for sale that a house can be built on. They have model home designs and connections to architects and builders who specialize in designing and constructing mountain homes. The community developers also can answer questions about utilities, water, sewer, internet, etc. Most mountain communities have several access roads in and out of the community, as well. 
Step 4: Find a Builder
A lot depends on finding the right builder. You want someone who is experienced, knows what he or she is doing, does good work, and is trustworthy! A local builder who knows the area and has experience building a mountain home is best.
Do your research!
Check with the Better Business Bureau and Builder Associations in the area to see if there are complaints or violations against the builder. 

Ask for references from the builder and talk to previous clients.

Ask for a detailed, written construction plan, timeline, and costs. You want specifics, not vague answers or the run around.

What building materials will be needed and how many?

How much will materials cost?

What businesses do you work with for supplies?

What businesses or professionals do you use for subcontract work? (Skilled crafts people who do cabinets, flooring, plumbing, electrical, HVAC, etc.)

How much will labor cost?

What is the timetable from beginning to final construction? (Keep in mind that weather and availability of materials will affect this plan. No builder can give you guaranteed completion dates but a good one should be able to give you a very good estimate of how long the process should take.)

Is your builder easy to communicate with? You will be working with this person for months to build your house. You want someone who is honest, upfront, and gives you accurate information.

Does he or she really listen to you?

Does he or she take the time to explain things to you and answer your questions?

Are your wants and concerns taken seriously?

Are all costs and expenses told to you before decisions are made?

If something unexpected happens, will you be told about it or asked what your preferences are for alternatives or will your builder make those decisions and changes without your consent?

Be sure you and the builder are on the same page. Take the time to really get to know your builder.

Talk to several builders, walk the site with them, and request a detailed plans and bids from them. Compare and contrast these to figure out who will be the best choice for you. Take your time. It is OK to shop around and be picky about your builder. You want the best after all!
Step 5: Construction Begins!
Once you have purchased the land, have your finalized house plans, and have a builder in place, it is time to build your mountain home! Your builder will first obtain all the needed permits to build, and once those are in hand, the building begins.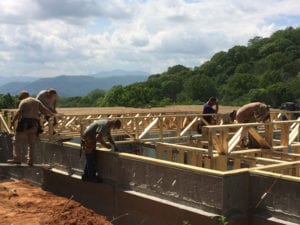 Simply stated, the construction process is as follows:
The lot is cleared for house construction (excavation).

The house's foundation is dug and built.

The house's frame is constructed.

The roof, windows, plumbing, electrical, and HVAC are installed.

All dry walling and insulation is completed.

Inside fixtures, cabinets, appliances, flooring, and painting are done.

Exterior work, such as patios, driveways, and landscaping are completed.
Throughout the building process, inspections will be done to make sure that building is within code and all safety guidelines have been met for all aspects of your house. You can arrange with your builder to be present during those inspections, if you like.
For a very detailed, step by step guide to each step of your house's construction, be sure to visit New Home Resource.
Step 6: Construction is Finished!
Once your house is built and the construction process is complete, you will close on your home! Your builder will do a walk through with you and show you all the features of your new house, and you can take a close look at all the interior and exterior work. If you are not satisfied with anything, now is the time to go over it with your builder and have issued addressed before final closing on the house.
There will also be a final building inspection, and then a certificate of occupancy is issued. Your construction loan will be paid off by the lender and mortgage is processed. Now, you are able to move into your new house and start your life in the mountains!
References:
Bady, Susan. A Step-by-Step Guide to the Home Building Process. 
How to Buy Land to Build a House.
MacCrea, Richard C. Building A Mountain Home? Ten Steps to Building a Home in the Mountains.
Thangavelu, Poonkulali. Home Construction Loans are Complex: Here are the Nuts and Bolts.