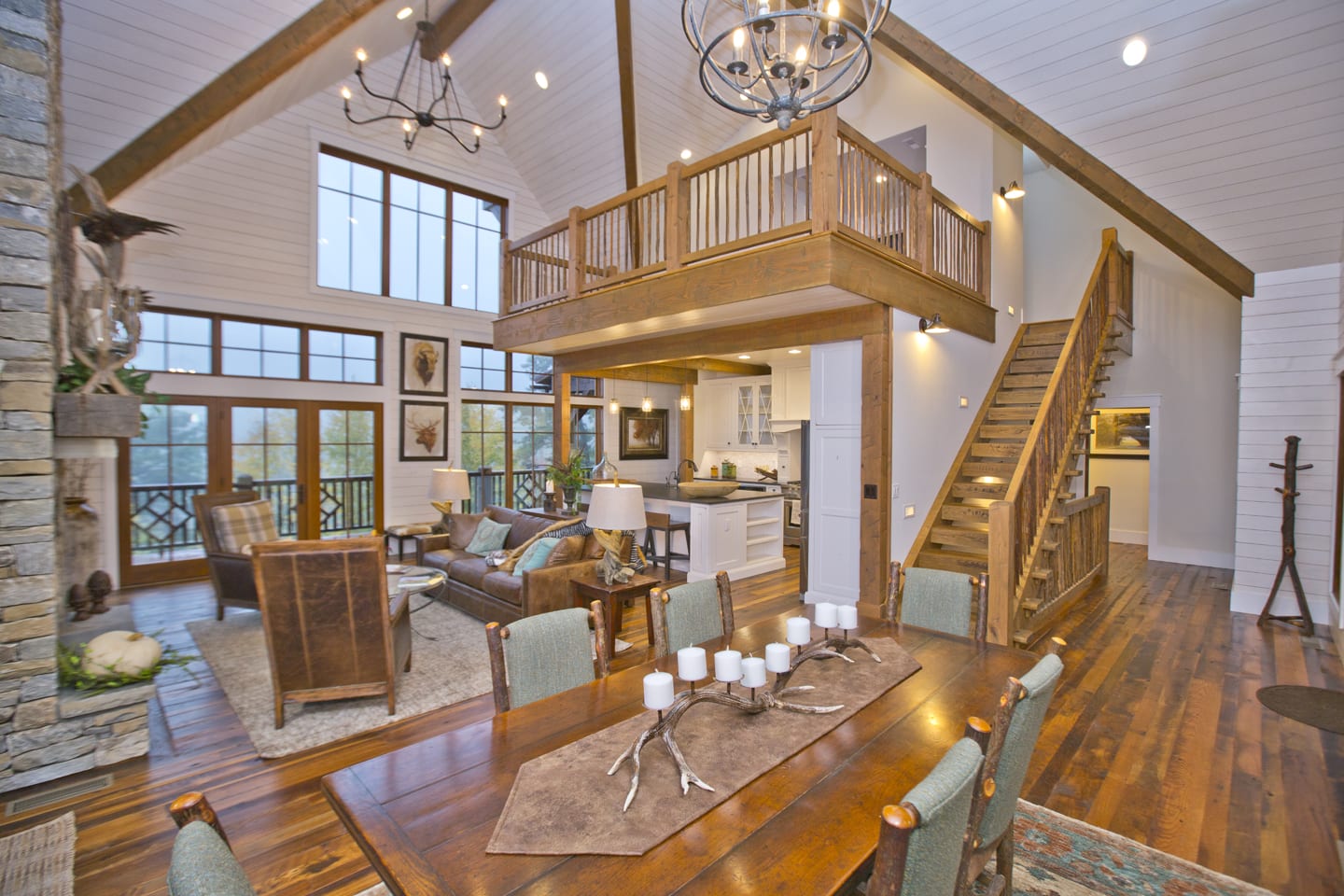 Designing a home worthy of your extraordinary mountain views can be a challenging task. What type of wood should I use for the floors? How many watts for the bulbs? What colors should I use? The sheer volume of decisions can be overwhelming. We are here to help. Below are 10 interior design ideas to make your mountain house a mountain home. 
Things to consider
Style.

Selecting the style of your interior design is very important. Whether it is modern, rustic or other styles, the choice you make will help you determine the layout and décor of your home. 

Design elements.

Think about the elements of design when designing your home. Your use of space, patterns, texture, color, light, and lines all work together to further your design. 

Mood.

It can help to think of what you want each room and your overall home to convey. Comfort, edgy, etc. The decisions you make will further the mood and style you want. 
Décor i.e paintings, plants
How you decorate a room will be determined by your style. The decor is much more than a finishing touch. It is the completion of your home. Ironwork wall hanging, carved wooden pictures or large canvas oil paintings can work well to convey a sense of mountain life. Matchstick blinds can be a great option for your windows, but be careful not to overdo with wood, unless you are going for a rustic log cabin style. Plants can brighten up any room and serve as a natural aesthetic. The most important items for your decor are the family photos, diplomas, trophies and any number of personal items that make the space your home. 
Frame up your Mountain View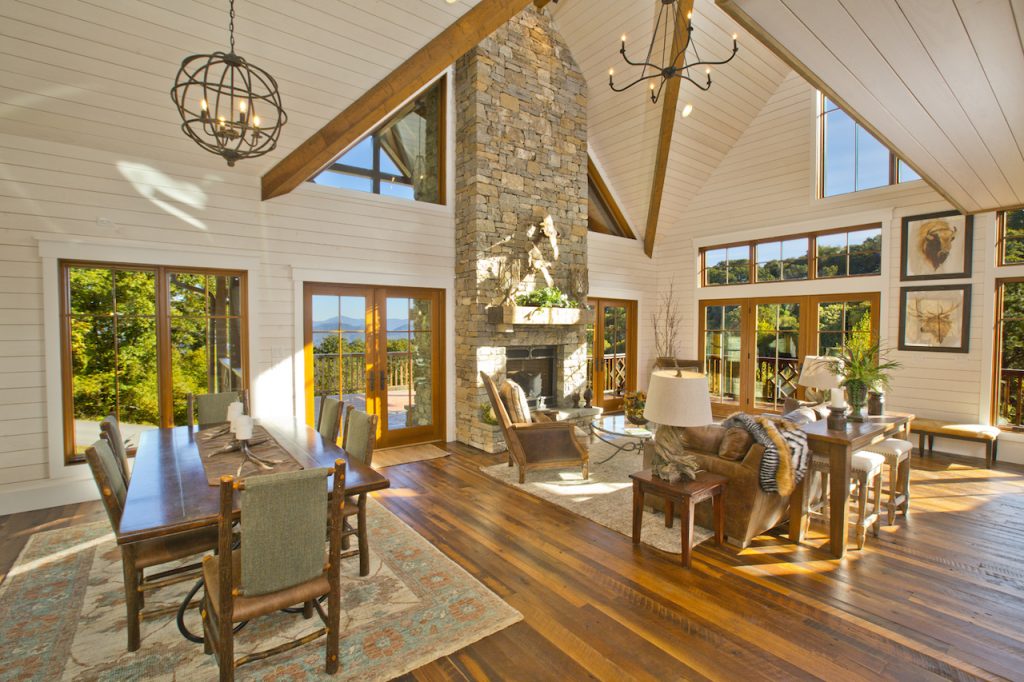 Windows are important for a home that holds value in the view of the mountains on the horizon. Large, no frame windows with natural-colored hues to match the surrounding scenery are great for mountain homes. They frame the views and also serve to provide natural light throughout the house. 
Incorporate Natural Elements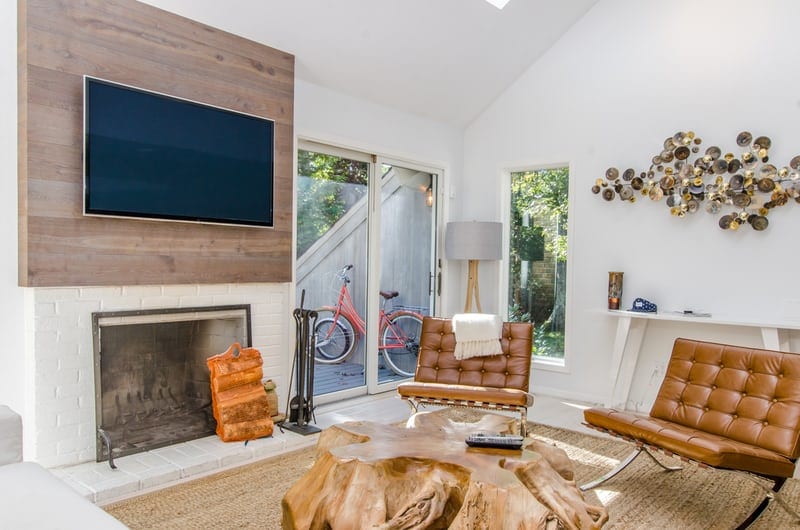 Homes surrounded by nature often benefit aesthetically from natural elements. Stone fireplaces or backsplash, marble countertops, and visible wood beams can go along way to connect the home to its surroundings and further connect you and the view. It can also meet the design elements of texture and form. Use a reclaimed wood dining room table or beams to reiterate a country home theme. 
Find a Pattern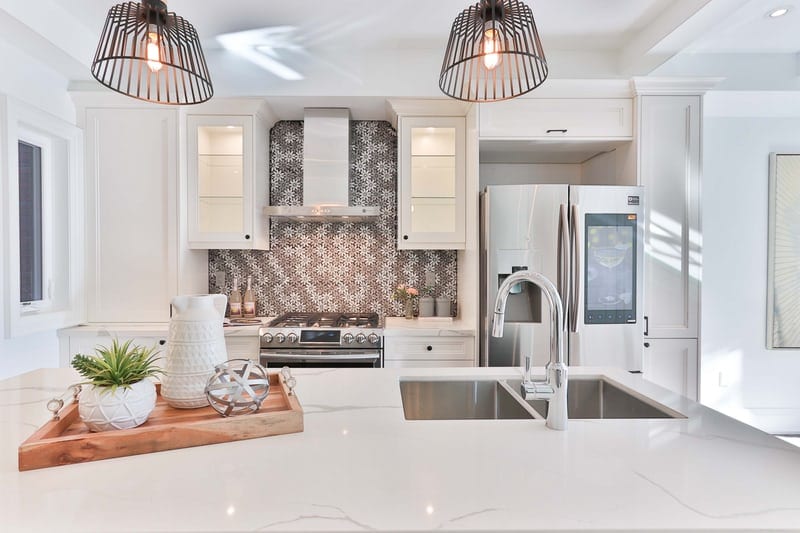 From the design of your flooring to the throws in your living room, the patterns you choose will affect every aspect of your home. Patterns can also add texture. A patterned tile can help decorate a traditionally plain space. Nature designed wallpapers or sponge style painting can add texture to rooms that need it, without overpowering the viewer. Use your decor items such as rugs, paintings, and drapes to pattern a room. A general rule with patterns is that rooms intended for peace, like your bedroom, should not be heavily patterned. 
Lights That Don't Steal From Your View
Light can work for your design in two ways. The first is the function. Is it a soft ambient light, or a bright spotlight? Rooms with a great deal of natural light exposure might not need heavy lighting. The second is the design value. A high ceiling benefits from pendant lighting to draw the ceiling in more. An ornate chandelier is also not out of place in a mountain home living room or dining room. 
Use Colors Wisely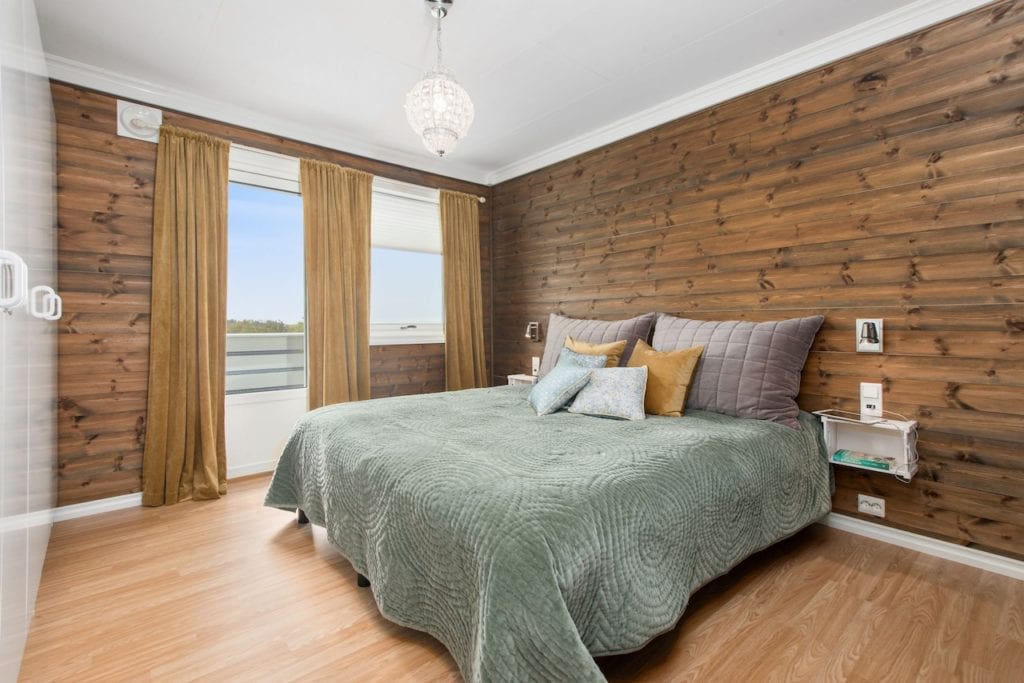 Colors will be dependent on design styles. Neutral colors are common with many of the natural materials used for mountain homes. However, modern styles are also using white to contrast the natural elements and bring a splash of modern to a traditionally rustic design. Colors can give space to smaller rooms through an accent wall. Most importantly colors can subconsciously convey an emotion like calm, peace, or excitement. 
Floor to Ceiling Design
The type of wood, color, and feel of your floor and ceiling will work with other elements such as the colors for the room and the decor you use. Bathrooms and kitchens can be a great place to introduce natural types of tile. Elm, bamboo, and oak are great options for flooring. Use the ceiling as an aesthetic! Modern styles incorporate white washed oak to give homes a distressed farmhouse feel. High ceiling are popular for modern mountain homes because the increased height provides room for large windows. 
Furniture: More than Function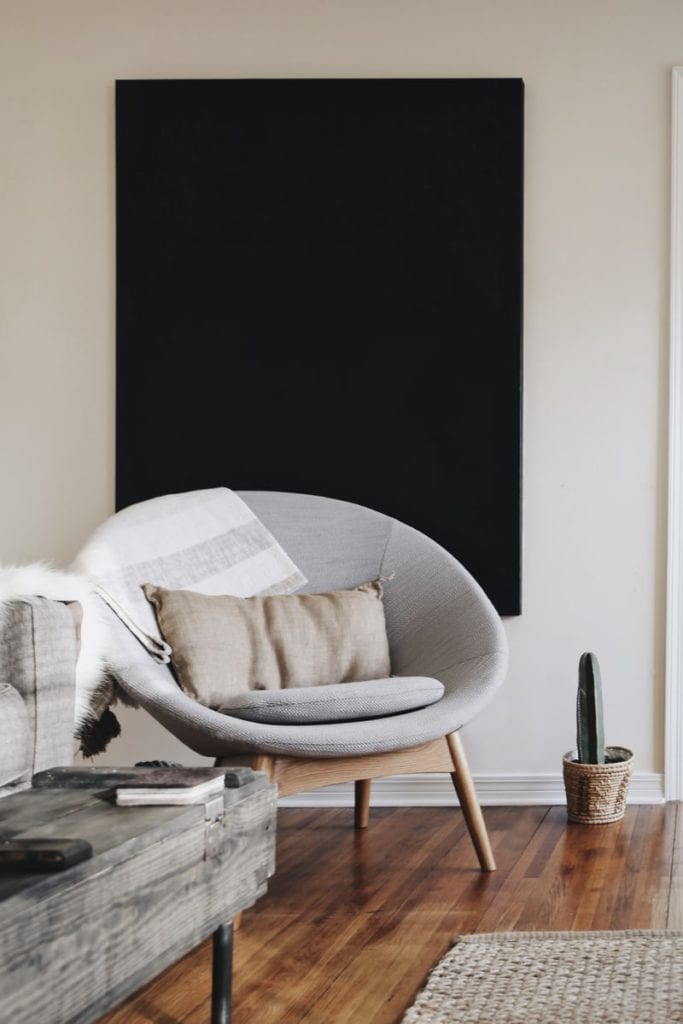 Furniture, like lighting, serves the purpose of both function and design. Tables, chairs, coffee tables, and couches all provide a functional purpose while still playing a role in the design of the room. Furniture is the leading factor in the element of space. A large sectional can define the living room the same way a coffee table can. It will determine the direction of eyesight for the person seated. The design is also important. Leather is often used for more traditionally rustic homes. Glass coffee tables can bring a hint of modern simplicity to a country home. Farmhouse tables have become increasingly popular for many homes. They further the country family dinner motif. The most important factor for furniture, however, is comfort. Who cares how it looks if you never want to use it? 
Unique Elements
Mountain homes are great for unique additions that amaze guests. Second story balconies or platforms that hold an office or a reading area are a great way to wow your guests. Floating staircases with reclaimed wood can combine modern and traditional. An expected element of any mountain home is the fireplace. Center room fireplaces are popular in modern design while a floor to ceiling fireplace with stonework can serve a traditional purpose. Barn doors on tracks that slide open bring the country house theme to mind as you enter a room. A little bit riskier of a design choice is an indoor water feature. With homes that have stonework, the running water can subconsciously provide a sense of a peaceful creek or stream. 
Roll out the carpet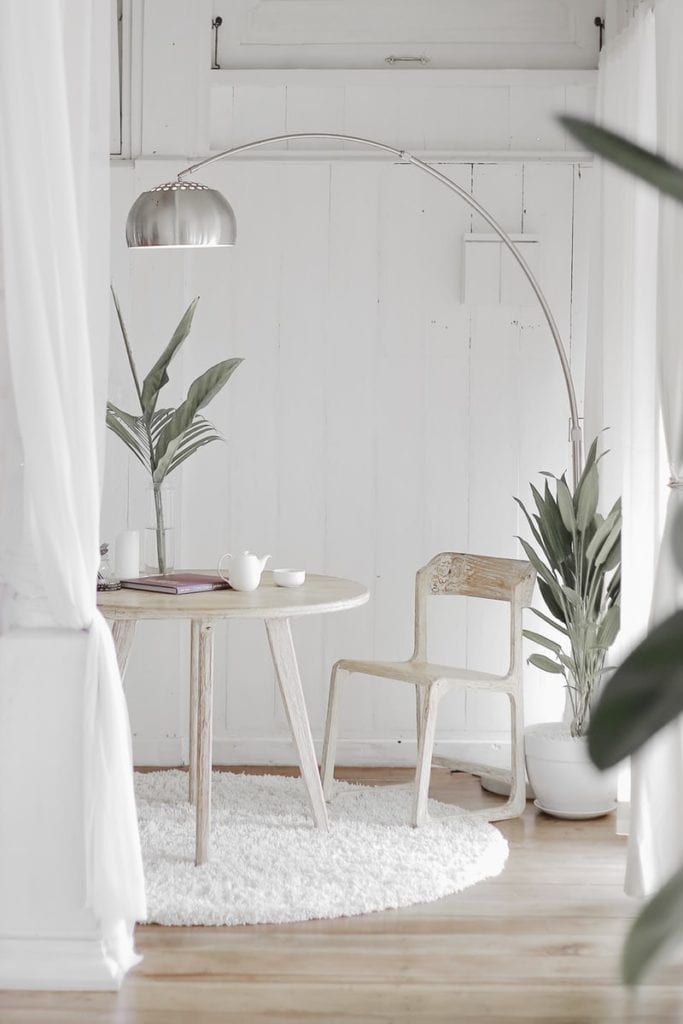 Rugs are a smart decision for most rooms. They set boundaries and define a space while providing a sense of comfort to your home. Add a rug to your entryway for a welcoming vibe, to your dining room for a warming effect, or to a hallway for a sense of direction. An area rug can also be a great way to define a seating area in homes with an open floor plan. High pile rugs are used most often for a mountain home to convey the same sense of home-y warmth as your fireplace and add a hint of texture to a room.  
These are only a few ideas for your mountain home. We know the way each resident designs their home will be as unique as the views they have. We hope our ideas help you design a house you are proud to call home. 
Are you considering building a mountain home of your own? Nestled in the beautiful mountains of Western North Carolina, Avalon residents are surrounded by breathtaking views and exciting entertainment. Come visit Avalon and start planning your dream home in the mountains.