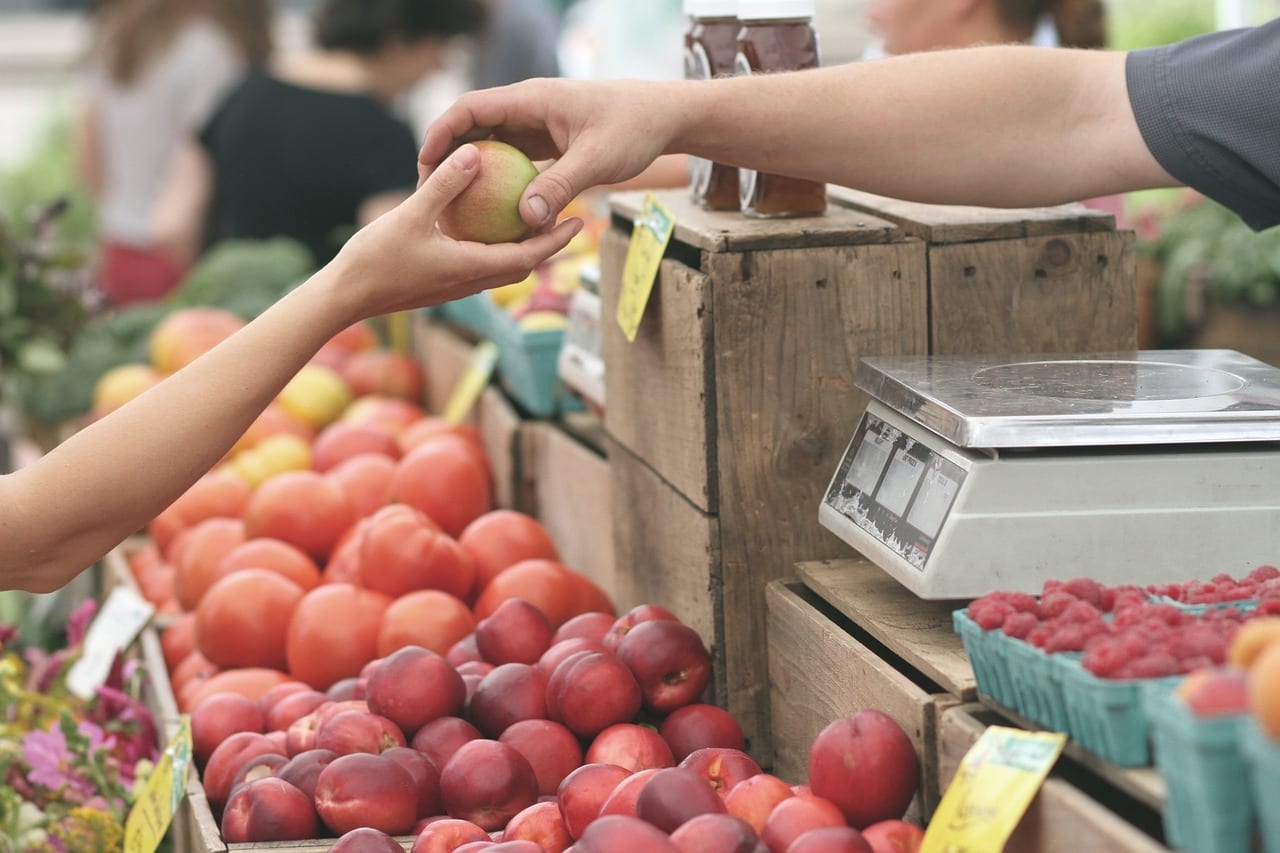 Asheville and other Western North Carolina towns are full of farmer's markets offering diverse, fresh ingredients for farm to table living. Get outside, meet others in your community, and support local businesses while you enrich your diet with an array of colorful fruits and vegetables. These farmer's markets are a great way to enjoy in-season ingredients from local farmers. And because they tend to have a festival feel, you are sure to have fun with the whole family.  Below are 5 of the best farmers markets to visit in Asheville and Western North Carolina.
Asheville, NC
This market is one of four markets put on by the state of North Carolina and operated by the North Carolina Department of Agriculture and Consumer Services. Therefore, it is one of the larger markets in the state. Located near downtown Asheville, this market is spread out on a 36-acre site, surrounded by views of the North Carolina mountains and the Biltmore Estate. The market is open daily from 8 am to 5 pm, year-round. If you are a first-time visitor to WNC Farmers Market, it can seem overwhelming, but you are sure to enjoy yourself. Over 194 spaces for vendors offering fresh grown fruits and vegetables, as well as a variety of jams, jellies, and preserves. Meet local artisans creating mountain-inspired crafts and delight in a variety of baked goods! Make sure to visit their site and print out a map before you go!
Asheville, NC
Since 2009, the City of Asheville has offered a two location farmers market in addition to the various tailgate markets established throughout the city. This market boasts two locations for visitors convenience; the Asheville City Market Downtown and the Asheville City Market in South Asheville. During the winter, the two are combined at an indoor venue in Downtown Asheville. Local vendors gather with fruits and vegetables, plants and flowers, as well as crafts and treats. Because you are surrounded by Asheville's vibrant community, you are sure to enjoy a meal at the surrounding delis, diners, bakeries, and various other Asheville eateries. On a hot day, you can even enjoy a scoop from Asheville's best ice cream shops. Asheville Downtown Market is open Saturdays, 8 am to noon from April to December. Asheville South Market is open Wednesdays, Noon to 4 pm from April to October. Asheville Winter Market is open Saturdays, 9 am to noon from January to March.
Hendersonville, NC
This market has served the WNC community since 1979, making it one of the oldest open-air markets around. The vendors are all local family farms, nurseries, and florists that have operated in the community for years. This is a great market to buy plants and flowers for your yard that you know will grow well in your region. The green thumb vendors can also offer tips for planting and maintaining your garden. Bring some fresh-cut bouquets home to display as a centerpiece while you eat a fresh, farm to fork meal. This market is open Saturdays, April to October from 8 am to noon. You will not want to miss this expert farmers market that has become a Hendersonville tradition.
Brevard, NC
Transylvania farmers market is an incredible family-friendly event. Not only do they offer produce, poultry, herbs, honey, spreads, etc they also showcase live music while you browse the booths. Perhaps the most exciting part of this farmers market is not the produce itself, but the weekly wellness programs including cooking demos and exercise classes, as well as programs to teach children about proper health and nutrition. This market is open year-round every Saturday, from May through November, 8 am to noon and December through April, 10 am to noon.
 Mills River, NC
This is a great market for children because they are sure to see a few of their teachers! Mills River Farmers Market offers a variety of products from local farmers and artisans like any market. The benefit of this market is in the extra offerings they have developed over the years. They have a lending library for children to enjoy each week and cooking demonstrations for the whole family. Stop in, buy this week's groceries, let your children pick up a new book, learn some recipes for the week and be on your way! Visit this market every Saturday, May to October, from 8 am to 12 pm at Mills River School. 
Why is it better to shop at a Farmer Market?
Freshness.

Because farmer's markets feature local farmers, you are sure to enjoy the freshest ingredients you can find. Many booths might also offer organic produce, fresh-caught fish, or eggs from free-range chickens among other ethical, healthy options. 

Benefits the Community.

When you patronize local farmer's markets, you are supporting local farms and other businesses like florists and artisans, which benefits the local economy. It is also a way to take pride in your community and meet your neighbors. 

Health Benefits.

Farmer's markets are filled with colorful fruits and vegetables that are packed with nutrients essential to a healthy diet. Some farms also offer ingredients that contain little to no use of pesticides, antibiotics, etc. 

Family Affair.

Farmer's markets really can be a family affair. It is a great way to teach your children about where their food comes from and introduce them to healthy fruits and vegetables. Larger markets usually have fresh baked goods and treats, as well as arts and crafts from local artists. 

Try New Things.

A farmers market is a great way to go out of your comfort zone and try new food groups. Many booths also sell or recommend recipes that you can add to your repertoire for years to come. It can also serve as inspiration for your own garden. 
Regardless of the farmers market you attend, you are sure to enjoy a fun day outdoors with your family. The markets listed above are only a few of the many markets throughout Asheville and other Western North Carolina towns. It is not hard to find any number of tailgate markets spread out through the mountains. In the fall, make sure to visit vendors from local apple farms offering a fresh harvest, and treats such as apple cider, apple cinnamon donuts, and more. You are also sure to enjoy a pumpkin or two! Visit your local WNC farmers market to enjoy the freshest ingredients in season and a rich mountain tradition.