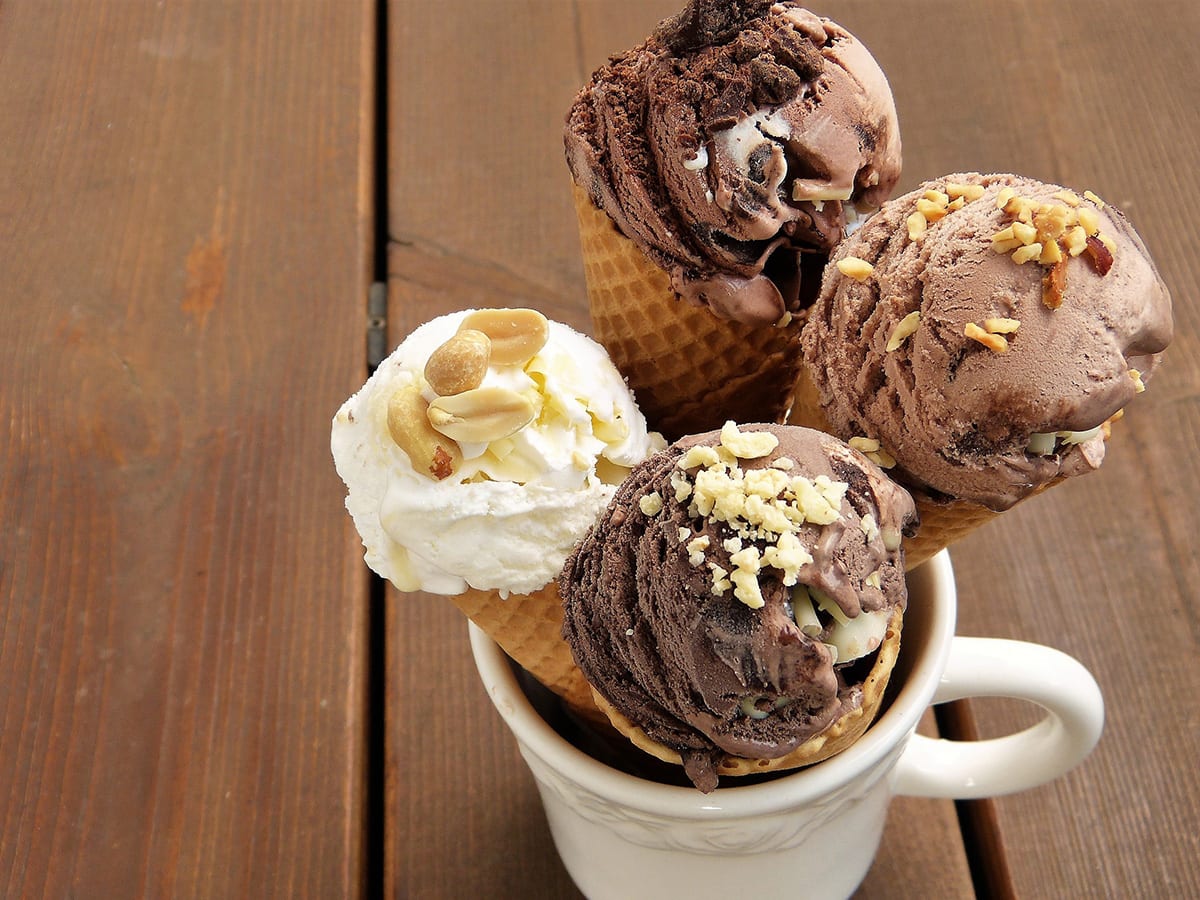 The best part about the hot summer weather is cooling off with ice cream! There is nothing better to truly indulge in than this frozen treat. There are lots of places that you can get any traditional or national brand ice cream in western North Carolina, but if you are looking for something special and unique to the area, then you must try these 5 best places for ice cream in Asheville.
1. Frostbite Ice Cream
If you love soft serve ice cream, this is the place to go. It is the shop specialty! You will find all the traditional flavors you love and some newer, fun flavors, like cinnamon bun, dreamsicle, and green apple. There are dipped cones and more toppings than you can count, so that you can create your own original ice cream masterpiece! This place also makes homemade nostalgic desserts, such as funnel cakes, beignets, shaved ice, and much more! They have locally roasted organic coffee, too. Frostbite is located at 1475 Patton Avenue. For more information, visit the Frostbite Ice Cream website.
2. Hops Ice Cream Café
Hops has been a staple in Asheville for 40 years! The shop has even been featured on The Cooking Channel's show Unique Sweets, and it was named as one of the 12 best ice cream shops in America by the Huffington Post! They're known for their handcrafted dairy and vegan ice creams, sorbets, and specialist desserts. You will find flavors that you have never imagined, and won't find anywhere else, here! Some of their delicious, unique ice cream flavors are blueberry kale, burnt honey with almond brittle, curried cantaloupe, carrot ginger cashew milk, and so many more. Be sure to taste their chocolate peanut butter pie milkshake, too. (They make the milkshakes with dairy, coconut, or almond milk!) There are 3 locations in Asheville: 640 Merrimon Ave; 721 Haywood Rd; and 167 Haywood Rd. (Please note, each location has different hours and family events.)  Go to Hops Ice Cream website for more details.
3. Sunshine Sammies
Ice cream sandwiches are what this ice cream shop is known for, hence the name! The best part is that the sandwiches are made with homemade, fresh baked cookies and ice cream. You will find you all-time favorite ice cream flavors and some fantastic seasonal flavor creations, such as bourbon bacon toffee between orange rye cookies; chocolate sorbet between peanut butter cookies; snickerdoodle ice cream between snickerdoodle cookies, and many more! There are vegan options on the menu, too. You can also find childhood favorite made fresh, in store, like oatmeal cream pies, Twinkies, and moon pies. Be sure to sample the fruit cobbler bars for something really special! The shop is located at 99 Lexington Ave. For more information, go to the Sunshine Sammies website.
4. Ultimate Ice Cream
Well, this place certainly has good ice cream, as the name indicates. The ice cream is made from local dairy farms' milk, and proceeds from the shops are donated to the Asheville community. The owners also support The Alliance for Clean Energy, so when you buy their ice cream, you are helping others, too. The shop has "always" flavors, which are there, well, always, and "seasonal" that change. There is a special flavor of the month each month of the year, as well. (You can sign up to be alerted by email to the flavor of the month!) Unique flavors can be found here, such as honey blueberry lavender, goat cheese Bing cherry, lemon custard, brown sugar bacon maple, and much more! they have 2 locations: 1070 Tunnel Rd. and 195 Charlotte St. For more information, visit Ultimate Ice Cream.
5. Whit's Frozen Custard
If you have never tried frozen custard, you're in for a real treat! It is like ice cream, only it is creamier and full of flavor. Whit's is the place to go for it. They make fresh, homemade custard daily. There are 3 standard flavors always in shop, and you can have any topping you choose mixed into it to create a really special, unusual flavor! They also have a special weekly flavor, such as buckeye (peanut butter custard with peanut butter swirls and Reece's peanut butter cups); mint (mint custard with chocolate cookie pieces); penguin tracks (vanilla custard with fudge and caramel swirls and brownie bites); and so much more! You can even go to their website to see the weekly flavors for the entire month. There are 2 locations: 565 Merrimon Ave. and 1840 Hendersonville Rd. Visit WhitsAsheville.com for more information.
Is your mouth watering? I say you should visit all 5 places and decide for yourself which has the very best ice cream! It is summer, so you do not have to feel guilty for partaking in a cold treat, to beat the heat. Enjoy!