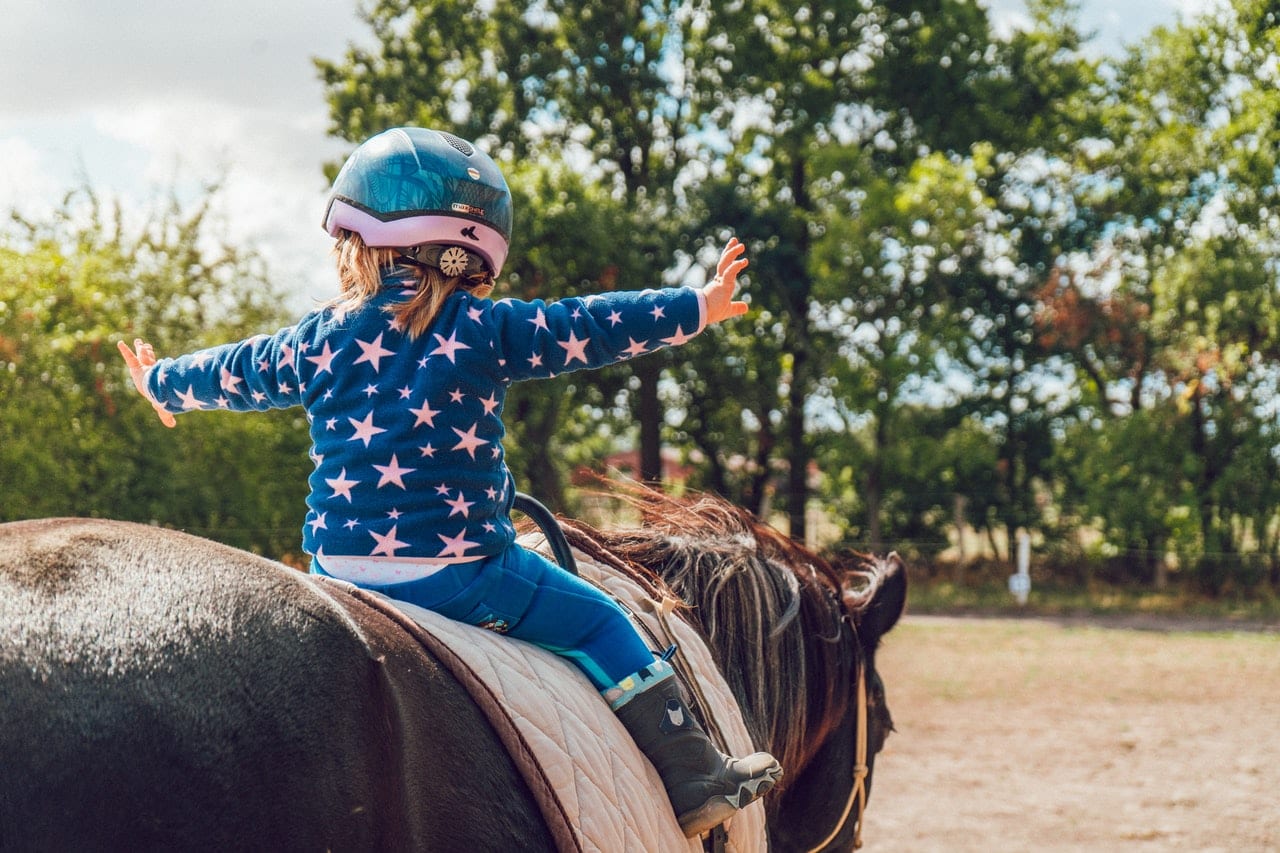 Horseback riding is one of the best ways to experience the great outdoors in Western North Carolina. The Blue Ridge Mountains are full of beautiful trails, encompassed by green forests, with spectacular lookouts and overlooks along the way. Enjoy the fresh air on horseback year-round, particularly in the fall and winter months when lake days have come and gone, and the horses will not overheat as easily. Here are 6 of our favorite self-guided riding trails in Western North Carolina.
6 Self-Guided Riding Trails Near Asheville, North Carolina
If you have a horse of your own, self-guided trail rides with friends and family are a great way to make memories, get some fresh air, and exercise your favorite animal. Western North Carolina holds some of the country's greatest protected nature, including Pisgah National Forest, Nantahala National Forest, the Great Smoky Mountains National Park, and Dupont State Forest. Make sure to never go alone and understand the postage at trailheads indicating safe or restricted for horses. Here are 8 of our favorite horseback riding trails near Asheville, North Carolina.
1. Buckhorn Gap Trail
Where: Pisgah National Forest 
Difficulty Level: Moderate
This 5.2-mile trail is a ride to remember with excellent views of Twin Falls. The trail offers paths for both horseback and mountain bike trail riders, as it is a popular spot for both. Hikers often have dogs on leashes so be prepared if your horse is skittish. There are several log bridge crossings and small creeks to get thorough but an overall enjoyable trail rider.
2. Elk Pen to Laurel Gap to Lower Staire Loop
Where: Pisgah National Forest 
Difficulty Level: Hard
This 8.4-mile ride loops several trails and is not for the faint of heart. It is best to go in the fall or winter as parts of the trail are not as maintained and could be muddy certain times of the year. With a trail that includes up and downhills, creek crossings, and uneven ground, you are sure to get a great workout with your horse and challenge your equestrian skills. The pay off is not only a sense of accomplishment and an excellent physical and mental workout but some of the most beautiful views and waterfalls all surrounded by natural forest.
3. Panthertown Backcountry Loop
Where: Nantahala National Forest 
Difficulty Level: Moderate to Difficult 
Just outside of Brevard, near Cashiers, North Carolina this trail is a thrilling 7.8-mile loop in the Great Smoky Mountains. The trials are encompassed by greenery and give you the full forest experience with plenty of waterfalls along the way, as well as lookouts over Panthertown Valley below. If you do not want to make the whole loop just backtrace your steps for an enjoyable out and back ride. Need more? Check out over 40 miles of trails open for horse riding in Tsali Recreation Area in Nantahala. These trails do alternate days with mountain biking, so check the schedule before you go.
4. Deep Creek Loop Trail
Where: The Great Smoky Mountains National Park 
Difficulty Level: Moderate 
Located near Cherokee, North Carolina this 4 mile there and back trail features splendid views of Deep Creek and the surrounding waterfalls. A well established, clearly marked trail, this is an excellent ride for those looking for a little more of a challenge. Make sure to take the time to enjoy the offshoot labeled "Cemetery" that leads to a just under a mile trek uphill to a peaceful historic cemetery. Once you are done, take a break in the nearby Bryson City, North Carolina, and enjoy a craft beer at the Nantahala Brewing Company.
5. Bridal Veil Falls Trail 
Where: Dupont State Forest
Difficulty Level: Easy 
Bridal Veil Falls Trail is a 5-mile loop with views of the 120-foot waterfall. What makes the trail easy is the wide gravel trail with very little elevation changes. Dupont State Forest is full of beautiful scenery, waterfalls, and connecting trails, so if you're riding on the trail and find you and your horse aren't ready to pack it in, just hop on another trail!
6. Wintergreen Falls Trail
Where: Dupont State Forest 
Difficulty Level: Easy
This there and back trail is just over 3 miles to a beautiful 25-foot waterfall. Because the trail is downhill and wide it makes it an easy trail for all skill levels. Large flat stone surfaces around the waterfall are great places to enjoy lunch and rest up.
How to Choose the Right Trail for Horseback Riding 
Experience Level –

Before you choose a trail, know your and your horse's experience level. Will you be able to direct your horse safely and effectively? Some trails have bridges or natural hazards like creeks, rocks, hills, etc. Horses may be skittish with certain hazards if they are new to them. Pick a trail that has a manageable difficulty level. 

Fitness Level –

Trail riding can be physically demanding for both you and your horse, especially on longer and more challenging rides. The ride will require the use of muscles that you might not use often if you do not regularly ride trails. Also stretching your legs over the horse for hours and adjusting your weight up and down hills can take its toll. Your horse also needs to be in shape to carry your luggage, as well as move up and down mountainous paths. 

Accommodations –

If you are traveling for a destination ride, or plan to ride a longer trail, consider their distance to on-site campsites. Most National Parks in Western North Carolina have horse camps for trail riders to utilize. 

Rules & Restrictions –

Some trails are only open to horseback riding certain months of the year due to freezing or flooding restrictions. Other trails alternate days with mountain bikers or hikers. Make sure to know the rules and restrictions for your desired trail before you go. 

Weather –

The best time of year to trail ride is in the autumn, winter, and early spring when temperatures are not high. Make sure to check the forecast the morning of your ride. You do not want to be trapped in a downpour halfway up the mountain, or stuck in mud because it poured in the days leading up to your ride. 

Type of Ride –

Consider what type of experience you want on the ride. Do you want a difficult trail that challenges you and your horse? Do you want a peaceful easy ride with views of a waterfall of overlook? Do you want a longer or shorter ride? Each trail brings its own experience so all you have to do is know before you pick!  

Parking –

Many of the best trails stay the best because they are fairly untouched, so parking can be a challenge for some trails especially with a horse trailer. Certain trails will not have adequate parking, so you may have to park at a trailhead further down and connect to the trail you want by veering off via a connector.  
Supplies For A Trail Ride 
These are only a few of the supplies you will need to consider bringing. There can be a lot more for longer rides or overnight camping trips. No matter what you decide to bring, be aware of the weight you are adding to your horse, and make sure it isn't too much for the ride. Also, try to disperse the weight evenly on the sides of the saddle and make sure everything is synched tight and not going anywhere. 
Safety Equipment –

It is always a good idea for challenging rides or inexperienced riders to wear a riding helmet. Make sure to bring a safety whistle, a bear horn, and a first aid kit. 

Appropriate Clothing –

Avoid wearing loose, baggy clothes that can get caught as you ride by a tree and provides less of a barrier between you and the saddle. Go for pants, preferably denim, to protect you from plant life and bugs in narrow points of the trail. 

Water and Snacks –

Whether you are going for a long or short ride bring water and snacks. Water is the most important thing, but granola bars or other little snacks are important to bring up your energy as well. Rationed portions of grain, even on trails with potential places to graze, are crucial for your horse as well. 

Sunscreen & Bug Spray –

Cowboy hats aren't a fashion statement when riding a horse. They are a great way to keep the sun off your face and neck. Try to bring a bottle of sunscreen. And most importantly, bug spray. Bugs will be attracted to your horse and you, but will probably barely register with the horse. Bug spray can be the difference between an enjoyable ride and a miserable one. 

Trail Map –

It doesn't matter if it is a fully charged phone or a folded paper map, bring a trail map to help keep you on track. If the trail forks or connects, it can be easy to get turned around. 

Horse Supplies –

Make sure to bring the supplies you will need for your horse as well. If you plan a picnic in a field, a ground stake and long line will allow your horse to graze and stretch his legs safely. With rocks and varied terrain, it's a good idea to bring a hoof pick to scrape out anything that gets stuck in your horse's hoof. A halter and a lead rope may also be necessary on portions of the trail you decide to walk to give your horse a break or need to lead them over terrain they are skittish with. 
Guided Trail Rides near Asheville, NC 
If you have little to no experience riding, are unfamiliar with the trails, or do not have a horse of your own, a guided trail ride is a great way to ride the trails without the hassle of preparation. The stables will provide safety equipment and horses for riders of varying sizes and skill levels. Experienced instructors will teach you how to safely guide the horse, as well as be intimately familiar with the trail path, coaching you through hazards like uneven ground, or water. Here are a few of our favorite stables that offer guided horseback trail rides. 
The Biltmore Estates is a world of its own. Walking the grounds is like taking a step back in time to an age of refinement. Not to mention the sheer size of the Estate which allows features that include not only the Biltmore house itself, but luxury spas, a golf course, gardens, and of course stables–to name a few. The equestrian center offers boarding services, riding lessons, and of course, guided riding tours through the expansive forest grounds on the property. 
The Smokemont Riding Stables offer guided trail rides in the Great Smoky Mountains National Park. Based in Cherokee, North Carolina. They offer hourly wooded trail rides along the Oconaluftee River, waterfall rides to several tranquil waterfalls, and even wagon rides for families! 
Open from April to October, this seasonal Stable offers excellent guided rides through the Pisgah National Forest. The Stable offers timed backwoods, mountaintop, and pony rides to make sure you see all sides of Pisgah while you trot along the trail! 
Take a trail ride to watch the sunrise over the mountain peaks, or watch the sunset take refuge behind the mountains on the horizon. Whether you are a professional equestrian or have never ridden a horse before, the trails throughout Western North Carolina have something for everyone. Come find out what luxury mountain living in Western North Carolina could mean for you and your horse!