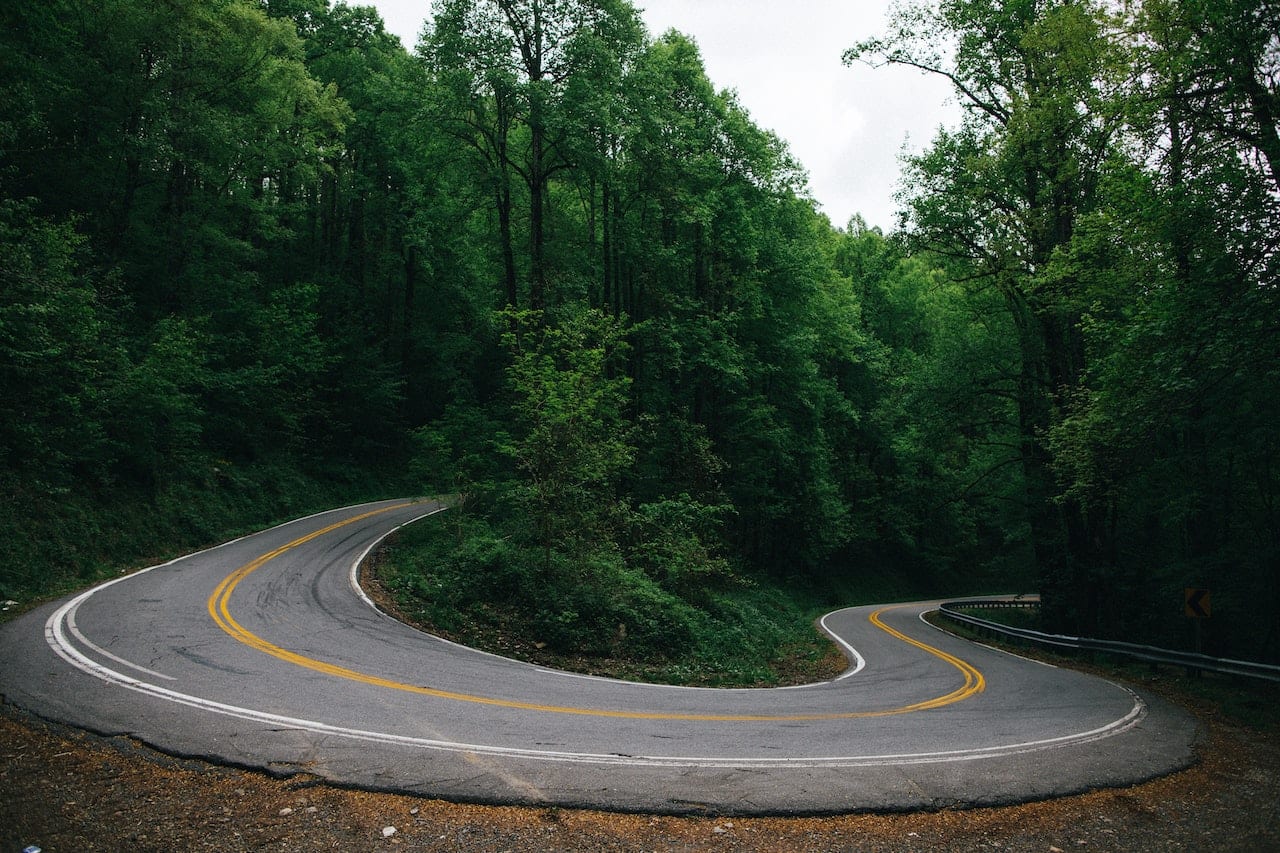 Come ride the Tail of the Dragon slumbering in the Great Smoky Mountains. Beginning in Deals Gap, North Carolina, just before the Tennessee border along US 129, this road is famous among car and motorcycle enthusiasts. This stretch of road boasts 318 turns, lending to its name the Tail of the Dragon. There are no driveways, intersections, businesses, or distractions other than the surrounding views of nature and wildlife. It is just about you, your hands on the wheel and rubber on the asphalt. Not to mention the sharp turns, steep cliffs, and various slopes come together to make up a dream ride for any car enthusiast. Read our guide to help plan your ride on the Tail of the Dragon!
Pay Your Respects to The Tree of Shame 
Before you slay the dragon, stop by and pay your respects to the Tree of the Shame. Set up in the 80s by a group of bikers as a tribute to those who have lost their lives on the dragon. The tree is covered in parts of vehicles bitten by the dragon. All parts are signed and dated and placed on the tree by the staff of the Tail of the Dragon store. It is a rite of passage before you drive and helps you to remember the road can be dangerous if you do not drive properly and safely.
10 Tips for Safely Riding the Tail of The Dragon 
The first turn on each end of the Tail of the Dragon is called Beginners End to remind visitors that beginners can quickly lose their lives if they do not drive safely. Though it can be dangerous for inexperienced drivers, and you do drive at your own risk, the ride is worth it for any car enthusiast who loves the roar of an engine. 
Hug the White Line.

Try to keep your wheels as close as possible, without going on, the white line on your right. This will keep you from crossing into others lanes and causing a collision. 
Wear Protective Gear.

Full leathers you see motorcyclists wear are more than a uniform for a biker club or a style choice for an experienced driver. It is protective gear. Leather pants prevent burns to the leg from the side of the motorcycle and the padded leg and knees prevent scraping along sharp turns when riders are low to the ground. Plan ahead or stop by any number of biker shops and gear up. Bikers have a term for individuals who are overconfident, inexperienced, and underdressed for the ride. They are called Squids. And they will let you know if you are one. 
Respect Other Drivers.

No one is there to race. You are there to have fun and respect the dragon. Leave a safe space usually 2 to 3 car lengths between you and other drivers. This gives you a chance to correct should they suddenly brake and so you do not rush anyone. If someone behind you clearly wants to go faster, respect that and let them by. Pull off onto one of the periodic pull-offs along the way and let them pass. This is a normal practice so neither rider should experience any road rage. Be careful, these pull-offs tend to be narrow. 
Stay Focused.

Stay focused. Do not touch your phone, worry about the music, or look over to your passenger side or focus on the scenery or views. Keep your hands on the wheel and focus on the turns. The turns can be sharp and your field of vision can be blocked by the mountainside so a car can be in front of you before you know it.
No Hard Braking.

Ease into your brakes. Slamming on brakes can cause you to slide unpredictably, or cause collisions behind you when someone is not allowed time to stop. 
Do Not Overcorrect.

This is a sign of an inexperienced driver. The instinct when someone crosses into your lane, you start to go off-road, or your wheels slide is to overcorrect the opposite way. But overcorrecting can lead to wrecks, flipping, or falling off the cliffside. All of which can be prevented by taking it slow and giving yourself time to make corrections. 
Prepare Your Tires.

Before you attempt the Dragon, make sure your tires are not balled. You are going to need every bit of tread for traction on each of the 318 turns. Also, there is a reason Nascar races have a few warm-up laps. It gives the tires a chance to warm up and expand to prevent them from blowing out. Start the ride slow and warm your tire up before you try to speed up. 
Don't Be a Showoff. Show-offs are not welcome or appreciated. This road is ridden often by experienced bikers and squids will get called out. Leave the tricks for flat, straight roads, and don't make moves above your skill level. 
Know Your Driving Ability.

Just because you watched Fast and Furious one too many times does not make you an expert driver. This road is not a racetrack. Take your time and know your skill level. Do not attempt a turn at a speed that does not allow you to quickly correct in the middle of the turn. 
Try to Keep Low Lean Angles.

For bikers, it is natural to want to lean high into the road along sharp turns. This can be dangerous, particularly on the Tail of the Dragon, where the field of sight is limited and cars often cross into other lanes. Try not to lean too deep and be prepared to change quickly and safely to avoid overcorrection.
6 Road Laws to Know Before You Mount the Tail of The Dragon 
Speed Limit.

The Speed limit is 30 mph on both the North Carolina and Tennessee side of the Tail. It is enforced, especially for showboats and squids. 
Stay in Your Lane.

Not only for your safety but to avoid a ticket, stay in your lane. Cops will cite drivers who dance with that double yellow line. 
No Lane Splitting.

You may call it white lining or stripe-riding, regardless lane splitting is illegal. Motorcycles are not allowed to ride the line between two lanes, even in congested areas of traffic which can happen in busy seasons. 
No Passing.

Because of the sharp turns along the mountainside hindering line of sight, passing is illegal on the tail of the dragon. You are not allowed to pass even if you are a motorcyclist passing another rider in the same lane. You will be cited heavily for it should you be caught, not to mention it could cost you even greater should another car appear in the lane before you can get around. 
No 18 Wheelers.

In 2015, Tennessee banned big rigs, or trucks over 30 ft. long from riding the dragon. While it is illegal and heavily enforced, you should be prepared should one try to sneak through. It is a complete stop situation as they make turns because they use both lanes. 
Helmet Laws.

North Carolina and Tennessee both have helmet laws requiring everyone on a motorcycle, drivers and passengers, regardless of experience level, to wear a helmet.
Planning Your Trip to the Tail of The Dragon 
Winter brings ice and potentially snow to the road, while Spring rains leave slippery areas on the road, even on dry days because of the shade of the mountains. The best time of year to try to conquer the Tail of the Dragon is in the Summer and Fall. This is when the roads are busiest, which is the best time for newbies because it forces drivers to go slower. If you have more experience and want to avoid as many stops, out of season trips or early morning drives are best. Plan to go through more than one time. The first and second time there and back will be a learning experience, so take it slow. The third and fourth time you will feel more comfortable and be able to open up a little more.
There are a number of roads near the Tail of the Dragon that are attractions in their own right, such as the Cherohala Skyway, Moonshine 28, and Devil's Triangle. You can also plan your trip around the numerous car and biker clubs and events. They hold events for specific vehicle types such as electric motorcycles, boxers, Corvettes, etc.
The Tail of the Dragon is also a great connector to a number of mountain towns in both North Carolina and Tennessee. The Tail of the Dragon is just two hours (104 miles) from Asheville, North Carolina with a number of mountain cities in between including Waynesville, Maggie Valley, Cherokee, and Bryson City, NC. It is also 60 miles from Gatlinburg, Tennessee, and 55 miles from Pigeon Forge. Stop for the attractions or stay the night while you enjoy a trip full of scenic views and winding roads in the North Carolina mountains. After the Tail of the Dragon, the Blue Ridge Parkway is the perfect way to appreciate the scenic mountains with pull-offs and overlooks to enjoy a nice picnic.
Memorialize Your Battle with the Tail of The Dragon 
Stop by the Tail of the Tail of the Dragon Store in Deals Gap for a picture with their famous Dragon sculpture or purchase a souvenir to remember your time riding the dragon. Whether you are riding a crotch rocket like the Suzuki GSX-R, a Harley cruiser like the FXDR114 Green Monster, a luxury sports car like a Porsche Boxster, or classic muscle car like 1966 Shelby GT35, you will want a picture of you holding on to your dragon slayer. These 3 sites offer photos for purchase from photographers that take pictures on the dragon very consistently. Note the date and time you rode, as there could be thousands of pictures during busy seasons. Some of these even offer a photo of the week contest for you to vote on!
Western North Carolina is the perfect destination for any car or bike enthusiast. Just 80 miles from Avalon, the Tail of the Dragon is the perfect day trip for any residents that love to ride. Check out our blog to learn more about the many places and attractions to visit in Western North Carolina. Start the engine of your Porsche GT3 RS on a crisp fall morning and prepare to ride the dragon!