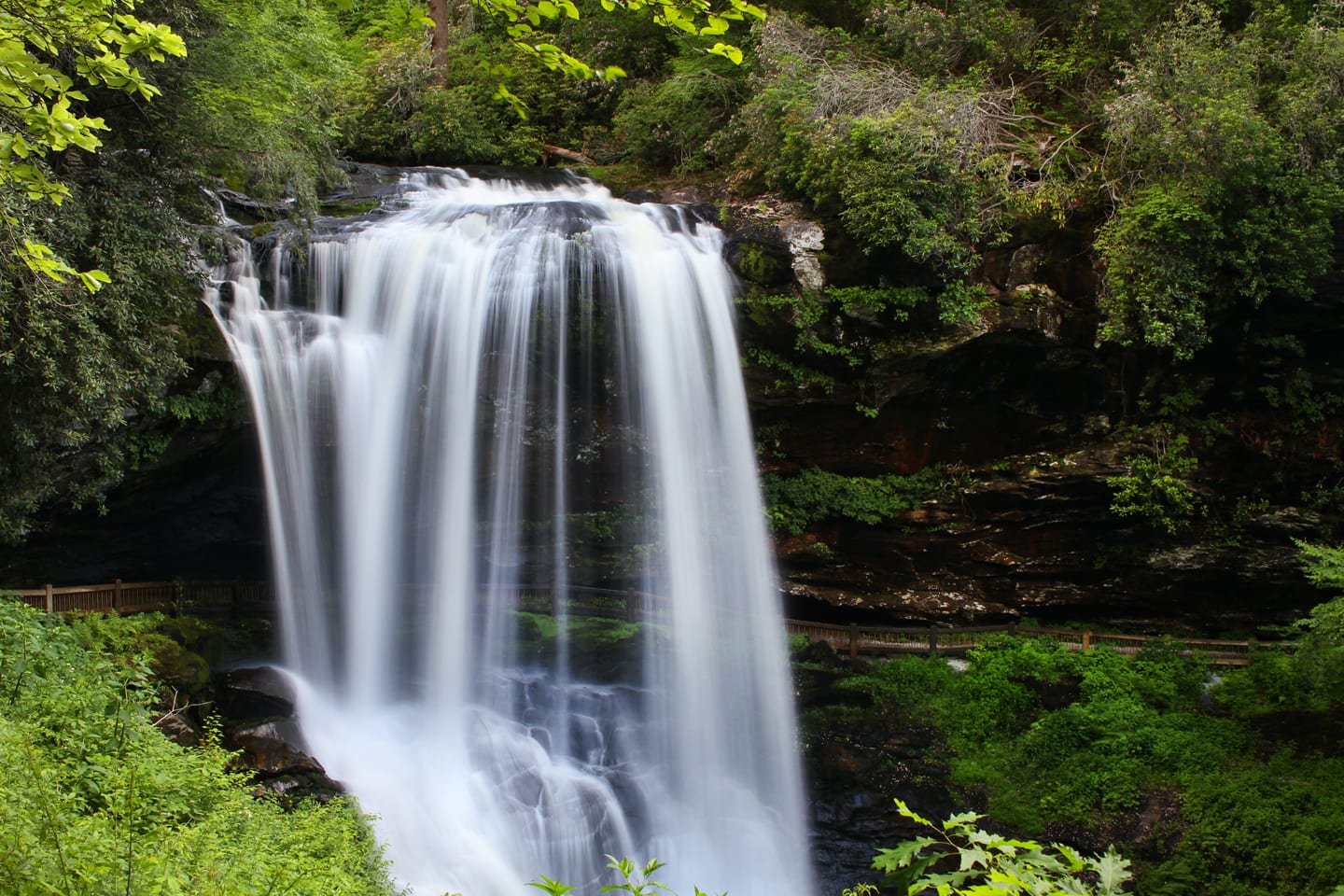 Experience the beauty of Dry Falls in North Carolina. Just outside of Cashiers and Highlands, cradled by the terrain of the Nantahala National Forest, Dry Falls, also known as Upper Cullasaja Falls, is one of the crown jewels in the "lands of waterfalls" that is North Carolina. Just at 75 feet tall, the cliff face juts out, spreading out the water's force and allowing visitors to walk behind and under the waterfall, remaining relatively dry (depending on the water levels), which is how it received its name. 
The Cullasaja River flows year-round, right over the rockface, steady as the mountains that encompass it. The beauty of this waterfall is the ease of access. A short quarter-mile paved trail walk (on the side of US Highway 64) allows visitors access year-round. There is an observation platform at the trailhead, which is wheelchair accessible and offers a perched view of the rushing waterfall for everyone in your group. And when we say everyone, we mean man's best friend too! The trail is dog-friendly; however, pets must remain on a leash at all times.
When to Visit Dry Falls
Dry Falls is the perfect destination year-round because each season brings its unique view of the falls.
Spring: 
Dry Falls is one of our favorite Western North Carolina spring waterfall hikes. The hike is only .25 miles, making it perfect for doing with your kids; there is also a cave behind the falls, which is always a hit with first-time visitors.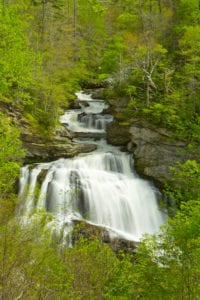 Summer:
In the heat of the summer, there is nothing better than cooling off with a strong mist or spray as water splashes back from the rocks below. Dry Falls is just a short drive from Franklin, NC, or Highlands, NC, making it the perfect summer afternoon outing.
Fall:
Fall in love with the autumn foliage that works as a canvas for the refreshing falls. There is a viewing platform at the start of the hike; this also makes an excellent spot for capturing some shots of the falls surrounded in fall colors.
Winter:
In the winter, when a cool breeze whips along the nook under the falls, or later in the season when snow blankets the trees, find yourself awestruck as water takes the form of icicles along the walls of the cliff and rocks below. 
Whether you are looking for a short nature reprieve to begin your day, or a cool down after a rewarding hike in Wester North Carolina, Dry Falls is here for you.
Located just over 80 miles from Asheville, Dry falls is the perfect day trip. But why not make a weekend trip of it? Book a room at one of the many romantic getaways in the surrounding town of Highlands. Be pampered, go shopping, or enjoy more of the many waterfalls that grace the 23-mile length of the Cullasaja river!