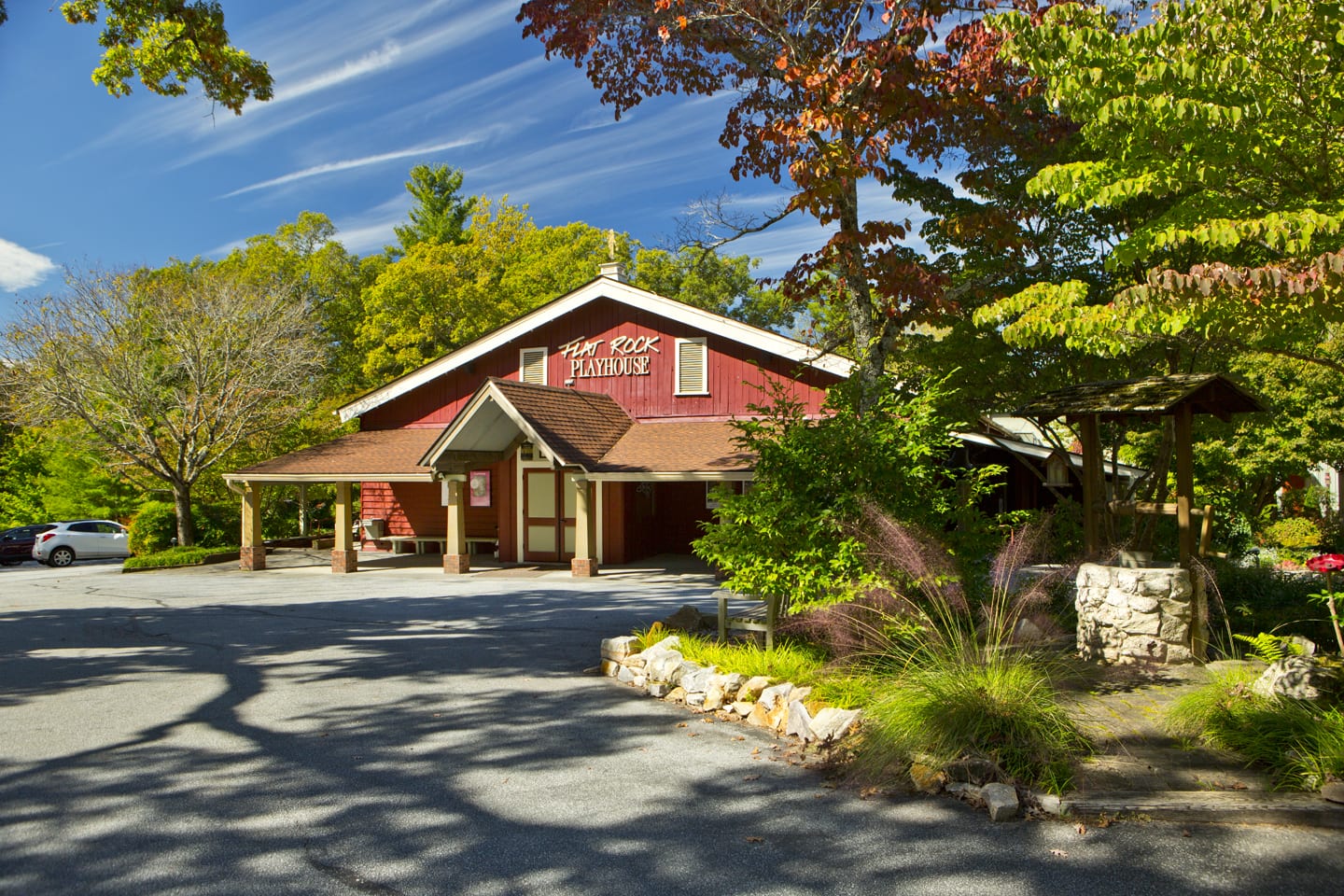 Flat Rock Playhouse is one of the most famous and popular in the state. In fact, it is officially the State Theater of North Carolina. Each year, Broadway caliber performances and concerts are performed at the Playhouse. Flat Rock is only 50.9 miles from Waynesville, NC! Living in Avalon Mountain Community puts you mere miles away from some of the best theater in Western North Carolina!
History of Flat Rock Playhouse
In 1940, a group of performers, who called themselves the Vagabond Players, did summer performances in the area. They were very popular and returned in summer 1941. Due to the US entering World War 2, the players did not return to Western North Carolina until the war ended. When they did return, however, they opened a playhouse in Lake Summit, NC. Again, they flourished and eventually outgrew that playhouse!
By 1952, the Vagabond Players had a new board of directors. They purchased an 8 acre lot in Flat Rock, NC, where a theater would be built. This was the start of the Flat Rock Playhouse! In 1961, an act of the North Carolina General Assembly titled the Flat Rock Playhouse the State Theater of North Carolina!
The Here and Now…
Today, the Flat Rock Playhouse has productions running for most of the year. Performances include Broadway musicals, dramas, comedies, and concerts. The theater's owners also have a mission to produce performing arts shows and to provide education in the performing arts for all ages. This dedication to performing and education includes professional series, summer and fall college apprentice and intern programs, and year round workshops and classes for K5 through adults, who are interested in being a part of the theater.
Most of the shows at the Flat Rock Playhouse are family friendly shows. (You can find information on each show and its contents on their website, or even call the box office and ask questions on whether a show is appropriate for children, if you wish.) The dress and atmosphere at the playhouse are casual.
There are two locations for Flat Rock Playhouse shows. The 500 seat Mainstage is located at 2661 Greenville Highway in Flat Rock, NC. The 250 seat Playhouse Downtown is found at 125 S. Main Street in Hendersonville, NC. Both locations have concession stands, which snacks and beverages can be purchased at, during show intermission.
Tickets for all shows can be purchased online or in person. Discount tickets are available for groups, students, military members, senior citizens, and AAA members. Tickets for the 2019 season go on sale on January 14, 2019!
Flat Rock Playhouse 2019 Shows
| | |
| --- | --- |
| Show | Dates |
| The Music of Beatles & Eagles | February 14 – 17, 2019 |
| The Jungle Book | March 15 – 30, 2019 |
| Sylvia | April 5 – 20, 2019 |
| From Mozart to Pop Chart | April 25 – 28, 2019 |
| Country Royalty | May 2 – 12, 2019 |
| Neil Simons' Proposals | May 17 – June 1, 2019 |
| South Pacific | June 7 – July 6, 2019 |
| Separate Beds | July 11 – 20, 2019 |
| All Shook Up | July 26 – August 18, 2019 |
| Bee Gees Gold | August 23 – 24, 2019 |
| Rounding Third | August 29 – September 8, 2019 |
| Cinematic: The Music of the Movies | September 13 – 28, 2019 |
| Smoke on the Mountain | October 4 – 19, 2019 |
| The Turn of the Screw | October 24 – November 2, 2019 |
| The Lion, the Witch, and the Wardrobe | November 8 – 17, 2019 |
| A Flat Rock Playhouse Christmas | November 29 – December 22, 2019 |
(For more information on the above shows or to purchase tickets, please visit the Flat Rock Playhouse website)
The Flat Rock Playhouse is one place you must visit, if you enjoy great theater and concert series. Truly spectacular performances await you there. It is easy to get to, and there is something for everyone to enjoy. Visit soon!
For information on other fantastic live arts opportunities in Western North Carolina, refer to our previous post Celebrate the Arts in Asheville and Surrounding Areas.