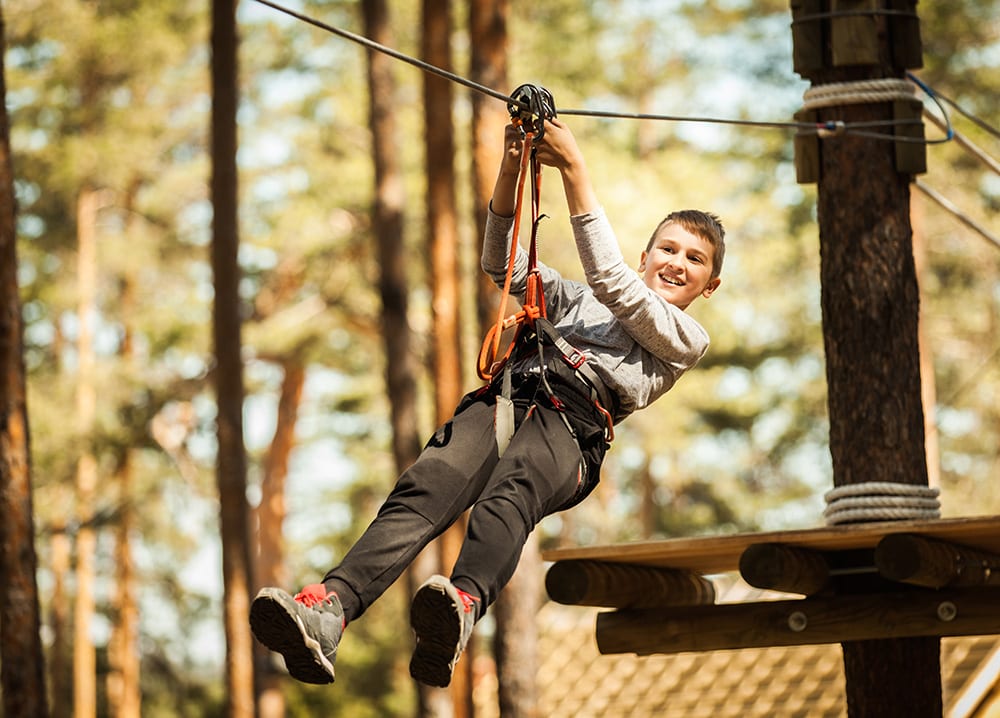 If you are looking for something new and exciting to do outdoors in Asheville, then this is the place for you! Asheville Treetop Adventure Park is an outdoor ropes course that offers fun for all. Challenge yourself with one of their high ropes trails or learn a new skill. They have courses for beginners to experienced climbers. There is nothing else like this in the area!
A Jungle Gym For All Ages
This park has 60 different challenges, such as climbing, swinging, walking, and rappelling, just to name a few.  The creators of the park call it "a ski slope in the trees" and "a true jungle gym for all ages". There are 5 courses, which are based on age and ability level, to choose from. Each course is anchored to sturdy trees and poles, which are camouflaged to fit into the natural surroundings. Some examples of really cool challenges to choose from are the flying kayak, snowboard, and swinging hula hoops!
When you are on a ropes course, you go at your own pace, as an individual, not as a group. You are welcome to stay with people you come with, going one a time on a particular course, but if someone is a little faster, he or she can just move on. You do not have to stay together as a group to go through the courses. This is great because you will not be pressured to move faster than your comfort level! Also, parents can stay right with their children to help them, if help is needed. (Kids must be 4 years old to participate.)
Fun Without The Fear
Safety is very important to the staff and is well maintained throughout each course. Participants are attached to a safety system by "smart belays", which are designed not to detach from the system unless a climber's feet are on the ground. The attachments are monitored closely by the safety system while you are on a ropes course. Climbers are only allowed to use the park's equipment and must have closed toe shoes, in order to ensure safety, as well.
What Are You Waiting For?
The park is open every day from 10am to 5pm. You need to make reservations before arriving, though! Each climber has a 2 hour session, and the cost is $47 per person. (There are discount rates and team building packages available, especially for military members with valid military ID.) There is also a special summer program called Twilight in the Treetops for night climbs! Night climbs happen every Saturday from 7:30 to 9:30pm, from June 9 – August 25, 2018. The price for this is $37 per person. For kids ages 8 -15 years old, week long summer day camps are offered from June to August (see the website address below for more information on these).
Asheville Treetops Adventure Park is located at 85 Expo Drive, in Asheville, NC. It is adjacent to the Crowne Plaza Resort. For questions or to make reservations, visit their website at AshevilleTreeTopsAdventurePark.com, or call 1- (800) 451 – 9972.
Add some adventure to your summer, without having to travel too far! This park is only 30.4 miles from Avalon Mountain Community, and it is a truly unique experience. You will see Asheville from a new treetop perspective!
Looking for more fun things to do with the family this summer? Check out these fun activities to do with your kids, all right here in Western, NC.