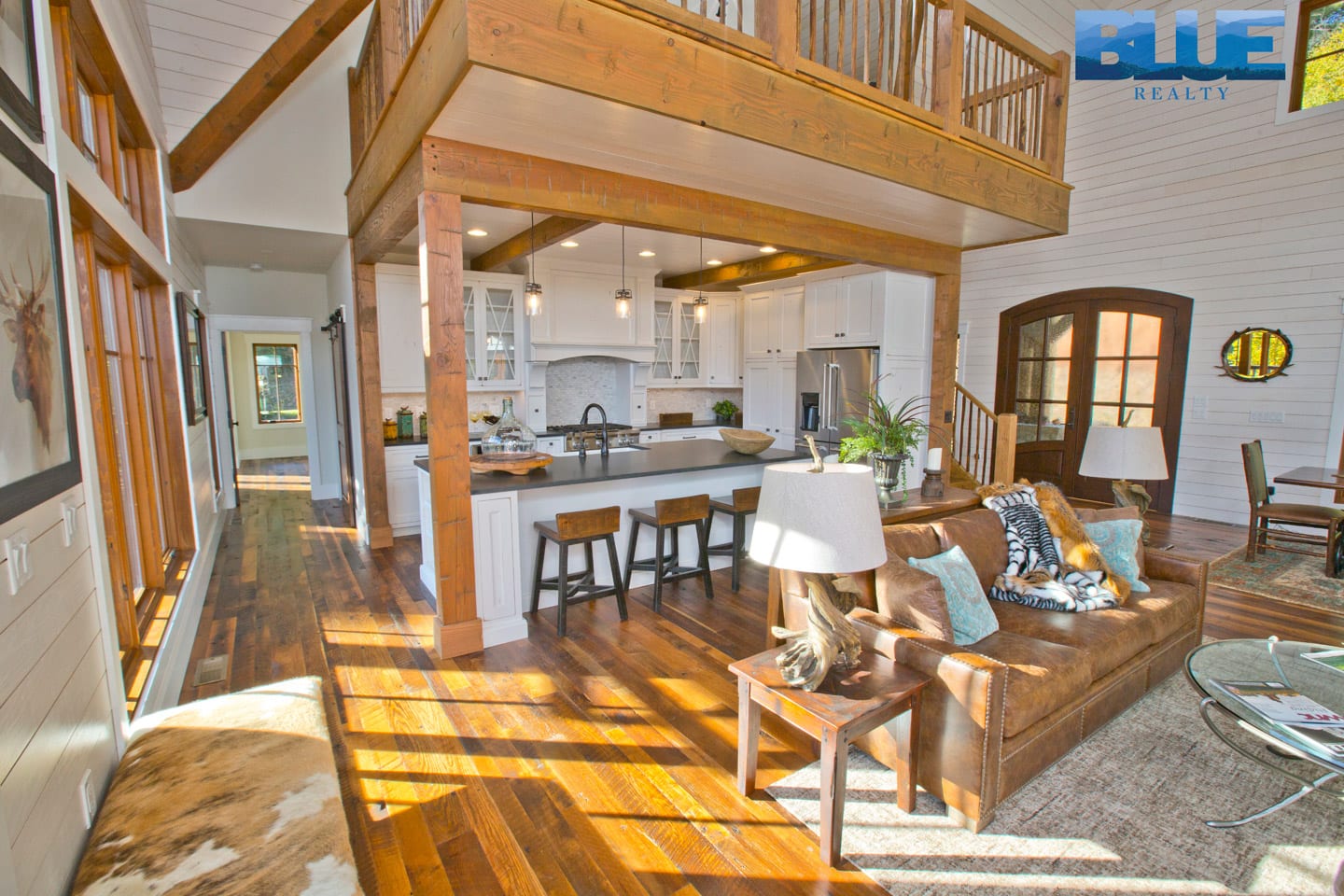 Meals can bring people together, which is why designing your kitchen is the first step to making your mountain house a home. Selecting the right elements for your mountain home kitchen requires an understanding of the style you want to display. Are you looking for a cozy rustic design or a welcoming modern style? Maybe you want a combination of the two. Your style will serve as a guide for selecting the elements of your kitchen. Here are 6 kitchen design tips for your mountain home.  
Get Creative with Storage 
Pots and pans, cups and plates, every kitchen needs proper storage space. Cabinetry choices are a basic element of every kitchen. More than material and color, the type of storage can also convey a style. For example, minimalist modern designs are known for using open shelving, or plain shelves, instead of cabinets, for dishware. Hanging racks for coffee mugs, or pots and pans can also be used to further a modern design. This is also a great option for smaller kitchens with limited cupboard space.  Lazy susan cabinets can be installed to the corners of your counters to fully utilize your space. Finally, a walk in pantry can store food or supplies and prevent clutter in your kitchen.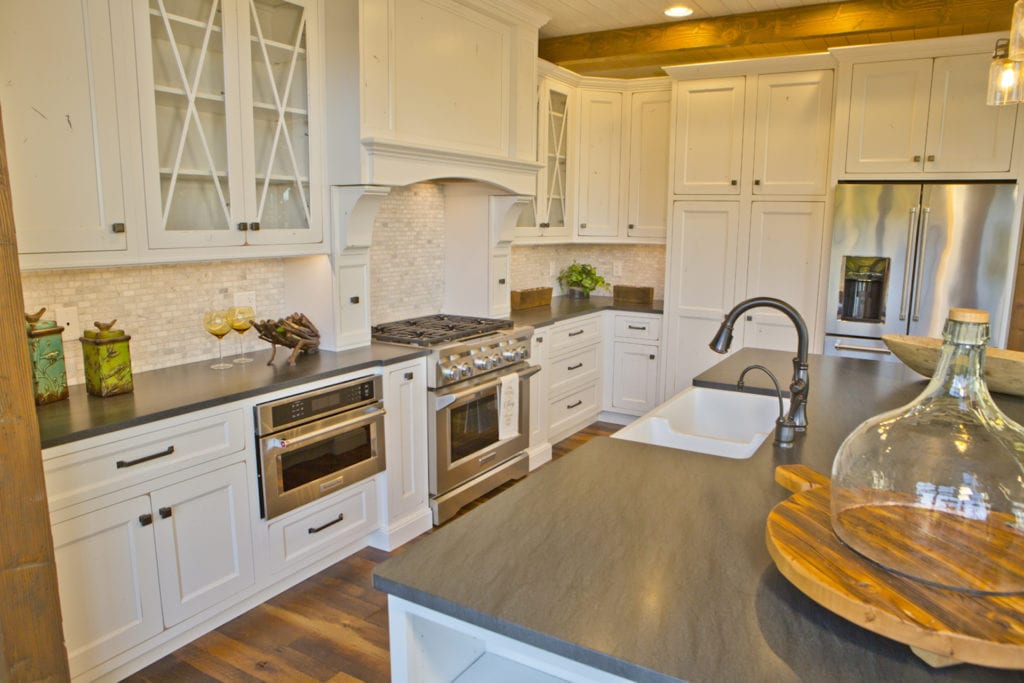 Make Appliances Part of the Design 
Your appliances are more than function. They can also serve to further your chosen design. A retro Smeg fridge can give any mountain home the feeling of a cozy cabin retreat. For a modern feel, stainless steel appliances or a see-through fridge can update any mountain dwelling.  The exterior of the fridge can also be made to match the cabinets surrounding it. Features like an exhaust fan can also serve a purpose. Large islands with the stove built into the top and an exhaust fan in the center of the kitchen can serve as an aesthetic focal point, They can be designed with large, ornate wooden or stone exteriors or sleek minimal stainless steel.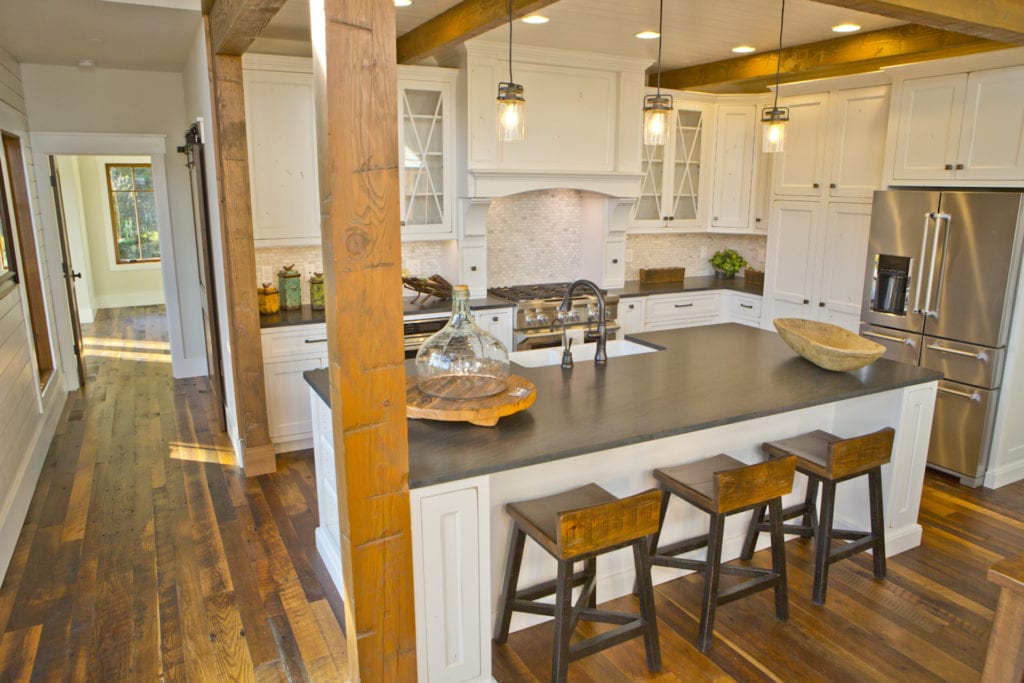 Use Lighting that Doesn't Steal the View
Most mountain homes are designed to incorporate natural lighting with large windows that celebrate a picturesque view. So though lighting serves an important function, they are also an aesthetic decision. Industrial design is becoming increasingly popular. Wrought iron or caged fixtures fit well with the style and can serve as a juxtaposition to a white kitchen with a tile backsplash. Another design is minimalist lighting. Strategically placed structures with minimal covering provide a sense of simplicity to a kitchen while highlighting the views you fell in love with. While modern mixes are popular, ornate lighting structures with worn, distressed appearances give the home a mountain feel.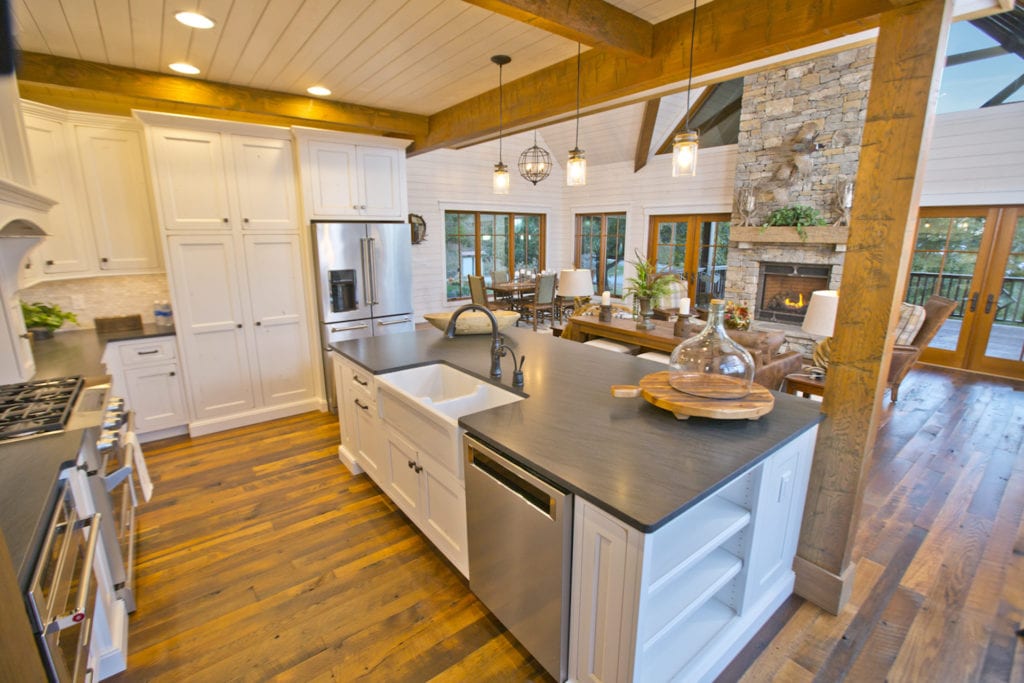 Install Fixtures with Character
Fixtures provide that finishing touch to your kitchen design. Elements like your cabinet handles or your sink tap selection can give the design a completed look. Homeowners often go with modern features for sinks. Large sinks with adjustable hose taps provide a greater kitchen function for the chefs in the family. If you are working for a rustic motif, less traditional shapes and colors can help you break away from the mold and blend into the natural surroundings.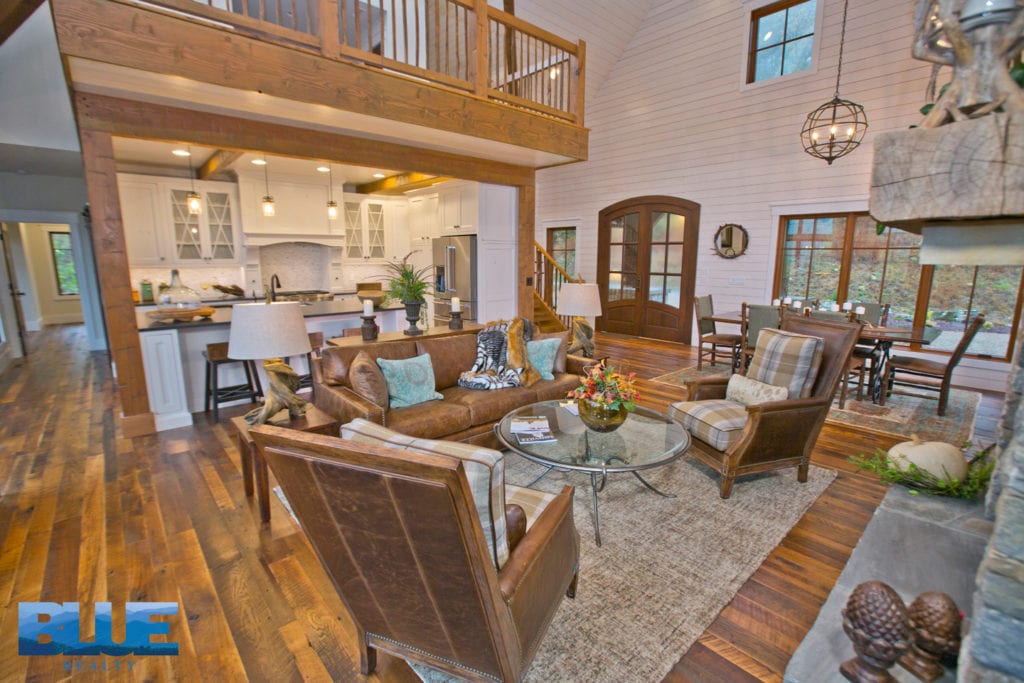 Use Natural Materials
Materials can help foster a seamless transition from the wooded views outside, to the nature-inspired kitchen of your mountain home. 
Wood.

Cabinetry that looks worn at the edges or has visible wood notches can provide the mountain resort-style you crave. Distress worn wooden beam can highlight an archway. Ceilings with visible wooden beams and reclaimed wood floors can make your home feel a part of the mountain spirit, without the bugs.

Stone.

A stone backsplash or gray accent walls can be a great addition and provide a balance to the wood features. Stone covering over an exhaust fan built into the cabinetry can serve as an aesthetic feature and round out the mountain materials. 

Tile/Slate.

Tile or slate used as backsplash or flooring can be a great way to round out your design. Smooth geological looking tile can give your floor the creek bed view without the rushing water to trip you up on your way to coffee in the morning.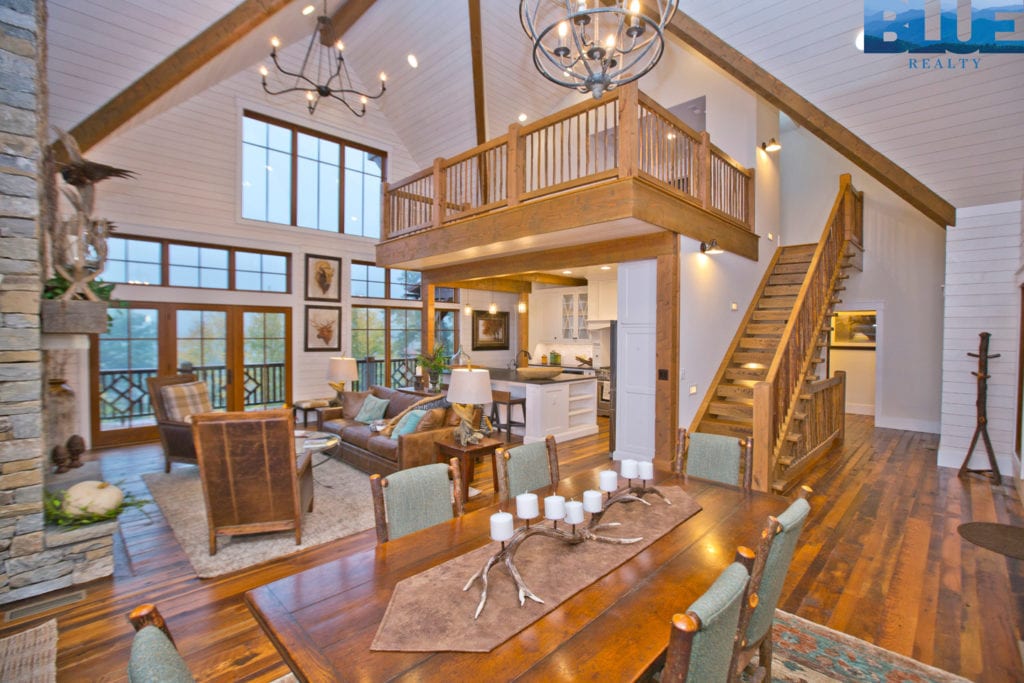 Incorporate Unique Features
Every home needs a unique feature to make it yours. A mountain kitchen can house the unique feature of your choosing. 
Kitchen Reading Nooks

overlooking the rolling hills can be a great place for the family to congregate on a Saturday morning. Observe the wildlife while you eat breakfast in your pajamas. Maybe even see a bear or two! 

Butcher Blocks

can serve as an island or be built into the counter space to provide a space for chopping and dicing involved in meal prep. This can also be a great addition for hunters or fishermen looking to clean their catch.  

Kitchen Tables

may not seem like a unique feature but large wooden farmhouse tables have become extremely popular. The table where you will have meals or play games with your friends and family is one of the most important features you can have. 

Windows

. Windows that open out into a balcony in your home. The perfect choice for mountain homes with a view. Windows with the ability to open out above the sink can be a great way to play host to your friend on the porch or backyard while still preparing a mouthwatering meal. 
Above all, the most important element of your kitchen is the feeling you want to convey. It is important for your guests to feel welcomed and comfortable, but they will eventually go home. It is all about how the kitchen makes you feel. It is where you will make hot chocolate for those cool mountain nights on the porch or by the fireplace. Where you will prepare family meals or, more often than not, sneak to for a midnight snack. 
Tell us what elements you enjoyed or send us pictures of designs you incorporated into your own mountain home! Come visit us here at Avalon! Located in the mountains of western North Carolina, we have lots with the perfect view for your mountain home kitchen!