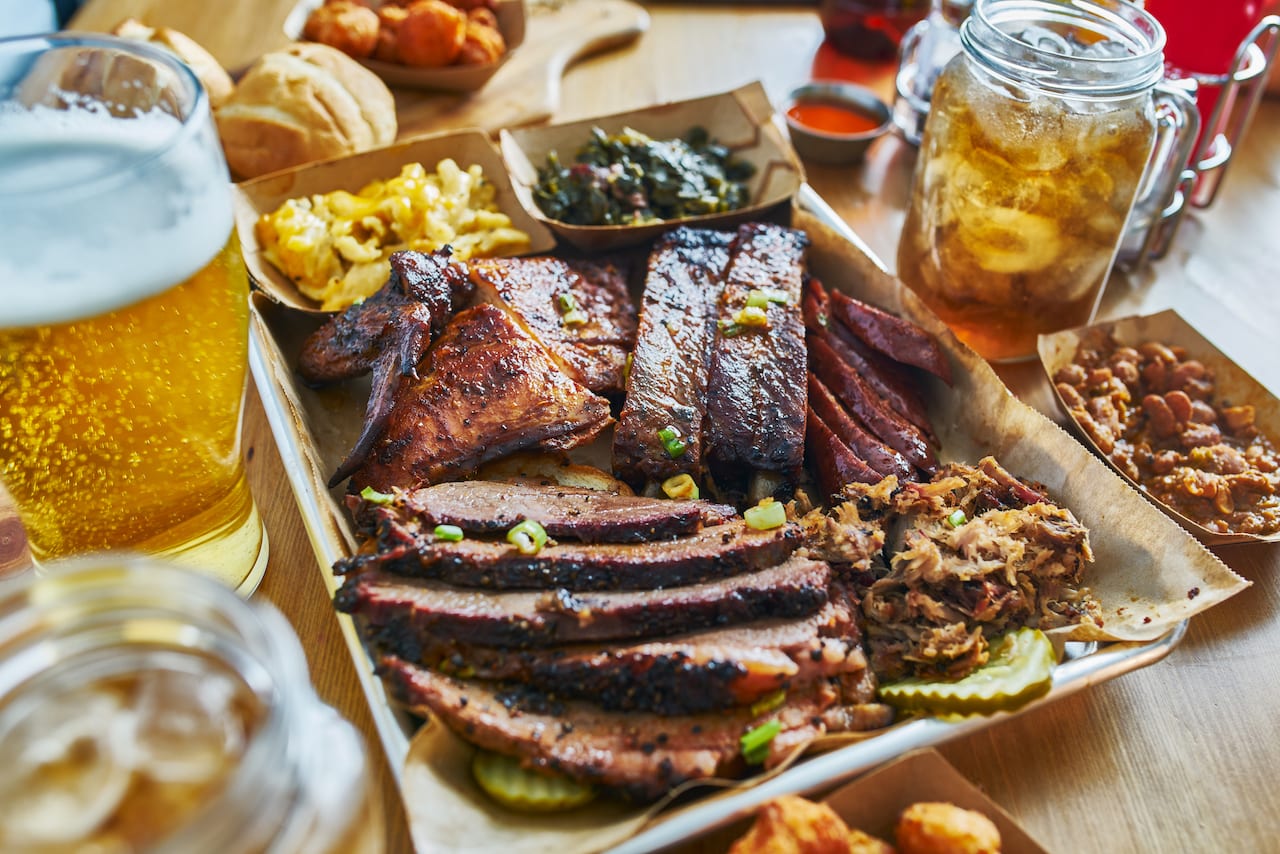 Asheville, North Carolina is food lover's city. You can find just about every culinary delight there, from the latest food sensations to down home, traditional southern favorites. During the summer especially, barbecue is an established favorite. In case you did not know, in the South, barbecue (BBQ for us southerners) is considered its own separate food group. Asheville, NC has some of the best barbecue restaurants that you simply must try!
Before we begin our favorite places for barbecue, you need to know that in North Carolina there are two main kinds of BBQ:
Eastern Type = a "whole hog" with a vinegar pepper sauce cooked slowly over hardwood coals.
Piedmont Type = a pork shoulder with an eastern type sauce with ketchup added to it cooked slowly over hardwood coals.
1) 12 Bones Smokehouse River
Everything at this barbecue joint is homemade, start to finish, and the owners say, "There is no 'right BBQ style' and 'recipes from all over the south' are used in their restaurant". The meat is smoked over oak and cherry woods, and you can even buy meat by the pound to take home. There are many specialties of the house: sandwiches, plates, and sides. The "famous" sandwich here is the Hogzilla, which has sugar bacon, bratwurst, pulled pork, and pepper jack cheese on a hoagie. The plate meals include delicious favorites, like ribs, brisket, pulled pork or chicken, and more. Down home, southern side items that 12 Bones is known for are their Damn Good Corn Puddin', collard greens, and sweet vinegar Cole slaw. They even have a mushroom sandwich and a veggie sides platter for vegetarian menu options.
12 Bones Smokehouse location on 5 Foundry St, Asheville is only open Monday – Friday, from 11am – 4pm. To see the full menu, visit their website.
2) Bonfire Barbecue
This restaurant has a slogan that tells you the heart of their cooking: "Low and slow BBQ, local wood, fresh food". Bonfire Barbecue is known for its fancy BBQ sandwiches, like the pork slam, pim club, and Cubano. They also specialize in classic BBQ favorite plates, such as brisket, smoked turkey, St. Louis ribs, and pulled pork. You can even get a one of a kind vegan BBQ plate here. There are special brunch and late night menus that are slightly different than the everyday menus. Save room for dessert and be sure to try Bonfire's special banana pudding cheesecake!
Bonfire Barbecue is located at 1056 Patton Ave. Asheville, be sure to check out all their menu options.
3) Buxton Hall Barbecue
 "All wood, whole hog barbecue" is Buxton Hall Barbecue's motto, and it sums up their cooking style. Two of their chefs are James Beard Award nominees (FYI: that is the equivalent of an Oscar award for chefs). Three things set Buxton Hall Barbecue apart: pasture raised hogs, use of local ingredients, and an in house bakery. Their menu changes seasonally; however, all your BBQ favorites, like ribs, pulled pork, chicken, etc. are always on the menu. A really unique aspect to this BBQ joint is that there are special diet menus: vegetarian, gluten free, and dairy free. When you visit, save room for dessert! Their bakery is known for its unusual yet delicious pie flavors, such as salted honey, Shaker lemon, chocolate caramel mango mouse, and lots more!
Buxton Hall Barbecue is at 32 Banks Ave, South Slope, Asheville. Expect a line but it's worth the wait. You can see the full restaurant and bakery menus here.
4) Little Pigs Barbecue: located on 384 McDowell Street, Asheville
This is a local favorite BBQ place and has been open since 1963! It is famous for its friendly atmosphere and delectable food. Little Pigs has a limited menu of only perfected BBQ traditional favorites. All they serve, meat wise, is hickory smoked pork BBQ, ribs, and chicken. You will find all the sides that go with the meat, such as baked beans, hush puppies, slaw, and more. There is only one dessert item, the lemon pie, but it is all you need! Don't let the smaller menu fool you; there is a reason this place has been a favorite for over 50 years!
Little Pigs Barbecue is located at 384 McDowell St, Asheville. Be sure to visit their website to see all menu items and to find out more.
5) Luella's Bar-B-Que
Luella's is named after the owner's grandmother, and her recipes are used in the restaurant. The motto for Luella's is "We want you to leave with a smile on your face", and you certainly will after eating here! Everything is made from scratch and delicious. The menu has all the things you love about BBQ – ribs, brisket, etc. – and it also has some items unique to Luella's. Specialty appetizers include dry rub sweet potato chips, deviled eggs, and Brunswick stew (a Southern delicacy). Dinner dishes to try are the chili rubbed beef brisket, local BBQ tempeh, and the 2 or 3 meat combo plates. There are even specialty menus items that change each day. Restaurant profits also support the local community, such as education, music and art programs, and youth sports.
Luella's Bar-B-Que has two locations: 501 Merrimon Avenue or 33 Town Square Blvd, Biltmore Park, Asheville. To view all menus, even the day by day specials, go to Luella's BBQ site .
Is your mouth watering yet? Are you craving BBQ? Now, that you know where to find some of Asheville's best BBQ, why not try one of these places, or maybe all of them? You can't go wrong with any of these fabulous restaurants!