Are you… a leaf peeper?
If you aren't familiar with the term "leaf peeping," chances are you've been engaged in it for years without realizing. "Leaf peeping" is an informal term used throughout North America, but technically defined as the act of "visiting wooded areas in autumn to view the changing colors of the foliage." This is most popular in our own backyard of Appalachia, but also New England, the upper Midwest, and even Canadian territories of Ontario and Quebec. But we're here to confirm: there's no need to drive to Vermont! Today, we're going to focus on the best spots for you to check out, right here in Western North Carolina, and also explain the science behind the phenomenon of leaves changing colors in the first place. 
So why do Fall leaves change color, anyway?
Chlorophyll! It's a natural compound/nutrient responsible for the green color of plants, and it helps them absorb the sun's energy throughout the process of photosynthesis. But what happens in Fall that interferes with chlorophyll's green making ability? Two things: the length of daylight changes, as well as temperatures, and both interrupt leaves' food-making process. As their chlorophyll breaks down, their green color disappears, replaced by other vibrant reds, yellows, and oranges created by beta carotene and xanthophylls. Who's feeling like a leaf genius yet? Next question…
Where are the best places in Western North Carolina to see Fall leaves change color?
We've listed a few of our favorites below, though they're in no way exhaustive. Compare distances from Avalon to find the perfect view for you, and interact with this Fall color map to be super clear on best times to peep!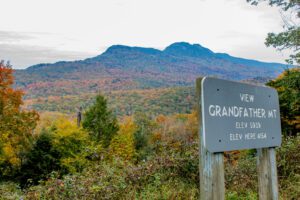 Grandfather Mountain 
Distance from Avalon: 2 hours (98 miles)
The longest distance we'll recommend today, but… What's better than valley views? Fall colors are on full display – and oftentimes early – from Grandfather Mountain's iconic mile-high swinging bridge. For the best vantage point, we suggest crossing to the other side and making your way to the top. If you're looking to work a little bit, two of the best hikes leading to the best views include The Rough Ridge Hike (0.3 miles) and the Profile Trail (3.6 miles). The views you'll discover on summit are in a league of their own. Start peeping in early October.
Black Balsam Knob
Distance from Avalon: 1 hour (32 miles)
Depending on how long you've lived around WNC, you may or may not realize that color changes start early along the Blue Ridge Parkway (another reason to love September). Keep your eyes peeled starting late in the month, not October. One of locals' favorite viewpoints (and hikes) is enjoyed via Black Balsam Knob and the Art Loeb Trail. Though bald at the summit, it offers a wonderful perspective you'll want to sit down for. Bring a sack lunch, preferably from the classic Pisgah Inn that's en route to Black Balsam's parking. We've heard talk of their ham biscuits.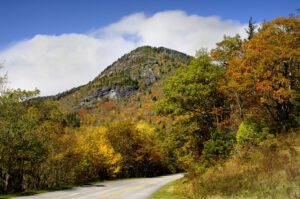 Mount Mitchell State Park
Distance from Avalon: 1.5 hours (66 miles)
The highest peak east of the Mississippi River, you can understand why Mount Mitchell might offer some of the best views of a Fall forest below. Because it boasts an elevation above 5,000 feet, you'll begin to see its leaf transformations from early to mid-October, just like Waterrock Knob and Craggy Gardens mentioned below. Take the Parkway and NC Highway 128 to reach. You'll be happy to know there are options to reach the views, a non-strenuous paved trail that's about 0.25 miles, or a strenuous 5.5 mile hike that'll feel like you're gaining 3,600 feet in elevation (because you are). Whichever route you choose, there's a great picnic area to enjoy lunch after feasting on the beauty of all the Fall colors. 
Craggy Gardens
Distance from Avalon: 1 hour (52 miles)
360-degree views? Anyone? Then head to Craggy Pinnacle Trail located in Craggy Gardens. It's perfect for a few reasons: it's not all that craggy; being so close to Asheville, it cuts time on travel; it's considered moderate intensity and only lasts about 40 minutes total; and it offers sweeping views in every direction. To get there, drive the Blue Ridge Parkway north until you pass the Visitor Center. Make your way to Milepost 364.1 where you'll find the Craggy Dome parking area. 
Max Patch
Distance from Avalon: 57 min (27 miles)
Located on the Appalachian Trail deep in the Pisgah National Forest – and about one hour from Asheville – Max Patch has a reputation for being one of the most stunning hikes and picnic areas you experience within the Blue Ridge Mountains. This famous 19th-century pasture land is so popular in fact, that a Forest Order has been in effect for the past year to protect it from overuse. So keep your peeping group to 10 people or less and make sure you follow current restrictions (like stick to trails, no camping, no horses, etc.) so we can all enjoy its beautiful vistas and 360-degree views of fall leaves for generations to come. 
Note: While easy in terms of length (0.25 miles to the top), it's an uphill climb the entire way. 
Graveyard Fields
Distance from Avalon: 55 min (33 miles)
Located off the Blue Ridge Parkway, Graveyard Fields starts changing colors early October due its high elevation. By peak season late month, it's a bouquet bursting with oranges, yellows, and reds. We recommend heading to its Lower Falls to see the effect of its rushing waters surrounded by these vibrant colors. If you're there for the photos, consider the time of day you'll be visiting. Peak times are 1 to 2 hours post-sunrise or on the other spectrum, 1 to 2 hours before sunset. These hours do the colors – and your photos – justice. Also important to note, you can visit this area from July to August for peak blueberry season.
Meet the Neighbors
Meet some of our resident leaf peepers!
Hear from Scott and Kelly Miller, our lovely Lot 56 neighbors who have direct access to this spectacular phenomenon every Fall while living at Avalon: 
"Scott and I first discovered Avalon in the fall of 2016. On vacation from Indiana, we had no intention whatsoever of buying a property anywhere but we stopped by Avalon on our way home as a lark. That was in October and we closed on our lot the first week of January 2017, so I guess you could say we changed our minds. We've loved every minute of being part of the Avalon community. The amount of support from the Avalon developers and staff has been unprecedented. We were really just happy to have found a mountain homesite that seems remote and unspoiled but in reality is close enough to healthcare, shopping, and the outdoor activities that we love that we weren't too concerned about who our future neighbors might be. Turns out we hit the jackpot in that area as well. This little community is so welcoming, inclusive, and caring that we really feel we've found a new home here. I can't imagine that we could have found a better fit had we spent years looking."
We look forward to welcoming you to Western North Carolina and giving you the best access to Fall leaf peeping seasons! Book a discovery tour at Avalon today.