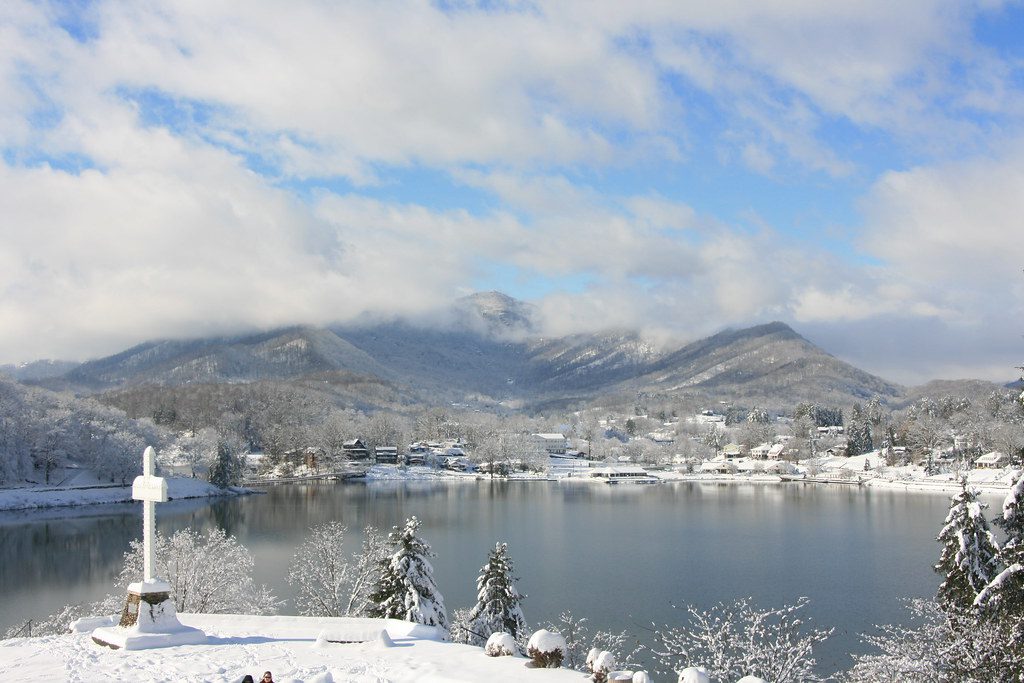 Just because it's winter doesn't mean you have to stay inside. On the contrary! We have a whole list of local Western North Carolina events and activities to look forward to throughout the winter season – perfectly suited for all ages and interests, and never too far from our own backyard. And besides enjoying the convenient proximity of our top picks, most of them are also connected by the beautiful Blue Ridge Parkway, so you'll be sure to enjoy the journey as much as the destination. Whether or not you're a local or just considering moving to Waynesville, NC, all we ask is: Get your calendar ready… 
WHAT'S ON: OUTDOORS
Maggie Valley – 20 minutes from Avalon
Probably best known as choice ski and snow tube territory this time of year, Maggie Valley is one of those special destinations that draws people year round – for its natural beauty as much as its experiences. Explore a few of its fan favorite activities below. 
Cataloochee Ski Area + Tube World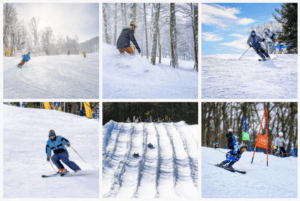 Not only does Cataloochee offer "mountains of fun for everyone," it offers stunning views of the Great Smoky Mountains via 18 slopes and trails for skiers and snowboarders alike, ranging from newbies to veterans. Choose from an assortment of classes and private lessons to brush up on your skills before gliding (or barreling) down the mountain, or opt for adrenaline-inducing ramps, rails, and boxes at the Cat Cage terrain park. And if you're looking for something a little less adventurous but just as fun-filled, look to Tube World. 
Located just four miles from Cataloochee and across from Ghost Town in the Sky, Tube World welcomes you and your family to "get ready for the slide of your life." Think of it as the opportunity to relive your childhood's happiest sledding memories but without ever having to trudge back up the hill (thanks to the park's carpet lift that will tow you to the top every time). And for small children who don't meet the larger hill's height requirements, Tube World also offers a Wee Bowl play area. Just make sure to check its availability pre-travel to the park. 
Maggie Valley Rock Shop & Gem Mine
Gem mining near Asheville seems to be on a lot of locals' and visitors' minds, so if that includes you or any family and friends, you're in luck! Our favorite place to begin: Maggie Valley Rock Shop & Gem Mine. They manage a world-class rock shop that offers a spectrum of minerals, from inexpensive crystals to museum-quality specimens and fossils. Check out their ever-evolving jewelry collection, a unique selection of Himalayan Salt lamps and products, or simply try your luck at their gem mine sluice. Let us know if you "strike" gold! 
3894 Soco Rd., Maggie Valley, NC 28751
10th Annual Polar Plunge: February 12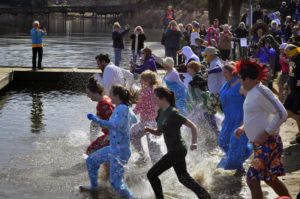 Are you ready to take the plunge! Or maybe just… wade in? This February at Lake Junaluska's Pool, the 10th Annual Polar Plunge will bring people from all over in the name of benefit-t-t-ting Kids in the Creek & Environmental Education – two crucial causes we can all certainly get behind. The event will provide two options for participation, just keep in mind registration and check-in begins at 10 am but the actual challenge doesn't kick off until 11:30 am. Register in advance, but yes, walk-ins are also welcome! 
77 Memory Lane, Lake Junaluska, NC 28745
WHAT'S ON: CULTURE
Haywood Arts Regional Theater (HART): Jan – March 2022
Voted Western North Carolina's Best Music and Entertainment venue, HART warmly welcomes winter audiences to enjoy its Studio Season's productions of "Slow Food" (the show that closed the theater on March 13, 2020 is described by BroadwayWorld as "a tasty recipe for a great night at the theater"), "Nocturne" ("So detailed and poetic is the writing … that we buy and are powerfully moved by the whole thing." —Donald Lyons, New York Post), "Anne of Green Gables" (the literary classic brought to life on stage!) and more. Before purchasing your tickets, visit HART's website for a deeper description of each performance and audience suitability, and be sure to invite the culture lovers in your life! After these past two difficult years, now is a wonderful time and opportunity to encourage and support the arts! 
Hart Theatre, 250 Pigeon Street Waynesville, NC 28786 United States
Van Gogh Alive: Now – March 5, 2022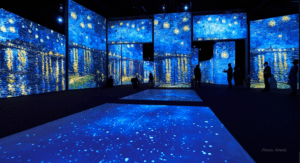 "Enchanting, entertaining, and educational." Immerse yourself like never before in the iconic works of one of the world's most iconic artists. Van Gogh Alive reminds us of the power of art and human creativity by stimulating the senses through a magnificent display of light, color, sound, and scent. Inspiring and incredibly enjoyable for all ages, so make sure to tell everyone you know. And in no rush to leave? You can even extend your one-of-a-kind Van Gogh experience with an overnight stay. For more event information, visit: https://www.biltmore.com/things-to-do/events/van-gogh-alive/
Harrah's Cherokee Center: February onward 
Luckily for us, Asheville has a calendar of events bursting at the seams in 2022. From an incredible line up at the Thomas Wolfe Auditorium (Nick Cave, Joss Stone, and astrophysicist Neil DeGrasse Tyson for starters…) to long-awaited performances at the exploreasheville.com arena (Harlem Globetrotters, anyone?), the list of shows and entertainment opportunities is endless. Explore at your leisure.  
WHAT'S ON: ACCOMODATIONS 
Lodgings around Lake Junaluska – 7 minutes from Avalon and Waynesville, NC 
Planning a dream holiday or romantic getaway in NC's mountains? We have a 200-acre mountain lake oasis for you to consider. Located just a stone's throw from Avalon (you can even see it from our property), Waynesville, and Asheville, Lake Junaluska provides the perfect escape for travelers looking to relax and renew themselves surrounded by nature.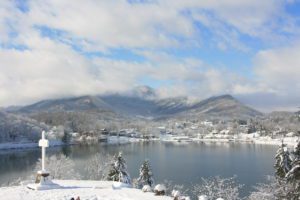 Check out our list of all the places you can stay while doing all the things you'd love to do. From "Trip Advisor Travelers' Choice Awards" winners to apartments, rental homes, and even campgrounds, peruse our Lake Junaluska lodgings so you know exactly where you'll rest your head after a day of horseback riding, gem mining, and searching for the best bbq in Asheville or Waynesville. 
WHAT'S ON: WITH THE NEIGHBORS – LOT 52
Searching for a dream property near Asheville, NC? Or eager to call the Smoky Mountains home? People from all over the country are discovering what it means to live their best lives in Western North Carolina. And it only takes meeting a recent buyer, like Avalon's Don Prasnikar, to understand why.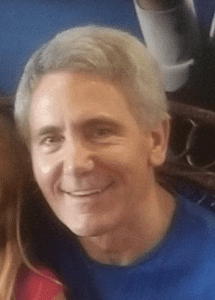 "I first became aware of Avalon while visiting longtime friends who had relocated to that community from a major metropolitan area. The scenic beauty of the entire region is immediately captivating with its endless vistas of the surrounding mountains, lake, pastoral valleys, and distant city lights. The allure and possibility of being immersed within the peaceful environment that Mother Nature provides while simultaneously having ready access to the quaint town of Waynesville and/or the city of Asheville was appealing and overwhelming. Having the opportunity to subsequently attend a couple of Avalon gatherings and interact with residents already living there convinced me that the character and quality of the people are reflective of a community I'd like to be a part of and call home." 
Experience the possibilities for yourself. Schedule a Discovery Tour of Avalon's truly unique and magnificent mountaintop community today.