This month we're focusing on festivals! 
Summertime at Avalon, and throughout Western North Carolina, is one of our favorite times of the year and once you visit, no doubt yours as well. There's an endless list of places to go and things to do in WNC, and festivals just make it that much easier to enjoy all the things we love most, together: music, community, nature, food, and drink.
Folkmoot USA Ethnic Fest: July 28 – July 31, 2022
Distance from Avalon: 9 miles 
Welcome to the world of Folkmoot – a 10-day celebration of NC's official Folklore Ethnic Festival! Ready to be a part of tradition? And the goal of "world peace"? Since the summer of 1984, thousands of musicians and dancers from around the world have performed in Waynesville, NC – one of many cities on its tour's trajectory, including Asheville and Cherokee – and celebrated themes of cultural diversity and inclusion through dance and music.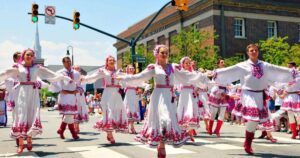 And now, you don't even have to wait for the official festival every summer; you can attend the festival's year-long events at the Folkmoot cultural center located in the historic Hazelwood School. 
Rally friends and family to enjoy a variety of ethnic foods and beverages while absorbing all that the cultural spectacle has to offer!

The Waynesville Street Dance
Distance from Avalon: 10 miles
"Dancin' in the mooonliiiight…"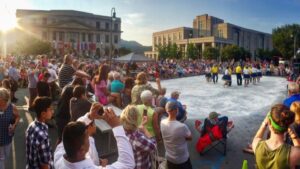 …Is exactly what you'll get up to at the annual Friday Night Street Dances on Main St. in Downtown Waynesville. Four times each summer beginning August 5, 2022, anyone with the desire to put on their dancing shoes can grab a partner or just fall into line in front of the historic Haywood County Courthouse. The street's sprinkled with cornmeal so the footwork and shuffling pops against the bluegrass music, and folks who just want to watch can find a perch in the bleachers or bring their own chairs and blankets. 
The event's website gives a little more history behind the event… "in the 1930's Haywood County resident Sam Queen, known as 'the dancing-est man in the land' organized the Soco Gap Dance Team, which was among the very first practiced mountain square dance and clogging demonstration teams in the country. Today his grandson, Joe Sam Queen, carries on the tradition."
Fourth of July Weekend in Waynesville
Distance from Avalon: 10 miles
For those looking for options, there are a few local events happening on July 4th. We've got our Stars and Stripes Celebration on Main Street from 10 am – 3 pm, a grand fireworks display at Maggie Valley's "Backyard Fourth," and the Fourth of July Weekend Freedom Fest's patriotic list of events to check out. Be safe and enjoy our beautiful Independence Day! 
Asheville Festivals
And if you're visiting Waynesville but interested in what's happening across the way in Asheville, here are a few AVL events that grabbed our attention.
June 15 – 18, 2022
Distance from Avalon: 29 miles
A brand new event this year – and by the sounds of it, one we hope will continue far into the future – the Asheville Ideas Fest is set to engage global thought leaders in the ideas of our time. If you love to learn from the brightest in their fields, make plans to attend the inaugural event, opening with a stimulating talk from Pulitzer Prize-winning author and historian Jon Meacham. 
Shindig on the Green
June 25, July 2, 9, 16, 23 & August 13, 2022
Distance from Avalon: 31 miles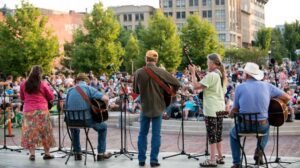 More music, naturally. Shindig on the Green is a free, outdoor mountain bluegrass music and dance festival that takes place throughout the summer months in the heart of downtown Asheville at Pack Square Park. The Shindigs are on most Saturdays from late June through early September each year. The performances begin at about 7 p.m. or "along about sundown," as folks around here like to say, and generally end about 10 p.m.
74th Craft Fair of the Southern Highlands
July 21 – 24, 2022
Distance from Avalon: 36 miles
Showcasing the finest artwork of nearly 200 craftspeople from around the region, this four-day festival offers a unique opportunity to watch artists practice their craft in live demonstrations. Live music also helps set the stage for this event, which features work across every medium, including clay, glass, fiber, paper, wood, jewelry, leather, and metal.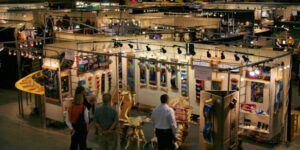 Chamber Music Society of the Carolinas
July 9, 16, 23 & 30, 2022
Distance from Avalon: 30 miles
Maybe you're familiar with its former title the Swannanoa Chamber Festival? Now associated with the Chamber Music Society of the Carolinas, this annual event features performances by acclaimed quartets and individual string and wind performers throughout the summer. Concerts are held at Warren Wilson College, as well as surrounding venues in the region. Grab tickets here!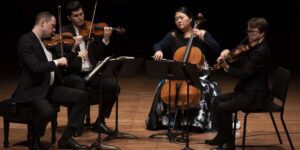 And if you're interested in exploring what permanent mountain living could look like, hear from Avalon insiders: residents Clay and Betsy Eaves!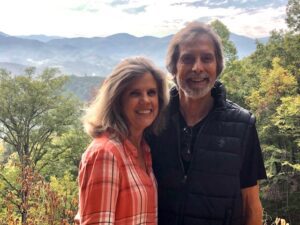 "Betsy grew up coming to these mountains spending many summer vacations with her family at Lake Junaluska. When we started looking for a place to retire, we knew we wanted to be in the mountains, but weren't sure where. After exploring a number of mountain communities we chose Avalon. It is beautiful without being fancy, classy without being pretentious and from the beginning our future neighbors felt like friends. As Scott Campbell said, "There's something special about these mountains." When we stood on Utah Mountain looking down at Lake Junaluska, Avalon felt like coming home." 
We look forward to welcoming you to Western North Carolina and showing you what we mean by "Possibility in every direction." Book a discovery tour today.