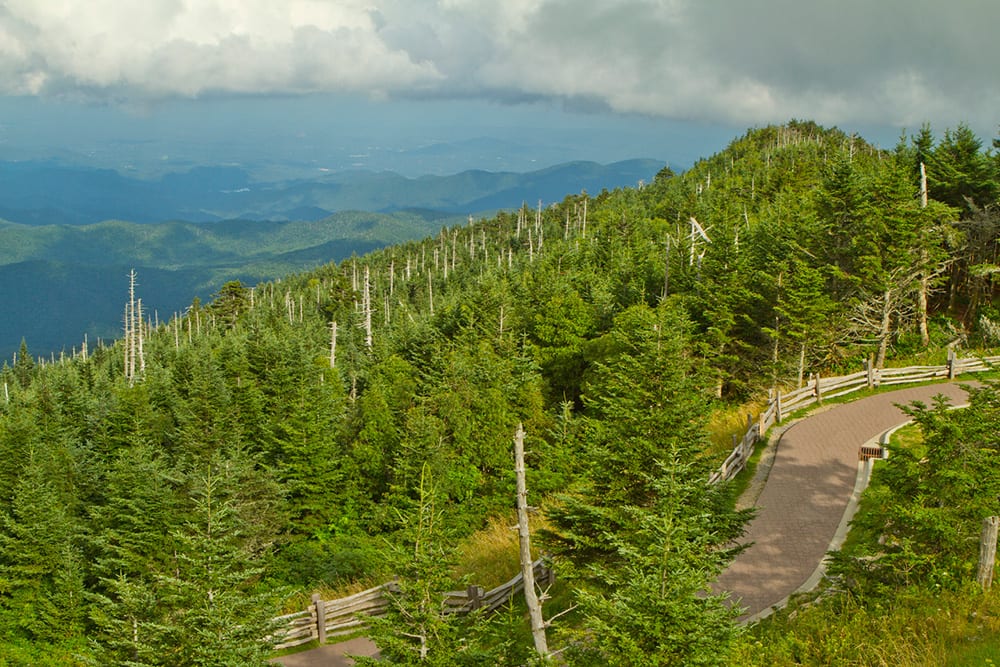 Avalon Mountain Community is in the heart of the Western North Carolina mountains, which means that all the splendor and scenic beauty are all around you. Mountain adventures are only a few minutes away, and there is more to do thank you think. One of the most noted and breathtaking places to visit in Western North Carolina is Mount Mitchell State Park. We've pulled together some insights on Mt. Mitchell to help as you plan your visit.
Mt. Mitchell Will Have You Up In The Clouds
Mt. Mitchell is part of the Black Mountain Range and is 35 miles northeast of Asheville. Its summit elevation is 6,684 feet, and Mt. Mitchell is the highest point east of the Mississippi River.  The weather conditions on the mountain, as well as the spruce fir forest on it, resemble Canada and are unique to this part of the U.S.
Mt. Mitchell Offers Views for Miles
Since Mt. Mitchell is the highest peak in the east, the views are incredible. On a clear day, you can see up to 85 miles away! There are no other mountain panoramic views like this anywhere in NC! To enjoy this spectacular scene, there is an awesome observation deck. It is easy to get from the parking lot to the observation deck since it has a paved trail. This is great for people with mobility issues.
Hiking at Mt. Mitchell
Mt. Mitchell State Park has a hiking trail network! There are all different levels of hiking trails, from easy and short, moderate and a little challenging, to advanced and long. You can stay near the summit of Mt. Mitchell and hike, or move on to more wilderness areas for a real adventure! In October, there are guided fall foliage hikes where a park ranger will take you to the best spots to see the leaves change colors You can visit Mt. Mitchell State Park website to check dates and times for these guided hikes. The hiking choices are limitless.
The Wildlife and Plant Life at Mt. Mitchell is Amazing
Ninety-one species of birds have been recorded in the park. Peregrine falcons, Northern Saw-Whet owls, Red Crossbills, and so many more have been seen soaring through the skies at and around Mt. Mitchell. It is a bird watcher's dream come true! Other inhabitants of the mountain are white-tailed deer, black bears, bobcats, and gray foxes, just to name a few.
The plant life is the most diverse and distinct in the entire Southern Appalachians! Because of its height, Mt. Mitchell is usually at least 10 degrees cooler than surrounding areas in Western North Carolina, so there is an amazing spruce fir tree forest. You will also find native blueberries, mountain raspberries, red elder, St. John's Wort, pink turtlehead, and so many wildflowers!
Stay a While…
There is so much more to do at Mt. Mitchell State Park besides admiring the view and hiking, though! Near the summit there is a museum that tells the history of the mountain, as well as its culture. It truly is fascinating, and you will learn so much. From May through October, restaurant and concession stands are open. Relax on the restaurant's porch, in a rocking chair, and breathe that fresh mountain, life-giving air! You can spend some time in the gift shop, too.  There is a shaded picnic area that is available all year, so pack some snacks and water if you prefer to eat outdoors. Dogs are welcome in the park, as long as they are on leashes. Bring your four-legged pal and spend the day.
On Second Thought, Spend the Weekend at Mt. Mitchell
May through October, a nine-site family campground is open. Each campsite has a grill and bathroom facilities are close by. For the family campground, you must make reservations before coming to the park.
If you prefer, or the family campground is full, you can backpack camp overnight in the park. You are allowed to leave your car in the parking lot, but you have to register so the park rangers know you are there. Registering is so simple though. There are forms at the trailhead near the parking lot or in the park office. (Fill out the form and leave it on the dashboard of your car.)
No Fees, Ever!
This is one of the state parks that is free! There is no parking or park entrance fee and the park is open year round, unless there are dangerous weather conditions. (To check road and weather  conditions before traveling to the park, call 828-675-4611.) Let me say it one more time; it is free! This is literally a priceless exploration. Take advantage of that!
Mt. Mitchell State Park is located at 2388 State Highway 128, Burnsville, NC. When you visit, dress in warm layers, wear hiking shoes, and don't forget to bring a camera! You simply have to spend some time at Mt. Mitchell. Go soon!