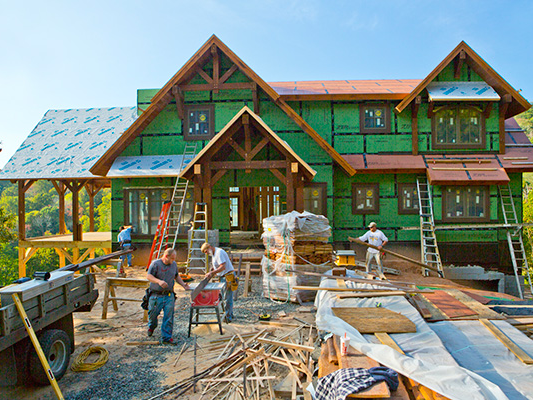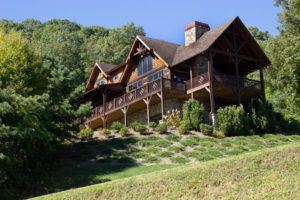 The Avalon community's unique homes are truly works of art. Each one reflects its homeowner's style, from the tiny details to the expansive views. If you're ready to build your dream mountain home, or have just started researching, we'll take you through the building process so you can bring your vision to life every step of the way.
Our extensive experience and deep network of home building experts, from architects and local builders to trusted contractors, makes the Avalon building process simple and streamlined. Here's everything you need to ensure that your mountain oasis is everything you imagined and more.
1.     Take a Tour
Experience living in the mountains for yourself when you schedule a tour at Avalon. You'll discover what's possible when you meet with an experienced Avalon Sales Representative and get to know everything that our community has to offer. Explore homesites with views in multiple directions on varying levels of elevation as you find the homesite of your future dream mountain home. While best experienced in person, you can also view available homesites here.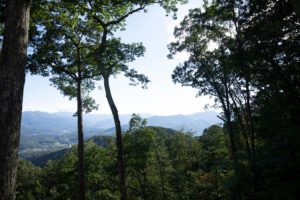 In this step, you'll want to consider your vision — does the homesite offer the views you want? Is the location perfect for your needs? While every site at Avalon offers stunning surrounding views of mature trees and mountain ranges, each is also unique and should speak to you.
2.     Meet & Greet with Builders
Once you've selected your ideal homesite, it's time to meet with a trusted builder. The Avalon team will coordinate a meeting for you to get answers to early-stage questions. Unlike other communities, at Avalon we provide the freedom to select the builder of your choice, and we will provide a list of qualified builders. Our exceptional roster of builders has experience in the Avalon community, and they are perfectly positioned to navigate the unique building process that comes with mountain home construction.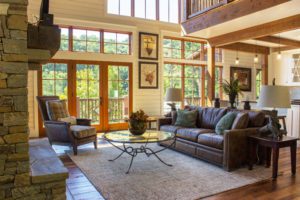 "Avalon is a dream come true for a builder," says experienced Avalon builder Scott Campbell of Scott Campbell Construction. "The homeowners are down-to-earth and it's just a very peaceful place to be."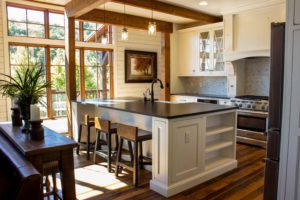 In this step, you'll want to consider cost per square footage and come prepared with an extensive list of questions. Our professional network of builders, architects and interior designers are here to help every step of the way, from providing inspiration to answering questions about locating your home, orientation, specific customizations, foundation, and more. The goal in this step is to leave you feeling assured, calm, and ready to start bringing your dream home to life.
3.     Connect with Contractors    
Congrats! You're purchased your dream homesite. Now, the grading phase begins. Building a home on a mountain requires a solid homesite grading plan to ensure your project is ready to proceed. Avalon's on-site grading contractor is in your corner, providing exceptional insights and guidance on building location, tree removal, elevation, and view corridors. They'll ensure a proper foundation, drainage, and take topography into careful consideration.
In this step, you'll want to consider property lines, your landscaping vision, natural surroundings, and homesite specifics. Thankfully, you can rely on our experienced team of contractors to guide you along the way.
4.     Bring on the Builder
You're well on your way to bringing your dream mountain home to life! Now it's time to choose from a vetted list of trusted local builders. Our list of active builders will help take your vision to fruition as they partner with you during each phase of the process.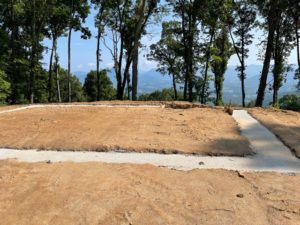 "I work in a lot of communities in Western North Carolina and Avalon is a dream to work with," says builder Scott Campbell, "All of the Avalon lots have fabulous views, it's not too crowded, the houses are spaced out, it has nice hiking trails, and its 5 minutes from town. The property speaks for itself."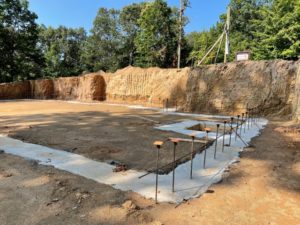 Some of our trusted builders include:
J. Scott Campbell Construction Company, INC
Baldwin & Phillips Construction LLC
S.F. Bernardi Construction, LLC
In this step, you'll want to interview and select the builder team that you're excited to partner with during your home building process. While each builder in our network has proven experience, we encourage you to choose the team that speaks to you. Consider their past work, budget, timelines, and if they can provide you with the unique upgrades and luxury features on your list. Many of the builders have completed homes and Avalon residents are happy to let you walk through their dream home to get a sense for the quality of construction and finish schedule.
"I have been doing this for 45 years and I want to end my career at Avalon," says Campbell.
5.     All About the Architect
Your custom home builder from Step 4 will execute a home build from start to finish — but in many cases, you'll want to partner with an experienced architect to develop a blueprint. While your builders will ensure sound construction and foundation, your architect will work to ensure your aesthetic shines through. Several design-builders like MossCreek have easy-to-modify award-winning home plans that help streamline the process. Ready-to-buy plans can be a great customizable option if you don't want to deep dive into the intricacies of designing a custom home from scratch.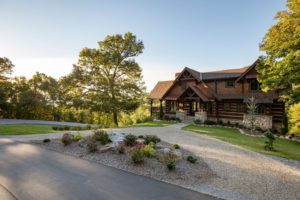 In this step, you'll want to review their portfolio, get references, and ensure their taste level matches exactly what you want. After all, your custom dream home should be a true reflection of you from floor to ceiling and every space in between. Get to know some of our seasoned mountain home architectural designers below and learn about our architectural design guidelines here.
Shamburger Architectural Group
Platt Architectural Construction Interiors
Whether you're a home building novice or are familiar with the process, Avalon will partner with you to ensure a positive experience every step of the way.
Schedule your tour today and be on your way to designing your dream mountain home right here in the beautiful North Carolina mountains.