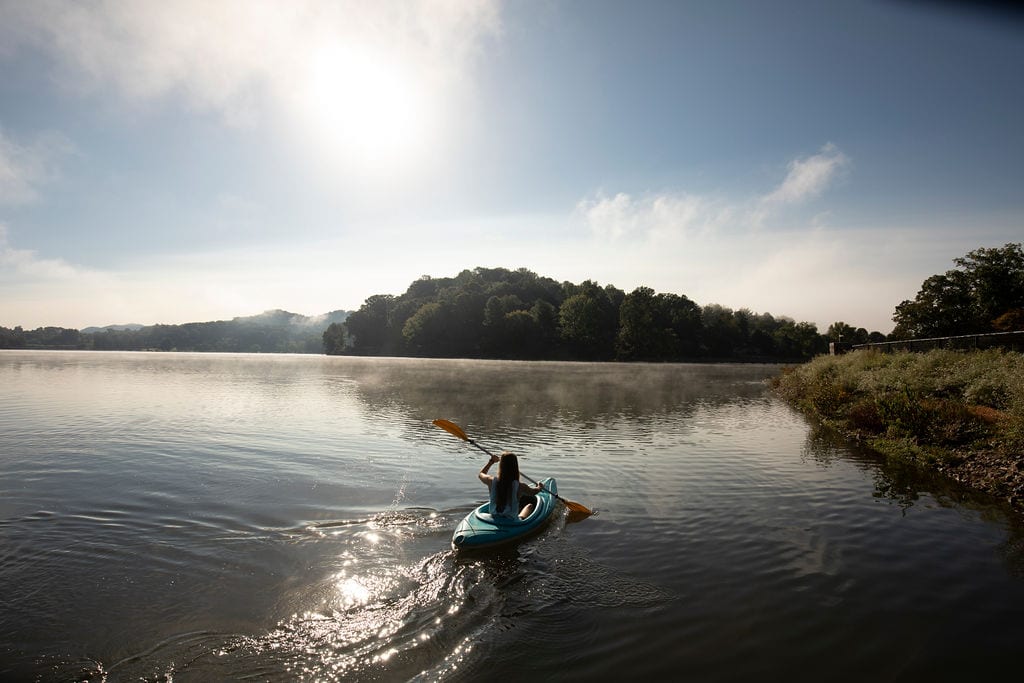 Summer is in full gear in Western North Carolina and there's no better time to explore the endless array of exciting water activities the area has to offer. While Avalon's unique high elevation combined with gorgeous old-growth trees make it a naturally perfect place to stay cooler all season long (summer temperatures average in the high 70's), the abundance of nearby aquatic activities offers refreshing entertainment options you won't want to miss.
Enjoy family-friendly ways to stay cool thanks to our list of top local water activities to explore all summer.
Low-Key Lakefront Fun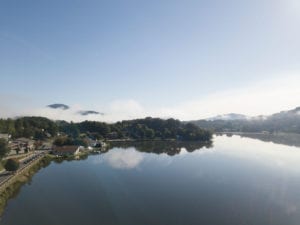 Just a short 10-minute drive from Avalon lies the breathtaking Lake Junaluska, which is the area's closest body of water. Explore this scenic 200-acre mountain lake with convenient canoe, kayak, and paddleboard rentals for the whole family. Perfect for a day of lakeside relaxing, you'll soon discover why this area has been considered a beautiful spiritual retreat for more than 100 years.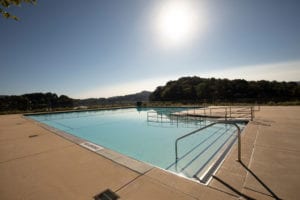 If lake life isn't your thing, give their expansive outdoor community pool a try. Best of all, at just $10 per person per day (or just $30 per family), their daily activity passes offer an affordable way for everyone to get in on the summer fun. Daily passes even include one round of mini golf and one hour of shuffleboard/cornhole.
River Adventures for Everyone
About 20 minutes from Avalon, you'll discover the local hotspot, Pigeon River. Spice up your summertime adventures with an adrenaline-filled whitewater rafting excursion. Splash through thrilling rapids as you enjoy stunning views of the Great Smoky Mountains. Check out Pigeon River Outfitters for even more outdoor fun options including peaceful paddleboarding, canoeing, and kayaking.

If you'd rather relax on a raft or kick back and try tubing, Nantahala Outdoor Center (just about an hour's drive from Avalon) offers more gentle rapid options, as well as swimming holes perfect for kids. With everything from serene water adventures to rapids like rollercoasters, there's an option for every adventure-seeker at NOC. The renowned outdoor center is even one of the nation's premier training grounds for Olympic whitewater athletes and is definitely worth visiting during your next WNC adventure.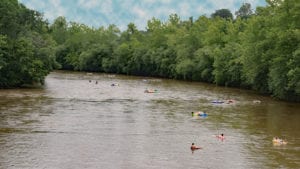 If a lazy river is more your speed, Zen Tubing in Asheville is the answer. With two convenient locations just about a 30-mile drive away, it's a relaxing way to cruise the peaceful French Broad River. While you're in Asheville, be sure to check out Asheville Outdoor Center for their signature calm-water river paddling perfect for families and younger children.
Fun with Fly Fishing
Stay cool this summer while fly fishing in North Carolina's rivers located right in the Avalon area. From Hightrout Guides about 60 miles away to an abundance of fishing options in the Smoky Mountains, anglers and novices alike will enjoy this peaceful summertime sport.
Just a 45-minute drive from our mountain oasis is Cherokee, NC, which offers some incredible fly-fishing streams and rivers worth exploring, too.
Relax at the Local Waterfalls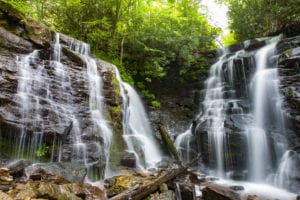 Brevard, NC is home to 250 waterfalls and lies just about an hour's drive from Avalon. Known as the "Land of Waterfalls," this majestic area offers the perfect option for day trips and hikes. Here, you'll discover falls featured on film, as well as serene escapes and areas to slide down the rocks for your very own natural waterpark adventures.
For more waterfalls near Waynesville NC and the Avalon area, be sure to check out Soco Falls about a 30-minute drive away. Don't miss the rare double waterfalls right near Maggie Valley!
Explore Community Aquatic Adventures
Right here in Waynesville is our very own Recreation Center offering a lap pool and family-friendly water park you'll love.
Only 30 miles from Avalon is the eclectic downtown Asheville, where you'll find the interactive fountain known as Splashville. Perfect for the kids and grandkids, this unique community feature is a fun way to cool off after a day of exploring the city.
No matter how you want to stay cool this summer, Avalon is the ideal centrally located oasis to take advantage of the area's hidden aquatic gems and popular water activity destinations.
Schedule a tour today and discover all the exciting summertime possibilities Avalon has to offer.