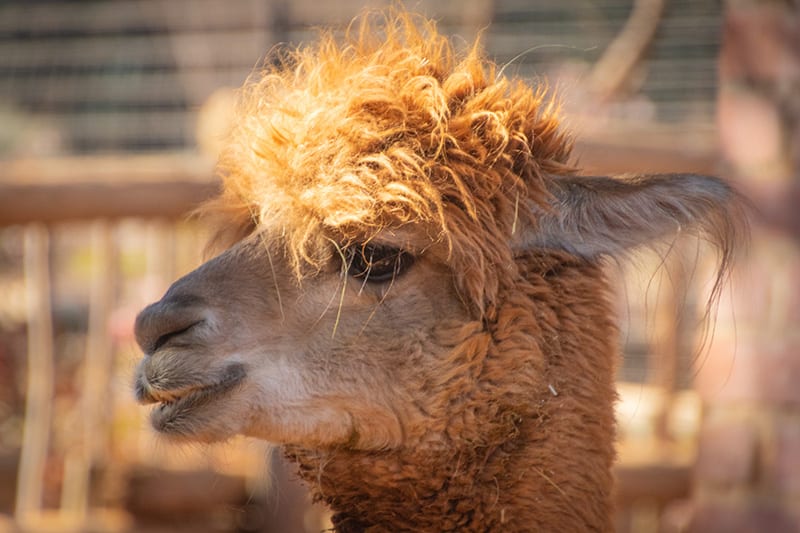 When you think of the mountains of Western North Carolina, do you think of alpacas living there? Probably not, right? Well, think again! Apple Hill Alpaca Farm is a mountain top working alpaca farm and store that is open to the public. Visitors are welcome to this special place year round. It is definitely not something you see every day, so add it to your list of places to visit in Western North Carolina!
The farm is located at 400 Apple Hill Road in Banner Elk, NC. Alpacas are the stars on the farm, but there are also angora goats, llamas, guardian donkeys, horses, and dogs. As a farm visitor, you are able to see all of the creatures that live there. The property includes ten acres of farm, fifteen fields, and four barns.
Activities at Apple Hill Alpaca Farm
There are daily, guided walking tours of the farm, as well as private tours. (Private tours must be booked in advance of your visit. You can do that on their website.) Public tours are at 2pm every day, and a morning tour at 11am is offered in addition to the afternoon tour on Saturdays. Each tour is approximately 45 minutes. The tour guides love the farm and mountains and are very knowledgeable. They enjoy sharing the information with newcomers, so ask as many questions as you like and learn how the alpacas came to be here, in Western North Carolina. It is advised that since the tour is a walking tour, in the mountains, you should wear comfortable walking shoes and dress in layers. (Please note, the tour times listed above change with the seasons. These times are good until October 22, 2018. After that, the tour times may alter slightly. Be sure to check times on the website, if you plan to visit the farm after October 22.)
The on-site store is open Monday through Saturday, from 10am to 4pm, and Sunday, from 12pm to 4pm. The store has all kinds of gifts made from alpaca wool, such as socks, ear warmers, mittens, and hats. You can also purchase yarn, patterns, and knitting and crochet supplies for your own projects. There are tee shirts, toys, and more.
There are special classes and events on the farm throughout the year, too, such as knitting with the alpacas and the sheering day festival. Each year they hold a special Christmas celebration, as well. This year's celebration will be held from November 16 to December 9. Mini tours of the farm will be available, and you may buy all kinds of decorations and gifts for the holiday season.
If you plan to visit the alpaca farm, why not make a day of it? There are two great parks close to the farm, in Banner Elk, NC, that are great locations for a nice picnic and to enjoy the beautiful mountain scenery. Valle Crucis Park is located at 2892 Broadstone Road, and Tate-Evans Park is located at 210 Park Avenue. Both parks have playground areas for toddlers and bigger children, walking trails, and sheltered picnic areas. Valle Crucis Park's north boundary is along the Watauga River, which is a popular spot for fly fishing, as well. Tate-Evans Park has volleyball courts and wading pools for warm weather outings.
How many people can say that they have spent a day at a mountain top alpaca farm? This is truly not your typical mountain site, and it is a neat place to visit. Get back in touch with nature and see some really cool animals. Apple Hill Alpaca Farm is a family friendly spot that is also fun for all.