There's something about the mountains… 
The air. Cleaner, that close to the clouds. 
The nature. Teeming, and also mindless of the buzz at lower elevation. 
The views. Stunning from just about every angle. 
Which makes it no surprise that many of our residents – and visiting – outdoor enthusiasts choose Western North Carolina's mountain communities for the chance to explore and experience all of the above from a variety of vantage points. Namely: hiking trails. 
In fact, hiking in Waynesville, NC and surrounding areas has become so popular that the NC General Assembly recently dedicated an impressive $29,200,000 to new trail funding, accelerating the completion of 12 official state trails, and even the long-awaited Mountain to Sea Trail. And have you heard? The iconic Appalachian Trail has some serious competition. Meet the GET (Great Eastern Trail), "the AT's quieter cousin" that spans 1,800 miles from Alabama to New York and promises to relieve Appalachian Trail traffic as the world's longest hiker-only trail. Exciting trails ahead! 
But before they're all open and ready for footfall, we have plenty of beautiful trails on property and in our own backyard that you're welcome – and encouraged – to explore at your own leisure and ability. Just be sure to send us your feedback. Happy trailblazing!
Picturesque Day Hikes close to Waynesville, NC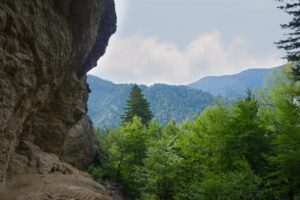 Alum Cave Trail to Mount Leconte – Great Smoky Mountains National Park
Difficulty: Hard
Length: Approximately 10.9 miles or 6 hrs. 30 min. 
Allow us to introduce you to one of the most challenging, but also rewarding hikes in all of the Great Smoky Mountains. 
On your way up to Mount LeConte, you'll realize why it's still so popular in spite of the demands on stamina. Somehow the GSM just feel a little extra great from this trail's perspective. There are caves, gorgeous views, and plenty of wildlife to help you pass the time, and Arch Rock – one of the hike's most famous features – to help you capture an iconic photo. More and more photo opportunities to follow. 
Look out – and be sure to stop – for the fantastic views of Little Duck Hawk Ridge, The Eye of the Needle, Myrtle Point, and especially Alum Cave Bluff, a bright pop of orange clay in an otherwise verdant forest. If you're looking for lodging close by, consider reserving (months in advance) one of the Leconte Lodge's simple cabins or lodges. There, you can also use the restroom and grab a drink. 
Once you've reached the peak, there isn't much else to say. Just feel it.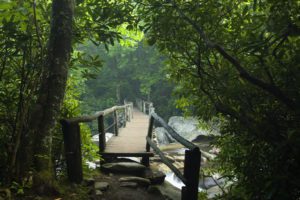 Chimney Tops Trail – Great Smoky Mountains National Park
Difficulty: Hard 
Length: Approximately 4.5 miles or 2 hrs. 45 min.
Extremely popular but also a little more work… The climb to Chimney Tops is steep but a feast for the eyes. What makes up for the physical effort is the ease with which you can navigate the trail. It's beautifully maintained and clearly marked, and elevation gain (and gain, and gain) aside, you'll pass bridges and waterfalls, and even cross paths with the Appalachian Trail at Bridge Gap.
Once you've reached the summit, pat yourself on the shoulder and take in the beautiful views – that's Mount LeConte and Sugarland Mountain jutting out from the stunning Great Smoky Mountains. Just be sure to stick to the observation deck. For everyone's safety, part of the trail near Chimney Tops has been gated off due to wildfire damage in 2016.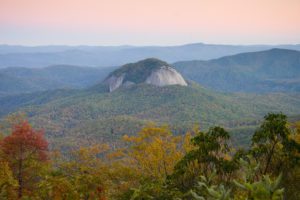 Looking Glass Rock Trail – Pisgah National Forest
Difficulty: Moderate
Length: Approximately 6 miles or 3 hrs. 45 min.
Panoramic view of the Blue Ridge Mountains, anyone?
Located just an hour from both Waynesville and Downtown Asheville, Looking Glass Rock Trail is one of the most popular (and beautiful) nature escapes from local mountain towns, and a top destination for hikers and rock climbers alike. Naturally, its name comes from its huge, reflective rock walls. We love hiking in Spring so we can soak up the incredible sight of mountain laurel and rhododendron. 
There's also an emergency helicopter landing zone you'll want to look out for. A few miles into your hike, you'll identify it as a sudden open, flat rocky area. Just off the trail, there's another don't-miss view. Then once you finish your hike, you can find the Pisgah Center for Wildlife Education as an excellent resource for more nature adventures along the Blue Ridge Parkway.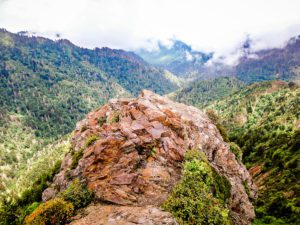 Charlies Bunion via Appalachian Trail – Great Smoky Mountains National Park
Difficulty: Moderate
Length: Approximately 8 miles or 4 hrs. 30 min.
On this trail, you may just get lucky enough to spot roaming elk. 
This excellent day hike will lead you along the summit of the Great Smoky Mountains and across the paths of some impressive peaks, like Mount Kephart, Mount Ambler, and Masa Knob. It's also beautifully forested except for a few clearings that offer incredible viewpoints. When you do reach Charlie's Bunion, you'll understand the name. It's a large rock outcropping created many years ago due to fire, rain, and a landslide.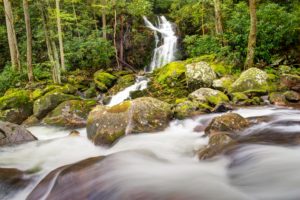 Mouse Creek Falls via Big Creek Trail – Great Smoky Mountains National Park
Difficulty: Easy
Length: Approximately 4 miles or 2 hours
Bring your horses. Expect a waterfall. Don't forget your camera. 
Mouse Creek Falls is a popular trail brimming with beautiful nature and several nearby waterfalls, plus it provides easy access to the river if you'd like to picnic near the banks or just take a peaceful moment to sit and relax. However, the terrain is considerably rocky, so also mind your step. All in all, it's perfect for year-round hiking, camping, and horseback riding.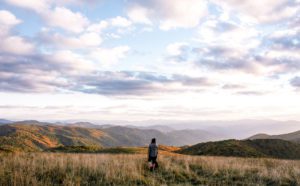 Max Patch Loop – Pisgah National Forest
Difficulty: Easy
Length: Approximately 1.5 miles or 50 min.
Ready for amazing 360-degree views? Located near Hot Springs, North Carolina, this short hike will lead you through lush wildflowers to rolling hills as far as the eyes can see… and by the way, what you're seeing is North Carolina, Tennessee, and Mount Mitchell.
For the best weather and trail conditions, we recommend planning your visit from April through October. Feel free to bring your dogs as well, as long as they're leashed. And bird watching is another common use of the trail, so keep your eyes peeled and your cameras ready. 
Important note: The road leading to the trailhead is difficult for 2WD vehicles.
So when you're not skiing in North Carolina, we hope you're hiking in North Carolina. Along the way, let us know your favorite trails and why. We hope to cross paths soon!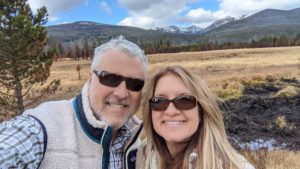 A Note from Future Residents: Jeff and DeAnna Owens, Lot 14
"We chose Avalon because it checked all the items on our must-haves list!
First and foremost, as technology professionals, having access to high-speed Internet was key – and is a rare thing to find at all in many mountain communities, and certainly not fiber optic. It was very insightful for Avalon to have made that decision given today's prolific dependency on Internet access. But who can ignore the beauty? I mean – the views are amazing!  We feel very lucky to have found our lot for our forever home and are looking forward to relocating in the next couple years and enjoying the views in NC's mild climate.
Finally, and equally important was the location. The proximity to commercial creature comforts only 10 minutes down the mountain (Lake Junaluska, Waynesville, Maggie Valley, and Asheville and regional airport) were all must-haves that other spots didn't offer.
For us, finding Avalon was a home-run.  We can't wait to be a part of the community!"