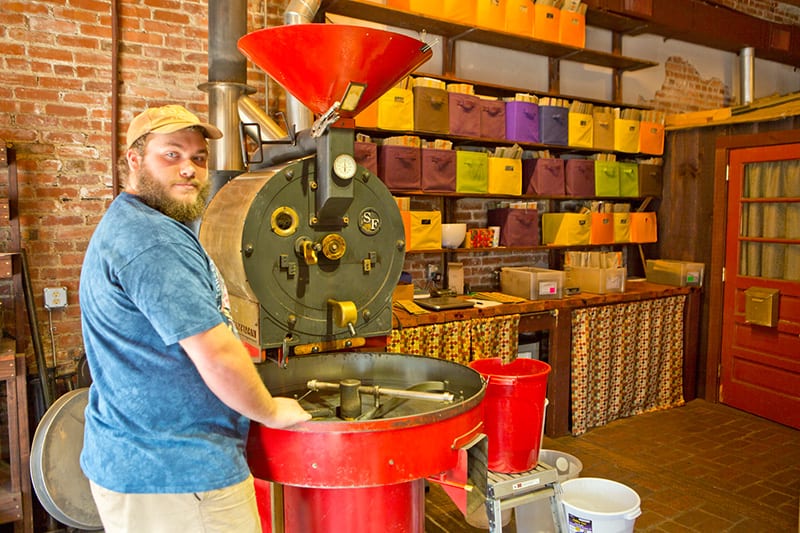 The temptation, when you're living at Avalon, is to think of Main Street as Waynesville's prime attraction, but that is doing yourself an injustice. No matter when you're visiting, the Frog Level Historic District is worth a visit.
Old brick station houses and 19th-century mercantile buildings fill the blocks winding along the Norfolk and Southern tracks just north of downtown. At one end, the Giles plant still processes and packages Epsom salts, long used in traditional medicine. Next door to Giles, Panacea Coffee makes another kind of medicine – freshly roasted coffee!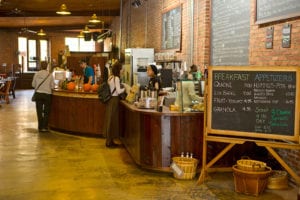 Waynesville's Best Cup
You can smell the coffee cooking before you find the sign. Just to left, when you walk through the front door, sits Panacea's small-batch roaster, a fresh batch stirring in the cooling bay while the Roast Master measures beans from a big burlap sack into the top of the machine to start the next batch. All around lie sacks from Indonesia, India, Africa, and across Central and South America – ready to be roasted and served as single bean specialties or blended into espresso and other custom pours
The roasting process can be mesmerizing, but pull yourself back and wander deeper into the old warehouse. Panacea serves breakfasts and lunches as fresh as their coffee. Scratch-made soups and quiches are specialties along with panini sandwiches and fresh wraps. And if you get a touch too caffeinated from your coffee, you can balance out with a local draft beer or glass of wine, or maybe a mimosa at Sunday brunch.
Take your coffee and food to go, or relax at a table under the high ceilings of the cool dining area. Our favorite is to go all the way back to the tables along the bank of Richland Creek which swiftly flows through the Frog Level District. Hang times at Panacea are from 7am to 5pm Monday to Friday and 8am to 5pm on Saturday (the kitchen closes at 4pm, however). On Sundays Panacea opens for brunch from 10am to 3pm.
Hit the Stores and Galleries Spread Throughout the District
Commerce Street Mercantile takes you back with 50s and 60s vintage and reproduction gifts. Stroll down Commerce and stop in Second Blessings Thrift shop and see if you can find a deal on the perfect bit of Western Carolina craft for your Avalon home. Art on Depot presents contemporary works of Appalachia artists that help express the best of mountain life.
Now that you have wandered through the district – checked the galleries and antiques, discovered Zoolie's Natural Food Market, and found the Dog House and spoiled your fur baby – you notice the sun is well past the yardarm. It's time to head back to Commerce Street for beer and a bite to eat.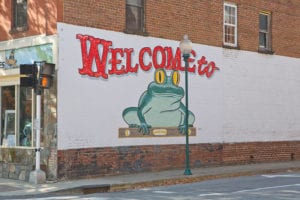 Frog Level Brewing
You're back where the day began – on the back deck watching Richland Creek roil and roll, but instead of coffee you have a fresh IPA from Frog Level Brewing. Or maybe a refreshing Catcher in the Rye ale. Whatever specialty you favor – a light cream ale, the Nutty Brunette, or a smoky Scotch Ale to go with the fire out back, Frog Level Brewing always has something good on tap – be sure to sample one of their specialties!
You've got food from one of the local food trucks parked out front, a table by the creek,  and soon an expert group of local musicians will take the stage. No better way to finish your day exploring Frog Level. Don't forget to fill a growler or two to take back to Avalon to enjoy with the sunset from your veranda.
A perfect Avalon day.
Post courtesy of Scott Campbell of Wild Craft Media, Asheville, NC