There's no more beautiful time to visit the Avalon community than during autumn, when fall leaves cast colorful blankets across the stunning mountains of WNC. A new season means we say goodbye to summer and hello to cooler weather, the holidays, and fantastic foliage. This month, we're exploring how to bring the beauty of fall inside with these mountain home décor ideas for embracing all things autumn. Best of all, these simple projects and ideas can be accomplished with foraged finds found right here at Avalon or in the nearby WNC area.
     1.  Frame Your Foliage for Autumn Art
Leaf season peaks in October, which means no shortage of stunning views and festive foliage around the property. Get the kids or grandkids to join in and go on a family scavenger hunt for the most beautiful leaves and foliage you can find. Arrange your bounty on a large piece of study paper or simply arrange them within an empty frame. The result is a simple way to spruce up your walls with affordable, one-of-a-kind autumn artwork. Don't miss this fun Fall Foliage Prediction Map for the latest in leaves by date.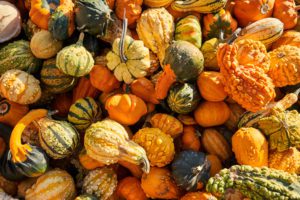 2.  Go for the Gourds
Leaning into Halloween while skipping the super spooky look, one of the simplest and most festive ways to decorate through October and November is with your pick of pumpkins! The best part about autumn gourds is that they're colors play off of fall foliage beautifully with oranges, neutrals, greens, and yellow tones. Line your porch, steps, or even your driveway with a unique blend of pumpkins in various shapes and sizes for some eye-catching interest. Playing with various textures, stacking them, or even adding a unique pop with some paint makes a fun and easy way to add an autumn touch without having to hang anything from your walls or ceiling. Using natural elements brings out the beauty of your future mountain home — plus, if you don't carve the gourds, they have more staying power into November for a Thanksgiving touch.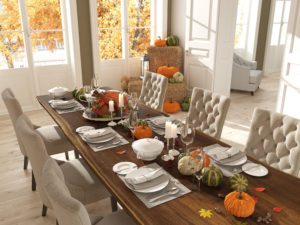 3.  Dress Up Your Dining Table
Next up on our list of unique mountain home decorating ideas for fall is bringing the autumn elements indoors. Fall centerpieces are a simple and chic way to liven up your look while using just a few pieces like leaves, flowers, candles, and mini pumpkins. You can line your table with a neutral or fall-printed runner to create a foundation, then add interest with an array of accessories. Go foraging for fall leaves and flowers to add to vases for a fun way to tap into the beauty of being in the mountains — homeowners, be sure to take advantage of our natural amenities and on-site hiking trails to discover the ultimate fall haul! Add a row of alternating mini pumpkins or different colored gourds all the way down the middle of your table for fun pops of color, too. Play with neutrals and fall colors to really set a warm autumn tone right in your kitchen or dining room. For this décor idea, it's best to avoid oversized pumpkins or extra tall fall florals or branches, as you don't want to block views or conversation. If you're feeling extra festive, adding lights or a variety of candles can really elevate the look.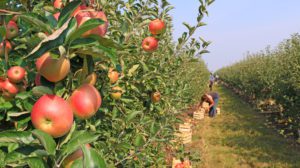 4.  Feature Your Fall Forages
Fall means crisp apples, vibrant leaves, fall flowers, wheat, corn cobs, and so many more natural elements that can easily double as mountain home décor. Take a day trip to nearby Henderson County, about a short 45-minute drive from Avalon, and take advantage of the best apple picking in the area! In fact, Henderson County remains #1 in apple production for the entire state, so you'll want to visit the many orchards, farms, and markets for an abundance of local apples perfect for everything from baking to decorating. Utilize your farmer's market haul or anything you've gathered on walks around Avalon and put them on display! Use glass bowls, pitchers, containers, or even canning jars and create small displays all around the house, from bookshelves to mantles and more. It's the perfect way to play up fall and blur the lines between indoors and out.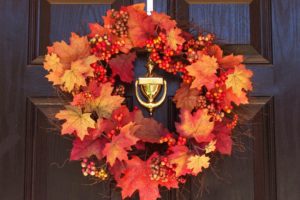 5.  Welcome Guests with a Wreath
A festive DIY wreath sets a pretty autumn ambiance before guests even walk into your home. Greet them with a simple wreath bursting with branches, leaves, pinecones, fall berry sprigs, and more. Best of all, a wreath can be as simple or intricate as you're up for — you can purchase a foam ring to use as your base and paint it, then hot glue vibrant fall leaves to the form. An embroidery ring spruced up with branches and foliage is simple and chic — just add a twine loop and hang from your door for the perfect pop. Neutral materials like burlap or even a festive felt can add texture and create a great foundation for your fall wreath. This simple craft is yet another way you can display your fall forage finds you've collected across WNC and right here at Avalon. Go one step further and line your front door with a pretty fall garland for an added autumn touch.
   6.  Create a Festive Floating Scene
Dreaming of how to make your future mountain home at Avalon extra festive for fall? Make jaws drop when you create a floating display, either indoors or out! Lean into Halloween by hanging pointed witch hats from fishing lines and taping them to your front porch ceiling. Hang them high at various levels to create visual interest. When Halloween is over, you can easily switch out the hats for fall foliage as Thanksgiving approaches. Inside, you can hang a foraged tree branch from the ceiling and attach fall florals and foliage directly to the branch! It's a great way to play up natural fall elements and add a unique touch over a table or counter.
These simple and affordable fall décor ideas are the perfect way to get the whole family involved while sprucing up your space. There's no better time to discover your dream future mountain home and experience an autumn unlike any other! Schedule your tour of Avalon today.