With summer in full swing, everyone seems to be looking for different ways to soak up the sun while staying active in the NC mountains. You too? Searching for weekend getaways, hiking near Asheville, or even RV camping near Asheville? Well, we're here to deliver a few special spots the locals love. From leisurely walks to the more challenging (but ultimately rewarding) hikes, and locations perfect for parking your camper and making more than a day of it. Let's dive into our favorite spots to do all of the above, and not too far from Avalon's very own Waynesville, N.C.
Easy to Moderate Hikes
Max Patch – 360 views 
Distance from Avalon: 27 miles
Located on the Appalachian Trail deep in the Pisgah National Forest – and about 1 hour from Asheville – Max Patch has a reputation for being one of the most stunning hikes  and picnic areas you experience within the Blue Ridge Mountains. This famous 19th-century pasture land is so popular in fact, that a Forest Order has been in effect for the past year to protect it from overuse. So keep your group to 10 people or less and make sure you follow current restrictions (like stick to trails, no camping, no horses, etc.) so we can all enjoy its beautiful vistas and 360-degree views for generations to come. Plus, there's more than beautiful vistas to look forward to at the end of your hike! Rejuvenate your body and spirit with a deep soak in the hot mineral springs located nearby.  Note: While easy in terms of length (0.25 miles to the top), it's an uphill climb the entire way.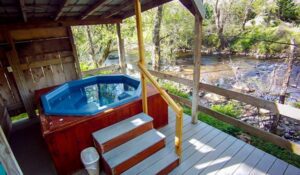 Charles Bunion – Great Smoky Mountains National Park
Distance from Avalon: 46 miles
Welcome to our favorite view of the Great Smoky Mountains (the #1 park for visitors in the country): the Charles Bunion Hike. We have hiker Charlie Connor and, yes, his bunion from hiking the area in 1925, to thank for its colorful title, and a 8-mile, round trip hike from Newfound Gap to thank for the final summit's iconic views. This is what they mean by "panoramic!" Take lots of photos, unpack your picnic lunch, and enjoy a while. With 2 hours time to the summit and 1.5 hours back down, there's no reason to rush. But if you're looking to stay even longer and camp overnight, keep in mind that permits are required.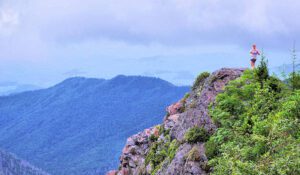 Nearby hikes you might be interested in include Andrew's Bald (these names!), Chimney Tops, and Alum Cave & Mt. Leconte. Check them out at the link above. 
Wilma Dykeman Greenway – French Broad River
Distance from Avalon: 30 miles
Located in Asheville's River Arts District, the Wilma Dykeman Greenway is a beautiful 2-mile greenway situated on the French Broad River's east bank. Runners, cyclists, and walkers alike (skaters, too!) are welcome to enjoy the wide, paved path connecting to the French Broad River Park and Carrier Park thanks to the French Broad River Greenway. Easily extend your route and exercise time by connecting to or looping along either of these parks or greenways, and enjoy any of the picturesque breweries along the way. But while you're working up a healthy sweat, or sipping a lager after, keep in mind the context.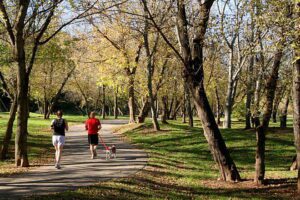 You might be wondering who exactly is Wilma Dykeman, anyways?
Well, Wilma Dyekman was a staunch and passionate local environmentalist turned author who wrote The French Broad in 1955. Up until her death in 2006, she remained a vocal advocate for the preservation and rehabilitation of the Blue Ridge Mountains' iconic river, and partly thanks to her, we still get to enjoy its beauty to this day. And we hope that never changes.
Moderate to Challenging Hikes
Waterrock Knob – The best location for sunrise and sunset  
Distance from Avalon: 19 miles
Perfect for stargazing, and one of the peak locations for watching the sun rise or set, Waterrock Knob is a must-admire location nearing the end of the Blue Ridge Parkway. You'll hike round trip just over 1 mile, but be prepared for an elevation gain of 400 feet or so. But look on the bright side! It's all worth it at the top. Once you arrive, enjoy prime picnic areas with sweeping views of the Smokies and some of its tallest peaks, as well as Maggie Valley below. Again, one of our favorite hiking trails in NC.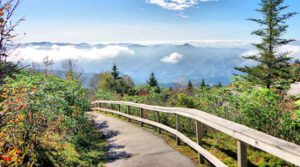 Cheoah Bald – "The Grandstand of the Atlantic"
Distance from Avalon: 69 miles
If you're starting out at the Nantahala Outdoor Center in Bryson City, North Carolina, you most likely know what awaits: one of the most difficult climbs on the entire Appalachian Trail. Cheoah Bald, the tallest peak in the Cheoah Mountains, can only be described as its own journey of peaks and valleys, with a nearly 3,000 foot ascent over 5.8 miles, followed by a "valley" or 300 foot descent, and then another 600 foot climb to reach the peak. Total trek length, round trip? Nearly 16 miles. No rest for the weary, but certainly a test of will and endurance. 
RV Access
North Mills River Recreation Area + Campground
Distance from Avalon: 44 miles
Described as a "secluded jewel for camping in NC," the North Mills River Recreation Area is one of many RV oases in the beautiful Blue Ridge Mountains and practically made for hiking and mountain biking enthusiasts. Just 30 minutes from Downtown Asheville, the grounds give residents access to the North Mills River in a lush, forest setting, encouraging all guests to swim, tube, and fish to their heart's content.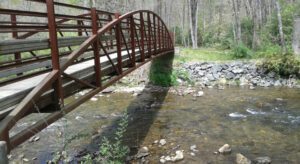 To compare with other properties, NMRR's in-season facilities (from March 29 – November 15) include 26 reservable standard sites, picnic tables, tent pads and fire rings, hot showers, and flush toilets in bath houses. If you'd like more information, visit their website or call 1-828-577-4167. 
More RV Park + Camping Options
Distance from Avalon: Varies
Asheville RV camping isn't just a trend, it's here to stay. We can't stop at just one suggestion, so here's a source for the 15 Top-Rated camping spots (including the North Mills Recreation Area + Campground) near Asheville, NC. We've never felt more inclined to invest in an RV and explore our backyard like never before, but until that time, we'd love the chance to live vicariously through you! 
Resident Testimonial and Discovery Tour
Hear from those who live just a stone's throw from these incredible hikes every day at Avalon: Ted and Anne Pappayliou from Homesite 15.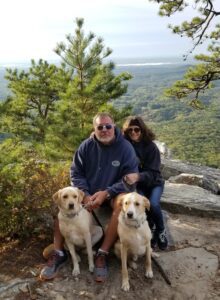 "Originally, we had targeted the Waynesville area as the location to purchase a home in the North Carolina mountains. Waynesville has a wonderful small-town atmosphere with access to everything you need and is close to all the outdoor activities that the mountains have to offer.
Fortunately, the 'White Hot' real estate market made it almost impossible to buy an existing home that met our needs, so we decided to build. We looked at land in a large number of communities and were becoming discouraged, but then we found Avalon!
Avalon is only 10 minutes from downtown Waynesville and has everything we were looking for. At almost 4,000 feet, it is the perfect elevation to escape the sweltering heat of the North Carolina summer. In addition, almost every lot in Avalon has the magnificent, panoramic long-range mountain views that we wanted. Structurally, Avalon offers the safety and security of a gated community with some very significant advantages: paved road access, city water, and high-speed internet.
The unexpected bonus in Avalon was the 'real' sense of community. Everyone we have met is accommodating, helpful, and friendly. It just felt like the right place to call home. "
We look forward to welcoming you to Western North Carolina and showing you what could be the right place to call home, too! Book a discovery tour at Avalon today.